Business
Interest rates are about to increase, businesses with a lot of money have little debt to the throne?
The story of inflation is the top topic of interest for financial investors globally. Inflationary pressure comes from supply chain disruptions, escalating price of fuel, raw materials and materials and sudden increase in aggregate demand. Inflation rate has increased to a record high within 40 years in many major economies in the world such as the US, UK, EU… when the Russia-Ukraine conflict caused energy and food prices to rise sharply and put pressure on heavy on economic growth.
The IMF forecasts an alarming rate of consumer price growth in 2022. Specifically, developed countries have a CPI of about 5.7% and emerging countries at 8.7%. The common response of central banks when inflation rises is that interest rates rise and the money supply slows. In fact, the US Federal Reserve (Fed) and central banks have been forced to raise interest rates recently.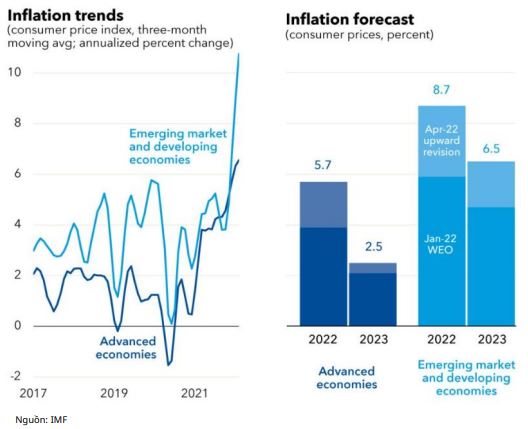 Year-to-date, the Fed has raised rates by 0.75 percentage points, and most policymakers are in favor of raising rates by 0.5 percentage points each at the next two meetings. Interest rate futures traders are also betting on the possibility that the Fed's policy rate will be in the 2.75 – 3% range by the end of the year, 2 percentage points higher than it is now.
Although inflation in Vietnam is forecasted to be well controlled, around the 4% mark, this risk is still present. Therefore, Vietnam is also forecasted to be difficult to stay out of the trend of increasing interest rates taking place globally. And in fact, many banks have "moved" to increase deposit interest rates recently.
Most recently, BIDV has announced the deposit interest rate schedule applied from June with the interest rate for long terms (from 12 months or more) increasing by 0.1 percentage point to 5.6%/year. Previously, Vietcombank also announced the deposit interest rate table for online deposit form on its website, plus 0.1%/year compared to over-the-counter deposit method.
Most private banks have also increased interest rates, even Techcombank – the bank that maintains the lowest interest rate in the market in 2020-2021 has also increased sharply. Accordingly, this bank has increased by 0.3% interest rate on over-the-counter deposit for 36-month term depositors, some other short terms also increased by 0.3-0.45%; and some other online savings products with an additional 0.3% interest rate.
Similarly, VPBank also increased interest rates by 0.3% for terms of 13, 24 and 36 months, thereby bringing the deposit interest rate for these terms to 6.4%/year. In case depositors over 300 million VND with a term of 6 months or more, the interest rate will be increased by 0.3-0.5% for over-the-counter deposit.
KienlongBank has also adjusted a series of short-term interest rates for individuals and businesses, thereby increasing the deposit interest rate from 0.1% – 0.3% for 1-7 month deposit terms. for individual customers and increase from 0.1% – 0.4%/year with terms of 1-9 months for corporate customers. For online savings, this bank offers an additional incentive of 0.2% – 0.3% / year compared to the deposit level at the counter.
Which businesses will benefit?
A recent report of Mirae Asset Securities assessed that Vietnam's CPI will gradually increase and bond yields as well as bank interest rates will gradually increase. In that context, Mirae Asset believes that when inflation and interest rates increase, stocks of businesses with a lot of cash will benefit.
The group of stocks that can benefit greatly from the interest rate increase is the insurance industry when profits come from 2 main investment channels will increase. Because of the fact, insurance companies usually only invest mainly in bonds and deposit interest in banks, but also invest in stocks, real estate or contribute capital to associates…. weight is not great.
According to statistics at the end of the first quarter of 2022, balances of cash, cash equivalents, deposits and bonds of insurance companies usually account for the majority, somewhere around 50% of total assets, even some can be up to over 70% as in the case of BIC, ABI. The most prominent is BVH when the above ratio is up to 88% with a total amount of money and bonds of more than 162,000 billion dong.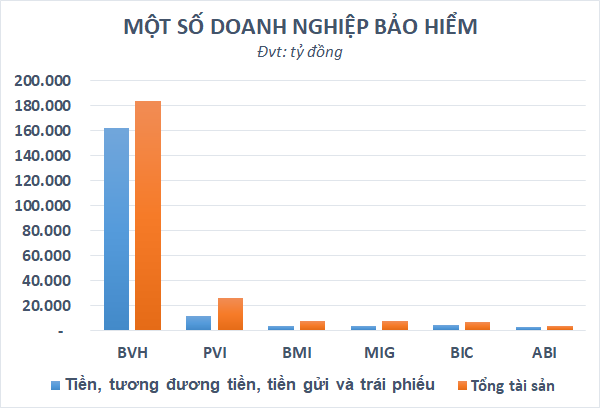 The insurance industry typically holds a large amount of deposits and bonds
In addition to the trend of increasing interest rates, insurance stocks are also expected with many interesting stories waiting such as divestment of State capital or foreign room expansion. Besides, SSI Research believes that the strong reopening of the economy in the second half of 2022 will help sales activities recover, thereby boosting premium revenue.
There are not huge deposits like insurance companies but many The industrial zone group still has its own advantages thanks to its abundant "savings".. The short-term and long-term unrealized revenue of thousands, even tens of thousands of billions of billion VND helps industrial park enterprises to have a steady cash flow, thereby maintaining a stable amount of cash and deposits while not having to take out a lot of debt.
Typically, SIP has short and long-term unrealized revenue of up to VND 10,598 billion at the end of Q1 2022. Thanks to that, it is not difficult for the company to maintain the amount of cash and deposits above 4,000 billion dong as in recent quarters. Similarly, NTC also has nearly 3,100 billion dong of unrealized revenue and 1,450 billion dong of cash and deposit balance as of March 31, 2022. Interests on deposits make a significant contribution to NTC's profit as well as most industrial park real estate enterprises.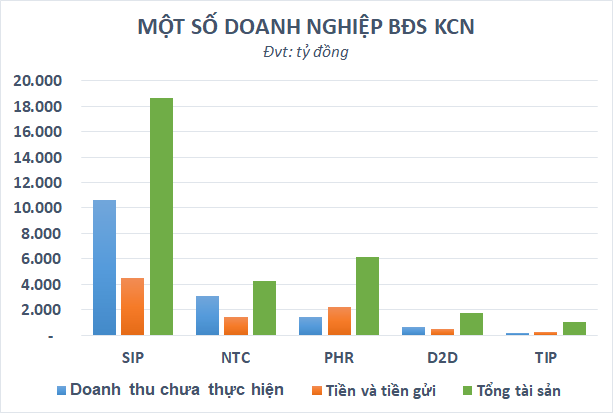 Industrial park real estate enterprises have plenty of money to save
Besides benefiting from rising interest rates, Vietnam's industrial park real estate potential is assessed by Rong Viet Securities (VDSC) to be very large with two main segments to be exploited including land leasing and factory leasing. available thanks to the rapid growth of e-commerce and the wave of FDI into Vietnam.
In addition to the two industry groups mentioned above, a number of individual stocks are also considered to benefit from interest rate hikes thanks to huge deposits, typically such as: VEA by VEAM Corp. This business is often in the top of the most money on the stock exchange with tens of trillions of billions deposited in banks while having negligible debt.
At the end of the first quarter of 2022, VEA had more than 14,000 billion VND in cash, cash equivalents and deposits, an increase of 2,400 billion VND compared to the beginning of the year. VEAM is known as the "giant" of the Vietnamese automobile industry when it holds up to 30% of contributed capital at Honda Vietnam, 20% at Toyota Motor Vietnam and 25% at Ford Vietnam Co., Ltd. are the car manufacturers with the leading consumption volume in Vietnam. Thanks to that, VEAM only needs to "sit still" and still have trillions of billions poured in from dividends of affiliated companies.
Vietnam's auto market has been starting to warm up after a long time of separation due to the epidemic, the demand for buying cars has gradually increased again. According to the Vietnam Automobile Manufacturers Association (VAMA), the total market sales of its member units in April 2022 reached 42,359 vehicles, an increase of 14% compared to the previous month and an increase of 40% compared to the previous month. same period. Decree No. 103/2021/ND-CP of the Government continues to reduce 50% of registration fees for domestically manufactured and assembled cars, which is considered a positive support factor for automobile demand.
Another stock that also has a high proportion of cash is Saigon Cargo Service's SCS with the balance at the end of 1Q2022 reaching VND 689 billion, equivalent to 44% of total assets. In addition, this airline service company is still debt-free, thereby fully benefiting from the interest rate increase trend without facing the opposite pressure from financial costs.
Besides, the prospect of SCS in 2022 is evaluated very positively by Bao Viet Securities (BVSC) thanks to its ownership of 15,000 m2 of unused land (corresponding to 72% of additional capacity) and can quickly reach 55%. market share in Tan Son Nhat. Sharing the same view, VCSC believes that there are many driving factors for SCS's business prospects in 2022 from reopening activities to welcome international tourists, increasing the number of international passenger flights effective from the first quarter of this year. January 2022.
The duo of leading stocks in the fertilizer industry DPM of Phu My Fertilizer and DCM of Ca Mau Fertilizer They also hold a large amount of cash up to trillions while borrowing very little. By the end of the first quarter of 2022, DPM's balance of cash and deposits amounted to VND 8,455 billion, accounting for more than half of total assets while financial liabilities were less than VND 900 billion. Similarly, DCM has VND 6,607 billion in cash and deposits, accounting for 51% of total assets but only has more than VND 500 billion in debt as of March 31, 2022.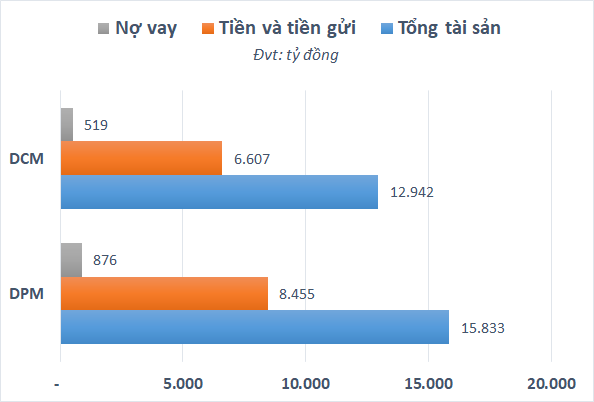 The duo DPM and DCM have a lot of money and little debt
According to KIS Securities, the gross profit margin of the fertilizer industry reached a new peak in the first quarter of 2022 at 31.7%. In the event that fertilizer prices tend to decrease in the following months, along with the galloping rate of fuel prices due to global political tensions, gross profit margin in the following quarters may decrease. If export revenue is also "short of breath", the profit growth rate may decrease gradually from the second quarter of 2022, although it is still positive compared to the same period last year.
In fact, on the stock exchange, there are many cash "giants" familiar to investors, such as HPG, ACV, GAS, BSR, FPT, etc. However, these businesses are also all huge debt up to tens of thousands of billion dong. Therefore, it is difficult to accurately assess whether the impact of rising interest rates is positive or negative for these enterprises.
https://cafef.vn/lai-suat-ruc-rich-tang-doanh-nghiep-nhieu-tien-it-vay-no-len-ngoi-20220606093101161.chn
You are reading the article
Interest rates are about to increase, businesses with a lot of money have little debt to the throne?

at
Blogtuan.info
– Source:
cafebiz.vn
– Read the original article
here