Yolo
Nguyen Ti Na has just sold cakes and opened a vocational class
Instead of choosing a university path, the 9X girl in Binh Duong chose to start a business with cakes.
Born and raised in Binh Duong, young girl Nguyen Ti Na (born in 1999) has a passion for cakes. Therefore, although she passed the university entrance exam, but Ti Na recklessly decided to give up the university path and turn to a career. baking.
At the age of 23, the young girl was the owner of an online bakery and opened classes to teach hundreds of students how to make cakes. Doing her favorite and passionate job has helped her earn an income of 50-70 million VND per month.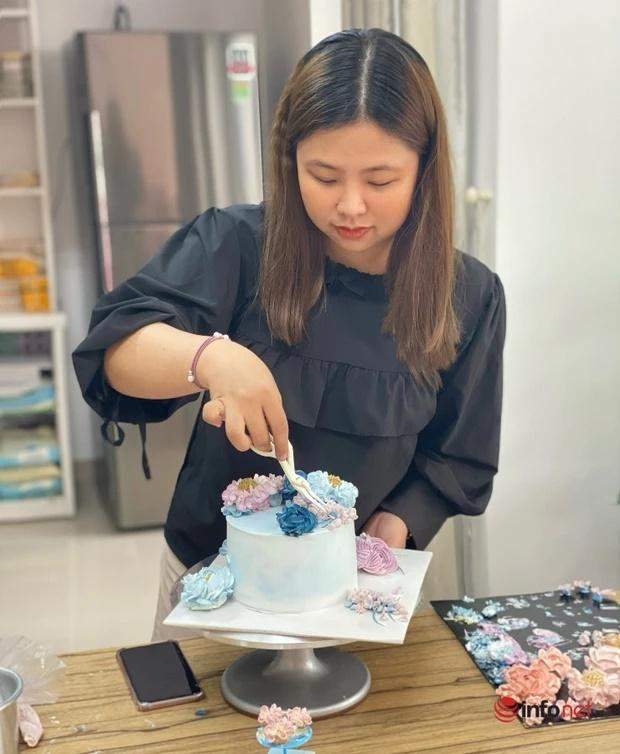 Young girl Nguyen Ti Na in Binh Duong has chosen to start a business with cakes instead of going to university…
Making my own cakes when I was in 10th grade
Sharing with PV, Ti Na said that when she started in 10th grade, she started making her favorite cakes such as bread, cream puffs, etc. by learning the recipe from the internet, and then bringing it with her. Come to class to invite you to eat. Everyone who ate also praised and encouraged her to sell, so Ti Na also tried to sell to friends and acquaintances.
While studying and making cakes, Ti Na is fortunate to have her parents' care and support, helping a lot in buying, preliminarily processing ingredients or shipping cakes.
It is because of her parents' encouragement and support that has become a great motivation for Ti Na to continue to cherish and pursue her dream of baking.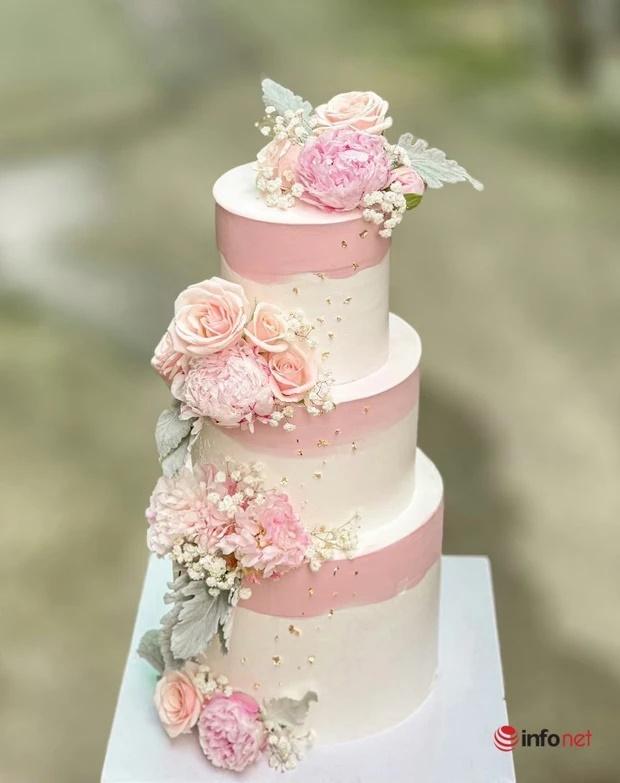 The gato cakes are made by Ti Na with all passion….
Every time she sells a cake, Ti Na spends money to buy practical tools for the many types of cakes she has seen on YouTube. The passion for cakes kept growing, so Ti Na decided to sell cakes online in Binh Duong.
In 2017, the first cake order Ti Na received was an order for a cake from her mother's friend. Ti Na remembers that it took her 2 days to prepare the ingredients and make it, when the cake was finished, it sold for 200,000 VND.
Since then, while making cakes for sale, Ti Na has hone her own knowledge and skills when participating in direct baking courses of professionals.
Then, when she got home, in addition to practicing and applying the lessons, Ti Na changed again, creating new recipes according to her style and suitable for customers.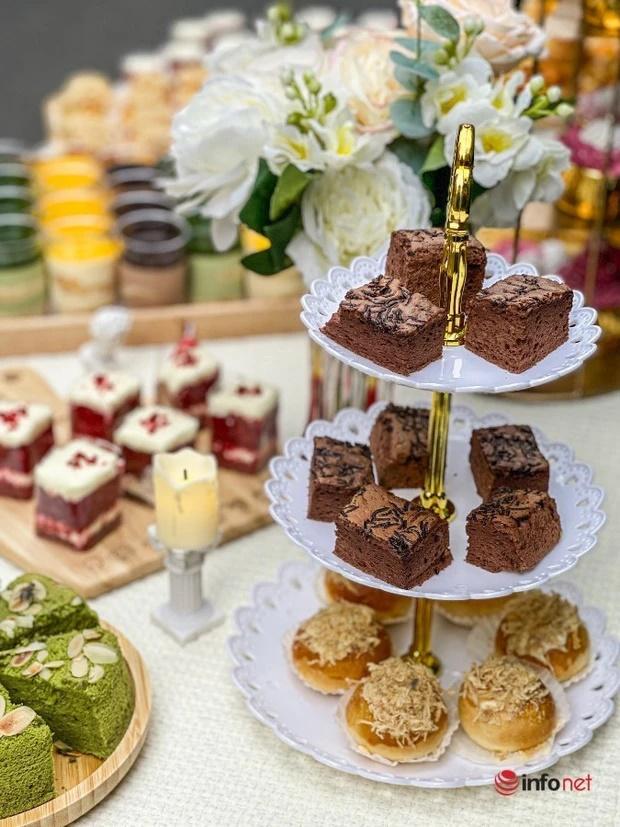 All kinds of cakes are made by Ti Na according to her own adjusted recipes.
In order to get the recipe to make cakes that are both delicious and beautiful, Ti Na said, she also ruined countless, uncountable.
Just do it over and over, adjusting each ingredient, each weight to produce delicious, authentic Ti Na cakes or cakes.
In addition to cake, Ti Na makes all kinds of chrysanthemum bread, salted egg sponge cake, cream cheese … to serve customers, but all are sold online.
The young girl recalled, one day a customer ordered up to 12 gato cakes, and had to work all day and all night alone to complete it to return the customer. After completing the order, even though I only slept for 2-3 hours, I felt very happy and not tired.
In 2020, when there was a stable number of customers, plus some customers after ordering delicious cakes, beautiful designs asked to learn how.
After a few days of thinking, Ti Na decided to open a baking class, share her knowledge and experience, and spread her love of baking to people with the same passion as her.
Open baking class, teach 700-800 students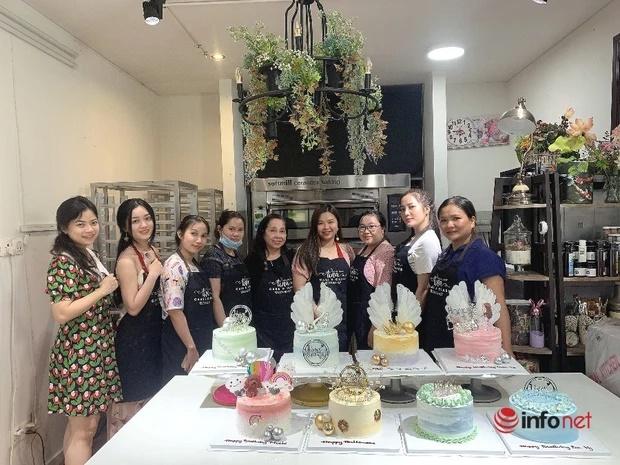 Ti Na (4th from the right).
After the first students in Binh Duong, Ti Na posted photos of cakes and baking classes in groups on social networks and many people asked to open classes in Ho Chi Minh City to attend. So Ti Na decided to pack her things from Binh Duong to Saigon, then rent a house and open a teaching class.
Because each type of cake only takes 1-2 days to complete, after a few days of teaching the students, Ti Na again checked out of the room and then moved back to Binh Duong.
At the beginning of 2021, when the number of students increased and studied every day, Ti Na completely moved to Saigon, rented a house, moved tools to teach more cake classes.
However, it was only until May that Ho Chi Minh City started the Covid-19 outbreak, classes had to be suspended again, and classes resumed in November.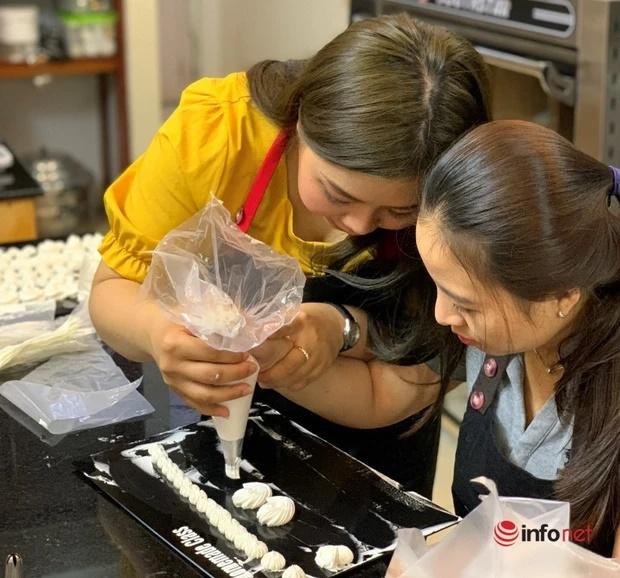 The 9X girl is passionate about baking, selling online and opening a teaching class with an income of 50-70 million VND per month.
Ti Na remembers once while teaching in Saigon, she suddenly received a large order of cake from a regular customer in Binh Duong to give to a friend in Saigon, forcing Tin Na to do it urgently. To process the order, Ti Na immediately taught the students and also made the cake ordered by the customer to model…
So students and teachers both study and work, together practice the customer's orders. At the end of the session, when the cake order was delivered, both her and the students' emotions were broken, relieved when the urgent order was finished, and then all had a very fun and memorable evening.
Each class has 6-8 students, so far, Ti Na has taught about 700-800 students in her baking classes.
The amount of capital spent about 60 million VND to buy ovens, tools, equipment for baking classes… with a stable number of students, along with still accepting online cake orders in Binh Duong when free, Ti Na has income of 50-70 million VND per month, a desirable income for many young girls.
"Bakery really needs perseverance and patience; If you fail 1-2 times for the first time, don't be discouraged because after those failures, you will have more experience and it will be easier to succeed.
Must always cultivate knowledge, update new trends and constantly learn from those who have gone before." Tina shares her experience.
According to Infonet
You are reading the article
Nguyen Ti Na has just sold cakes and opened a vocational class

at
Blogtuan.info
– Source:
2sao.vn
– Read the original article
here