Tech
No title, no prospects, but make the other party regret it for life
11 years after co-founding Apple, Steve Jobs was brutally fired from the company he founded. He sold almost all of his shares (11% of Apple stock) but kept only one stock. According to experts at the time, this was not the action of someone who would want to return to the company one day. It seems that he has decided to give up Apple forever.
In 1985, Jobs gathered all his ambition and $12 million to found NeXT. This is the company he helped create to build computers for colleges and researchers. Years later, a historic piece of the tech icon's career was unveiled to the public.
The letter "wins" employees from Apple
In 1989, a year after NeXT released the first computer, Steve Jobs made a bold decision. At the time, he sent an "incredibly cool" job offer to David Nagy, who was working as product manager at Apple at the time. Jobs offered Nagy a salary of $80,000 per year, paid monthly, to let him join NeXT.
According to the Bureau of Labor Statistics, the $80,000 salary that Jobs offered would be worth nearly $180,000 today.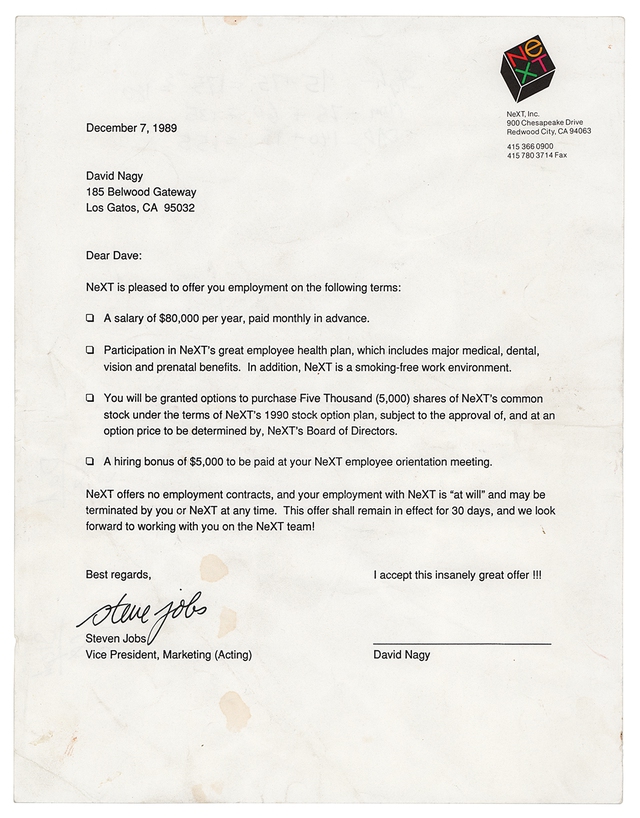 According to the invitation received by RR Auction, this role does not have a specific title. If he accepts the invitation, David Nagy will receive a signing bonus of up to $5,000 along with options to buy 5,000 shares of NeXT common stock and coverage under the company's employee wellness plan.
At the end of Jobs' letter was a handwritten note – "I accept this crazy amazing offer!!!". However, the invitation of the NeXT boss at that time could not convince Nagy. He turned down the opportunity to stay at Apple until 1993.
Before making an offer to Nagy, NeXT ran into some problems in the market. Their $10,000 computer could not be marketed to the intended audience of educators and scientists. Jobs wanted Nagy to "develop product strategies and plans, third-party partnerships, and marketing programs," as he did at Apple.
Nagy later confessed that even though he knew NeXT was a company with no future, he still regretted turning down the job. "The offer was very unusual in that there was no specific job title, department, or area of ​​responsibility," Nagy wrote in the letter. "I loved my job at Apple and didn't think NeXT was going to be successful, but looking back it's clear I should have taken that opportunity."
Employing talents: Do it for passion, not for money
From the early days of Apple, Steve Jobs himself conceived that his company must be built to be successful. At that time, Apple invited two "professional" managers to work. But then Jobs immediately fired them.
He revealed the reason behind is because "The way of working is not very effective. They know how to manage but don't know how to do anything". After firing top professionals, Jobs shared that he looked for talent by a very different standard: Passion.
The late Apple CEO explained: "We need people who show their passion for what they do, we don't need semi-experts. People who are inherently skilled and they have passion. and understanding of the evolution of technology, what they can do with those technologies."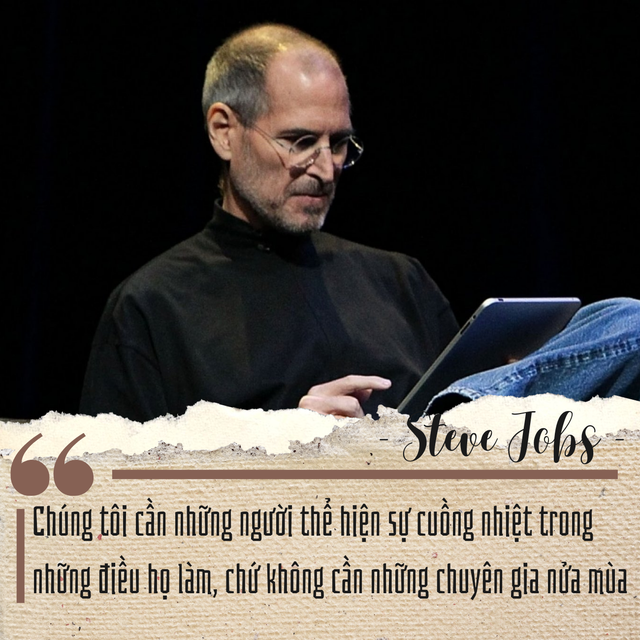 Jobs didn't care about impressive resumes, or where candidates worked. He just wanted people who solved problems with passion.
It was at this point that Jobs explained that great employees don't have to be managed by someone. If they have enough passion, intelligence and motivation, they can completely manage themselves. And what they really need to know is the vision of a company.
Return of a Legend
In 1997, Apple bought NeXT for $429 million. This event also marks the return of Steve Jobs in the Apple empire. Jobs initially served as an advisor. Instead of selling off his stock in the Apple deal, however, Jobs assembled a competent management team with the goal of turning Apple around.
Guy Kawasaki, an employee who worked for Apple during the 1980s and '90s, said working for Jobs was "sometimes frustrating and always scary".
Kawasaki revealed in an article on CNBC Make It: "In the Macintosh Division, you have to prove yourself every day, or else the job will put you out. He demands excellence and forces everyone to be. We have to stay in top form… but that has motivated many of us to do the best work of our careers."
Hardly anyone can imagine that the man who always considered himself a genius, who created the Macintosh – the most progressive product of Silicon Valley at that time – was kicked out of Apple. Jobs even had to deal with the fact that Apple stock jumped nearly 7% following the announcement that he was leaving the company.
But that was never a reason for Steve Job to despair or lose faith in his own abilities and standards for a top-notch computer product. He put all his heart and talent into creating NeXT. His goal was to create products that could be sold to colleges and universities.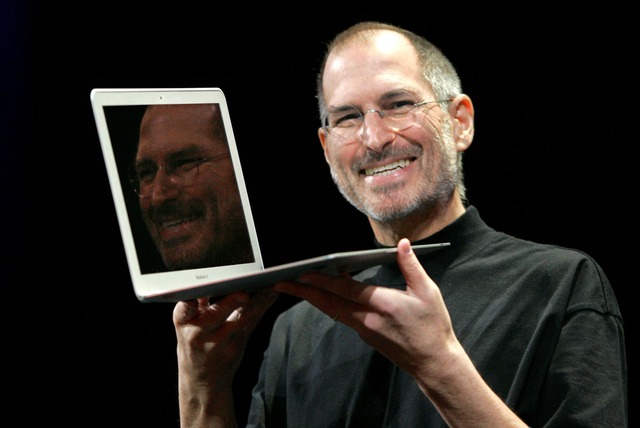 The NeXT was a particularly expensive product because it contained all of Jobs's somewhat extreme habits and passions. The product hit the market in mid-1989, about two years later than expected, with a price tag of up to $6,500.
NeXT has some great features, such as the Oxford dictionary and the complete works of Shakespeare; optical read/write discs have capacity, but have no spare floppy disks and run slow. Despite its many technical advantages, this product failed at launch with only 400 units sold per month compared to expected sales of 10,000.
However, NeXT served as a stepping stone in Steve Jobs' career path after leaving Apple. The product also gave Jobs valuable lessons about not creating a commercially impossible product, testing the effectiveness of features in a computer product he had always dreamed of, and most of all, it paved the way for Jobs' return to Apple.
The acquisition of NeXT helps Apple to systemize and successfully develop the Mac OS X version of the operating system. Along with the leadership of Steve Jobs, Apple also focuses more on products related to mobile devices. motion, music and later many other fields.
Summary – Photo: Internet
https://cafebiz.vn/sung-so-truoc-buc-thu-chieu-mo-nhan-tai-cua-steve-jobs-khong-chuc-danh-khong-trien-vong-nhung-khien-doi- phuong-tiec-nuoi-ca-doi-20220610073136811.chn
You are reading the article
No title, no prospects, but make the other party regret it for life

at
Blogtuan.info
– Source:
genk.vn
– Read the original article
here