Sức Khỏe
The 46-year-old man had an erection of his penis for more than 48 hours
Emergency cases when the "little guy" continuously had an erection for 2 days
Doctors of the Department of Nephrology – Urology, Hau Giang Province General Hospital recently successfully treated an erection for more than 48 hours for a 46-year-old male patient.
This man was admitted to the hospital in a state of pain and erection for more than 48 hours. He is also being treated for long-term schizophrenia. The doctor diagnosed the patient with chronic penile pain and anemia due to the use of Olanzapine.
Specialist doctor II Tran Thanh Giang, deputy director of the hospital, shared that this is a difficult and rare case in the field of male gynecology.
To handle this emergency, doctors anesthetized the base of the penis, suctioned and pumped the penile cavernous body. The aspiration and irrigation process is repeated several times until the aspirated blood is bright red.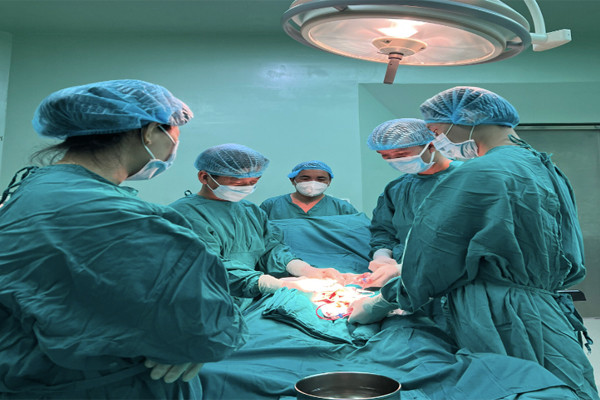 Immediately after the intervention, the patient's condition gradually stabilized, the "little boy" also became soft again. "The timely rescue saves the patient from the risk of the penis becoming necrotic or permanent impotence," said Dr. Giang.
However, the patient came to the hospital late, causing prolonged anemia and fibrosis. Therefore, the consequences of erectile dysfunction later on are unavoidable. Male patients will have to follow up to control erectile dysfunction and have appropriate treatment.
Although it is not a common male emergency, many medical facilities have received patients asking for help because of prolonged erection of the penis.
The Southern Learning Center, Viet Duc Hospital (Hanoi) used to give first aid to a case under 30 years old, the "little boy" for 2 consecutive days refused to "down" because of taking drugs to enhance physiology. Sharing with the doctor, the young man who is at an energetic age said he just wanted his girlfriend to be surprised by his strength.
A 31-year-old man in Quang Ninh was also hospitalized with a similar condition. He has a history of erectile dysfunction. Two months ago, he bought himself a male enhancement pill of unknown origin and drank it before having sex. Two days before being admitted to the hospital, his penis was not tender and was constantly in pain despite normal urination.
"Long is a disaster"
According to Dr. Nguyen Hoai Bac, Head of the Department of Andrology and Sex Medicine, Hanoi Medical University Hospital, penile pain is erectile dysfunction in men. The disease is relatively rare, with an estimated 1-2 men in every 100,000 men affected.
The ischemic "penis" erection is the most common type, usually due to vascular occlusion. This is a surgical emergency that requires early intervention to avoid affecting later erectile function.
"If anemia lasts for more than 4-6 hours, the spongy tissue of the cavernous body will tend to fibrosis, easily leaving serious consequences that the patient will have erectile dysfunction for life," said Dr. Bac.
This type of body is characterized by an erection lasting more than 4 hours, painful, tight, hard, purple discoloration due to reduced or lost blood circulation in the corpus cavernosum.
There are many causes of penile pain. In which, there are causes related to vascular diseases or frequent stress, stress; Abuse of rapid erection drugs, penile stimulants …
It is worth mentioning that many people when the "little boy" is abnormal, instead of going to the hospital immediately, they struggle to handle it by themselves, using manual measures such as applying ice, impacting all kinds. After a period of no effect, they went to the hospital.
Doctors warn, as soon as you notice that the "little guy" has an abnormal erection unlike the previous situation, you need to pay attention to stop all sexual stimulation, go to the doctor immediately.
In which, the abnormality of "penis" is understood as a state of partial or complete erection, lasting more than 1 hour, exceeding sexual stimulation and orgasm or not related to sexual stimulation. .
If intervened before 6 hours from the time of having an erection, it is possible to completely restore erectile function. After 6 hours, this rate of recovery is reduced due to prolonged anemia. After 24 hours, erectile dysfunction is almost certain.
Regarding the use of products advertised to support kidney tonic, yang, and physiological enhancement, male doctor Nguyen Ba Hung – Hanoi Hospital of Andrology and Infertility, warned that many people use this product. arbitrarily used, especially in the case of products with mixed active ingredients Sildenafil, Tadalafil…
These drugs are used to treat erectile dysfunction with the prescription and close monitoring of the physician. However, if used for a long time, it can affect the heart, blood pressure, visual disturbances (everything looks blue-violet).
In fact, doctors used to receive and treat patients, even though they were treating high blood pressure, taking antihypertensive drugs, but they used erectile dysfunction drugs in the wrong direction, causing blood pressure to drop suddenly, threatening their health. network.
Thanh Hien
You are reading the article
The 46-year-old man had an erection of his penis for more than 48 hours

at
Blogtuan.info
– Source:
vietnamnet.vn
– Read the original article
here