"Chicken" by Coach Park Hang-seo
Agile, persistent, enthusiastic and capable of making reasonable decisions at important times, Phan Van Duc is one of the students most trusted by Coach Park Hang-seo. From the 2018 Asian U23 tournament to a series of big battles later, the Nghe striker has continuously been the main kicker and has made great contributions to historical victories.
"Chicken" is the nickname that fans give Van Duc. Because many times the 26-year-old striker has helped U23 as well as the Vietnamese team overcome difficult situations.
Van Duc's first big impression was the assist that led to the opening goal against Iraq U23 in the 2018 Asian U23 Championship. In the midst of a jungle of opposing players, the Nghe striker surprised everyone when he threw a hook. the ball, "cleaning up the table" for Cong Phuong to score.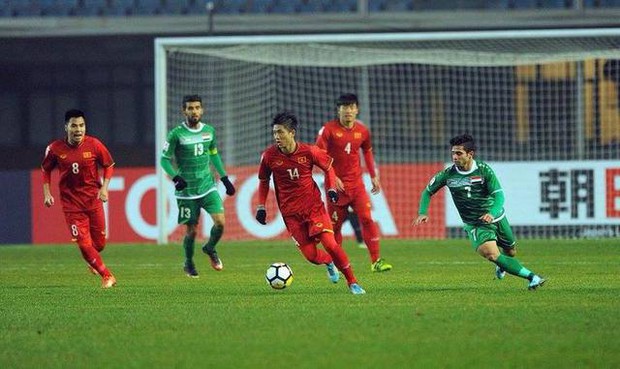 Phan Van Duc is the "chicken" of the Vietnamese teams under coach Park Hang-seo.
At the AFF Cup 2018, Phan Van Duc was the one who sparked both goals of the Vietnamese team in the final first leg against Malaysia. At the 2019 Asian Cup, the effort from Van Duc brought home a penalty to help Que Ngoc Hai set the score 2-0 against Yemen, bringing Vietnam through the narrow door to the round of 16.
On the 1st of the last Lunar New Year, the striker wearing the SLNA shirt scored a super product against China in an impressive 3-1 victory of the Vietnamese team.
Masterpiece of Phan Van Duc | AFC Asian Qualifiers – Road to Qatar (World Cup Third Qualifier – Asia Zone)
It was a ball that clearly showed the decisive quality from Phan Van Duc. Faced with many options, Van Duc calculated extremely quickly and finally gave a perfect answer. Not a pass, a dribble, but a "cannonball" that puts the ball in a position that the opponent's goalkeeper cannot block.
The full life of the boss who always likes to play big
In early 2019, Phan Van Duc "bought" a Mazda CX-5 for more than 1 billion VND. This information attracted great attention from fans, because Van Duc suffered from severe car sickness. Every time he travels by car or plane, the Nghe striker is clearly tired.
Van Duc said that he wanted to bring the car home for his mother, and take her mother on New Year's Day to visit relatives. But fans teased that: This must be a trick to "take poison to treat poison", eliminating Phan Van Duc's fear of motion sickness. In the end, both purposes were fully successful.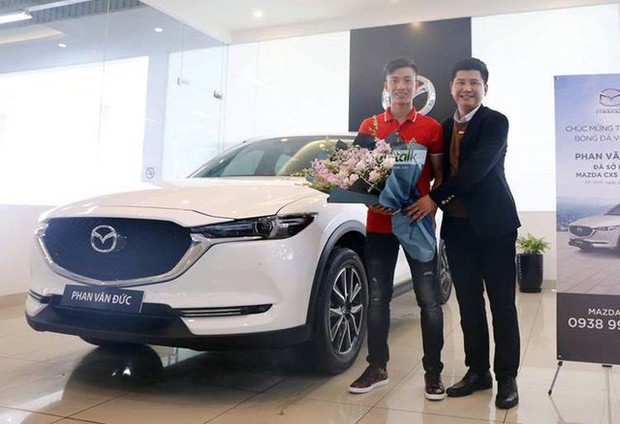 Van Duc and the Mazda CX-5
2019 was a difficult year for Phan Van Duc with a nagging injury that forced him to undergo surgery. Reminding the players to take a long-term break, coach Park Hang-seo said to take it as an opportunity to do what you love before returning to football.
And in the temporary days away from the pitch, Phan Van Duc was able to have a small family with his bride Nhat Linh. A love story that, according to fans, is as interesting, romantic and decisive as when Van Duc led the ball on the field.
At the wedding in her hometown of Nghe An, Phan Van Duc's bride wore 2 wedding dresses with a total value of up to 800 million VND. Both dresses are ordered by Nhat Linh from designer Linh Nga with a series of sophisticated designs.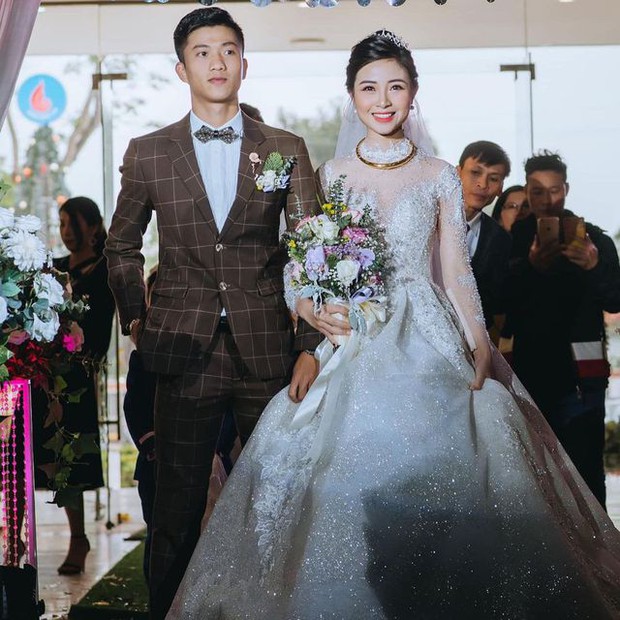 After the wedding, Van Duc – Nhat Linh had a private house in Vinh. This location helps Van Duc both practice and compete with SLNA Club, and have more time for his family.
In 2021, with the barriers of the Covid-19 epidemic, the Nghe striker had to go through a long series of days away from home. He focused on the Vietnamese team from May 2021 to early 2022 to compete in the World Cup and AFF Cup qualifiers.
During that time, Van Duc had very few opportunities to visit home. And Duc's way of compensating his wife is also very decisivewith a practical gift worth more than 2 billion VND: A white Mercedes-Benz GLC 200 4Matic.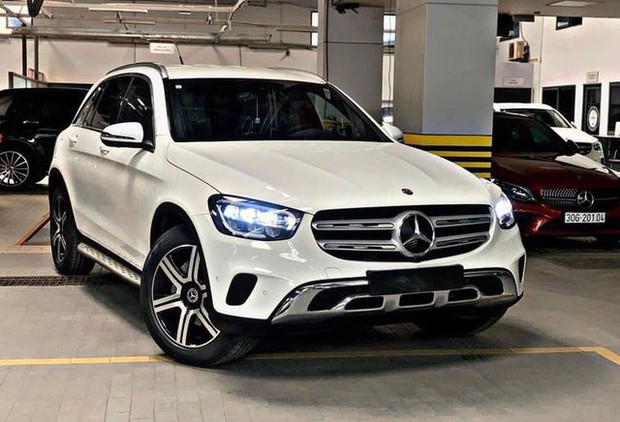 The car model that Phan Van Duc bought for his wife
When the SLNA club transferred the owner, Phan Van Duc was one of the stars to get the first contract extension with a good salary and a bribe of about 10 billion dong in 3 years. It is a lever to help Germany proceed more smoothly with his plan to become a hotel owner.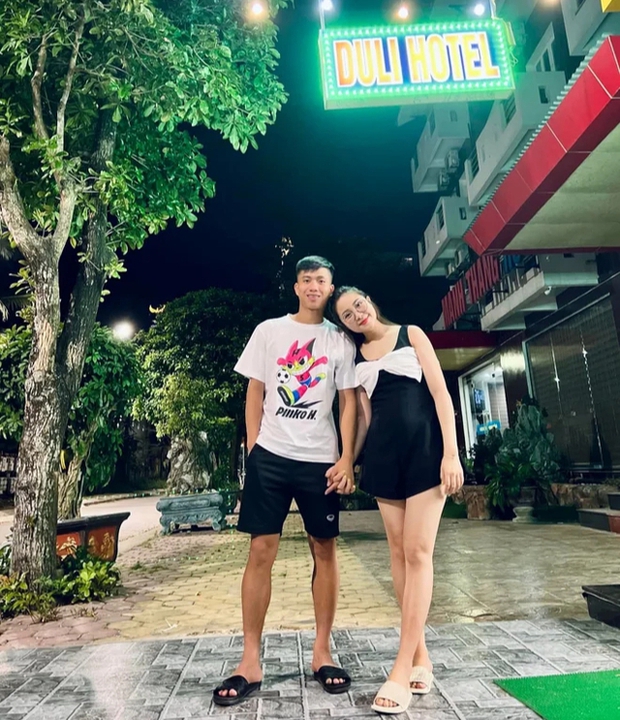 Phan Van Duc and Nhat Linh opened a hotel in Cua Lo together.
Last April, Van Duc – Nhat Linh and his wife opened the 5-storey DuLi Hotel in Cua Lo, Nghe An. A bold move and supported by many teammates at the club as well as the national team. Bui Tien Dung, Ho Tan Tai or Nguyen Manh all expressed their eagerness to one day come to Van Duc's hotel.
https://soha.vn/phan-van-duc-tu-ga-son-cua-thay-park-den-ong-chu-luon-san-sang-choi-lon-20220610022727552.htm
You are reading the article
The present life of Phan Van Duc

at
Blogtuan.info
– Source:
Kenh14.Vn
– Read the original article
here