Business
The "sunshine" chickens became a lifeline for all of humanity when people couldn't afford pork and beef.
Over the centuries, beef steak or pork tenderloin has always been the top favorite food as society has become more affluent and their diets have improved. However, this is no longer the case. In 2022, chicken meat consumption is expected to reach 98 million tons, double the amount consumed in 1999.
That's more than three times faster than demand growth for pork and 10 times faster than beef. Global chicken meat consumption is on track to account for 41% of all meat consumed by 2030. And in less than a decade, for better or worse, people will consume more chicken than any other source of food. any other protein.
Chickens only see the sun twice
Thanks to genetic influences and a series of scientific and technical innovations, the cost of raising broiler chickens has steadily decreased over the years. Today, chickens only need 6 weeks from hatching to become broilers. It is a miraculous process by which no other animal can turn food into protein like chickens do.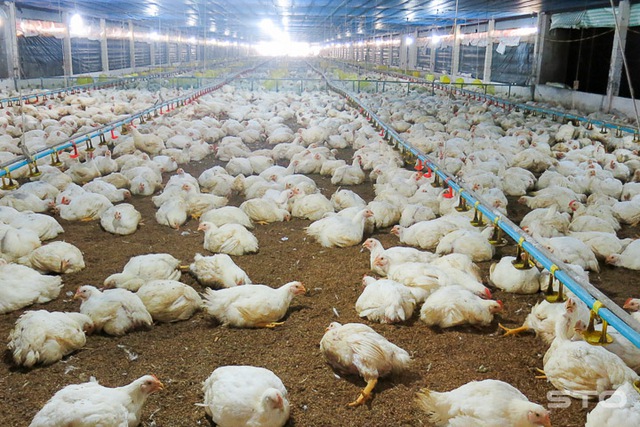 However, to do this, the chickens have to pay a super expensive price. Right from the time of hatching, a selection process has been carried out to select hens, which have the ability to grow faster than the hens and males. The completely eliminated roosters have no chance of survival.
After selection and incubation, the hens are transported by truck to the farm. This is the first time in their lives they have seen sunlight. When that journey is over, the chickens are raised on a farm designed to help them grow as quickly as possible. Food is provided continuously, the light never goes out, making them eat day and night. Even the weight increases so quickly while the bone structure can't keep up that even walking becomes a challenge for them.
When the chickens have gained enough weight, people use machines that "harvest the chickens" to put them in the baskets. The chickens have almost no resistance. For the second time in their lives, they saw sunlight as they were loaded from the farm onto a truck to the automated slaughterhouse. The life cycle of sunny cop chicks ends in less than 2 short months.
Jayson Lusk, an agricultural economist at Purdue University, said: "By all means, we are trying to increase meat weight and reduce chicken production time. It is assumed that there will be fertility limits. study with chickens, but apparently, humans are still discovering them."
Inflation makes chicken on the throne
The shift in consumption from pork and beef to poultry is happening in many economies, from Brazil to China. The price of red meat skyrocketed, making many people unable to afford them for family meals. The turmoil in the food supply chain due to the pandemic and conflict in Ukraine has exacerbated this trend.
However, that is not good news for the chickens either. Super weight feeding methods cause muscles to increase rapidly, exceeding the tolerance of the bones. Even many chickens have broken bones because of their own weight. Wedge-crowded enclosures allow diseases, such as bird flu, to easily break out and spread at breakneck speeds.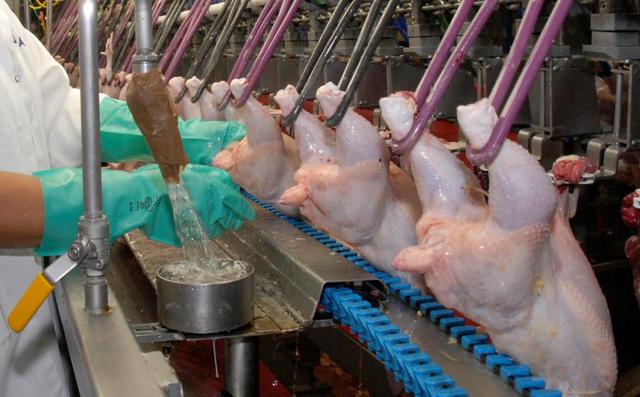 Those things did not make the farmer turn away from the chicken. Poultry production costs are now down by a third compared to 30 years ago. A way to do the same with other pets hasn't been found yet.
However, demand is now growing so fast that manufacturers cannot keep up, leading to a shortage of goods. Restaurants in the US are engaged in a fierce competition for supply. Chicken chain Wingstop Inc. said they want to buy a processing plant. This will be the first major restaurant chain to venture into expanding its supply chain.
Layne's Chicken Fingers, a Texas chain that only sells fried chicken, fries and a few side dishes, was stopped by its largest poultry supplier last year when it was unable to supply enough product. The only alternative that Layne could find was Samir Wattar, even though it cost almost twice as much. This year, many large chains are willing to pay more just to ensure that their supply will not be cut off.
In Asia, chicken is replacing pork – the traditional meat that is present in daily meals and even on holidays and New Year's Eve. Younger generations in Asia are accepting the Western view that white meat is healthier. Some restaurants in China no longer serve pork, a fact unthinkable a few years ago.
The menu at Wagas, an upscale chain focusing on healthy foods in China's major cities, is changing its menu to chicken, avocado, seafood and sourced options. plants instead of using pork and animal products.
Brazilians are also very fond of chicken this year because inflation makes beef too expensive. The country is also increasing its poultry production despite being the world's largest exporter. Factories are continuously expanding operations, changing and improving processes for even higher output.
Demand is also growing globally. Brett Stuart, co-founder of Global AgriTrends – a consulting firm, said: "I don't know of any country in the world that doesn't use chicken. This meat is on the top of the protein ladder."
https://cafef.vn/nhung-chu-ga-com-nang-tro-thanh-cuu-canh-cho-ca-nhan-loai-khi-nguoi-dan-khong-du-tien-mua-thit- lon-thit-bo-20220609173703487.chn
You are reading the article
The "sunshine" chickens became a lifeline for all of humanity when people couldn't afford pork and beef.

at
Blogtuan.info
– Source:
cafebiz.vn
– Read the original article
here