Jackfruit is considered a staple crop in some Southern provinces and the Mekong Delta. In the southern provinces, jackfruit trees have been grown by people for a long time and grown in many forms such as intercropping in fruit orchards, specialized cultivation …
Especially, in the past two years, jackfruit has been purchased by traders at a high price, profiting from 400 million VND to 600 million VND/year/ha. Jackfruit sold for a good price, people quickly converted this tree into a main crop in many gardeners. The trading of jackfruit is also more bustling, every day traders come to the garden to buy and collect jackfruit, gardeners are busy picking jackfruit, weighing and transporting it.
In recent years, jackfruit is the main fruit tree in the South, bringing income to the people here
However, an important step in this process is how to determine that a jackfruit is ripe and meets the standards for harvesting without having to split it, especially when traders need to transport jackfruit over long distances. such as exporting to China or bringing jackfruit to the North… Because of this urgent need, the profession of "sniffing jackfruit" appeared and became increasingly popular.
Unlike the jackfruit storks, who lead to the garden to buy jackfruit, the people who smell the jackfruit are the people who accompany the traders to the garden to determine the age of the jackfruit and take on the job of picking jackfruit for the garden owner. Because a fruit like jackfruit has a special characteristic, unlike many other fruits, it has its own characteristics in color and shape that make it easy to tell if the fruit is ripe or not. Therefore, traders must ask people who work to smell jackfruit to determine the age of the jackfruit, helping to reduce the risk of buying the wrong young jackfruit or jackfruit with lots of black fiber.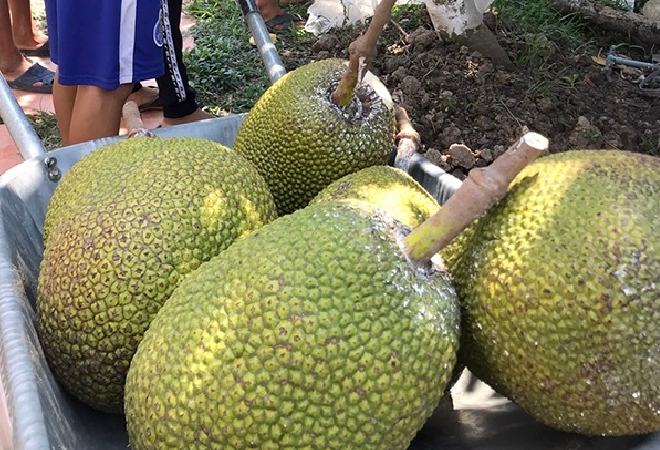 In order to bring delicious jackfruit to customers, they have to go through the process of "sniffing the jackfruit", so the people who "smell the jackfruit" play a very important role.
The people who smell the rented jackfruit are often "reputable" in the trading world because they have experience. Sharing on Dan Viet, Mr. Le Van Ngoc (Dong Phu, Binh Phuoc), a senior who has "smells jackfruit" for nearly 10 years, said that based on his own experience, when he and traders went to jackfruit orchards, At a glance, you already know whether the jackfruit is old or not, but the owner of the jackfruit garden sometimes doesn't know exactly as well as you.
Ngoc shared, there are 2 factors to determine an old jackfruit fruit, the first is to rely on the aroma of the garden to determine, the second is to judge with the naked eye, looking at the petiole on the stalk. Specifically, if the leaves on the stem turn yellow and have spots, up to 90% of that old jackfruit will ripen in the next few days. If the leaves are still green, the jackfruit is still young, not old enough to pick. To be sure, he also used a knife to lightly prick the stem, if the pus flows quickly and while the fruit is about to ripen, if the pus is thick and slow, it has not been picked.
According to Mr. Ngoc, but experienced people like Mr. Ngoc also know which fruits have black fibers and must be discarded. Accordingly, the fruits that grow from the base and the stem will have a greater probability of having black fibers than those that grow at the top and branches. In terms of appearance, observe the fruits with regular knobs, stretch but not shrink, large spines, 70% of which have no black fiber. It's easy to say, but according to Mr. Ngoc, this job is not for everyone, if the fruit is still young and has bad taste, no one dares to hire me anymore.
As for Mr. Ngoc, he said he has accumulated experience during many years of working with garden jackfruit. Mr. Ngoc has 14 years of experience in growing and trading jackfruit, in which for more than 10 years, he is better known as a skilled "sniff of jackfruit".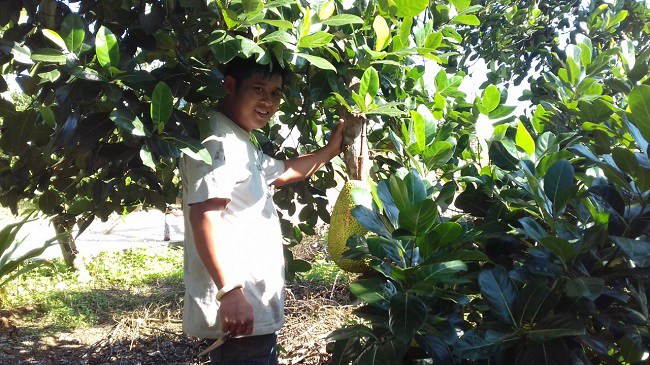 Mr. Ngoc at the jackfruit garden.
It is because of the requirement of "connoisseur" experience that people who smell jackfruit are paid very well. In the season, every day they will follow traders to buy jackfruit, it is very normal to receive millions of dong a day. From this profession, each year he can bring in hundreds of millions of dong. However, this strange job is still very scarce resources. Mr. Ngoc said, besides him, Binh Phuoc area only has more than a dozen people doing this job.
Mr. Hung Tran (a famous jackfruit trader in Ho Chi Minh City) said that having a partner to help him select and evaluate jackfruit in the garden helps him choose the best jackfruit products to bring to him. customers, not only helping to reduce risks and costs, but also helping Mr. Hung to keep his business reputation.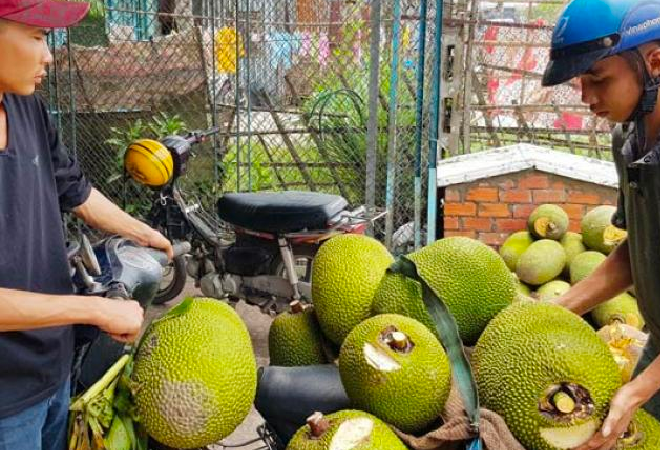 Traders choose jackfruit in the garden.
"That's why I'm willing to pay handsomely for people who work to smell jackfruit for hire. Usually I always book an appointment with people who do jackfruit sniffing jobs that I've known before, but when it's peak season, there are a lot of people. Traders are also stuck because they can't find people to do it", Mr. Hung added.
You are reading the article
Very strange job in Vietnam: Smelling jackfruit every day earn millions of dong, always thirsty for workers

at
Blogtuan.info
– Source:
Eva.vn
– Read the original article
here