Khỏe - Đẹp
Vinamilk invests in developing nutritional solutions to support the immune system and promote health
In the post-Covid new normal, nutritional needs to improve health and resistance are concerned by many Vietnamese families, with nutrition for children and adults as the top priority. elderly.
These are also topics of interest to be discussed in the seminar themed "Milk, dairy products with health promotion, prevention of Covid-19 epidemic in Vietnam" in the event of the International Dairy Industry Exhibition. and Dairy products in Vietnam for the 3rd time with the companionship of Vietnam Dairy Products Joint Stock Company (Vinamilk).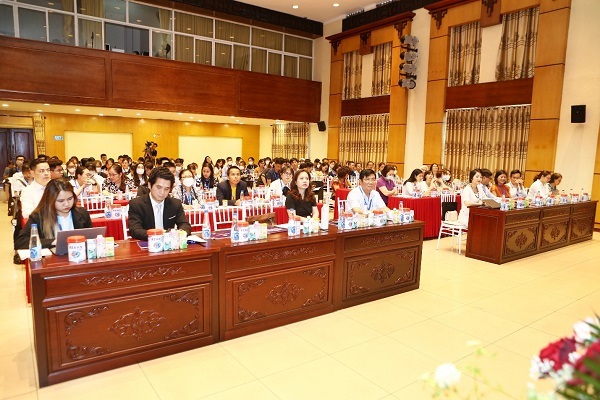 With useful health care knowledge, the seminar "Milk, dairy products with health promotion, Covid-19 disease prevention in Vietnam" attracted a large number of attendees.
According to Nielsen's early 2020 report, Vietnamese consumers consider health the number one concern with the highest level globally (48%, up 4% compared to the fourth quarter of 2019). Especially, after epidemic outbreaks, every individual has a recognition and re-evaluation of the importance of protecting health, boosting immunity as well as finding effective nutritional solutions to prevent disease. Take care of yourself and your family's health.
Understanding this problem, not only recently but throughout 46 years of establishment and development, Vinamilk has always researched and pioneered the application of new nutritional breakthroughs into nutritional products to improve health. of millions of Vietnamese families. In particular, in order to provide nutritional solutions to help strengthen immunity and improve health for the most interested and cared for subjects, children and the elderly, over the past time, Vinamilk has launched a new line of products. nutritional products Vinamilk ColosGold for young children and Kenko Haru for the elderly.
Within the framework of the conference, Dr. Dr. Le Minh Trac – Director of Newborn Care and Treatment Center – National Hospital of Obstetrics and Gynecology emphasized the importance of nutrition for children's immunity. In particular, many studies have shown that colostrum and beneficial bacteria are both solutions to support the health of the baby's immune system, helping to fight pathogens.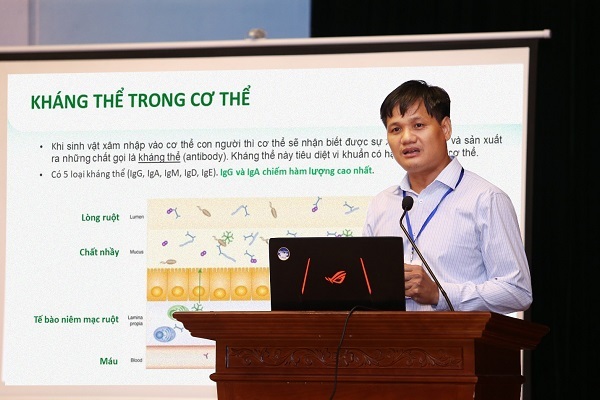 Dr. Dr. Le Minh Trac – Director of Center for Newborn Care and Treatment – National Hospital of Obstetrics and Gynecology presented about strengthening the immunity of babies with colostrum and beneficial bacteria.
Not only young children are the object of attention, the elderly with physical changes due to age are also objects of special attention.
TS.BS. Vu Thi Thanh – Head of Nutritional Therapy Department – Clinical Nutrition Center – Bach Mai Hospital also shared that the supplement Fucoidan from brown algae helps support immunity for the elderly and patients in The recovery phase contributes to improved health, increased life expectancy and quality of life.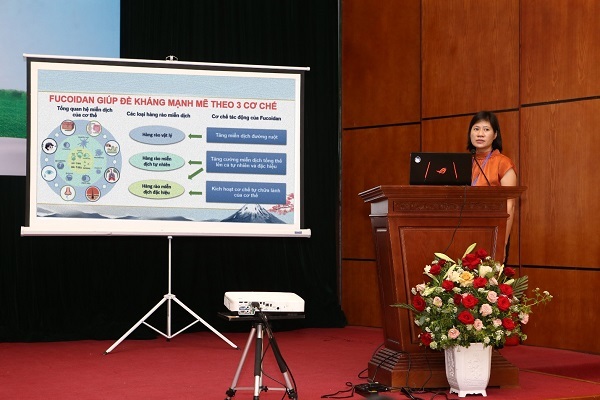 TS.BS. Vu Thi Thanh – Head of Nutritional Therapy Department – Clinical Nutrition Center – Bach Mai Hospital shared about the benefits of Fucoidan from brown algae, helping to improve health
Accompanying at the seminar "Milk, dairy products with health promotion, Covid-19 disease prevention in Vietnam", in addition to providing a lot of valuable health information to attendees, Vinamilk continued continues to affirm its pioneering role in the dairy industry, towards sustainable development, and commits to accompany in the mission of improving the health of millions of Vietnamese families, for a healthy Vietnam.
Pham Thi Nhung, Marketing Director of Vinamilk said: Vinamilk's powdered milk products have always been supported and trusted by domestic and foreign consumers for many years. This is the motivation for Vinamilk to continue to invest in developing nutritional products of international quality, meeting diverse needs, and bringing added value to users, from children to adults. . That is Vinamilk's commitment in accompanying the development of generations of Vietnamese people."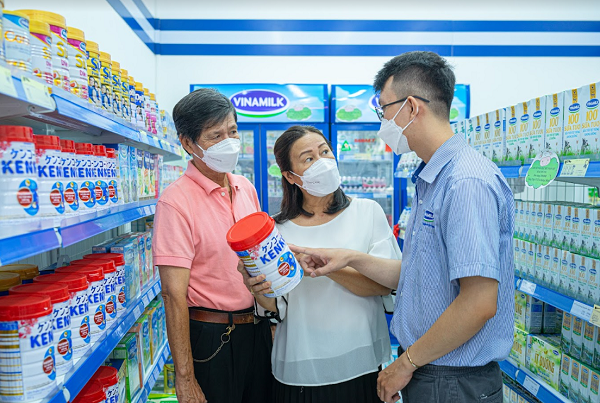 Vinamilk's powdered milk products are trusted by consumers to buy because of their high nutritional value, meeting diverse needs of all ages.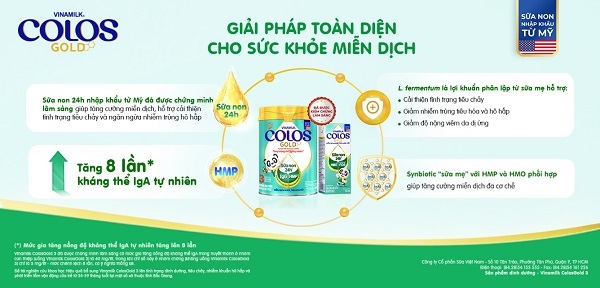 Vinamilk CoslosGold 3 helps increase the concentration of natural IgA antibodies by 8 times
According to clinical studies, Vinamilk ColosGold 3 product supplemented with 24-hour colostrum imported from the US with soluble fiber HMO, FOS, probiotic Bifidobacterium, BB-12TM and HUMAN MILK PROBIOTIC (HMP) – Lactobacillus fermentum CECT5716 was isolated. from breast milk, bring positive effects on children (24 -59 months old) after 6 months of use.(1)
In particular, Vinamilk ColosGold 3 was studied to help reduce the rate of diarrhea and respiratory infections in children, and at the same time to help increase the amount of natural IgA antibodies in the child's body. Accordingly, the body had an increase in serum IgA antibody concentration in the intervention group (drinking Vinamilk ColosGold 3) to 40 mg/liter, while this index in the control group (not drinking Vinamilk ColosGold 3) was only 40 mg/liter. 5 mg/liter – a difference of 8 times, statistically significant, creating a foundation for a child's natural immune system to develop well.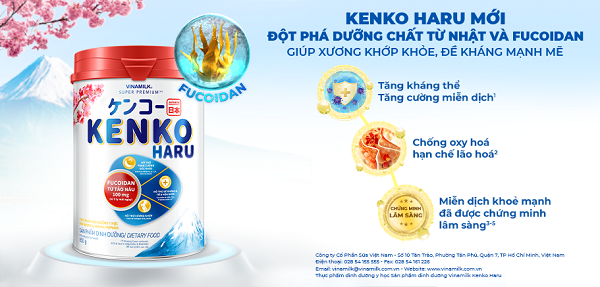 Kenko Haru medical nutrition product, supplemented with Fucoidan nutrients helps increase antibodies by 2 times – one of the secrets of a healthy life of the Japanese. Kenko Haru also contains nutrients imported directly from Japan, including calcium minerals and GOS fiber. When entering the body, the first Fucoidan nutrients will act as prebiotics, a favorite food for beneficial bacteria, inhibiting harmful bacteria, thereby balancing intestinal microflora, protecting and nourishing sugars. intestines and strengthen resistance. Moreover, fucoidan nutrients also act on natural immune cells, helping to increase antibody levels and activate natural killer cells (NK cells) to find and destroy pathogens. Adding 3 cups of Kenko Haru per day will provide 100 mg of Fucoidan for the body.
In addition, Kenko Haru also provides a complete and balanced nutritional composition with Japanese calcium, hydrolyzed collagen and high protein content to help support a strong musculoskeletal system; The duo Probiotics BB-12 and Japanese GOS fiber help support the weakened digestive system of the elderly. And thanks to plant sterols with the correct amount as recommended by the US FDA to prevent cardiovascular diseases.
Pham Trang
You are reading the article
Vinamilk invests in developing nutritional solutions to support the immune system and promote health

at
Blogtuan.info
– Source:
infonet.vietnamnet.vn
– Read the original article
here