Đời sống
Workers are "forced" to withdraw social insurance once because life is too difficult
Dr. Vu Minh Tien, Director of the Institute of Workers and Trade Unions, Vietnam General Confederation of Labor, informed the above issue at the Workshop: "What future for workers from the perspective of financial security and well-being social", organized by Tien Phong newspaper, took place this morning (June 10).
Life is difficult, workers rush to withdraw social insurance once
According to Mr. Tien, currently the percentage of enterprises participating in Social insurance accounts for a very high proportion of 95-97%. However, there is a worrying fact that the subjects who need to ensure social security the most and need to participate in social insurance the most (low-income people, the poor, etc.) do not participate. Especially, since the Covid-19 pandemic until now, many workers in urban areas and concentrated industrial zones are facing many difficulties.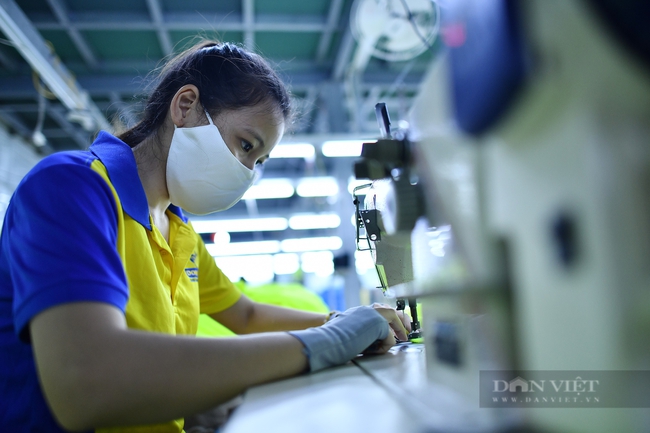 Not only in the present, the difficulties are forecasted to last into the future and do not know when to end.
"The worrying situation is that 11% of workers regularly have to borrow money to live every month, 36% of workers sometimes have to borrow money for spending, medical examination and treatment… On the other hand, the Employees work with high intensity and for a long time, but the salary is not high; if they don't work overtime, they won't be able to live, the future is uncertain," Mr. Tien said.
"Microfinance organization CEP develops suitable financial products, policies to support loans, reduce interest rates, and extend debt repayment for union members and difficult workers. new products with low loan amount (10-20 million dong), simple procedures, increase in timely distribution of loans to support trade union members, workers, fight black credit…"- He Nguyen Thanh DoHead of Policy and Law Department, Ho Chi Minh City Labor Confederation, proposed.
In addition, according to the Director of the Institute of Workers and Trade Unions, although state agencies have had many guidelines and policies to support employees, there are still many pressing and urgent problems for employees. unresolved (low wages, difficult housing, unsecured social security…).
"This is also the reason why millions of workers, even though they know they are disadvantaged later on, have to withdraw their social insurance once because life is too difficult in the immediate future. Another reason is that employees are afraid that the social insurance policy will change. and more disadvantaged later", Mr. Tien explained and suggested, there should be proper propaganda for the people to understand this issue.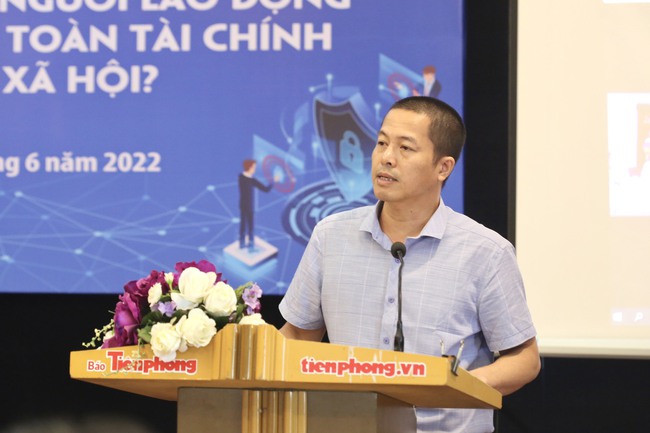 Sharing the same view, Assoc. Prof. Dr. Giang Thanh Long – Director of the Institute of Public Policy & Management, National Economics University, also said that, after the Covid-19 epidemic, many workers lost their jobs and after the epidemic. The disease ends and still has not found a job, causing economic difficulties. This is one of the reasons why employees withdraw one-time social insurance.
"According to the survey, the age of one-time social insurance withdrawal in Vietnam is getting younger and younger, on average under 40 years old, and most of them are in non-state enterprises. A study from 2016 to present, especially 2 years or more. here, there are 4.8 million people withdrawing once. This is a very remarkable number," Assoc. Prof. Dr. Giang Thanh Long cited.
Proposal to soon adjust the regional minimum wage increase
To limit the situation of employees withdrawing one-time social insurance, Mr. Nguyen Thanh Do, Head of Policy and Law Department, Ho Chi Minh City Labor Confederation, suggested that the Government soon issue a Decree to increase the regional minimum wage. as proposed by the National Wage Council from July 1, 2022.
The Government soon directs functional agencies to research and evaluate the minimum standard of living to ensure comprehensive development, build a happy and prosperous family, to have a living wage for workers.
Competent State agencies should strengthen price management of essential goods, avoid speculation, hoarding goods, taking advantage of price increases and making profit.
Vietnam Social Insurance needs to research and propose additional regimes for children who are children of social insurance participants, in order to attract workers to participate and ensure security when the working age is over. motion.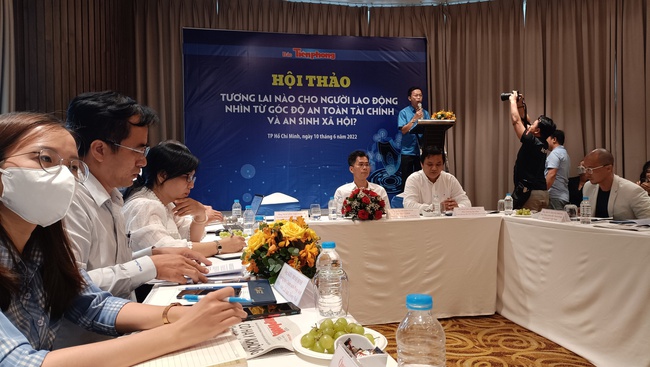 "The People's Committee of Ho Chi Minh City has directed the Department of Industry and Trade and the major retail corporations in Ho Chi Minh City to periodically and alternately organize price-stabilizing selling points to serve workers in export processing zones and industrial parks. industrial parks, high-tech parks and hostels crowded with workers to ensure their lives," Mr. Do suggested.
Assoc.
According to Mr. Long, in some African countries, supporting children helps families reduce the burden, young parents will have resources to participate in social insurance.
Or like Thailand, which is also promoting the development of a social security fund, supporting new born children in each family, and supporting 2 children per household, ensuring child rearing during this time. At first, so that low-income young parents can participate in social insurance.
"The one-time withdrawal of insurance is the right of the employee, but propaganda to let the employee understand that when withdrawing once, it will cause a double disadvantage in terms of present and future, because when withdrawing, they are no longer entitled to other benefits." short-term and the future is no longer guaranteed", said Assoc. Prof. Dr. Thanh Long.
"In 2021, through a survey of people aged 30 to 40 – the group that accounts for the highest proportion in the population of Vietnam and is also the main group of workers, only 15% of the surveyed people have savings, after the Covid-19 epidemic in Vietnam. Ho Chi Minh City, almost all savings have been spent; 22% have an investment and income is mainly based on wages and salaries.
In addition, after the Covid-19 shock, 80% of workers' incomes decreased, of which 60% decreased by 20 to 30% compared to before the epidemic.
These factors lead to employees withdrawing one-time social insurance for consumption. This is just a phenomenon after experiencing the epidemic shock and losing a job"- Assoc. Prof.Dr. Thanh LongDirector of the Institute of Public Policy & Management, National Economics University.
You are reading the article
Workers are "forced" to withdraw social insurance once because life is too difficult

at
Blogtuan.info
– Source:
danviet.vn
– Read the original article
here