Register now https://tanngoalong.onelink.me/KAyO/pr
The army is the basic combat unit of the player when participating in the battlefield in the mobile game Tan Ngoa Long. This is one of the important factors that determine the tactics of gamers, and at the same time contribute to making the strategy in the game richer.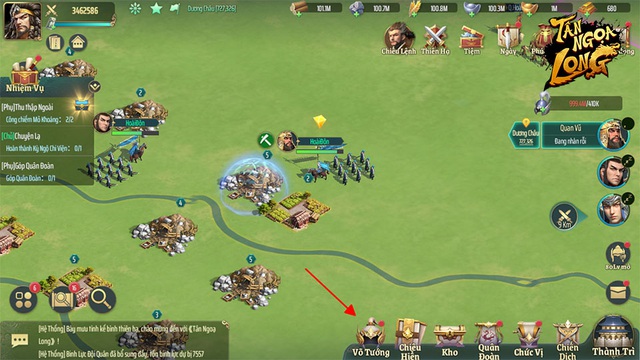 Martial General – The interface opens the Army system.
Each type of army has completely different stats and qualities, giving players a wide variety of tactical options to apply to each attack / defense or legion alliance with other countries. This point reflects the diversity of the army as well as the richness of gamers' playing strategies. At the same time, it also shows the flexibility and creativity of players when choosing real battle options on the battlefield.
Each martial general will have a corresponding sect, depending on that faction and there will be 2 types of Army. Each type of army will also have a system of inadequacies and disadvantages with it, for example:
• Cao Cao belongs to the Dominion sect, the Bo army (carving Thuong, weak Ca) and Cung Binh (carving, weakening all);
• Quan Vu is the sect of Hung Su, the Cavalry (Khac Bo, Weak Thuong) and Infantry (Khac Thuong, Weak Cavalry);
• Lu Bu belongs to the Pioneer sect, the Cavalry (Khac Bo, Weak Thuong) and Invalids (Khac Ky, Weak Bo) sects;
• Tieu Kieu belongs to the Tri general system, the Quan Van army (which does not engrave any army, but all of them) and the Cung Binh army (which engraves and weakens all);
All about Cao Cao – a famous character of the Three Kingdoms
According to the regulations, the army is divided into four ranks and each rank includes many different branches (level 4 is considered the most elite level of the army). Each Army will have basic attributes such as Weapons, Attacks, Instruments, Defenses, Laws, Tactics, Violent and Counterattacks. Of course, these attribute numbers will be different, with strengths and weaknesses depending on the Army. From there, creating different tactics for each player. This is also the biggest difference that Tan Ngoa Long brings to gamers when experiencing this game!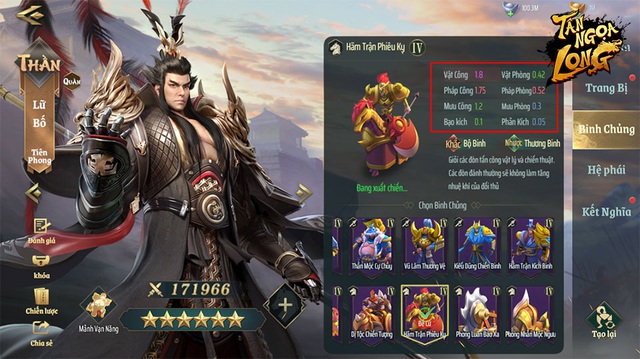 Diversity of troops leads to unlimited tactics of gamers that make Tan Ngoa Long unique. This factor will help the game have a separate place among the series of strategy games available on the market. This helps Tan Ngoa Long hold a special place in the hearts of the community that loves the tactical genre, especially the real-time tactical battle gameplay.
As of the morning of March 16, Tan Ngoa Long recorded over 68,000 pre-download registrations and this number is still increasing. According to the product operation roadmap, Tan Ngoa Long mobile game is expected to launch in late March – early April 2022 on both iOS and Android operating systems.
Fanpage: https://www.facebook.com/tanngoalongvng
Group: https://www.facebook.com/groups/tanngoalongvng
You are reading the article
Diverse army system – unlimited tactics in the mobile game Tan Ngoa Long

at
Blogtuan.info
– Source:
gamek.vn
– Read the original article
here