No permission to do rhinoplasty
On the morning of March 19, speaking with PV Dan Viet, the chief of the Hoang Mai (Hanoi) District Police, said that this unit is investigating and clarifying the case of Pham Thi Diem H. (22 years old, Long's hometown). An, while living in Hanoi) died after undergoing rhinoplasty at a cosmetic facility on line 147A Tan Mai, Tuong Mai ward, Hoang Mai district.
Inside the facility where the victim Pham Thi Diem H. (22 years old, from Long An, temporarily living in Hanoi) went to have a nose job. Photo: Gia Khiem
According to the investigative agency, police initially identified cases that were at the scene on the day the victim's nose was removed (14 January), including: Nguyen Sy Giang (1995, Yen Thanh's hometown, Nghe An). ); Le Ngoc Anh (born 1990, lives in Long Bien district, Hanoi; doctor of Department of Surgery, Anesthesia and Resuscitation, Hanoi Oncology Hospital); Nguyen Thanh Binh (born 1991, lives in Dan Phuong district, Hanoi); Nguyen Thien Le (born 1999, Luc Nam's hometown, Bac Giang); and the two subjects involved in this case are Tran The Anh (born 1991, domiciled in Hai Ba Trung district, Hanoi) and Hoang Minh Phong (born 1994, domiciled in Ba Dinh district, Hanoi).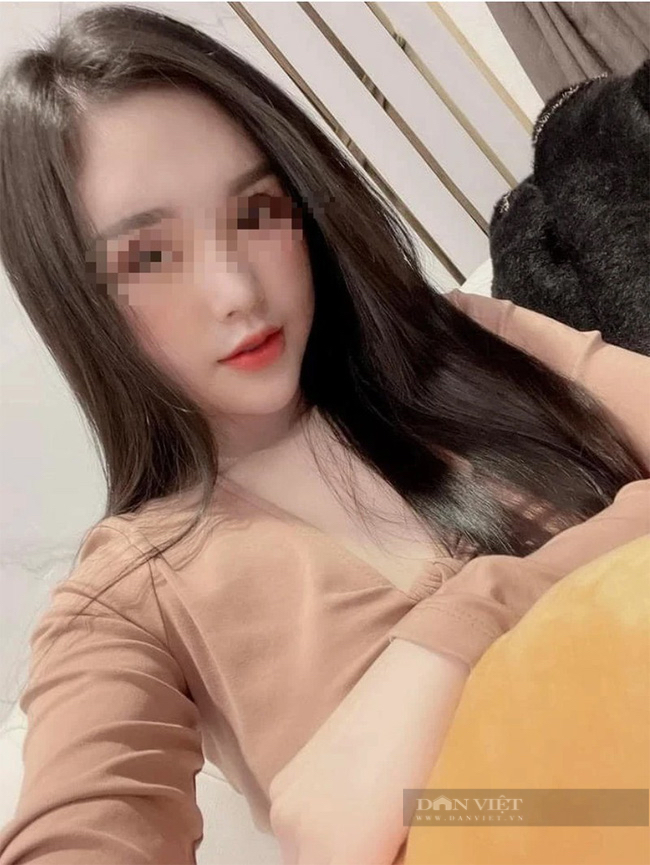 Image of the victim before his death. Photo: GDCC
Based on investigative documents, the police determined that through social relations, Giang got to know Hoang Minh Phong, then followed Phong to study plastic surgery. Around February 2021, Phong invited Giang to work at Phong's beauty salon shop on line 147A Tan Mai, Tuong Mai ward, Hoang Mai district.
Giang himself knew that Phong did not have a permit to do plastic surgery but nevertheless agreed to work with Phong. The facility looks quite luxurious as an adjacent villa about 5 floors high, with an elevator but no signs related to plastic surgery.
Giang went on social networks to post plastic surgery to find customers, if any customers had plastic surgery, Giang will report back to Phong to arrange surgery room in Phong's shop. Furthermore, Giang directly perform plastic surgery for customers.
Disturbed scene, surgical instruments hidden
Around May 2021, Ms. Pham Thi Diem H. contacted Giang via SMS, saying that he wanted to have a nose job done and had repeatedly transferred money to Giang for a deposit. In total, Ms. H. transferred to Giang 35 million VND; Giang made an appointment on January 14, 2022 to have plastic surgery to remove Ms. H. on line 147A Tan Mai, Tuong Mai ward.
On January 13, Giang told Phong about H's case and asked Phong to contact an anesthesiologist. On the afternoon of January 14, Ms. H. went to an "underground" cosmetic facility and was taken by Giang to the 6th floor of the house for a surgical procedure.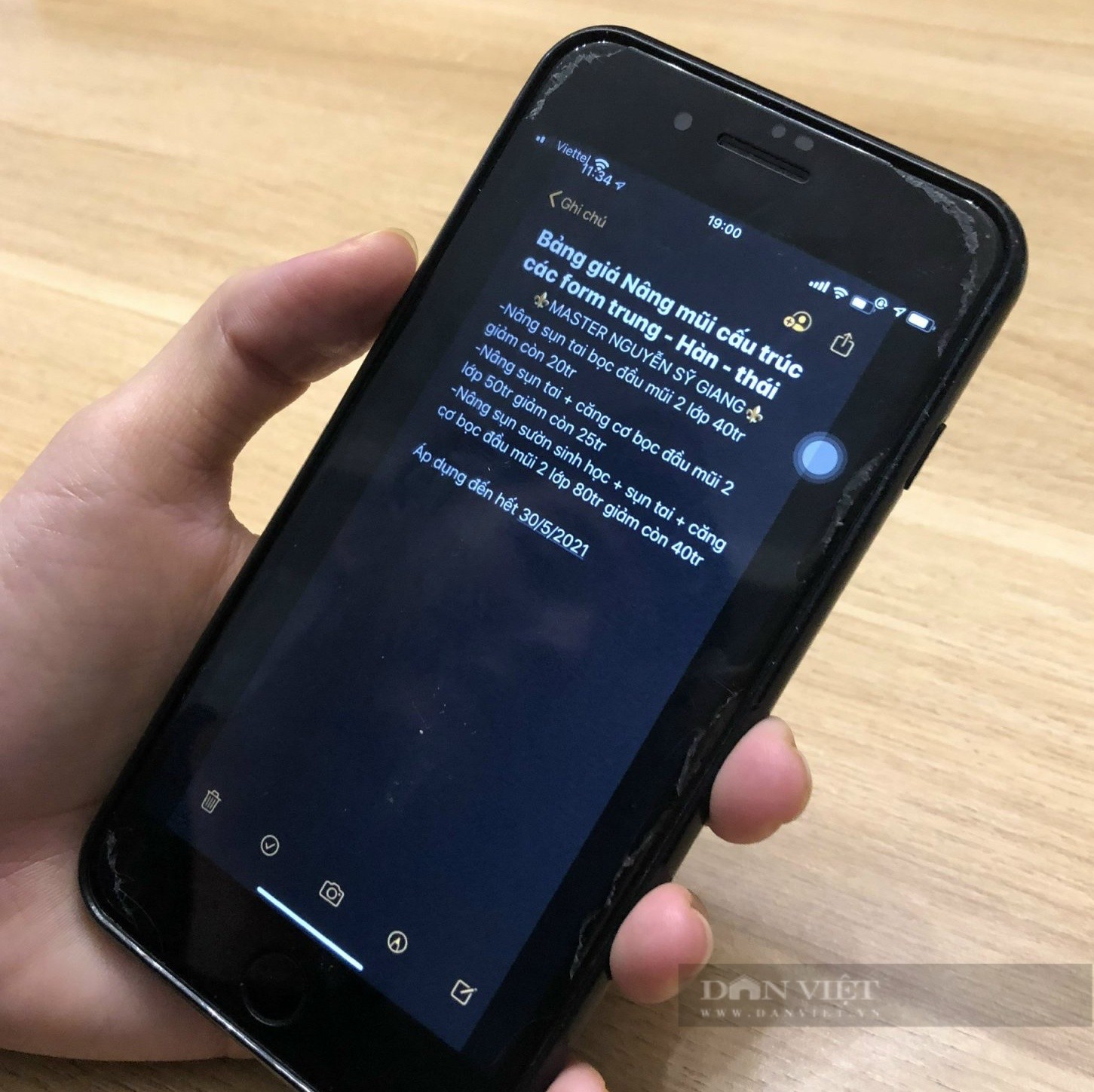 Price list information for rhinoplasty for victims of Nguyen Sy Giang. Photo: GDCC
During the operation, Giang, Ngoc Anh, Binh and Le participated. Where, Ngoc Anh is an anesthetic (the drug Midazolam 5mg/ml brought by Ngoc Anh); Binh and the ceremonial assistant support Giang. Ngoc Anh drugged Ms. H., then Giang injected an anesthetic at the surgery site (later Giang said that he didn't know the specific name of the anesthetic, only that it was available at Phong's cosmetology facility).
Then Giang performed surgery on the tip of Ms H's nose. In about 20 minutes, Ngoc Anh said that Ms H had signs of poor health, so she told Giang to stop the operation. Ngoc Anh performed first aid and gave Ms. H. oxygen and breathing, but at this time the young girl is in a coma.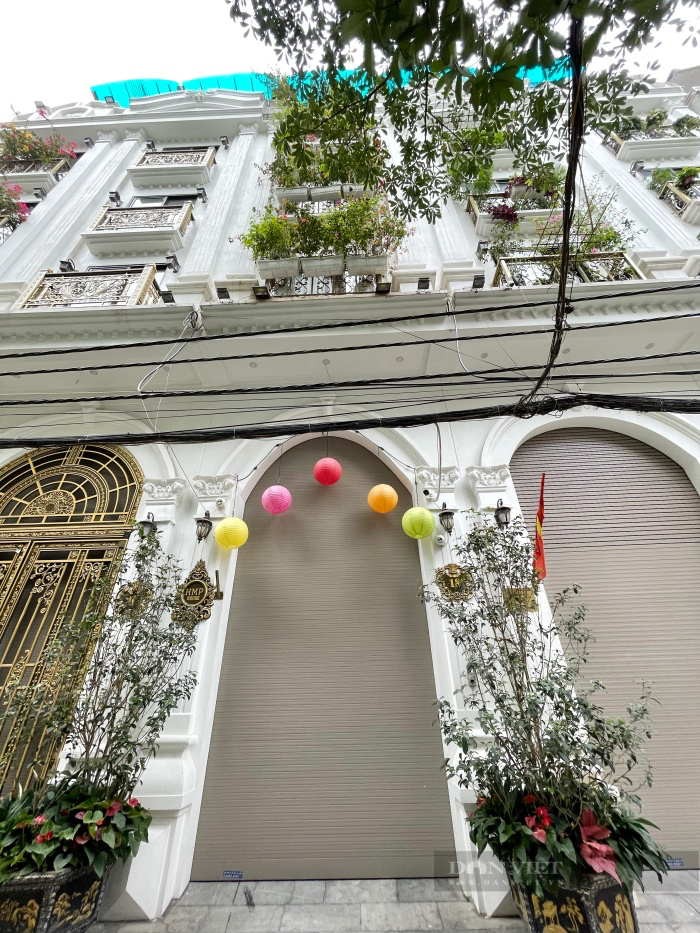 The house where the victim's nose was removed was quite spacious, about 5 floors high. Photo: Gia Khiem
Giang told Dang to sew and reshape her nose for Ms. H., then contacted Phong to report the incident. Knowing the news, Phong called The Anh to pick up a car to take Ms. H. to Bach Mai hospital for an emergency.
During the work process, Le Ngoc Anh presented the general doctor degree issued by Hanoi Medical University; Special orientation certificates, specialized in Anesthesia and Resuscitation are also awarded by Hanoi Medical University; Certificate of practice issued by the Hanoi Ministry of Health, with the scope of professional activity: Specialized medical examination and treatment in anesthesia and resuscitation.
Verifying at Bach Mai Hospital, the police learned that patient H. was diagnosed in a coma of unknown cause after rhinoplasty surgery. On admission, the patient had sutures in the nasal septum.
In particular, when conducting an inspection of the scene at address 18C, group 20, Tuong Mai, the investigative agency determined that the scene on the 6th floor was disturbed; Surgical objects and instruments have been retrieved and hidden. Functional forces found and confiscated 5th floor medical objects such as cylinders, glass tubes, medical caps…
On March 16, H.'s family notified the investigative agent of the Hoang Mai District Police that H. had died at Long An General Hospital. On March 17, the Hoang Mai District Public Security Bureau coordinated with the Hoang Mai People's Prosecutors Institute and the Ministry of Public Security's Criminal Science Institute to conduct a forensic examination of H.'s body according to regulations.
Speaking privately with PV Dan Viet on the morning of March 19, Nguyen Thi Mai Lan, deputy director of the Hanoi Oncology Hospital, said that after receiving information about Dr. Le Ngoc Anh, Department of Anesthesia and Resuscitation Surgery of the hospital involved In the incident, the hospital asked this doctor to write a report and decided to temporarily suspend Dr. Ngoc Anh from 18 March 2022.
"Dr Ngoc Anh has been working in the hospital for 5-6 years now. Initially, this doctor admitted to participating in rhinoplasty for the victim. Currently, this doctor is writing an incident report. Information available. We will officially deliver", Ms. Mai Lan informed.
You are reading the article
22-year-old girl dies after rhinoplasty: Chaotic scene, surgical equipment hidden
at Blogtuan.info – Source: Eva.vn – Read the original article here