Business
5 Yoga movements before sleeping help men endure, prolong life, and be physically fit
Yoga is a practice, a practice for the body, mind and spirit that originated in India. Yoga helps to increase awareness, create balance between body and mind, purify, heal, increase endurance, release the ego, improve physical strength.
In yoga studios, it is common to see that 90% of them are women, rarely 1-2 men appear. The gender imbalance in yoga classes is always like that. However, in recent years there is a significant change as more men are attracted by the magic of yoga.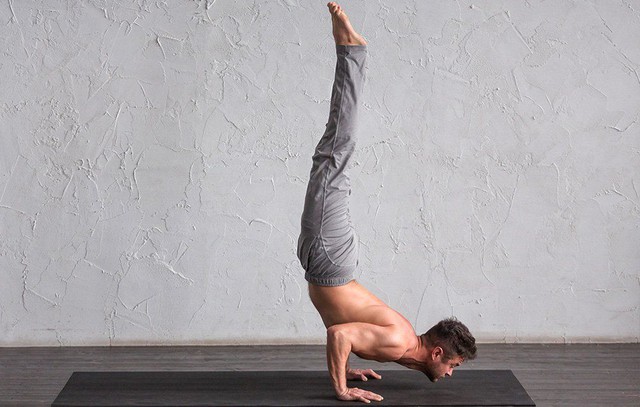 It is true that Yoga is a practice in favor of flexibility, softness, enhancing endurance, suitable for women's physical condition. But overall, yoga has a calming effect on the mind, as well as being a perfect complement to other forms of exercise, which men also desperately need. Since then, yoga has also become a favorite sport for many famous men around the world, such as football star David Beckham, actor Jake Gyllenhaal, actor Chris Hemsworth, Indian businessman Ratan Tata, co-founder of Google – Sergey Brin, CEO of LinkedIn – Jeff Weiner.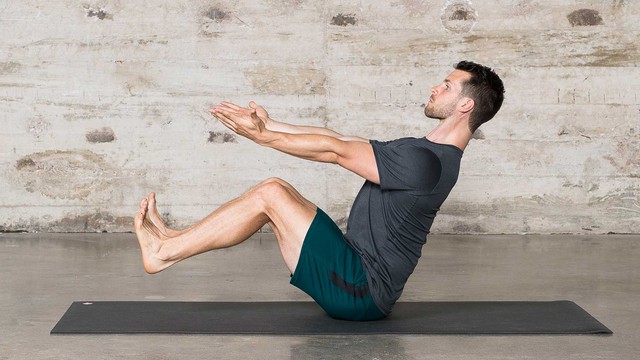 Because yoga exercises focus a lot on movements that help shoulders, arms, back muscles and glutes become firm but also very flexible. When entering the "battle", the body parts coordinate rhythmically and flexibly, helping men become stronger and have more creative new positions to reach the most exciting "realm" when "in love". .
Therefore, in daily life and before entering each "love affair", men should practice these 5 movements to improve physiological function, enhance libido, overcome physiological weakness and prolong life. "love" time:
1. Bending posture
A healthy spine and flexible movement are the key points of men's health. Simple movements but with the right technique can help stretch the tendons and improve spinal problems.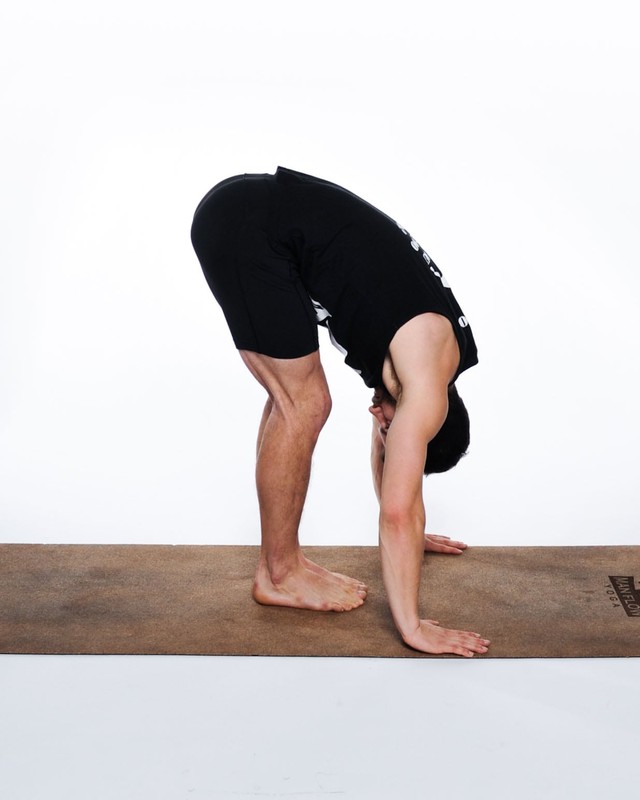 – Doing:
Stand up straight, arms straight and legs close together.
Inhale deeply and then raise your arms up high, lengthening the spine upwards.
Exhale and bend from the hips so that the lower back is not hunched
You can slightly bend your knees to get into this pose easier and deeper
Continue to take a deep breath and bend down as far as you can
Breathe deeply and hold the pose for 60-90 seconds, then exhale. Slowly raise your body back up to the starting position.
Repeat the movement 10 times, rest 10 seconds to breathe after 2 repetitions.
2. Candle pose
This movement can help the endocrine glands, especially the thyroid and parathyroid glands, to work strongly and energetically to fight the decline in sex drive. Besides, this exercise is also proven to improve impotence and premature ejaculation.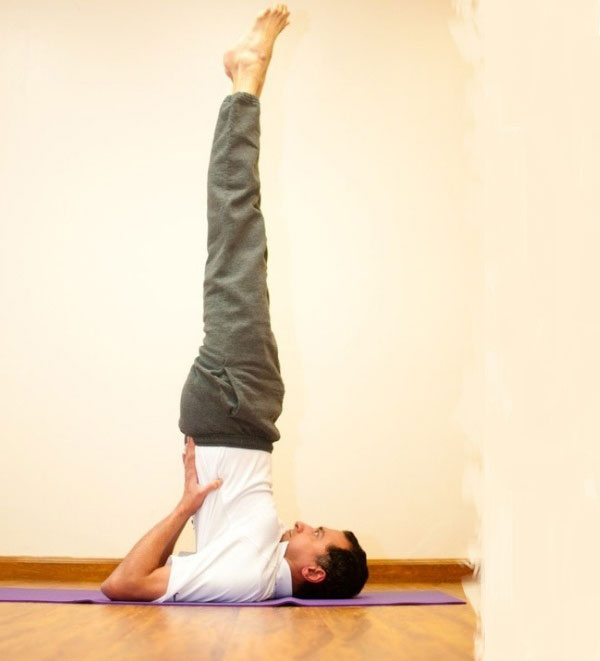 It may be difficult for men to get into this position at first because they do not know how to place their hands, shoulders and raise their legs. Slowly get used to it and be careful not to press too hard and suddenly on the spine in the neck.
– Doing:
Lie on your back on the floor, then slowly raise your legs and body up and put your hands on the sides to support the body, thumbs on the abdomen, the remaining 4 fingers on the back of the elbows. hands and shoulder blades on the ground.
Lift the whole body up so that from the legs to the shoulders forms a straight line, when the chin rests on the chest, creating pressure on the position of the thyroid and parathyroid glands. Note that when you get into this position, then breathe in and out to control the deep breathing rhythm.
When you can't hold the above position, gradually bring your legs up above your head so that your toes touch the ground, and at the same time your arms are stretched, palms down, forming a plow pose. Then release the body so that the weight of the body rests on the shoulders and head.
Hold this position for about 30 seconds, then gradually raise your legs, slowly lower to the ground and relax your whole body to regain the initial balance.
3. Cobra/face-up dog pose
Cobra pose strengthens the body and helps the spine become more flexible. In addition, it also helps the back muscles become firm, enhances blood circulation to all parts of the body to prolong the "battle" time.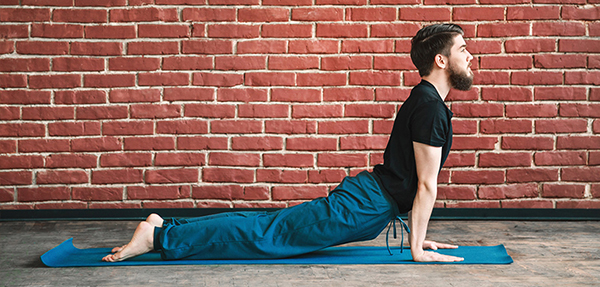 – Doing:
Lie face down on the floor with your hands on the ground at chest level, legs straight and insteps facing down, inhale.
Gently push your body up so that your upper abdomen, chest, and head are off the ground, lengthening the nape of your neck, and being careful not to draw your shoulders back.
Keep your hands in the same position as the original position, and you can tilt your head back slightly. Notice that the pubic bone is still touching the ground.
Hold that position for about 30 seconds, take a deep breath, and then exit the pose and return to the resting position.
Repeat 10 times. It should be done slowly and gently.
4. Kegel Pose
This pose helps improve blood circulation in the pelvis and increase sperm quality very effectively. Not only that, practicing this pose regularly also helps increase sexual desire for both women and men.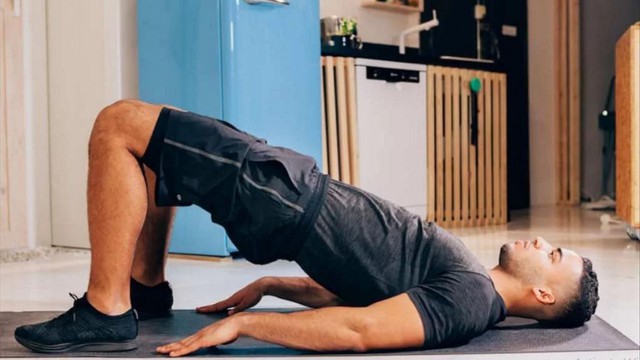 – Doing
Lie on your back on the mat, knees bent, feet flat on the mat and shoulder width apart, ankles just below the knees.
Grab your ankles with both hands, exhale, lift your hips up, squeeze your glutes and pelvic floor muscles
Hold the pose for about 30 seconds
Slowly lower each vertebra to the floor, breathing slowly and deeply
5. Grasshopper Pose
This is also a good exercise for the kidneys, which can help the adrenal glands and kidney function more efficiently. In addition, this yoga exercise also helps to soften the spine, strengthen the back muscles and the ability to "love" more intensely.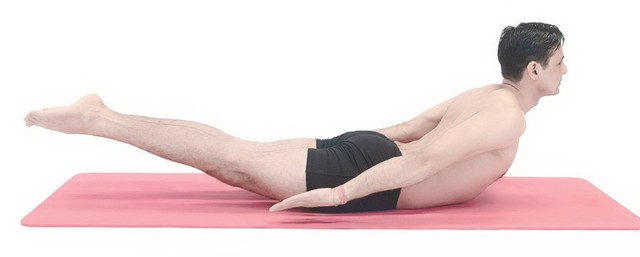 – Doing:
Lie facedown on the floor, face to one side, legs straight, instep facing the ground.
Hands stretched out along the body, hands clasped to the ground with the thumbs.
Inhale deeply and gradually raise both legs up (feet still touching).
Hold this position for about 30 seconds, then exhale and slowly lower your legs like the original position.
Note: In the first practice times, do not force your body to exercise too much, do it slowly until you master it. In addition, you can also follow the instructions of your yoga teacher to avoid injury.
In addition to physical exercises, remember that an important factor for endurance in bed is a relaxed, gentle mentality. Therefore, meditation and breathing exercises in yoga also play a very important role that men cannot ignore.
https://cafebiz.vn/5-dong-tac-yoga-truoc-khi-ngu-giup-dan-ong-ben-bi-keo-dai-tuoi-tho-the-luc-sung-man-20220409085801694. chn
You are reading the article
5 Yoga movements before sleeping help men endure, prolong life, and be physically fit

at
Blogtuan.info
– Source:
cafebiz.vn
– Read the original article
here