Business
What will happen when the world's largest social network becomes 'old and weak'?
Facebook on the "outdated" momentum?
"White Hot" is a new documentary that follows the ups and downs of Abercrombie & Fitch. This is an American fashion house that emerged in the early 2000s before suddenly collapsing.
The film explores the company's obsession with recruiting a certain type of employee who is handsome, burly, white. This leads to damaging statements about racism and sexual harassment.
It also works to Abercrombie's detriment as it becomes obsolete. Low-rise jeans, cropped T-shirts, and "Fierce" perfume were familiar to American adults around the turn of the 21st century. The price of being so attached to one generation is that the next one no longer wants to. interested.
Facebook also started to succeed around the same time and may be having the same problem. Facebook's ethos is reflected in its founder Mark Zuckerberg. The 37-year-old still wears his college attire of skinny jeans and a hoodie.
The social network started as a way to connect Harvard undergraduates. Now, young people see Facebook as a place for 40-50 year olds.
Investors also see Facebook as obsolete. Facebook's parent company Meta has lost 35% of its market value this year, including a $232 billion plunge in February. That's the biggest single-day drop in stock market history.
Some of Facebook's problems have been exaggerated. With 2 billion daily users, almost a third of the world's population, growth is unlikely to accelerate. The loss of 1 million users in India in the last quarter of 2021 was attributed to rising mobile data prices in the country.
The privacy rules laid out by Apple are a more serious matter. Meta is expected to cost about $10 billion this year as it's harder to determine the target audience of iPhone users.
But the company is thinking of alternatives such as minimizing the loss of advertising effectiveness or reducing costs ahead of the new rules in Europe. Bernstein broker Mark Shmulik says companies like Meta have the ability of a "cockroach" to find a way to stay in business as usual.
However, if the above barriers can still be overcome, the aging of Facebook users is inevitable. In rich countries, what matters most to advertisers is that young users are disappearing.
Last year, former Facebook product manager Frances Haugen made headlines for blowing the whistle on the social network's failures in content moderation. But the more remarkable news is that the use of Facebook by young Americans has plummeted.
In Facebook's five most important countries, account registrations for under-18s have dropped by a quarter within a year. According to estimates by research firm Enders Analysis, Britons aged 18-24 are spending half of their day on Facebook and Instagram.
Mark Zuckerberg admitted last year that in the face of competition from TikTok and other competitors, Facebook is indifferent to young people. Mark Zuckerberg said that Facebook's services try to be best for most users, rather than specifically for young people.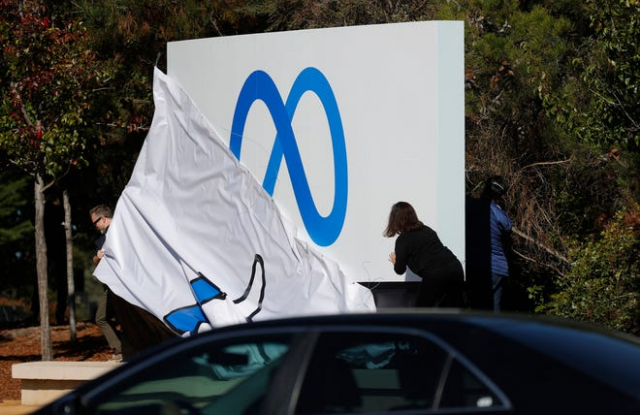 Facebook employees change the logo and new name Meta in front of Facebook headquarters in California. Photo: Justin Sullivan.
Facebook's transformation efforts
In the past, saving apps was Mark Zuckerberg's top priority. After acquiring Instagram in 2012, Facebook is said to have limited hiring for Instagram for fear that this "adopted brother" would "swallow" all of its users, in the words of a former Instagram CEO recognized by Facebook. quoted in the book "No Filter".
For now, Zuckerberg seems willing to sacrifice his first child to protect the larger business. Efforts to engage youth have focused on other apps, such as Messenger Kids and Instagram Kids (which were halted last year).
Reels, Meta's TikTok clone, was first launched on Instagram. Last year, Zuckerberg even dropped the Facebook name from his company to insulate the business from the most "outdated" branding.
That is the right thing to do. But it begs the question which social network is the biggest as Facebook declines? Once-mighty sites like MySpace still exist like abandoned digital ruins. In the distant future, will Facebook become a ghost town?
Young users are unlikely to return to Facebook. Instead, they increasingly prefer to use Snapchat or BeReal, a photo messaging service that is popular among universities.
But connection is only one function of social media. People also use it for entertainment and shopping. Facebook is losing its appeal as a place to socialize, but Facebook can reinvent itself as a platform for other activities.
In the entertainment industry, TikTok has always been at the forefront. Meta's first attempt to mimic TikTok was Lasso in 2018 and failed. After proving popular on Instagram, where 20% of user time is spent, Reels is also building an audience on Facebook. Facebook's newsfeed is being revamped to follow the trend of TikTokers. Content recommended by artificial intelligence (AI).
Facebook has long rolled out Marketplace as an "online marketplace" and has launched stores during the pandemic to bring e-commerce to its own platform. The latest round of funding promises to invest in a service that allows users to send messages to companies through advertising.
Abercrombie has abandoned her typical style for a change of oversized models in comfortable sportswear. Last year's revenue was back to 80% of its peak. Likewise, Facebook won't be as great as it used to be, but there's still room for a lot of money.
Reference: The Economist
https://cafef.vn/dieu-gi-se-xay-ra-khi-mang-xa-hoi-lon-nhat-the-gioi-tro-nen-gia-yeu-20220506103459064.chn
You are reading the article
What will happen when the world's largest social network becomes 'old and weak'?

at
Blogtuan.info
– Source:
cafebiz.vn
– Read the original article
here