Học Đường
Life Style
Marrying a rich man, living in a family with own and common children, but the way Ha Kieu Anh behaves and teaches children is admirable.
Nearly 30 years after the coronation, Ha Kieu Anh is still a favorite face of the audience, she often holds the weight of many beauty contests. With her increasingly salty beauty, now, she also has a full life next to a rich husband and good children that many people admire.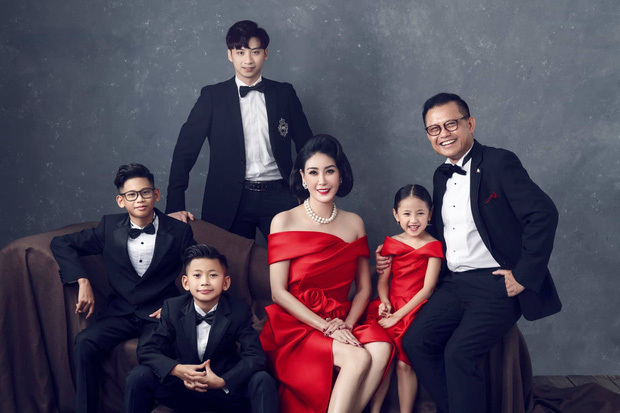 The happy family of the current Miss Ha Kieu Anh.
In addition to 3 common children, two boys, one girl, born with her husband, Ha Kieu Anh also lives with her husband's step-son. Although she is a stepmother, the beauty queen has an extremely close relationship with the boy like the rest of her children.
For Ha Kieu Anh, it is not a simple matter to get close to and educate her son-in-law in the most intimate way. But above all, a woman called a mother must be tolerant, benevolent and always consider her husband's children as her own.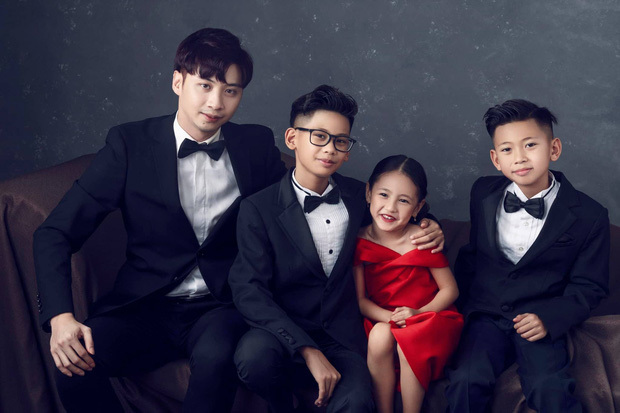 The members of Miss's family love each other.
Raising a child not born to her, Ha Kieu Anh believes that she has to overcome many obstacles when reaching true love. But her efforts pay off when family members love each other. Brothers know how to protect and show love to each other.
"In my family, there never existed the concept of common children, stepchildren. Parents care and love for their children equally. All are children and are brothers. My children are very proud. and proud to have a tall, handsome second brother. Wherever they go, they say: "My mother has four children. Those two and three of us…". "A drop of blood is better than a pond of water", the important thing is that you love each other, protect each other, and unite as a family. – Ha Kieu Anh confided.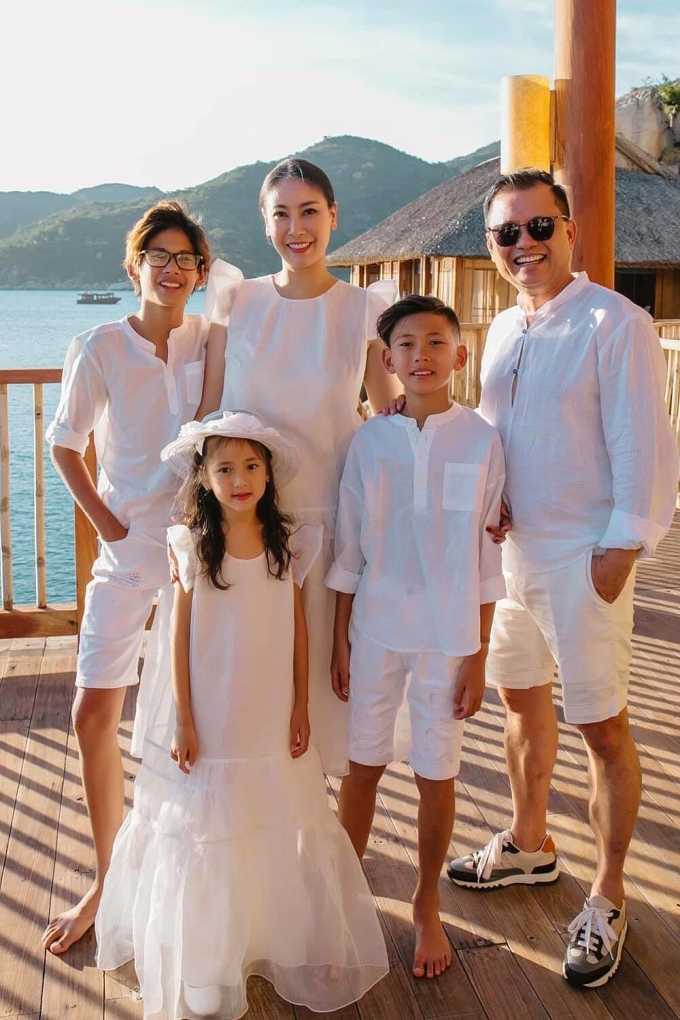 She also respects the choice of her eldest son, does not force him into any plan but only directs and helps him have the right perspective.

Miss shared: "We support all of our eldest son's passions, because a person succeeds only in doing whatever they are passionate about. The important thing is, with our experience, we help him. soon find out what their true passion and forte are so that they can lead their development in the right direction towards success."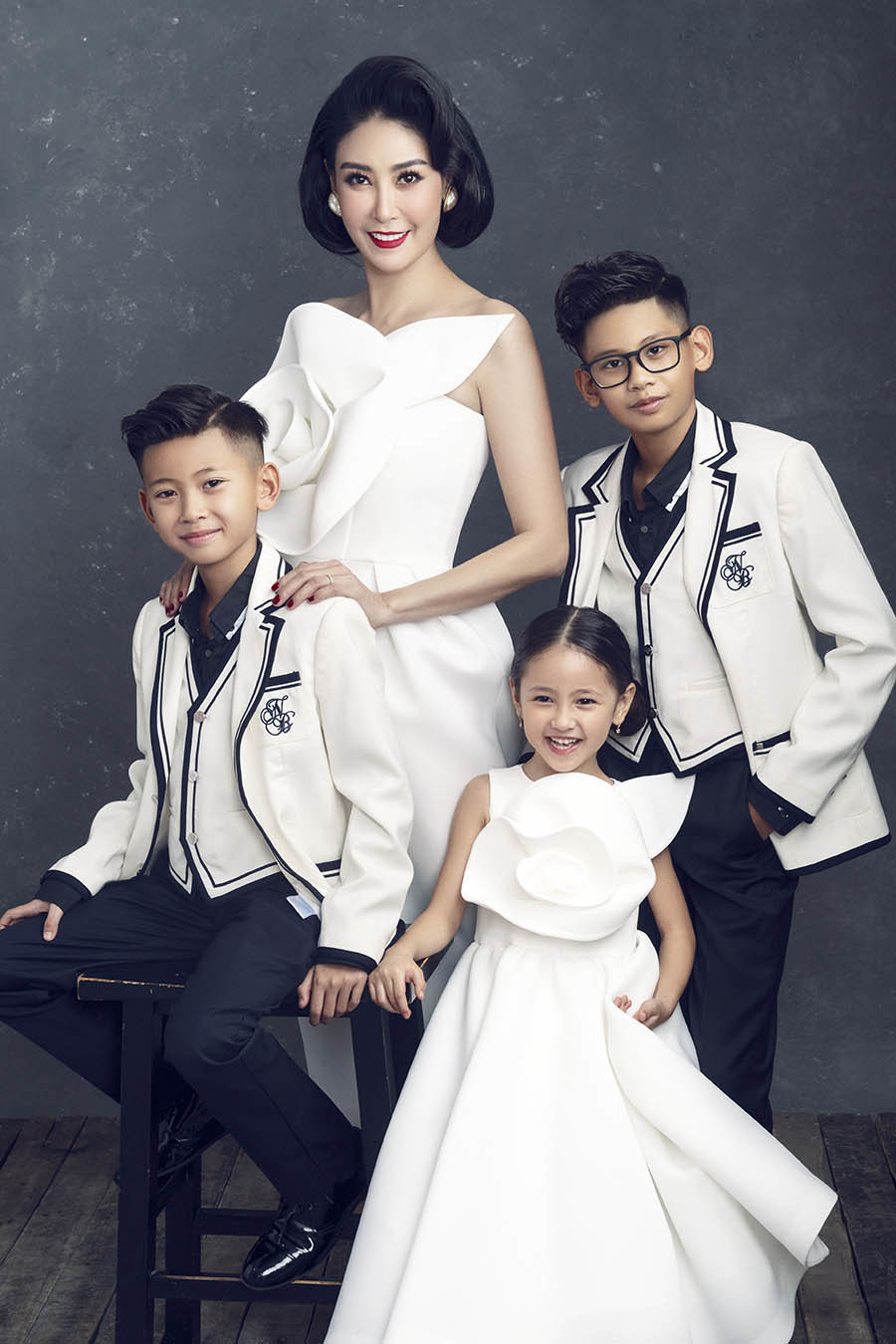 Ha Kieu Anh said that every year she has to plan to travel in the summer. The wife buys the plane ticket, the husband pays the hotel. Summer vacations are when the whole family goes together.
She said this is also an opportunity for the children to experience and discover interesting things. Thereby, they are also trained to be independent, self-confident, and love each other from a young age.
Beauty said: "Love in the family is extremely important. If a child lives coldly without a heart, it will be very unhappy. No matter what happens, we must always live kindly, not plotting to harm others. , know how to accept defeat and happily admit mistakes".
With younger children, Ha Kieu Anh also knows how to invest in children from a young age so that they have the best development. Two boys are currently studying at a famous international school with extremely expensive tuition. According to information on the school's official website, the school's tuition fee for the 2021-2022 school year ranges from 227 to 821 million VND/year. In addition to the above amount, parents also have to pay the IB exam fee; annual development fee. Thus, the total amount of money that Ha Kieu Anh has to spend for her two sons to study here until the end of 12th grade is about 1- nearly 2 billion VND/year.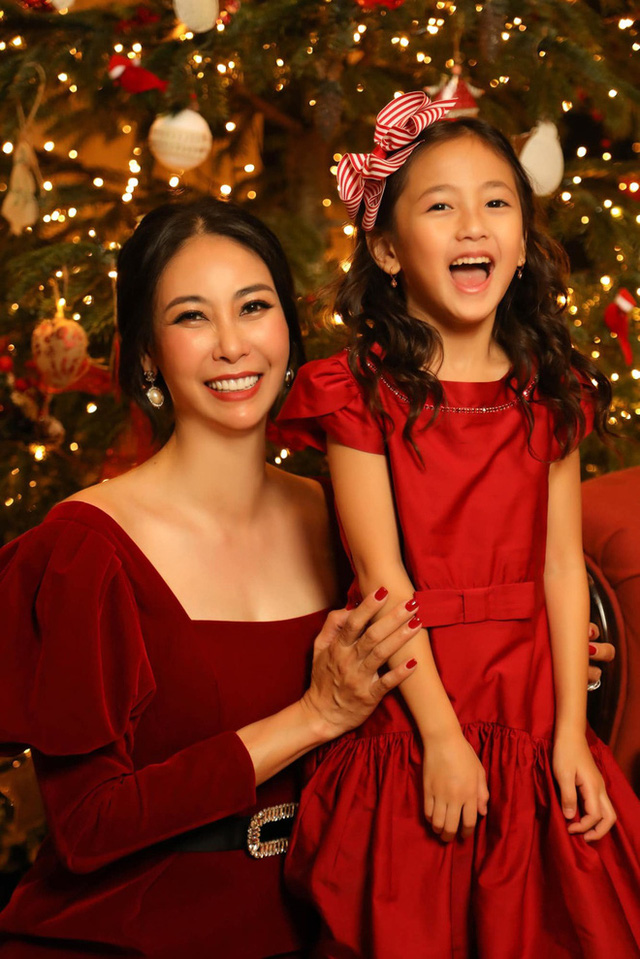 The youngest daughter inherits many beauties from her mother.
The youngest Vivian is also invested by her mother as well as the two brothers. Since attending preschool, the girl has been taught by her mother at a school with tuition fees ranging from 77 to 218 million VND/year. When her daughter went to primary school, Ha Kieu Anh also planned to send her daughter to the same expensive school as her brothers.
Not only does she invest in schoolwork, but Miss Vietnam 1992 also spends a lot of money to invest in her children's extracurricular classes. Like little Vivian, her mother taught her to ride a horse – a sport known as for the nobility because the fee is about 750,000 – 800,000 VND for 45 minutes. In addition, Vivian was also taught by her mother to swim, ski, ride a scooter…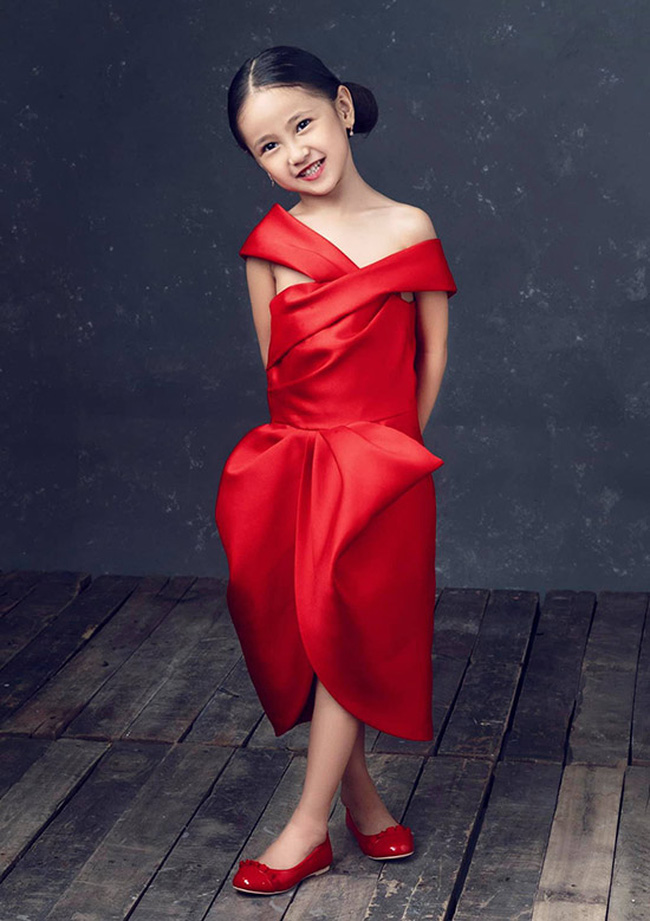 The youngest daughter Vivian is really the pride of Ha Kieu Anh's family. Although she is the only daughter of the family, very pampered by her parents and brothers, from a young age she has been very independent, intelligent, very personable, but gentle and profound, never angry with anyone. . From a young age, she was very neat and tidy. She is a girl, so she is very affectionate and cares about her parents and brothers.
The child's independence is most appreciated by the mother, the child is always proactive in all situations and knows how to take care of himself, what he can do is done by himself without asking anyone. Never forget or throw things indiscriminately, after playing, clean up immediately.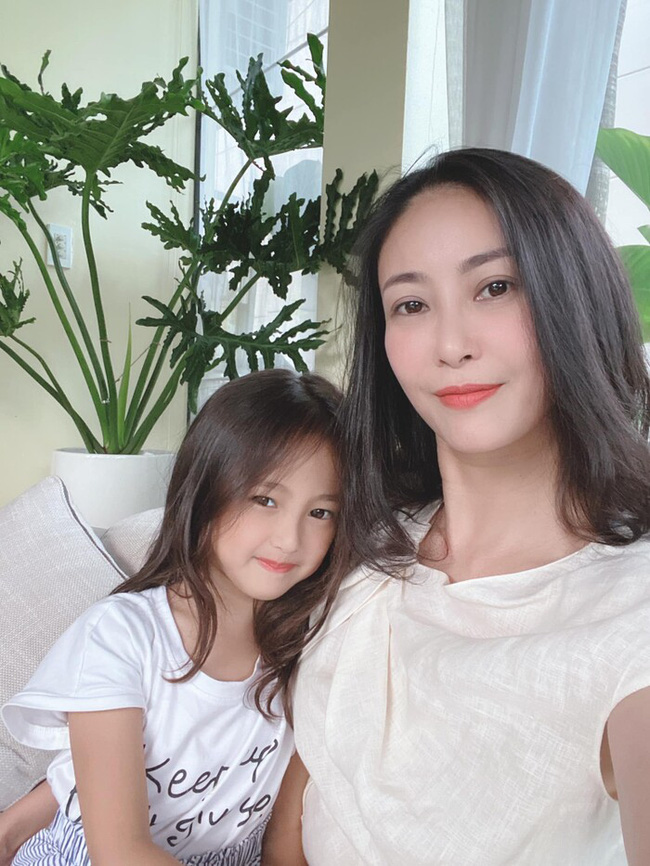 The girl also attracts attention because of her extremely beautiful and lovely appearance, big round eyes, high nose and charming mouth, a smile like radiant sunshine. Many people predict the future Viann will become a beauty not inferior to her mother. However, when asked if she would support her daughter if she wanted to participate in a beauty pageant, Ha Kieu Anh shared:
"Being Miss Vietnam is a great thing and a great pride for a girl. However, on this path, I must have the courage and wisdom to overcome many challenges. As a mother, Kieu is a mother. He just wants his daughter to have a smooth and turbulent life, not wanting her to be like me who is always under a lot of pressure from society when being a celebrity.
But the path is chosen by the child, parents can only orient and find the least risky options, give their children the most sincere advice from their own experience. Miss beauty contest is also one of the interesting experiences at a young age. In the 4.0 era, we can't force our children to do what we like without respecting their will anymore."
Reasons to teach your child to be independent from an early age
Ha Kieu Anh's early independent teaching is also the way that many educational experts recommend parents to do. Self-reliance is a quality to affirm the personality and bravery of each person. In life without being able to do anything on your own, always relying on others will become a burden on the family and society and especially will feel useless. From there, life will become boring and meaningless.
Independence is also one of the decisive factors for the success or failure of each person's future. Self-reliance helps people become more mature and mature. From there, children will also work more carefully, bringing the best results. In particular, when away from parents' arms, having independence, your child can take care of himself in the best way.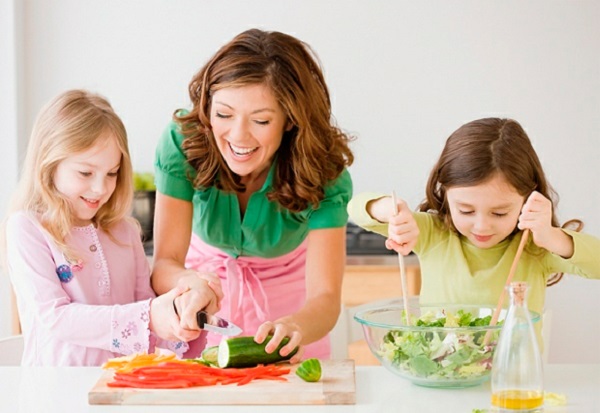 In addition, there are 10 reasons why you should teach your child to be independent, as listed by the familyshare website:
first. Teaching children to be independent is to give them the message: "You are valuable, useful, and capable".
2. You'll get help with all the chores the kids can do: They need to clean their own room, do their own laundry, and do some chores while the family prepares meals.
3. You'll Be Better Parents: You want your kids to become independent adults.
4. It's a reminder to the kids: "You can do this". Children will do many things faster and better.
5. Children learning to be independent is also helpful for learning academic knowledge. What your child is learning can be applied to what he is doing. For example, when your child learns to bake a cake, it will be more helpful to understand measurements in math.
6. Your baby's self-esteem will be nurtured. True self-esteem comes from doing things for yourself.
7. Children will appreciate you more. After one time fixing things or cooking by herself, she will realize how difficult that task is.
8. Your baby will have enough courage and confidence to try new things or do more difficult things.
9. Your parenting career will be more meaningful. You're training your child to be an independent adult, and everything you do is geared toward that goal.
ten. The kids will probably move out on their own when they grow up.
Parents who aim to raise their children independently, they understand that independent parenting can make your child unhappy and lovable in the short term, but in the long run, your child will understand you well enough. love the child to not interfere if the child obeys the rules of the parents.
You are reading the article
Marrying a rich man, living in a family with own and common children, but the way Ha Kieu Anh behaves and teaches children is admirable.

at
Blogtuan.info
– Source:
Kenh14.Vn
– Read the original article
here