Giáo dục
Life Style
The second hottest mother in Vietnamese showbiz Oc Thanh Van has 2 extremely smart parenting principles
Thanh Van snail is one of the most famous mothers in Vietnamese showbiz. In 2008, the female MC married her husband Tri "Turtle" and had 3 lovely children: Coca, Cola and Cacao. Thanh Van's family life has always received attention from a large audience.
On her personal page, the hot showbiz mother often shares moments of her small family. The simple stories of the family's everyday life are admired. The female MC has been praised by many people for her skillful and delicate parenting methods.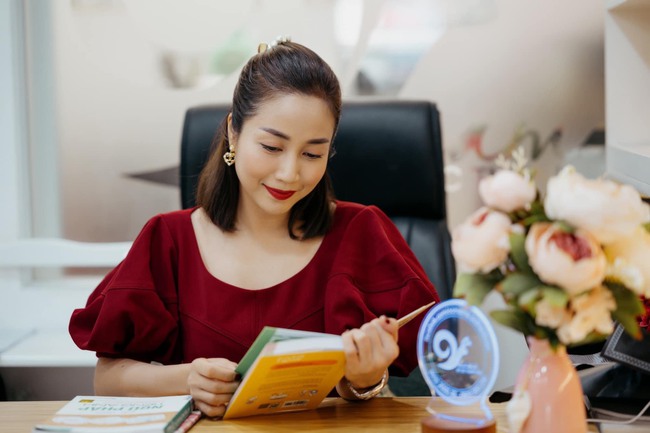 2 INCREDIBLE PRINCIPLES WORTH TO LEARN
The female MC has 2 immutable principles in her parenting journey: "Never sleep when you're awake" and "Always take the children to school and pick them up". Sharing about this principle, the mother of three said: "Children need us in every moment. Don't be so busy that you forget how children have grown every day."
"How can I sleep when my children are awake? I myself refuse to leave my children to other people to take care of and go to school and my parents don't sleep in, unless my parents are sick and lying flat. Regular mornings noisy, busy Dad brought Coca and Cola, mother took Cacao. When leaving the house, the two cars said goodbye to each other. In the morning, when mom left early, Dad took the whole group. If you're late, dad will pick you up. One thing that's repeated but never gets bored."Oc Thanh Van said.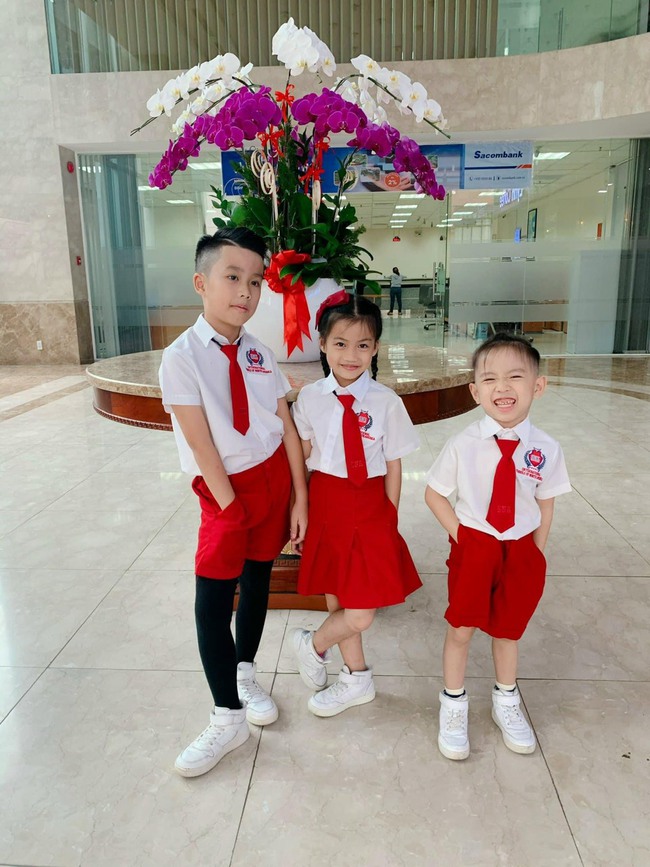 The sharing lines quickly received attention and agreement from many mothers, especially in recent times, when many family stories do not take good care of their children. As a famous artist, Oc Thanh Van is always busy with many programs and events that make female MCs sometimes "turn off their heads".
Even so, the female MC still takes time to care about the little things in the children's daily lives, especially school. She has shared many times the moment of taking her children to school with overwhelming happiness.
All three children of the Oc Thanh Van family are studying at the top international school. In addition to studying at school, the MC couple also invests in their children to learn more foreign languages. The two kids, Coca and Cola, were taught Korean by their mother. And Cacao was invested by her mother to learn English from kindergarten.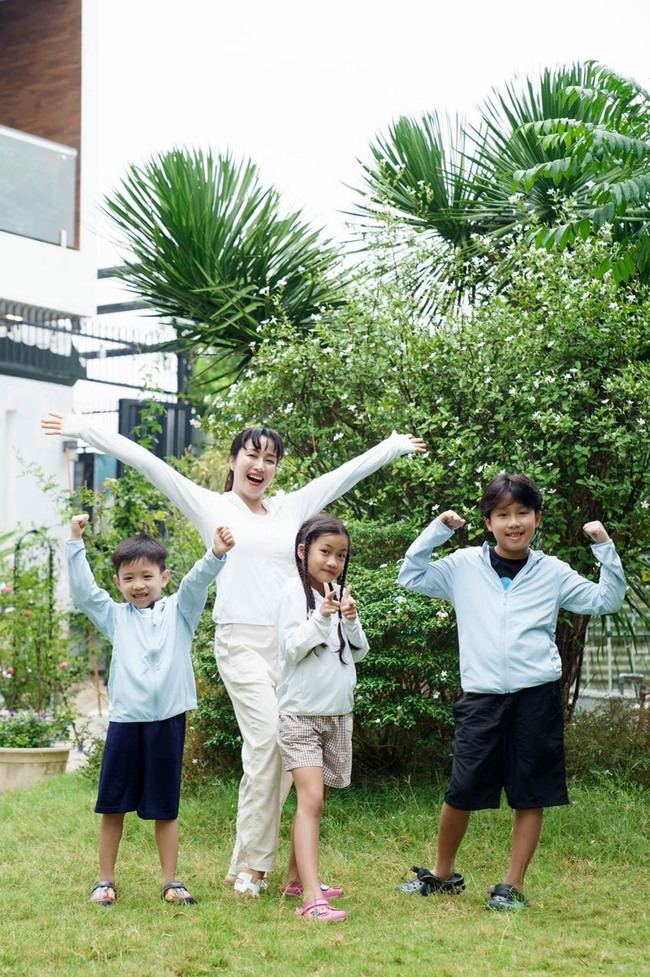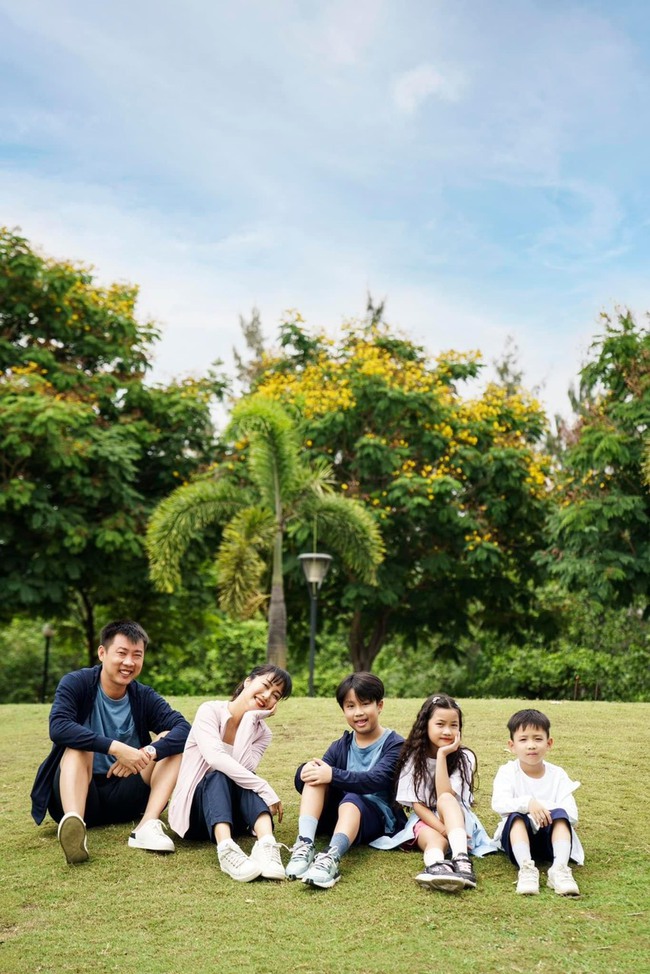 It can be seen that the female MC always puts her children's education first. However, once, her daughter burst into tears and did not want to go to school because she was tired, bored, and had no interest. Seeing her son like that, she did not scold and push him to go to school, but willingly allowed him to: "It's okay to be a little lazy."
"I love you so much! Children are just like us. We also have our own frustrations, we also have certain pressures. Studying at your favorite school is when you go to school happily all year, sometimes there are It's okay to be a little lazy. I have many lazy days that I don't want to do anything. Don't rush to scold your child for "going to a good school but still sloppy, having enough but still demanding. Look at people's children." Oc Thanh Van wrote.
The female MC is famous for being a responsible and resourceful woman with a scientific and intelligent way of raising children. Because she understands that when children are young, parents' words and actions become "standard measures". Therefore, parents need to be very careful to form good characters for their children.
Photo: FBNV
https://afamily.vn/ba-me-hot-nhat-nhi-showbiz-viet-co-2-nguyen-tac-nuoi-day-con-cuc-stilt-ai-nghe-cung-ne-vai- good-natured-good-nice-construction-20220528093330983.chn
You are reading the article
The second hottest mother in Vietnamese showbiz Oc Thanh Van has 2 extremely smart parenting principles

at
Blogtuan.info
– Source:
Afamily.vn
– Read the original article
here