Giải trí
Can eating pork skin be anti-aging? The doctor suggested there are 5 other foods that are equally good
Without a proper understanding of pork skin consumption, you can face the potential dangers of overeating.
In modern society, the development of the beauty industry has helped women retain their youth thanks to the intervention of plastic surgery. However, this intervention only works for a short time, the organs in the body are still aging over time.
If you really want to fight aging, you need to pay more attention to your diet. Eating right not only slows down the aging process but also prevents many dangerous diseases.
Can eating pork skin be anti-aging?
When it comes to pork skin, perhaps the first thing many people think of is collagen. Will eating a lot of pig skin add collagen to the body and achieve the purpose of anti-aging?
In the concept of traditional Chinese medicine, pig skin is rich in collagen, which can help improve human skin. However, this concept has absolutely no scientific basis. No one knows that, how much % of collagen in pig skin can be absorbed by human skin, the conversion rate is very low. Moreover, in pig skin also contains a lot of fat and cholesterol, eating a lot also leads to obesity.
Collagen is the most abundant functional protein in the human body, distributed mainly in skin, bones and tendons. This is a protein, which makes up more than 70% of the structure of the skin. The reason skin is smooth, firm, youthful is largely due to collagen in the skin. However, with age, the amount of collagen in the skin decreases, causing the skin to lose elasticity and form wrinkles.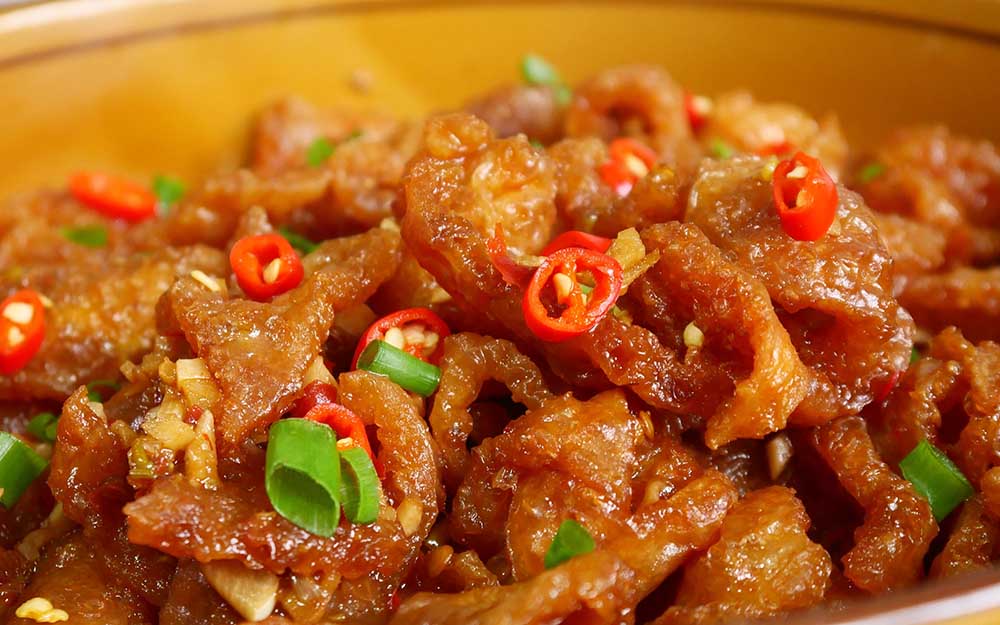 Because collagen exists in animals, foods such as pig skin and hoof nails are sought after by many beauty followers. But does collagen in pig skin and hoof really affect the skin?
Nutritionists say this is not possible.
Because edible collagen, which is a macromolecule protein, cannot be directly absorbed by the human body. When it enters the digestive tract, it is broken down into amino acids, called peptides. After a series of cleavage and transformation processes, from peptide to tripeptide. Free amino acids are absorbed by the small intestine mucosal cells, broken down into free amino acids, and absorbed by the body into the bloodstream.
Through the above process, it can be seen that, after a series of transformations, collagen is no longer a raw material but amino acids.
In short, eating pig skin does not have the effect of improving skin and anti-aging as many people think. On the contrary, it also increases the risk of obesity, even causing cardiovascular and cerebrovascular diseases.
Anti-aging foods recommended by doctors
1. Broccoli
Broccoli not only tastes delicious but also has anti-aging effects. In broccoli contains a lot of thiocyanate, vitamin C, these are strong antioxidants, help eliminate free radicals out of the body, protect health and delay aging.
2. Apples
Eating apples can not only improve the body's immunity, but also can fight aging. This is because apples are rich in fiber and various vitamins. After these substances enter the human body, they can delay age-related aging and maintain youthful beauty. In addition, the high amount of pectin in apples keeps the skin elastic and radiant.
3. Tofu
Tofu made from soybeans. Soybeans have long been known as a natural anti-aging panacea for humans. This is because soybeans contain isoflavones, a powerful antioxidant.
Isoflavones, also known as phytoestrogens, can make up for the lack of estrogen in women over the age of 30.
Regular consumption of tofu improves skin elasticity, reduces unpleasant symptoms caused by menopause, reduces osteoporosis, and is extremely good for women.
You are reading the article
Can eating pork skin be anti-aging? The doctor suggested there are 5 other foods that are equally good

at
Blogtuan.info
– Source:
24h.com.vn
– Read the original article
here