Tech
Wealth at the expense of cancer villages
Explosion of electric vehicles led to development of metal mining
The Guardian conducted an investigation in Indonesia into nickel mining and the burgeoning electric vehicle industry. Evidence shows that drinking water near one of Indonesia's largest nickel mines is contaminated with hexavalent chromium (Cr6), a cancer-causing chemical.
The investigation also found evidence of a high number of lung cancer cases near the mines.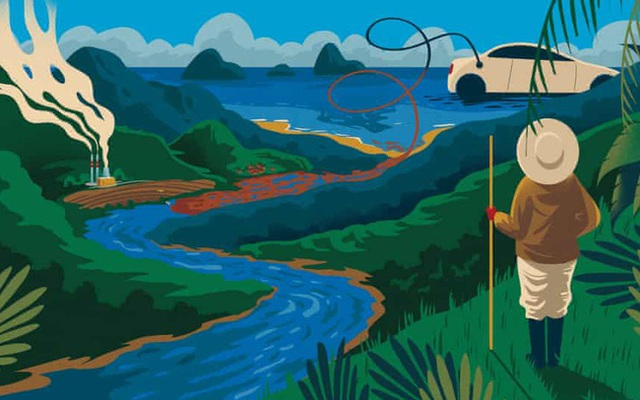 Miners have been racing to gain control of the world's largest nickel reserves in recent years in Indonesia.
Nickel is an essential ingredient in electric vehicle (EV) batteries. This metal can bring wealth to an entire country as Covid pushes the number of poor people in Indonesia up to 10.19%.
But for those living on the remote island of Obi, which has become one of Indonesia's largest nickel mines, they crave only clean water and safety.
Unlike other components that power electric vehicle batteries, such as cobalt and lithium, which are eyed for environmental and human rights risks, nickel's supply chain has barely been scrutinized.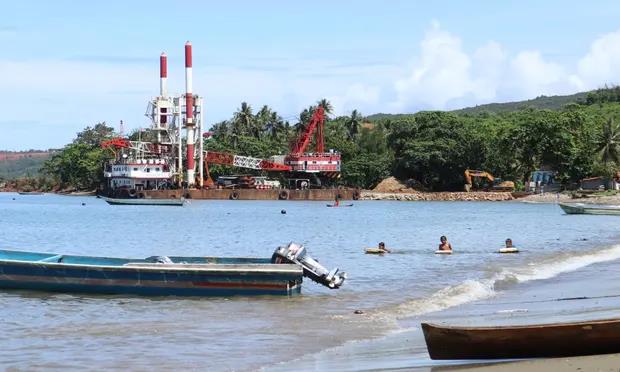 Children play on the beach while construction for the mining company is going on along the coast. Photo: The Guardian.
Fear of indigenous people
Other mining companies operating on Obi say their works pose no threat to the local community. However, the villagers of Kawasi are scared.
Richard (character name has been changed) said: "Before, when there was no company, even though we lived without electricity, we were still safe. Now we are very scared."
Near the village of Kawasi, Guardian investigators collected water samples from a site less than 200 meters from the mining site and analyzed them at a government-certified laboratory. The results showed a high level of Cr6 carcinogen (60 ppb). Meanwhile, the maximum amount allowed by Indonesian law is 50 ppb.
Cr6 can cause liver damage, affect fertility, and harm the body when ingested or inhaled. People who drink water contaminated with Cr6 for a long time can get stomach cancer. Evidence suggests that Cr6 in drinking water may be the result of an industrial process. These effects are persistent, long-lasting, and hard to notice, Baird says.
People confirmed that the sampled well was the only source of water they used for drinking, bathing and washing vegetables.
People in the village also said that since the mine was opened, people have fallen ill one by one. The village's midwifery clinic informed the Guardian that more than 900 cases of acute respiratory infection (ARI) were detected among Kawashi's 4,000 residents in 2020. More than half of the cases were reported. are infants and young children.
According to Indonesian health officials, the incidence of ARI in Kawashi is below 20% in 2020, compared with the national average of 9%. Apart from the midwifery clinic, there are no medical centers operating locally.
Maria (character name has been changed) said that before the mine, the sea was very clean, without mud and red as it is now. People still fish near the shore. But since the exploration began, the trend of ARI cases started to increase. "I don't know what the future holds for the kids?" she said.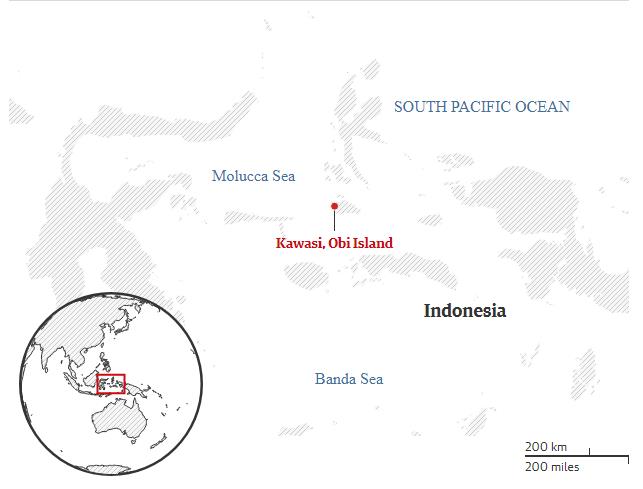 Location of Obi Island of Indonesia
Monitoring has not kept pace with development
Obi Island is an extremely remote area. To visit the island, visitors departing from the capital Jakarta will undergo a 3-and-a-half-hour flight, an overnight boat ride, and an additional 2 hours of floating at sea to reach Kawasi's port.
Upon arrival, visitors can hear the constant creaking and clattering of the busy cranes in the mining area. The $1 billion mine is owned by Indonesia-based Harita Group and Chinese mining company Lygend. Machines are mobilized to dig and process the nickel used in electric vehicle batteries.
Chinese battery components maker GEM has signed an agreement to purchase nickel from PT Halmahera Persada Lygend. GEM supplies batteries to many of the world's leading electric vehicle battery manufacturers, including Chinese-owned CATL, which controls about 30% of the global battery market.
The ultimate beneficiaries could be well-known electric vehicle brands. Nickel from these mines is used to make batteries in electric cars that Mercedes-Benz and Volkswagen (VW) sell.
Booming nickel prices and the electric car battery race have dragged on the development of mining pools. However, concerns are raised that it seems that management oversight has not kept up with the pace of development.
Indonesian nickel mining expert Steven Brown said the government may be trying to undo procedures to attract investment. But without a proper environmental assessment, they could be at risk the way the industry is headed.
It is difficult to hold mining companies and supply chains accountable for pollution, said Matthew Baird, an environmental lawyer in Southeast Asia. Especially when there are many sources of pollution.
"The big mining operations take place in hard-to-reach areas and places where they operate as local government companies," he said. Mining companies can be blamed for other problems. But because they're there, they can be part of the problem."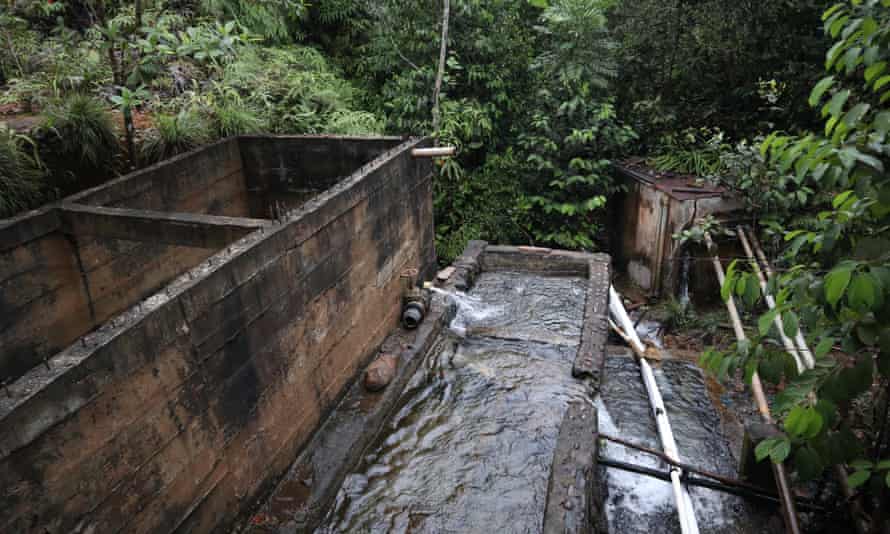 The only source of water that the villagers use for living. Photo: The Guardian.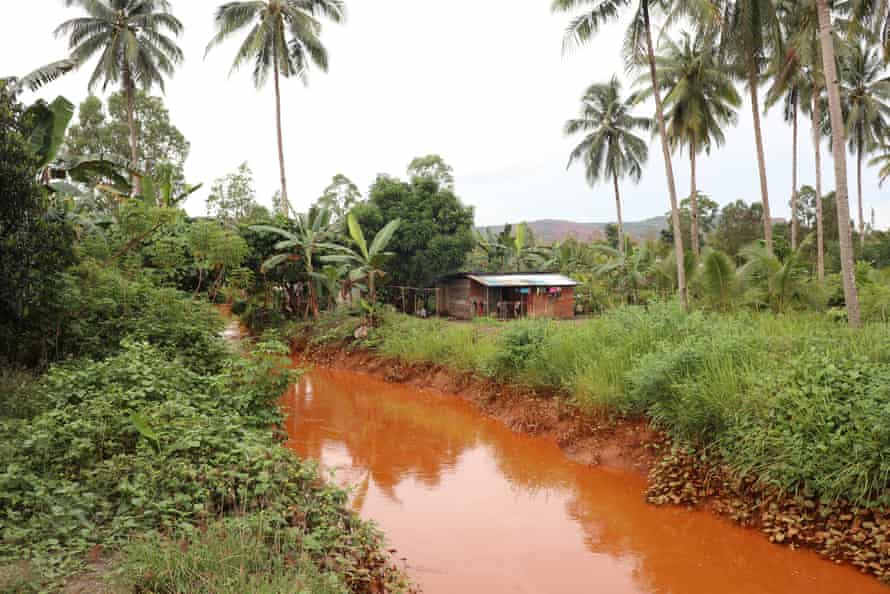 The canal is stained red by sewage and sludge from the mining process. This canal flows through residential areas and into the sea. Photo: The Guardian.
In the wake of accusations of unsafe Cr6 content, the company said tests it carried out on Kawasi's spring water between 2013 and 2021 showed that the water quality meets the standards set by the government. out.
The company says Cr6 results range from 5-40 ppb. Their tests also confirmed no leakage of Cr6 from the mining system or affecting the water quality of the Kawasi springs.
Brown said mines in Indonesia are only required to test for Cr6 and Cr6+ levels once a month, and they are not yet fully aware of the risks.
Halmahera Persada Lygend said the positive and negative impacts of mining projects are being reviewed and approved by the government. They also said environmental agencies regularly conduct field inspections and review company operations and take samples as needed.
You are reading the article
Wealth at the expense of cancer villages

at
Blogtuan.info
– Source:
genk.vn
– Read the original article
here