Thị trường
Strange flower can both play and make hot pot dishes, boil water, many people love to order
Many Ha Thanh women are curious and have a new experience with the unique Da Loc lotus flowers when they are just plugged in and when the flowers die, they are pruned, soaked in wine or boiled with drinking water, which has many good effects on health.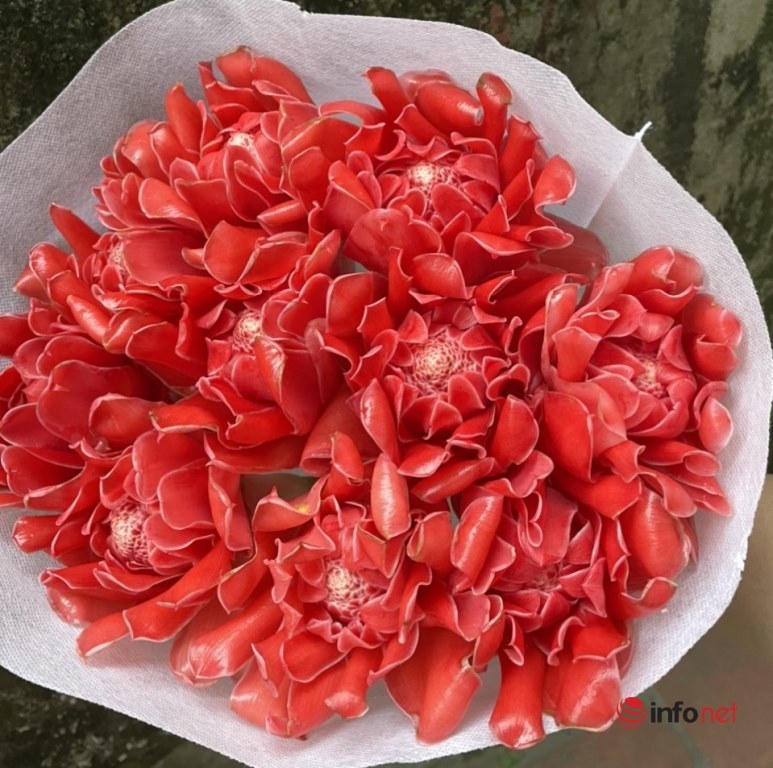 Da Loc lotus, also known as dry lotus, has just appeared on the fresh flower market in Hanoi.
Sen Da Loc, an extremely fancy flower that has just appeared on the flower market in Hanoi, is being sold at a price ranging from 25,000 to 45,000 VND/flower, depending on the place of sale and depending on the size of the flower.
Share with PV Infonet, Ms. Pham Thi Thom, owner of Moc Lan flower shop in Hai Ba Trung (Hanoi) said that Da Loc lotus is a plant of the ginger and galangal family grown in Binh Duong, flowers all year round. In the North, there are also places where it can be grown, but due to the unfavorable climate, Da Loc lotus can only produce few flowers, but not all year round like in Binh Duong.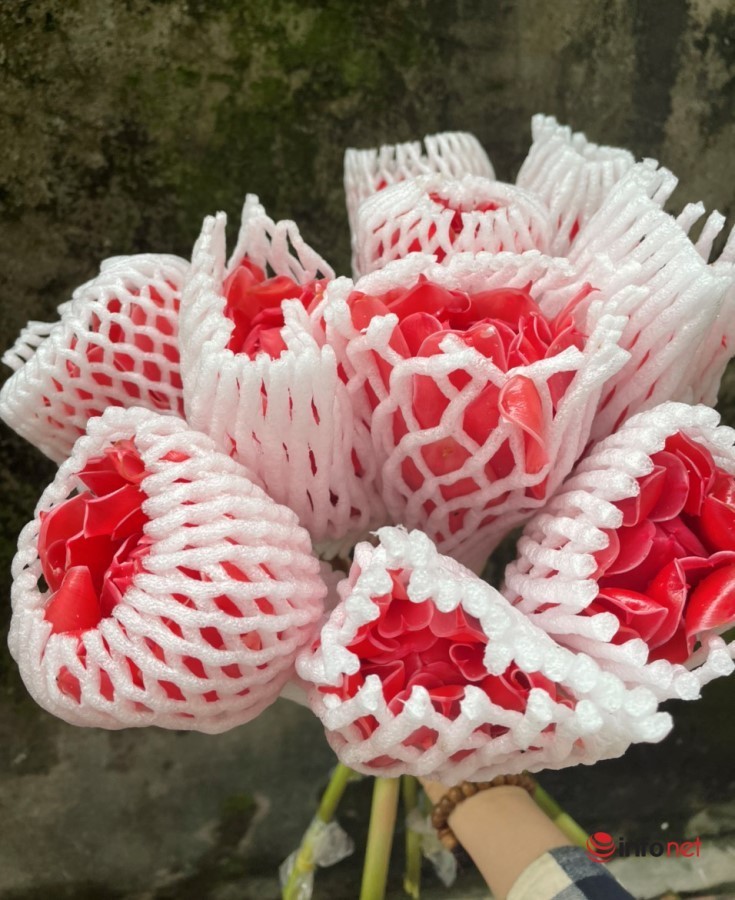 To ensure quality, each Da Loc lotus is wrapped in foam and transported from Binh Duong to Hanoi by plane.
Da Loc lotus has bright red and white colors, however white is not common and is also grown less often.
According to Ms. Thom, Da Loc lotus can be plugged in for about 5 days. Compared with other flowers, Da Loc lotus is quite expensive because the transportation cost is required to be transported by plane to ensure quality.
"Flowers are cut in Binh Duong the previous afternoon and packed and shipped to Hanoi early the next morning. Only cutting and transporting to Hanoi by air, receiving flowers the same day to deliver to customers can ensure quality. Many flowers can be stored in cold storage, but Da Loc lotuses alone cannot be refrigerated, otherwise the flowers will be pale and damaged," said Thom.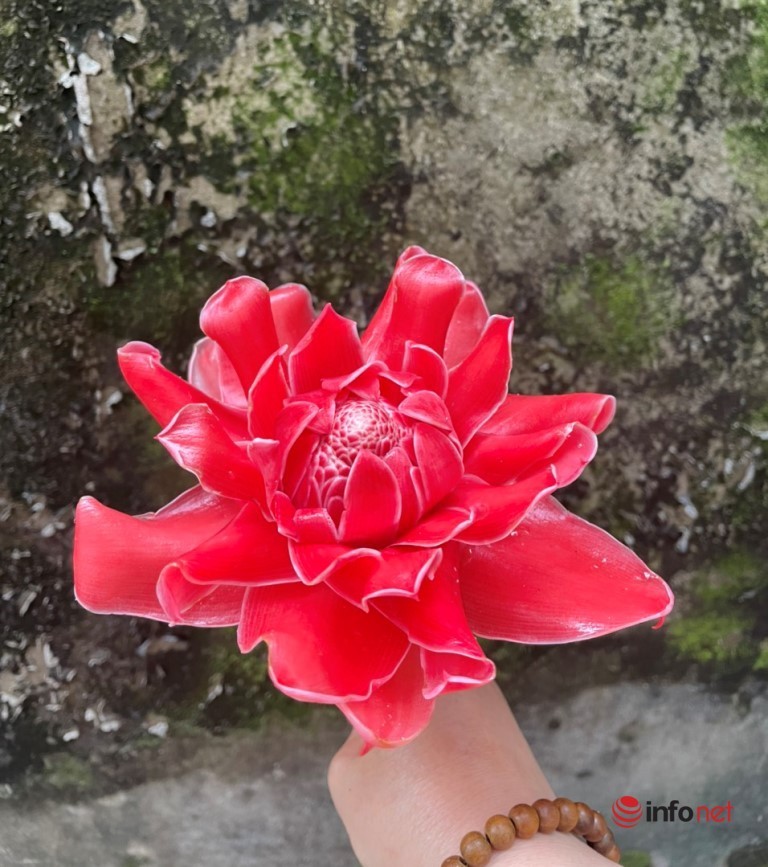 The flower is pointed and red, when it blooms it looks like a bright scarlet torch.
Selling Da Loc lotus for 360,000 VND / 10 flowers, ie 36,000 VND / flower, Ms. Thom also said that in addition to the attractive bright red color, the unique thing about Da Loc lotus makes many people curious to buy it because after playing it. The dead flowers can be separated to take the dried petals and drink the water to reduce diabetes and increase blood pressure when drinking a certain amount of flowers during the day.
Even the Da Loc lotus bud that has just sprouted or plucked the petals from the bloomed flower can be used to dip into hot pot, which also has a very strange taste.
Although it has only been sold for a few days, Thom said that now she has sold about 850 cotton flowers, each return about 200 flowers, just enough to pay customers who have pre-ordered.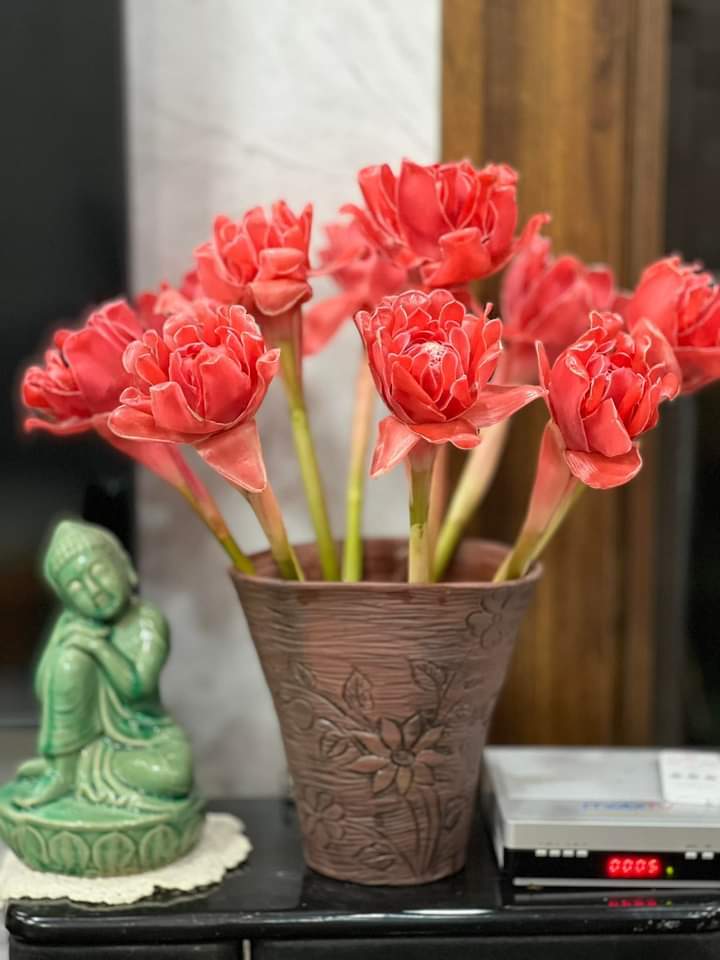 Flowers can be plugged in and played, and you can drop hot pot and boil water to drink.
However, Ms. Thom also noted that players of this type of flower, each flower is covered with foam to protect the flower, so the wings will be flattened; Therefore, when receiving flowers, it is important to remove the sponge from the flower and swipe the petals back to make the flower bloom. In particular, it is necessary to cut the base of the flower in half before plugging it into the vase so that the flower can absorb more water, fresher.
Also collect orders to sell Da Loc lotus for 195,000 VND / 5 flowers, a fresh flower shop in Hoang Mai (Hanoi) introduced, Da Loc lotus is a lotus but it is not grown in the lagoon but grown on the land. Therefore, the Da Loc lotus, also known as the dry lotus, is attracted by its bright red color.
Da Loc lotus is being sold on the Hanoi market with prices ranging from 25,000 to 45,000 VND/cotton, depending on the place of sale, depending on the size of the cotton.
"When the flowers bloom, there is a faint, gentle fragrance. Immediately after posting the image of Da Loc lotus, the flower shop received several dozen orders for each person to order 5-10 flowers, the total number of the first trips was also about approx. nearly 300 flowers," said the flower shop employee.
Laureate
You are reading the article
Strange flower can both play and make hot pot dishes, boil water, many people love to order

at
Blogtuan.info
– Source:
infonet.vietnamnet.vn
– Read the original article
here