Life Style
Star
Hien Ho claims to love 2-3 people who are not as "dystrophic" as this female star calling to be this "third person"
Vietnamese showbiz these days is extremely bustling when there is a shocking love scandal of Hien Ho . Before the female singer was born in 1997, a number of Vbiz female stars were also entangled in a love scandal related to the "third person" element and were equally criticized and attacked by public opinion.
However, these beauties are still not afraid to express their personal views. There are even people who openly encourage the "third person" to shock the public.
Hien Ho
The main character of the current Vbiz scandal once had a controversial statement: "I love 2-3 people, as long as I'm sincere".
Hien Ho's point of view is said to promote an unfaithful lifestyle that goes against the moral standards of society. Although this sentence may also be just a joke, Hien Ho is still fiercely criticized.
Hien Ho is also one of the "fire gods" on social networks. Each photo she posts on her personal page is attached with captions attracting attention.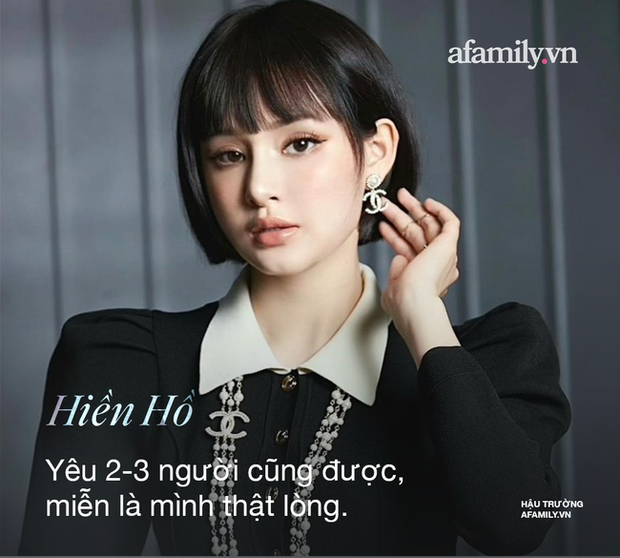 At the time when it was rumored that the rich couple to live a richer and more luxurious life, Hien Ho once shared on Eva.vn: "Do you know any rich people. I don't know either. Rich people give houses and cars, but why do people give cheap things?
But as far as I know, the rich are usually older, right, I don't know anyone who is older, I only know young people. People think I'm a rich couple, so they have to show proof that they are rich. There are so many beautiful people in this society, why did they choose me? I'm thin, my beauty is nothing special, how can I know a giant?".
A few months ago, Quynh Thu was rumored to be a "third person" who interfered in the marriage of Diep Lam Anh and the young master's husband. At the time when everything was not confirmed by the insiders, Quynh Thu was photographed going on a date with her husband Diep Lam Anh.
When asked about love affairs, Quynh Thu still innocently stated: "For me, in a love match, whoever is not loved is the third".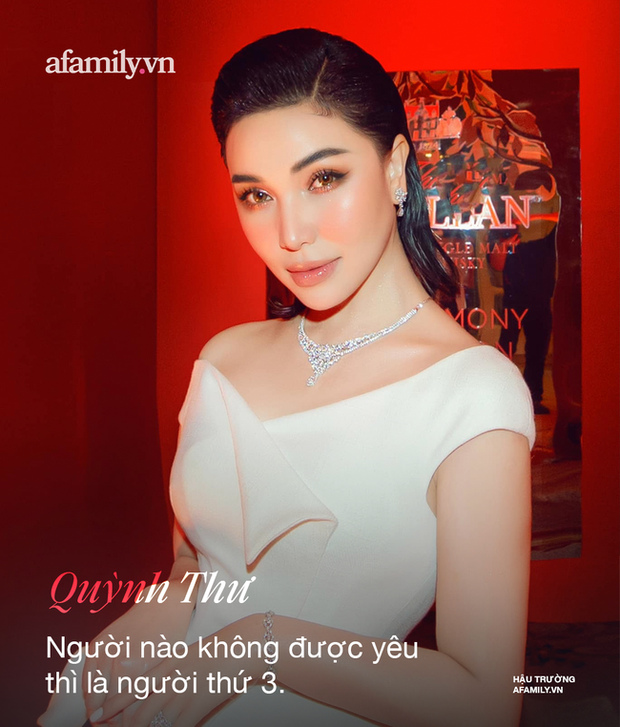 When Diep Lam Anh officially confirmed that her husband was dating an actress, Quynh Thu, despite being fiercely criticized by the online community, continued to share provocative and ironic statements on her personal page such as: : "A brave man uses tenderness to make women admit they are wrong", "A man's bravery is to meet a good woman and lose a bad woman", "It's okay to meet late, I'm mature enough, you tender age",…
Kieu Thanh
One of the "third person" who has the most shocking statement is actress Kieu Thanh. During the press conference for the movie "Rose on the left chest", Kieu Thanh was not afraid to declare herself as a "third person", even cheering for her behavior of becoming a "third person".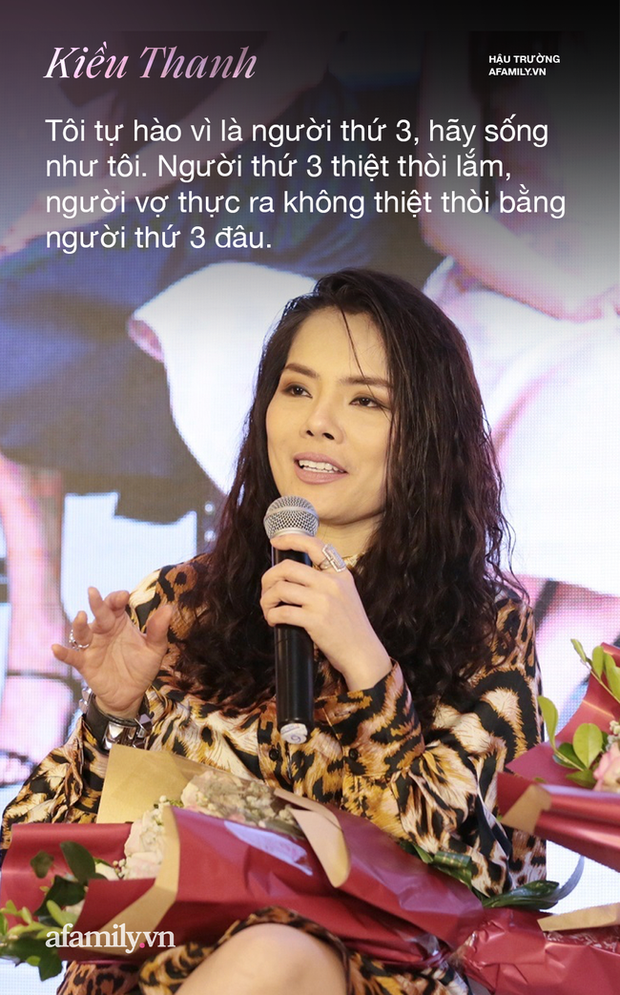 Actress says: "I'm proud to be the 3rd person, live like me. The 3rd person is very disadvantaged, the wife is actually not as disadvantaged as the 3rd person… I want to be a pioneer, so that everyone can erase it. The prejudice about the 3rd person is bad. Because like me, even though I am the 3rd person, I still bring happiness to my husband's family.".
At that time, Kieu Thanh also received a huge backlash from the public. She was even proposed by the audience to be stripped of the title of Meritorious Artist because of a private life scandal.
Nam Em
Scandal of Nam Em and Truong Giang once caused a stir in Vbiz. At that time, the beauty was said to be the one who interfered in the relationship of Truong Giang and Nha Phuong. After a while, she was entangled in the scandal of being accused of being "the third person" by her girlfriend VJ Quoc Bao.
In addition to the love scandals, Nam Em also many times made the audience bored with his shocking statements. In it, she once talked about being raised by giants: "Like I said before, people ask me that if I don't do much showbiz, where can I get the money to make the MV. That's the money I got from the giants. They help out in a disinterested way, without asking for exchange. love – money is nothing. Besides, when you're a rich man, that money is nothing.".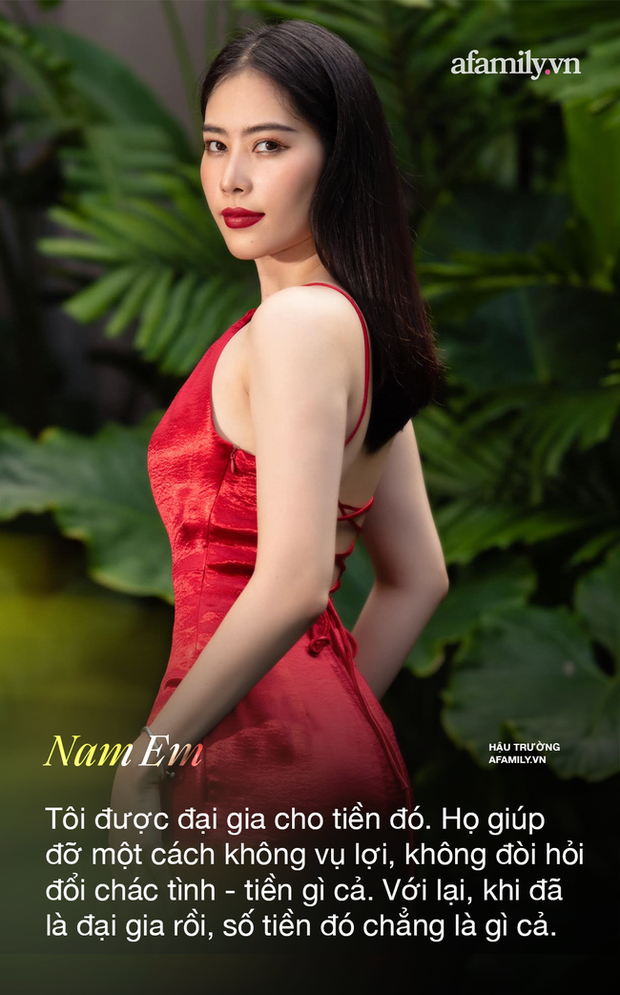 You are reading the article
Hien Ho claims to love 2-3 people who are not as "dystrophic" as this female star calling to be this "third person"

at
Blogtuan.info
– Source:
Kenh14.Vn
– Read the original article
here