Chuyện lạ
A pair of flamingos 'live and die together' escaped from the zoo, 17 years after being discovered in a place nearly 1,000 km away
April 2, 2022 11:57 GMT+7
A pair of flamingos that ran away from the Kansas Zoo in 2005 were discovered in Texas after 17 years, but only one remains and no one knows the reason for separation.
Flamingos usually live in pairs. On a stormy holiday in Wichita, Kansas, USA in 2005, two flamingos number 492 and number 347 ran away from Sedgwick Zoo.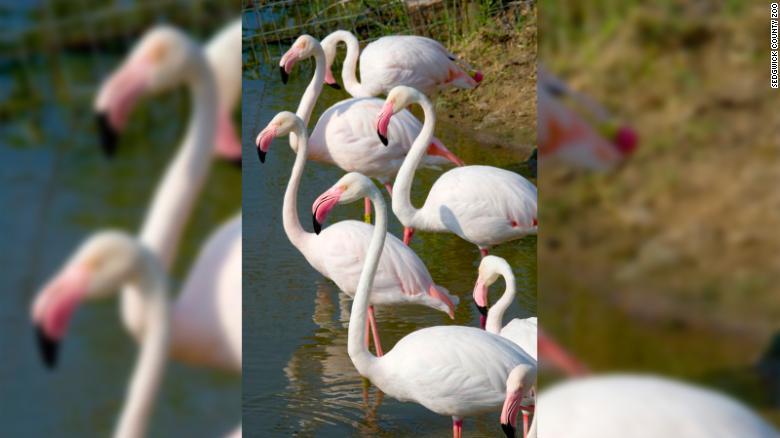 Spotted a flamingo running away from the zoo after 17 years
But 17 years later, tour guide David Foreman spotted one of these two birds 956 kilometers away from the Kansas zoo site.
According to Jennica King and Anne Heitman, the zoo's director of strategic communications and bird management, flamingo number 492 was one of 40 that were brought to Sedgwick Zoo from Tanzania, Africa in 2003. , bird number 492 is 2 or 3 years old.
The following year, zookeepers cut the flamingos' feathers, a "completely painless" process similar to that of humans.
Flamingos molt twice a year or once every two years. It will fall out on its own or the breeder will cut the hair. Feather clipping is also a form of temporary restriction by zoo staff from flying flamingos.
However, while the staff were working on that process, a strong wind blew and some of the untrimmed birds flew away.
Most of those birds fly around the zoo and then come back. But the two birds, number 492 and its companion number 347, never returned.
Zoo staff repeatedly tried to reach the couple to bring them back but were unsuccessful. After 2 days, the two flamingos decided to make a new trip and flew further and no one saw them anymore.
Until recently, staff in Texas discovered flamingo 492 in the area but did not find its companion and the reason for this separation. According to the Texas Parks and Wildlife Service, the flamingo, nicknamed the Pink Floy, occurs in an area with an abundant food source.
Pink Floy eats small plants like algae, plankton and small animals like brine shrimp, which gives flamingos their distinctive pink color.
Sedgwick Zoo representative said: "We were delighted to hear that the flamingo was discovered in Texas and knew it was fine. We often talk about the adage that if you love, let it go. decided long ago that when the bird flies down to Texas, we won't do anything to harm it, leaving it free to fly.The flamingo's presence in Texas does not harm the ecosystem Thai, this is a gentle bird, not aggressive."
Flamingos in the wild can live to be 40 years old. Meanwhile, flamingos in captivity, with human care, often live longer. The oldest flamingo in Sedgwick Zoo lived to be 60 years old.
Hoang Dung (synopsis)
You are reading the article
A pair of flamingos 'live and die together' escaped from the zoo, 17 years after being discovered in a place nearly 1,000 km away

at
Blogtuan.info
– Source:
infonet.vietnamnet.vn
– Read the original article
here