Giới trẻ
Students in grades 1-6 in Hanoi are as eager to go to school as the opening day, many of them wake up at 5am
April 6, 2022 08:12 GMT+7
Today (April 6), more than 1 million elementary and 6th grade students in Hanoi were able to return to school, many of which were introduced to the classroom for the first time.
From the beginning of the school year until now, Nguyen Minh Anh – a student at Nam Tu Liem Primary School (Hanoi) has never been to class for a day.
Sharing about this special day of going to this class, Minh Anh said: "Last night, my mother and I prepared clothes and books for school today, thinking about going to school to meet my friends and teachers. very anxious. This morning more than 5 o'clock, I got up and had breakfast, ready for my mother to take me to school."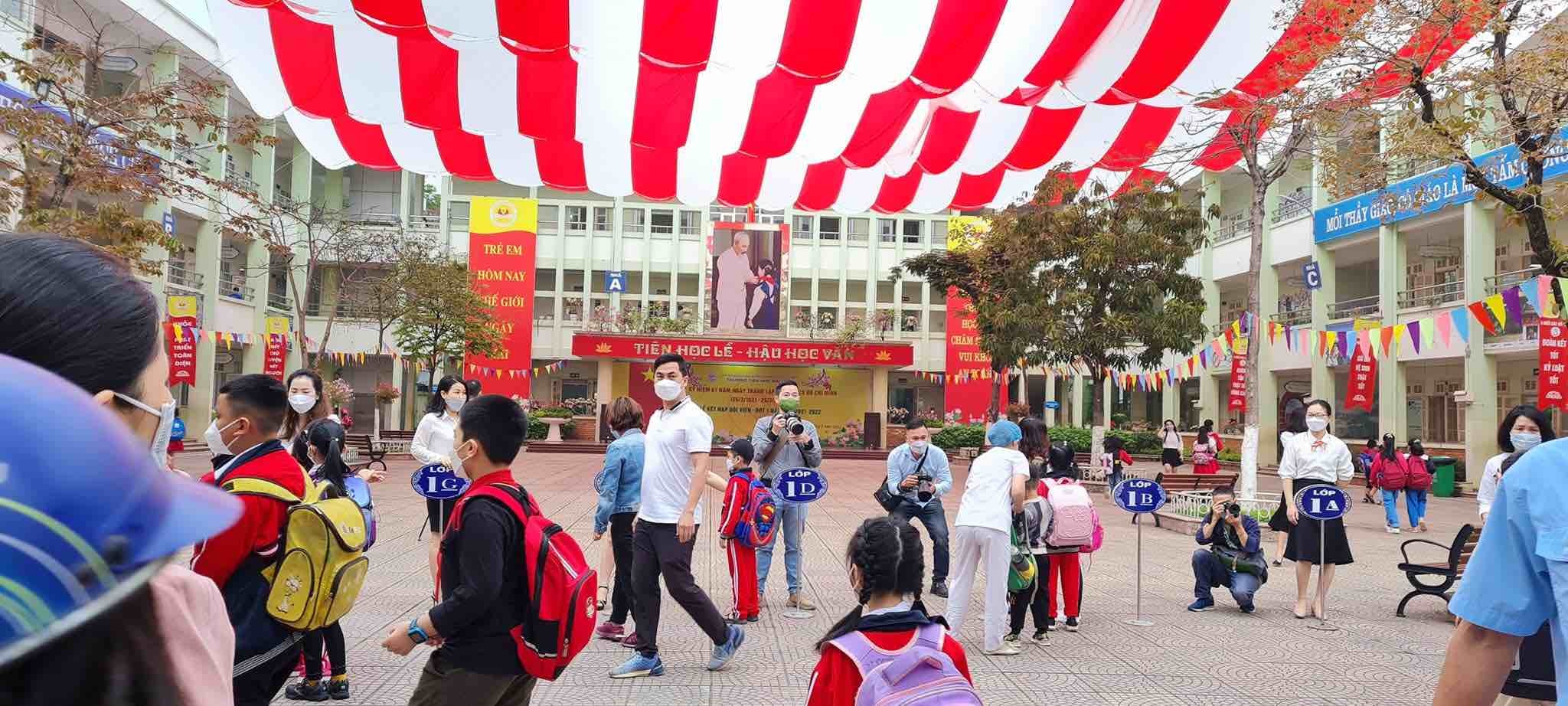 Many students in grade 1 were surprised when they could almost go to school at the end of the school year (photo: N.Dao)
Ms. Dinh Thi Van Hong, Principal of Dong Da Secondary School, said that the welcoming ceremony for 6th grade students will be like the opening ceremony of the new school year. The teachers wear ao dai, the teachers wear shirts and ties to welcome students from the school gate. In particular, on the first day of school, students do not have to study at all, but instead will participate in the back-to-school day.
Specifically, after being introduced to the school by the teacher, the class will organize folk games such as tug of war, jumping rope, throwing the ball into the basket…. The school will also prepare 2 areas for students to take commemorative photos. From the previous day, the school sent a notice asking parents to prepare their children's mind for coming to study. Before going to school, parents measure their temperature, if their child has a temporary high temperature, stay at home for monitoring and treatment.
Mr. Nguyen Quang Tung, principal of MV Lomonosov Middle and High School, said that before, when the Department of Education and Training asked schools to survey opinions about allowing students in grades 1 to 6 to study directly, 72% of parents of grades 6 and 77 % of Lomonosov elementary school parents agree.
Mr. Tung believes that this rate will increase after the first 2-3 days of school, because the majority of people going to school will have a good effect. With the current grade 7-12, the daily attendance rate is now 94%.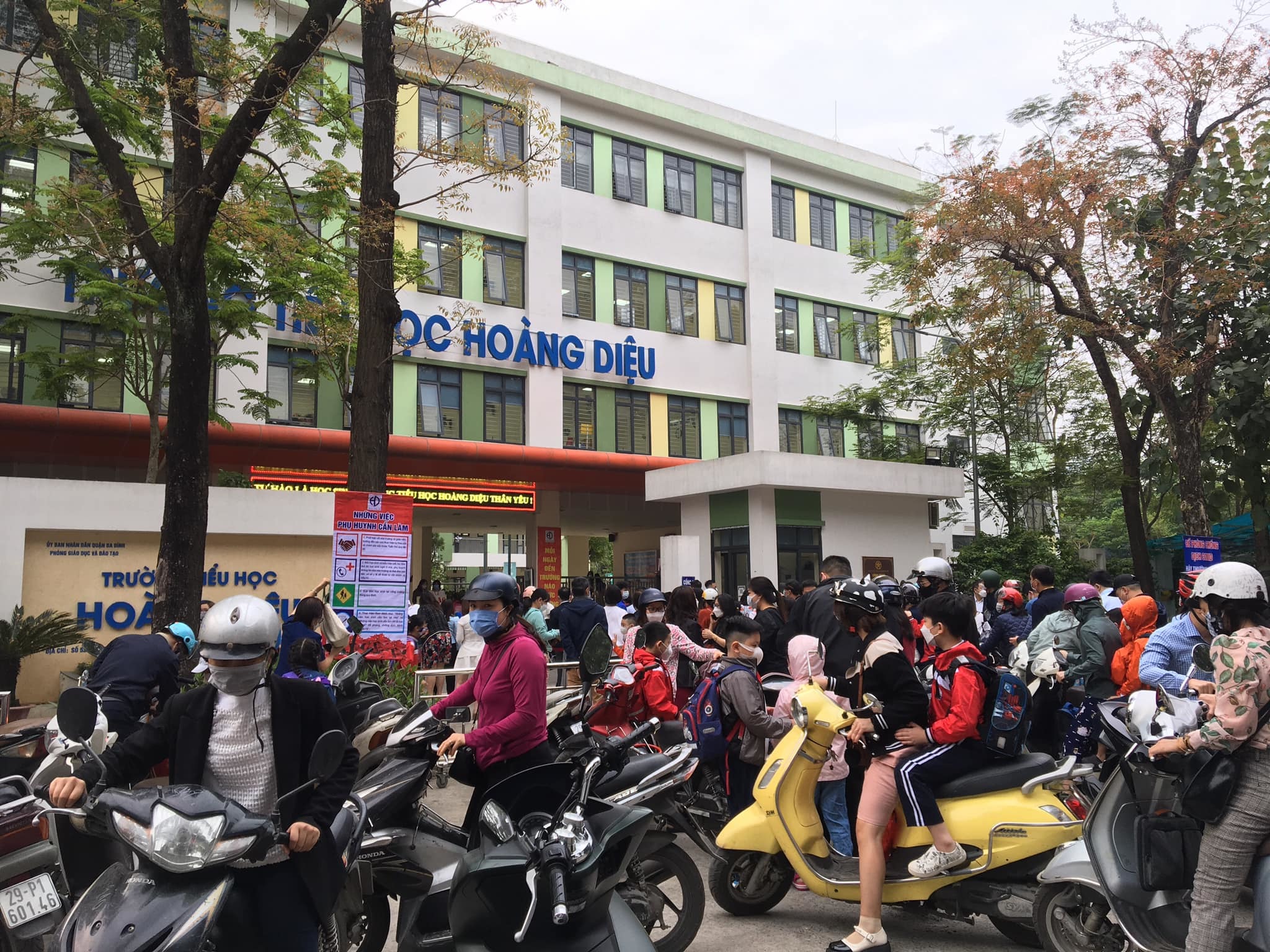 Parents also share the joy of sending their children to school (photo: N. Huyen)
Sharing about the meeting to welcome grade 6 students this morning, Ms. Van Thuy Duong – Vice Principal of Luong The Vinh Secondary and High School said: "Today we welcomed the youngest student to school for the first time after the epidemic days. forced to study online at home.
It was announced that they were present and gathered at the school yard at 8:00am but at 6am already, the 6th graders had already arrived. The children shared that they wanted to go to school very much, so today parents brought their children there early. Many friends were also present at 7am, the children picked up the school bus by themselves as if they had known each other for a long time. A parent texted me to say, I told my mother to wake me up early at 5am this morning, I want to go to school early, I want to see my friends.
For 6th graders, today is like their opening ceremony. Having a child today will be the first day, the first step to school… Seeing the children happy and excited, we promise to try our best to make every day the children go to school a happy day and effective".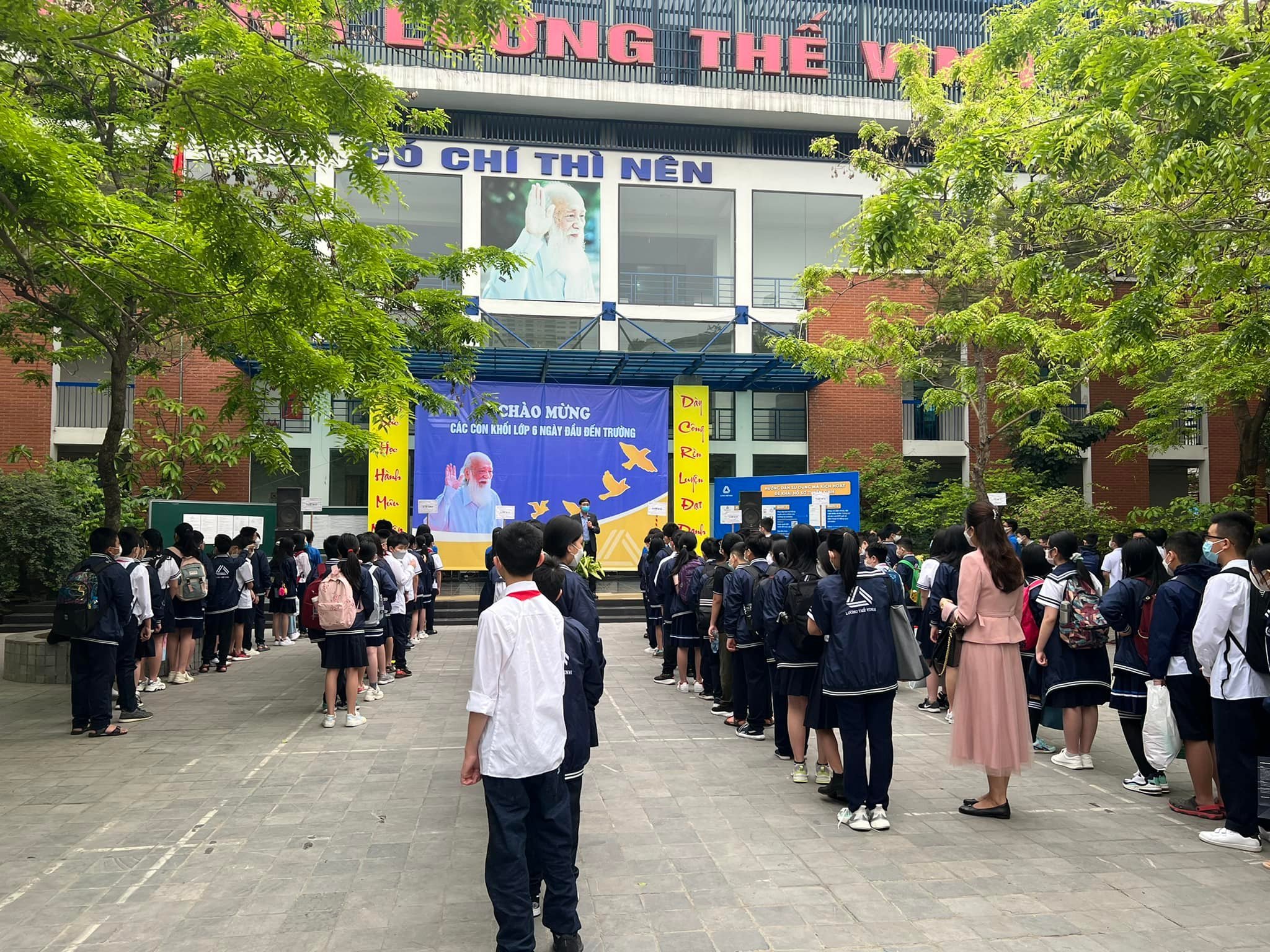 Pictures of students at Luong The Vinh school this morning.
Deciding to send students to school, schools only have 1 day to prepare, so many places do not prepare in time to organize boarding meals for students. So in the first week, at some schools, only one lesson is taught, and before students come to school, the school has washed all blankets and pillows so that today the children can sleep.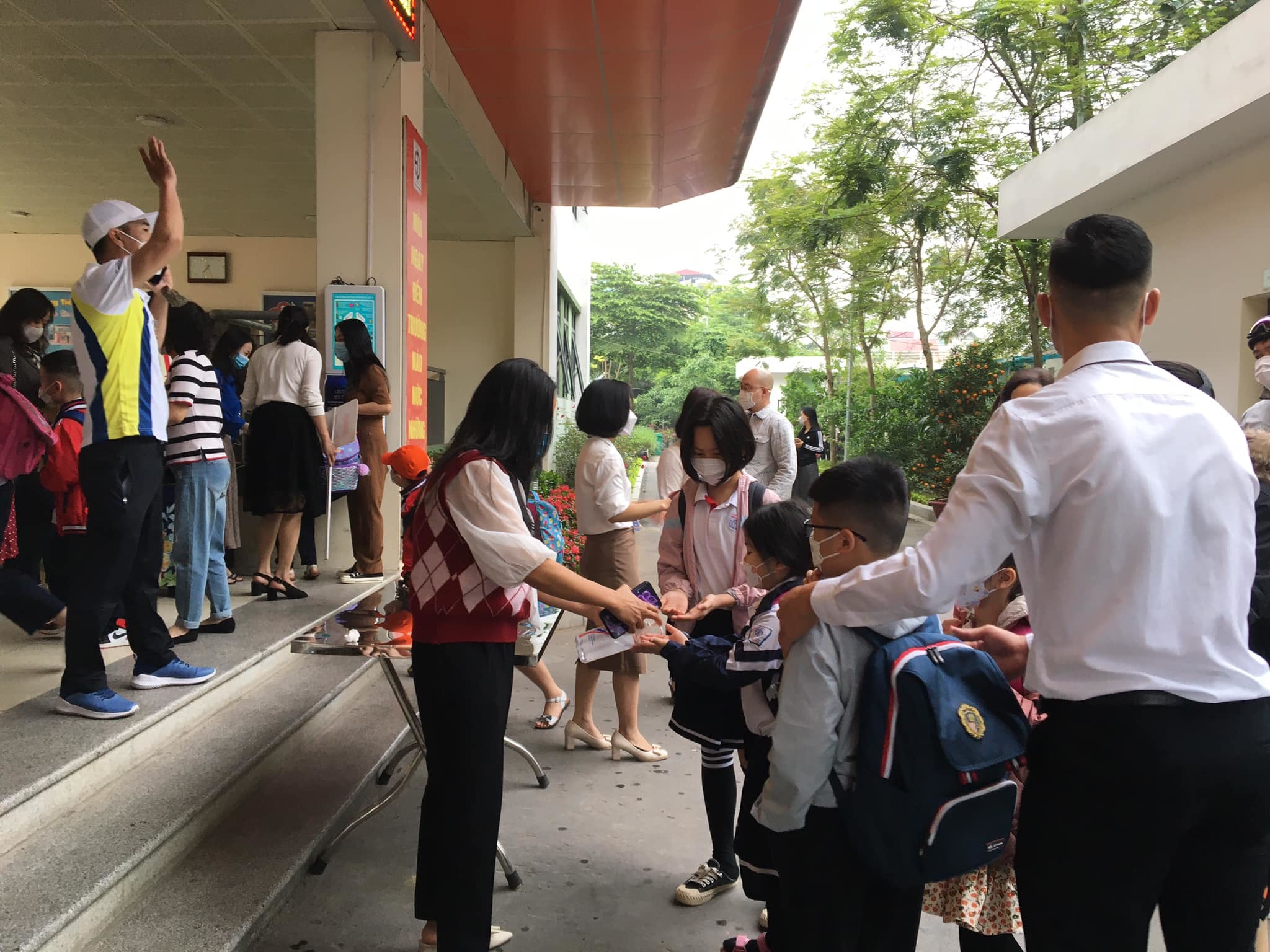 Students use disinfecting water before entering class (photo: N. Huyen)
Ms. Pham Thi Le Hang, Head of Ha Dong Department of Education and Training, said: "As of yesterday afternoon, all primary and secondary schools have prepared facilities to welcome students back to school. Regarding the organization of day-boarding, schools have opinions and the Department of Education and Training also advocates to prepare the most thoughtfully from kitchen facilities to food ingredients to ensure the safest. Therefore, schools will study 1 session / day by the end of this week, from the beginning of next week will organize 2 teaching sessions / day and part-boarding", Ms. Hang said.
Hoang Thanh
You are reading the article
Students in grades 1-6 in Hanoi are as eager to go to school as the opening day, many of them wake up at 5am

at
Blogtuan.info
– Source:
infonet.vietnamnet.vn
– Read the original article
here