Business
After going to work, it's even more poignant
Pham Tran Nhat Minh (Minh Plastic) is often remembered as a playboy who owns a collection of super cars and massive watches. However, behind that image is a brave businessman who is always devoted to the family company
In the position of Deputy General Director of Long Thanh Plastic Co., Ltd., this young master once admitted that he was under a lot of pressure. There were many times when he encountered difficulties and made mistakes, causing the company to lose a large number of employees and managers.
Experiencing many ups and downs in the marketplace, businessman Minh Plastics has learned many valuable lessons.
Self-study is the factor that helps adapt to the working environment and promote the fastest
Every employee wants to advance at work, get along with colleagues, and be trusted and loved by the boss. To do that, giant Minh Plastic believes that self-study plays a very important role. Self-learning and practicing will help people adapt to the working environment the fastest.
"If you don't self-study, no matter how many training classes you open, you will only feel a waste of time. What you learn is the mindset, not the time or the course. No matter how good the teacher is. If you don't study, that's all."he wrote on the fanpage.
According to young master Long Thanh Plastic, many people in his company have only finished middle school or high school but still hold the position of leader well. They always try to improve themselves to meet the requirements of leaders, contribute to the company more value than their original starting point.
Self-study is also a factor that helps businessman Minh Plastic shoulder the family business. Feeling that he was not capable enough to follow in his father's footsteps, he took extra courses outside to improve his knowledge even though no one forced him.
"Minh also enrolled in a customer company like Samsung. At that time, I had to eat breakfast and lie down for a while before I had the 'power' to operate the factory according to the standards of world corporations. gender"he shared.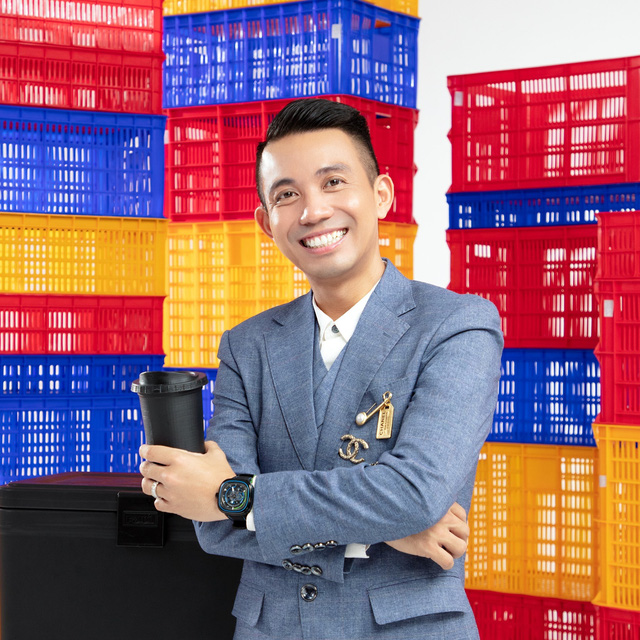 Going to work shouldn't just rely on OT . salary
Entrepreneur Minh Plastic revealed that he did not ask his subordinates to do OT (overtime), because this is a personal responsibility and authority. Depending on the nature of work and personal capacity, employees choose whether to have OT or not.
With weak employees, they need to voluntarily increase the working time at the company or at home to ensure the minimum completion of the assigned work. For those who want to get a raise or promotion, instead of spending time OT, they should learn more experiences from leaders, increase communication to achieve higher efficiency at work.
"No company encourages or expects employees to do OT. Besides work, you still have many other good things to cherish around such as family, friends, love, personal hobbies. core…"he wrote.
Get rid of the "I'm not getting paid for this" mindset
Some young people think that if they are assigned a job other than their specialty without being paid, they will not do it.
"If that's the case, I will not assign the job to that person anymore. Because if that person has no need to work, assign more or less, they will not do it."businessman Minh Plastic has not shared.
According to young master Long Thanh Plastic, assigning unprofessional work to employees is a force majeure of their superiors. The boss himself also has to follow up very carefully to provide timely support to avoid affecting the work.
For example, during the Covid-19 pandemic, when the human resource area is not enough, everyone has to shoulder and share non-specialist tasks to reduce the burden on the company.
"Therefore, don't have the mindset of 'I'm not getting paid for this!'. You should learn and follow the company's goals," businessman Minh Plastics wrote. "Whether you achieve or not achieve the desired results, your superiors will understand, not scold, but on the contrary will encourage you."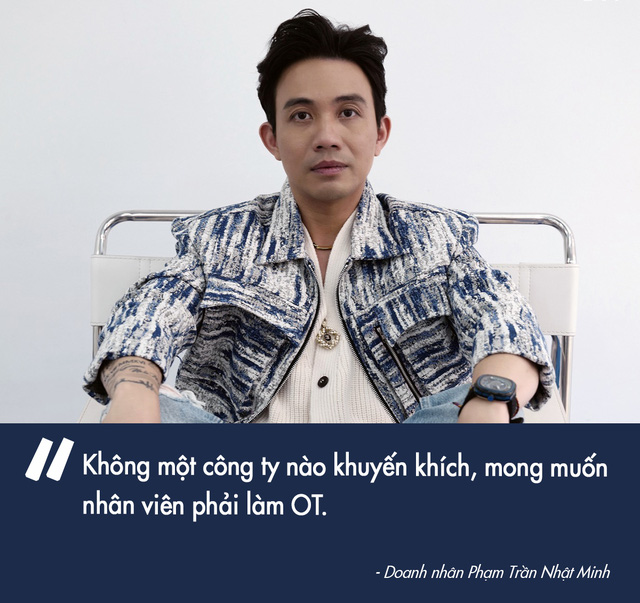 If you don't behave properly, the quality of work can hardly be good
Entrepreneur Minh Plastics said that style is the leading factor in the field of production. Every month, employees in his company will be assessed 50% on style, 50% on quality of work.
"The style is not neat, the quality of work will be reflected in the style"I said. "If we don't deal with people with poor behavior, then the small things can't be done, how can we do the bigger things?"
This giant admitted that violating manners is unavoidable in life, even for him. However, Minh Plastic advises everyone to limit this, don't let others judge you at a too bad level. He appreciates those who acknowledge their mistakes, honestly report and explain clearly to their superiors, without leaving regrettable consequences.
"Professional working style is also a factor that can make a big difference to your career advancement opportunities. A person who works without discipline will certainly not advance far"he wrote.
If you are good enough, the company will automatically increase your salary
Having gone to work, everyone wants to advance in their work, get an increase in salary in accordance with their ability, effort and brainpower. However, businessman Minh Plastic advises people not to wonder "When will I get a raise?" or "Increase by how much?". Instead, employees just need to focus on doing their part well, to show the boss that they are worthy.
"If you are good, the company will automatically increase your salary. The company is afraid that you will not be able to keep you if you leave. That is the company's concern, what do you have to worry about?"Master Long Thanh Plastic explained.
"If you don't increase your salary, maybe the company has not developed yet; now you should leave to find new opportunities for yourself. If you have not done well enough, never get a raise, try harder for the sake of the job. You have given me the grace to give you time to prove your ability."
The giant also emphasized, a growing company will not hesitate to spend heavily to retain good employees.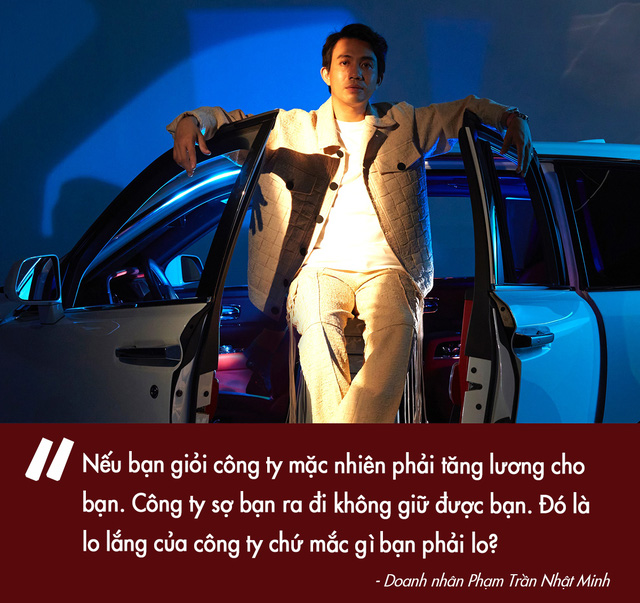 Working together to develop instead of using ego to go all fronts
Like many other entrepreneurs, Minh Plastics also cannot avoid painful mistakes in the early days of entering the market. One of them is letting the ego control itself.
Youngster Long Thanh Plastic shared, with each project of the company, he always shows himself as a good leader by drawing up plans, planning directions, etc. He thinks he doesn't need to listen to anyone. and do not want to accept opinions from anyone. This giant feels that doing so can show the ego, the authority of a boss.
Due to being imposed, the subordinates of businessman Minh Plastic did not dare to refute him, only hard at work doing their part. When the project has problems, the giant blames the staff for not knowing how to contribute ideas, just plugging in and following along.
The ego is so big that Minh Plastics become a leader who likes to impose. His subordinates were also discouraged because of that, and then gradually left. This made the businessman extremely regretful.
"If you are in the same situation, then you should look back at yourself and learn to change gradually. To build a strong team, what do we need to do? Show that we can go all out on our own. need to share and work together to develop more?"he wrote.
(Synthetic)
Bachelor of Law refuses to work as a civil servant to "dig through garbage to find gold": Income up to 180 million VND/month, no need to buy new clothes or gadgets for 7 years
https://cafef.vn/ru-bo-hinh-anh-dan-choi-doanh-nhan-minh-nhua-nhap-vai-vi-sep-tam-ly-voi-hang-loat-triet-ly- birth-ton-noi-cong-so-di-lam-roi-moi-cang-them-tham-thia-20220414165840403.chn
https://cafef.vn/ru-bo-hinh-anh-dan-choi-doanh-nhan-minh-nhua-nhap-vai-vi-sep-tam-ly-voi-hang-loat-triet-ly- birth-ton-noi-cong-so-di-lam-roi-moi-cang-them-tham-thia-20220414165840403.chn
You are reading the article
After going to work, it's even more poignant

at
Blogtuan.info
– Source:
cafebiz.vn
– Read the original article
here