How to make sweet potato cake is very simple. You can choose to make donuts, steamed buns or pies. Here are some delicious potato cake recipes that you will hardly miss.
first
How to make sweet potato cake with flour
How to make sweet potato cakes with flour is a familiar recipe for many women. With easy-to-find ingredients, the sisters easily made a delicious cake from sweet potatoes to entertain the whole family.
1.1. Ingredients for making sweet potato cakes with flour
Sweet potato: 500g

Wheat flour: 100g

Deep fried dough: 150g

Unsweetened or low-sugar fresh milk: 100ml

Coconut milk: 50ml

Filtered water: 200ml

Sugar: 4 tablespoons

Salt: 1 teaspoon
1.2. How to make sweet potato cake with flour in detail step by step
Step 1: Prepare sweet potatoes
When you buy sweet potatoes, you wash them thoroughly to remove all the dirt outside, then peel off the outer skin.

Soak the peeled sweet potato in a bowl of diluted salt water for about 5 minutes. This will help the sweet potato not to darken, and when scraped, you won't have to worry about the plastic sticking to your hands.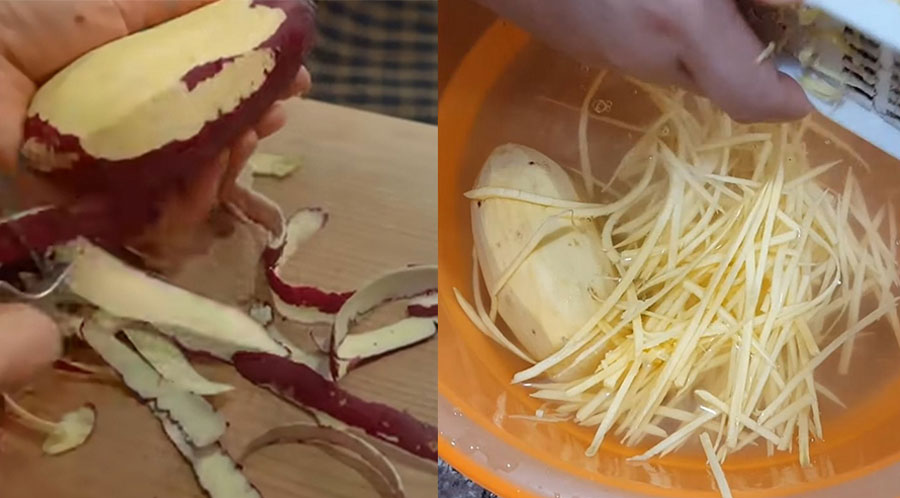 Take out the sweet potato and grate it into small pieces and then continue to soak it in salted water for about 30 minutes. This will help the potato fibers become golden, fragrant and crispy when fried.

When the sweet potatoes have released all the plastic, you wash them with clean water and then dry.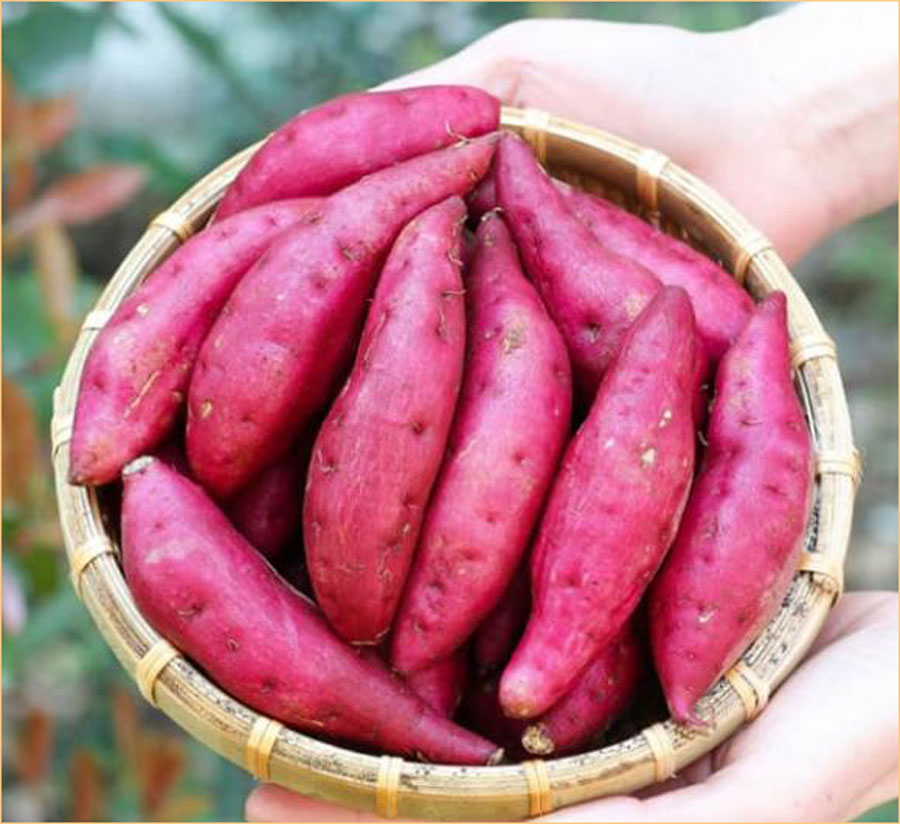 Good tip: To have a delicious sweet potato cake, you should choose a Japanese sweet potato with a yellow, sweet and fragrant flesh.
When buying, you prefer to choose new potatoes, absolutely do not buy sprouted, cracked ones because they are not good for health.
It is advisable to pick up the potatoes with a round, elongated shape. According to the experience of the old people, these potatoes are sweet, have a lot of flour and especially have very little fiber.
Step 2: Mix the dough to make sweet potato cakes
The flour plays a very important role in determining the deliciousness of sweet potato cakes.
First, you take a large bowl and put in here about: 100g of flour, 150g of deep-fried flour (this flour will help the cake become more crispy when fried), 4 tablespoons of sugar, 1 teaspoon of salt, 100ml of fresh milk, 50ml coconut milk, 200ml filtered water.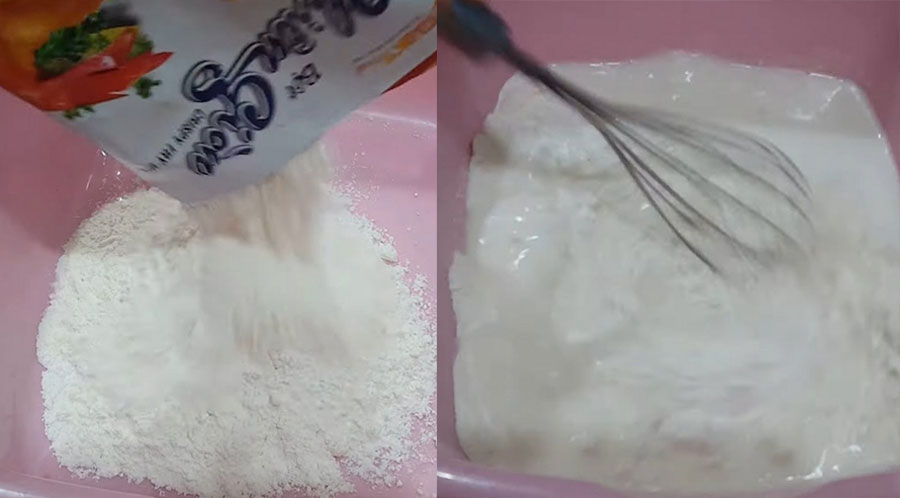 Use a spoon or chopsticks to stir the mixture and let the dough rest for 30 minutes.

Place the previously grated sweet potato in a bowl, and mix well so that the batter covers the entire potato fiber.
Step 3: Fry the sweet potato cake
Whether your sweet potato cake is crispy or not, the frying step is very important.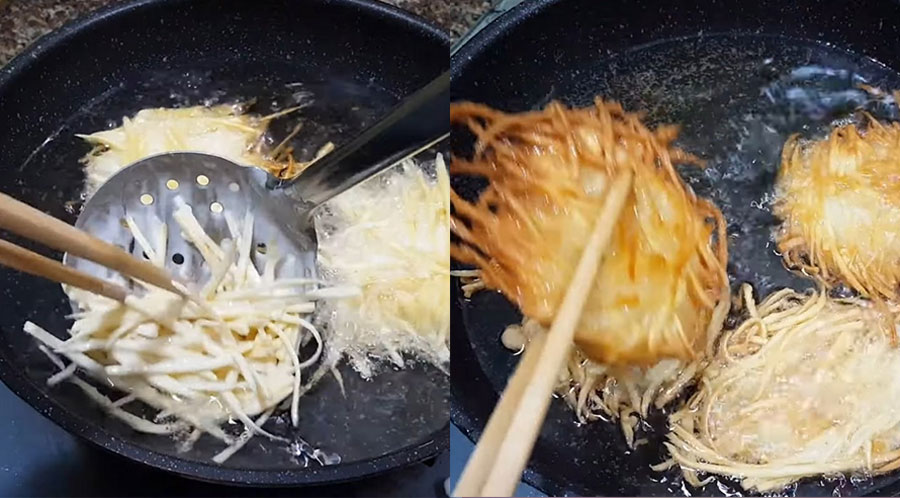 Put a non-stick pan on the stove and add a large amount of cooking oil. Note, the oil must cover the surface of the cake when frying.

When the oil starts to boil, scoop up the sweet potato fiber and mix in the flour. When both sides are golden, take them out to drain the oil.

Adjust the fire carefully to avoid burning the cake during frying.
Good tip: If you want to make delicious crispy potato cakes, the outer layer of dough must be as thin as possible. Cakes with less flour will also drain the oil and when eaten, they will not be sick.
Step 4: Finish the sweet potato cake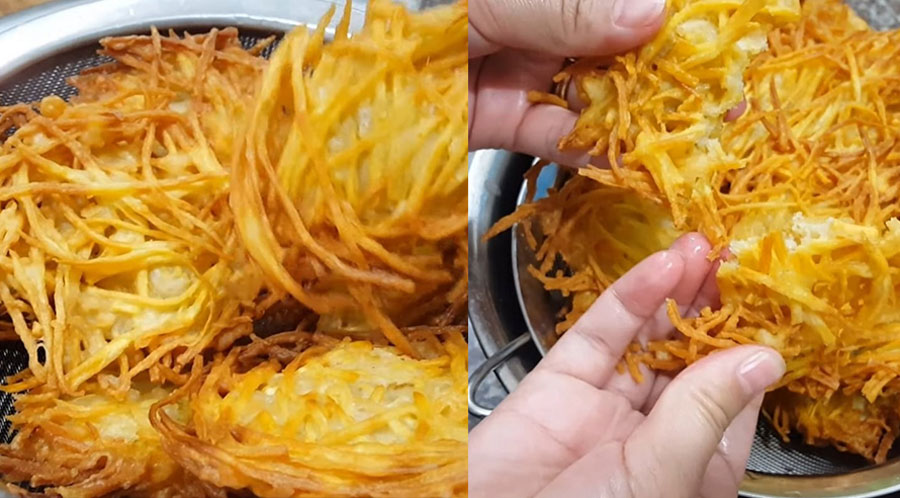 Remove the cake to a plate and serve while it is still hot. The cake is golden on both sides, the crust is crispy when eaten, it has a characteristic greasy taste of coconut milk, the sweet aroma of sweet potatoes is extremely attractive.
2
How to make sweet potato cake with tapioca
For those of you who are afraid to eat fried sweet potato cakes, this way of making sweet potato cakes with tapioca flour and then steaming is not a bad suggestion. The ingredients for the cake are extremely easy to find, the method is simple, but the taste is extremely delicious. How to do this:
2.1. Ingredients needed for tapioca sweet potato cake
Sweet potato: 500g

Rice flour: 80g

Tapioca flour: 60g

White sugar: 60g

Coconut milk: 160ml

Pineapple leaves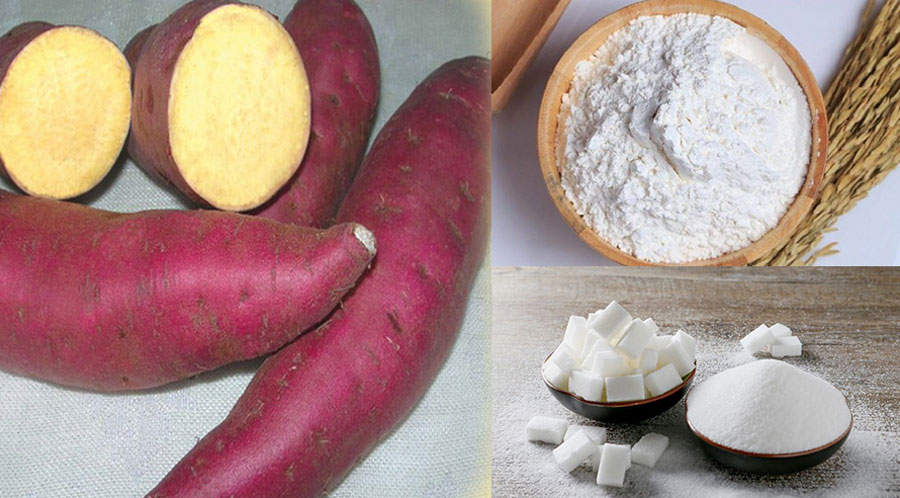 2.2. Instructions on how to make sweet potato cakes with tapioca
Step 1: Prepare the ingredients
Wash the sweet potatoes and remove the skins. Cut the potatoes into thin slices and then put them in the steamer to cook.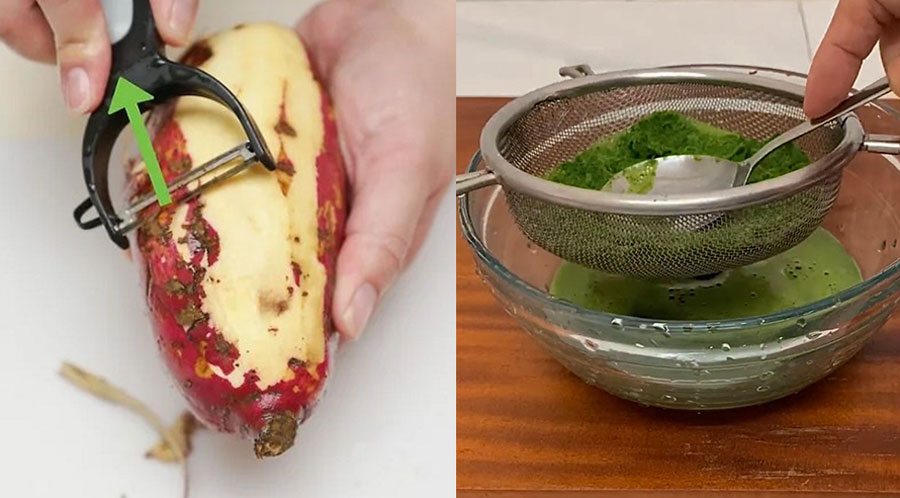 Wash pandan leaves, put in a blender. Pour the crushed pandan leaves through a sieve to filter out the residue.

Pour the filtered pandan leaf juice into the bowl and then add 200ml of filtered water and stir until dissolved.
Step 2: Prepare sweet potatoes
After the sweet potato is cooked, take it out into a bowl. Use a spoon to mash the sweet potato. If you have time, mash the sweet potatoes once more through a sieve so that the potato flour is softer and smoother.
Step 3: Mix the ingredients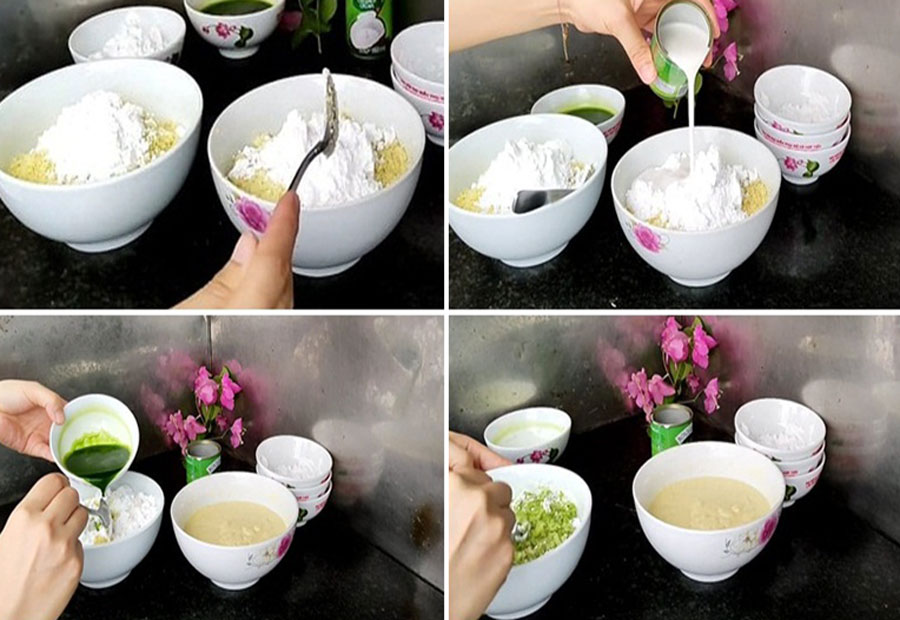 Divide the mashed potatoes into 2 equal parts.

In turn, add to each portion of mashed potatoes 40g rice flour, 60g tapioca starch, 60g white sugar and 80ml coconut milk. Pour the pandan juice you prepared earlier into a bowl of mashed potatoes so that the finished product will make the cake more beautiful.
Step 4: Steam the potato cake
Do not fry like a regular potato cake, with this recipe, you will have a different way of processing.
First, you apply a layer of cooking oil on the cake tray and then pour the mashed sweet potato mixture without pandan leaves first. Next, pour the remaining mashed sweet potato tray on top. Spread the dough evenly over the cake.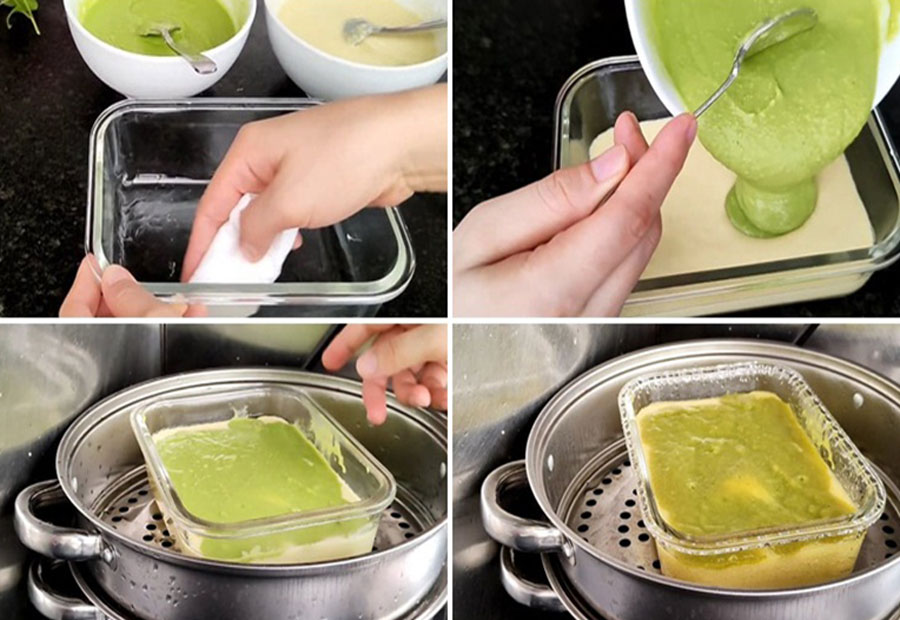 Put the steamer on the stove, put the tray of sweet potato flour in and steam for about 25 minutes.

When the cake is done, you take it out and cut the cake into bite-sized squares.
Step 5: Enjoy
Sweet potato cake with tapioca is extremely easy to make and delicious. Aesthetically, the cake has an eye-catching pineapple green color mixed with yellow. The crust is soft and smooth thanks to the well-mashed sweet potatoes.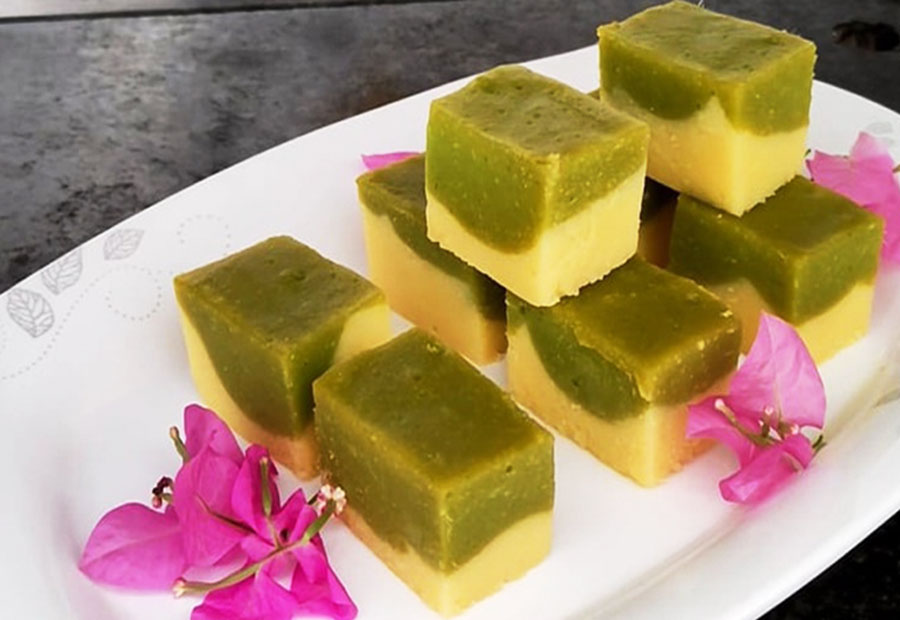 When eaten, sweet potato cake has the aroma of pandan leaves, the fat of coconut milk, sweet from potatoes and white sugar. This cake you make for a side dish or dessert is very "mouth-watering".
3
How to make sweet potato cake with eggs
Another extremely delicious and easy way to make sweet potato cakes that few people know is to combine sweet potatoes with eggs.
3.1. What ingredients are needed to make sweet potato cakes with eggs?
Sweet potato: 500g

Butter: 15g

Fresh milk: 1 spoon

Sugar: 15g

Egg yolk: 2 pieces

Black sesame, stencils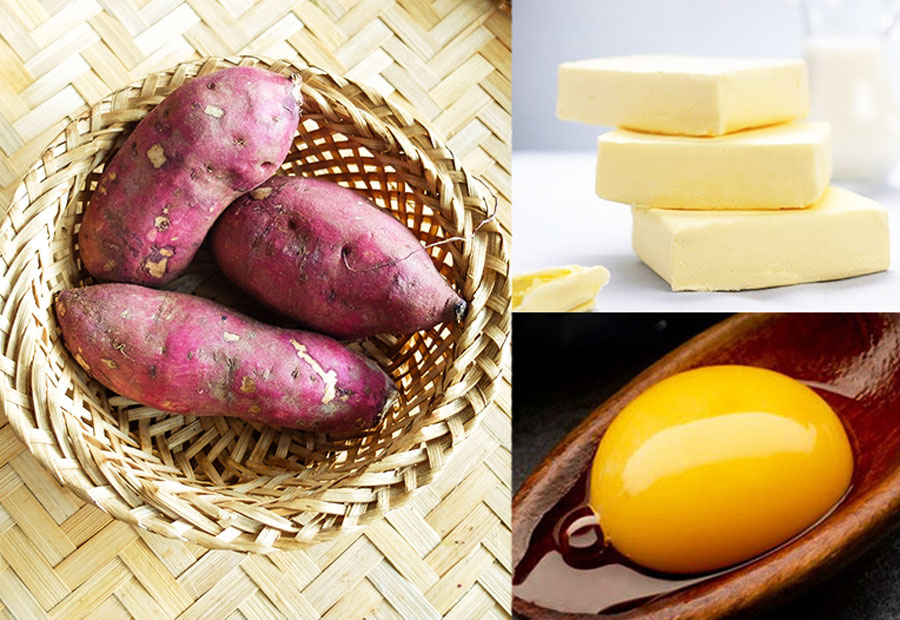 3.2. Details of how to make sweet potato cakes with eggs
Step 1: Prepare sweet potatoes
Buy sweet potatoes, wash, then scrape off the skin, cut into bite-sized pieces and then steamed.

Steaming time about 15-20 minutes is that the potatoes will be cooked. Take out the soft cooked potatoes, put them in a bowl and mash them.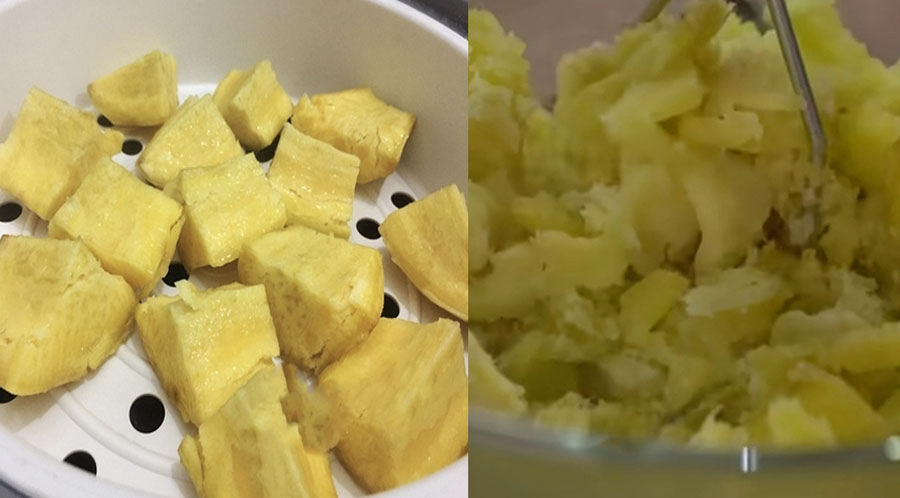 Step 2: Mix mashed sweet potatoes
Put in a bowl of mashed sweet potatoes 15g butter, 15g sugar and 1 egg yolk, 1 tablespoon fresh milk, then mix well. When you see sweet potatoes forming a smooth, smooth mixture is okay.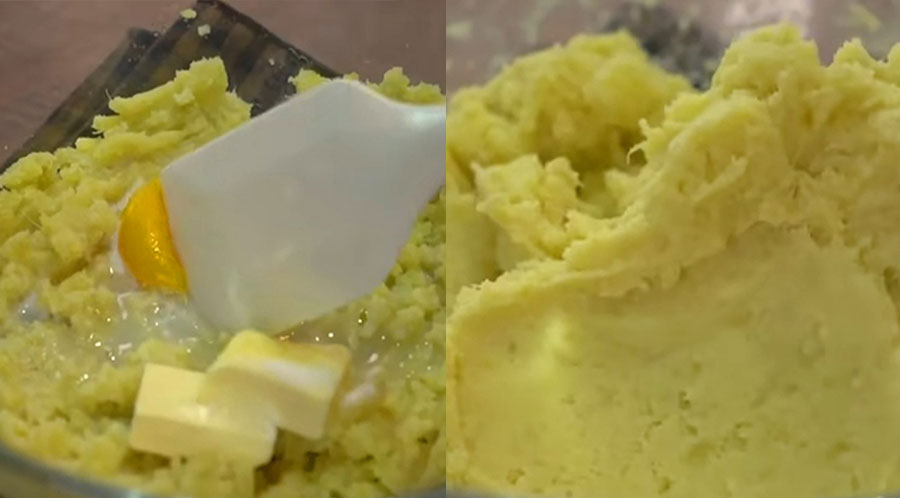 Good tip: In order for the sweet potato cakes not to be too dry, you should add fresh milk in the process of mixing the sweet potatoes. If you have vanilla available at home, remember to add a few drops of essence to the mixture so that the cake will be more delicious and fragrant.
Step 3: Create the cake shape
Spread a layer of plastic on the table and pour in the mashed sweet potato mixture. Fold the plastic sheet and then press it so that the mixture forms a piece about 1 inch thick.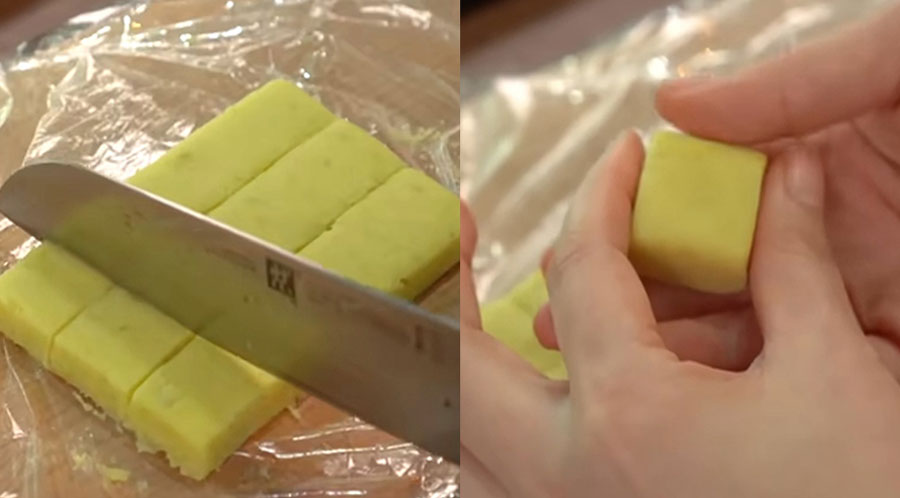 Use a knife to cut the pressed potato into bite-sized pieces.

Take 1 egg yolk in a bowl and beat well. Spread this mixture on the surface of the cake and sprinkle some black sesame on top.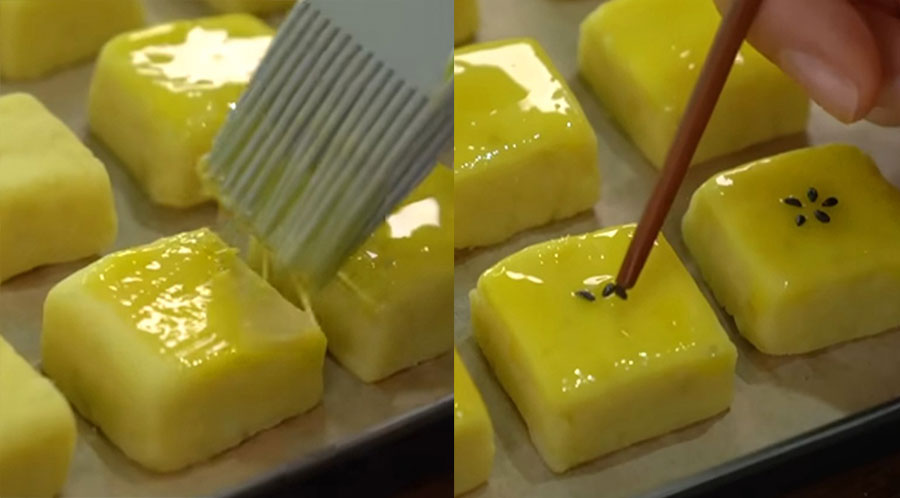 Step 4: Bake the sweet potato cake
Line a layer of parchment paper on a tray and then place the cake in the oven at 180 degrees Celsius for 10-15 minutes.
Good tip: When baking, it will be easy to stick together, so you need to arrange the cakes with a certain distance so that when cooked, the cakes will be beautiful and keep their original shape.
Step 5: Done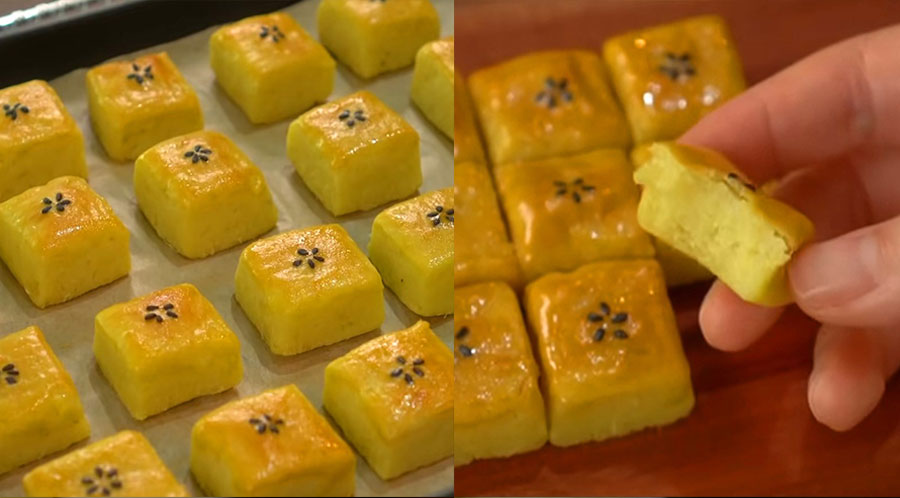 The potato cake is golden brown on all sides. At this point, you put the cake on a plate and enjoy. This sweet potato cake recipe will create beautiful golden brown cakes. When eaten, the cake gives a very delicious greasy aroma.
Potato cakes made according to the above recipe can be kept for 3-5 days. If you don't eat them all, keep them in the fridge.
How many calories are in sweet potato fries?
Many women wonder how many calories in a fried sweet potato cake. According to nutrition experts, for every 100g fried sweet potato cake, there are about 138 calories.
With other cooking methods such as steaming or baking, the number of calories will range from 116 – 168 calories.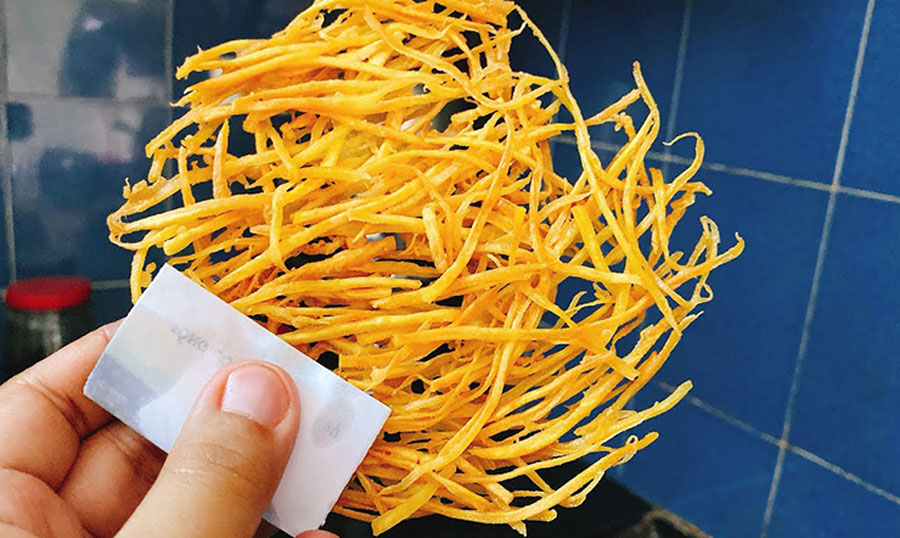 Because the calorie content in sweet potato cakes is quite high, nutritionists recommend that you do not eat too much. Especially for those who are on a diet, lose weight, and keep fit, they should limit it. In particular, it is necessary to avoid eating sweet potato cakes covered with sesame or using too much coconut milk, sugar…
If you are self-taught How to make sweet potato cakes at home, you can recalculate the amount of sugar as well as coconut milk to reduce calories for the cake.
Is it good to eat a lot of sweet potatoes?
It's no coincidence that experts recommend eating sweet potatoes regularly. Research has shown a few amazing useswandering with health.
1. Sweet potatoes have the ability to prevent cancer
According to experts, sweet potatoes, especially purple sweet potatoes, contain large amounts of anthocyanins. This substance has the ability to slow down the growth of cancer cells, including breast cancer and colon cancer.
2. Eating sweet potatoes improves longevity
Sweet potatoes are rich in the anti-aging hormone DHEA along with essential vitamins, minerals and antioxidants. Therefore, if you eat sweet potatoes regularly every day will help prevent the risk of disease and improve life expectancy.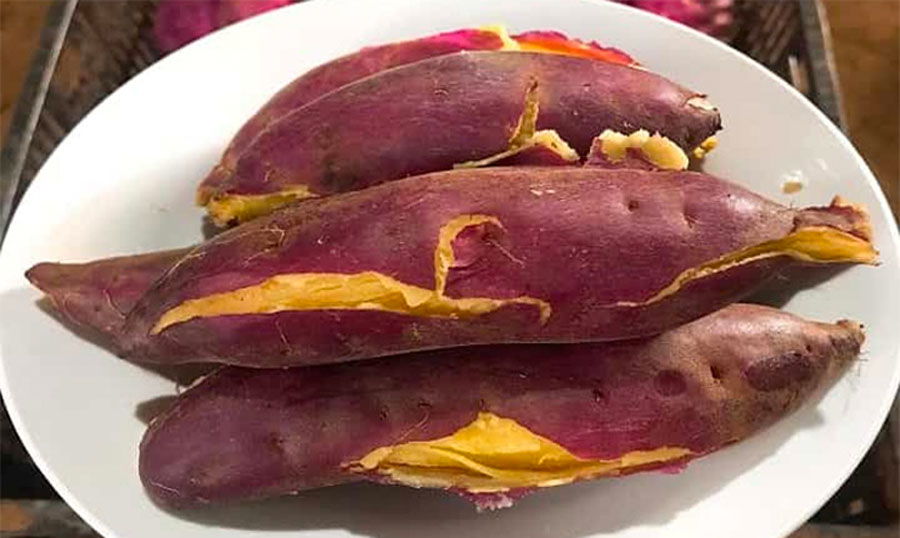 3. Good for diabetes
Compared with potatoes or other starchy foods, the calorie content of sweet potatoes is quite low, so it has the effect of balancing insulin in the body and effectively reducing the blood sugar index.
In addition, sweet potatoes are rich in fiber, so they are good for the digestive system, increasing the feeling of fullness for a long time, helping to lose weight effectively.
4. Reduce the risk of cardiovascular diseases
A recent study has shown that the content of polyphenols, fibers and anthocyanins in sweet potatoes has the effect of preventing and reducing the risk of cardiovascular diseases.
In addition to the above uses, eating sweet potatoes or delicious dishes from sweet potatoes also helps to improve hair and skin, regulate blood pressure, and enhance memory.
Just now is a super simple way to make sweet potato cakes at home that any woman can apply. Choose for yourself a suitable recipe to create delicious cakes for the whole family. Wish success!
You are reading the article
How to make sweet potato cake with flour, new style extremely delicious

at
Blogtuan.info
– Source:
Eva.vn
– Read the original article
here