The eight stories in the volume are childhood memories of people born and raised in a village in central Vietnam. It was a boy who forever remembered his mother who taught him letters with a rhyming book in the few remaining days of his life. Then, when the mother died, the son still saw his mother's figure in the rhyme book that the seemingly strict father still secretly put in his bag.
That rhyming book was to the boy like a white flower that was placed on his chest every full moon in July in memory of his mother. It was three sisters who were taken by their father to visit their mother's grave on New Year's Day. Then, when returning home, the youngest child sat and wrote a letter to his mother in heaven, thinking that the letter would be glued to his mother's grave and he would wake up and read it. It was a family of Sparrows nesting in a house with two "people" sisters that made Miss Ut so excited when she was acquainted that she didn't want to leave when her mother wanted to move the nest. It is a mother chicken and ducks that entertain the children in the house and also teach them about the life of animals and people. It was an unfortunate classmate who died from a serious illness early, causing the author to mourn that he was born prematurely before science found a cure for incurable diseases like he had. "Come more slowly", the title of the story, can also be read as a plea for people to slow down so that every minute of life is worth living.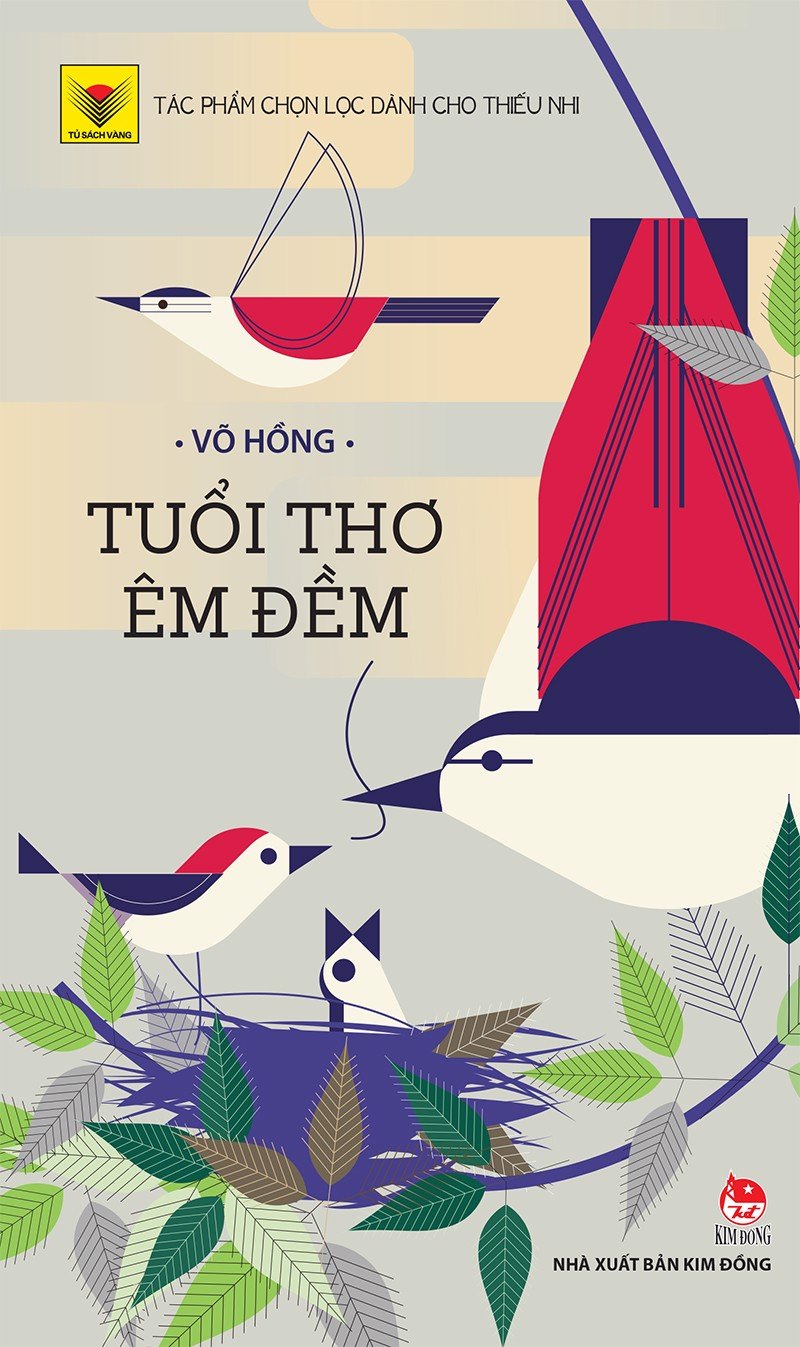 GOOD Childhood
Author: Vo Hong
Kim Dong Publishing House, 2021
Number of pages: 154 (size 12.5×20.5cm)
Quantity: 1500
Selling price: 40,000 VND
Vo Hong writes simple, realistic stories, with a slow, warm narration and a loving tone of voice. He used his life story as a story. The four father and son in the story are the four father and son. He lost his wife early and stayed there to raise children until old age. The letter from the youngest daughter to her mother mentioned above is signed by Vo Thi Tri Thuy. He loved children and lived with children with an innocent childhood love.
In the late eighties of the last century, I had the opportunity to meet writer Vo Hong and befriend him for a long time in Nha Trang. In the letters sent to Hanoi, he told me a lot about how he played with children. The writer repeats this over and over again. "I love children under 3 years old." (Letter 23/10/1989). "The older I get, the more I only play with children." (Letter of the New Year of the Goat 1991)."The older I get, the more I like to play with children, especially 2-year-old and 4-year-old girls." (Letter 5/9/1991)."When they are old, people like to play with children." (Letter 16/1/1992). Almost every letter he tells about his current life, likes to play with children as little friends bring joy to him."Just on October 21, I stood and looked at the star fruit branch, looked at the small fruit, 0.5cm long in the middle of the tiny flower cluster, remembering the neighbor's girl named Cui sometimes her sister would hold me so I could sit next to her, one day. . And I shed tears, because I remember holding him standing and showing him the star fruit." (Letter 23/10/1989). And when playing games with young children, the seventy-year-old writer felt pity"We waste our time not knowing Play with children, play childish games Play fun." He further reflected on life when the children playing with him were mostly girls."Children 4-5 months to 4-5 years old I love girls more than boys. Little girls, tenderness, and beyond, disadvantage. There is Hieu with her parents as a daughter, who suffers a disadvantage as a girl and as a woman." (Letter 9/4/1990).
Vo Hong's literature is therefore full of compassion for children to adults. His writing is to converse with readers like friends and relatives. He does not speak loudly, but whispers kind things for people to live forever. Reading "Peaceful Childhood" with "Children's Sky" was released by Kim Dong Publishing House at the same time, readers can live more and more in the childhood atmosphere of the writer's very sweet and loving childhood. As a teacher, he knows how to speak to readers, especially young readers, in a way that is easy to understand and poignant. Therefore, after 1975, his books were gradually reprinted, and he was awarded the title of "Excellent Teacher" and awarded the medal "For the cause of education".
Writer Vo Hong (1921 – 2013) was born in Phu Yen but lived and wrote for a long time in Nha Trang (Khanh Hoa). He has had many works, including novels and short stories, published since the first collection of stories "Hoai Co Nhan" came out in 1959. On April 24, 2022 a national scientific conference titled "Hoai Co" was held. – Celebrating 100 years of writer Vo Hong's birthday" will be held in Tuy Hoa (Phu Yen). The conference was delayed by a year due to the Covid-19 pandemic.
Rereading writer Vo Hong these days is reading a heart of love and respect for people. And love and respect the Vietnamese language of our fathers and ours. Just before 1975, when he witnessed the fever of learning foreign languages, especially English, in Southern cities to the point of trampling on his mother tongue, he had to raise the alarm:As writers, we love Vietnamese more than anyone and serve Vietnamese more than anyone. But when it comes to teaching Vietnamese to students, it's really frustrating. So much so that I once said half-jokingly to a class of female students: "For Vietnamese, you are mothers-in-law. You torture it, trample it, smack it. You can write whatever you want, regardless of grammar, regardless of spelling, while in French English, the girls are loving and caring, with a small preposition wrong, missing an s letter e, they are scratching their heads. as if he had committed a serious crime."
See you next time with other new books!
Hanoi, April 22, 2022
You are reading the article
"Writing for children must be from kindness"

at
Blogtuan.info
– Source:
danviet.vn
– Read the original article
here