Thế Giới
QUICK READ 6-5: The US confirms that it does not provide information about the location of the Russian general in Urkaine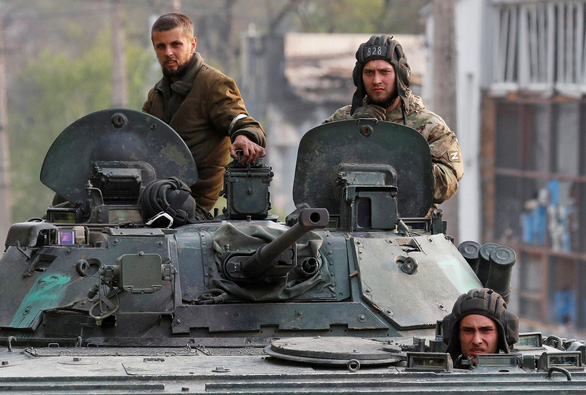 Pro-Russian forces in the city of Mariupol, Ukraine on May 5 – Photo: REUTERS
* According to AFP news agency, on May 5, Pentagon spokesman John Kirby explained:It is true that the US provides military intelligence to Ukrainian forces to help Ukrainians defend their country, not to provide intelligence on the location of senior military leaders on the battlefield or to participate in the Ukrainian military's offensive decisions."
This intelligence scandal was mentioned by the Kremlin on May 5. Kremlin spokesman Dmitri Peskov confirmed that Russia knows that the US, UK and NATO countries continuously provide intelligence support to Ukraine. Together with the supply of weapons has slowed the Russian military campaign but will not prevent Russia from achieving its goals in Ukraine.
* Deputy Prime Minister of Ukraine Iryna Vereshchuk said People will continue to be evacuated from the port city of Mariupol today (May 6)., with the meeting place being the Port City shopping center. Earlier, Ukrainian President Volodymyr Zelensky said the operation to evacuate civilians from Mariupol took place on May 5, but did not specify the number of people evacuated.
* Speaking at the conference of Ukrainian donors in Warsaw (Poland), United Nations Under-Secretary-General for Humanitarian Affairs Martin Griffiths said: A new UN convoy is on its way to the Azovstal steel plant to try to evacuate civilians.
So far, the United Nations has coordinated with the International Red Cross to complete the previous two evacuations, the first on May 3 brought 101 civilians out of the Azovstal steel plant in the port city of Mariupol and the second phase. On May 4, 320 civilians were removed from Mariupol and surrounding areas.
* According to Reuters news agency, on May 5, the High Representative for Foreign Affairs and Security Policy of the European Union (EU) Josep Borrell said: EU member states "almost" agreed on a new package of sanctions against Russia proposed by this blockincluding the oil embargo.
"I hope the EU member states will come to an agreement. They've almost reached an agreement now. And we need this deal because we have to put more economic and financial pressure on Russia." Mr. Borrell said.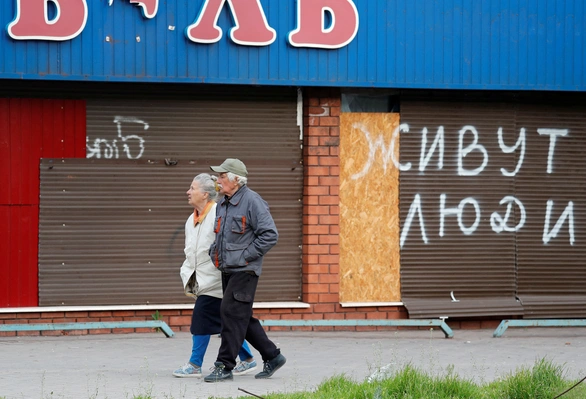 A building in the port city of Mariupol, Ukraine has the words "Common people living here" written on its facade. Photo taken on May 5 – Photo: REUTERS
* Reuters news agency quoted a German government spokesman as saying that German Chancellor Olaf Scholz and US President Joe Biden had a phone call on May 5, in which they agreed not to recognize any Russian-controlled territory in Ukraine during the special military operation.
"The two leaders agreed that Ukraine needs continued and substantial support in exercising its right to self-defence," the spokesman added.
* On May 5, Italian Foreign Minister Luigi Di Maio, during a visit to India, called on the European Union (EU) to take new joint action to help restart stalled peace talks between Russia and Russia. and Ukraine.
"We will continue our efforts to revive a negotiation that has been stopped at this point… We must revive it by the joint action of the EU and all its allies," Di Maio said.
* According to Tass news agency, on May 5, Chairman of the State Duma (Russian House of Representatives) Vyacheslav Volodin said: Russia cannot feel safe until Ukraine agrees to denuclearization status and not join the military alliance.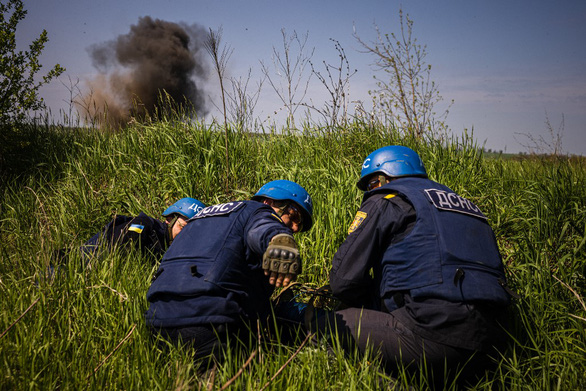 Members of the demining team of the National Emergencies Service of Ukraine destroy an unexploded missile near the village of Hryhorivka, Zaporizhzhia region on May 5. Now is the planting season in Ukraine and in addition to the increased demand for fuel and fertilizer, demining teams have also been deployed to deal with unexploded rockets or mines in the fields, which have made farmers unable to work. People in some places were injured or killed – Photo: AFP
* According to AFP news agency, in a phone call with Israeli Prime Minister Naftali, Russian President Vladimir Putin says the Russian military is "still ready" to give civilians safe passage trapped in the Azovstal steel plant in the port city of Mariupol, where Ukrainian forces are entrenched.
* According to AFP, Svyatoslav Palamar, a commander of Ukrainian forces entrenched in the Azovstal steel plant, accused Russia of "violating" the truce that had promised to keep civilians from shelling in basements. of the factory.
Earlier, the Russian military declared a 3-day ceasefire at this site. However, in a video posted on Telegram, Svyatoslav Palamar said fighting continued here.
* According to the Vietnam News Agency correspondent in Moscow, Chinese Ambassador to Russia Truong Han Huy (Zhang Hanhui) said: The central banks of China and Russia will discuss the use of national payment systems of the two countries.
In an interview with Russia's TASS news agency on May 5, Ambassador Truong Han Huy stated: "The promotion and use of national payment systems Mir and China UnionPay in both countries will be supported by central banks. to decide at the consultations".
You are reading the article
QUICK READ 6-5: The US confirms that it does not provide information about the location of the Russian general in Urkaine

at
Blogtuan.info
– Source:
tuoitre.vn
– Read the original article
here