After taking the high school graduation exam, candidates begin to register for university and college admissions in an online form on the portal of the Ministry of Education and Training. According to experts, candidates should not choose an easy-to-pass major, but should pay attention to choose the right major.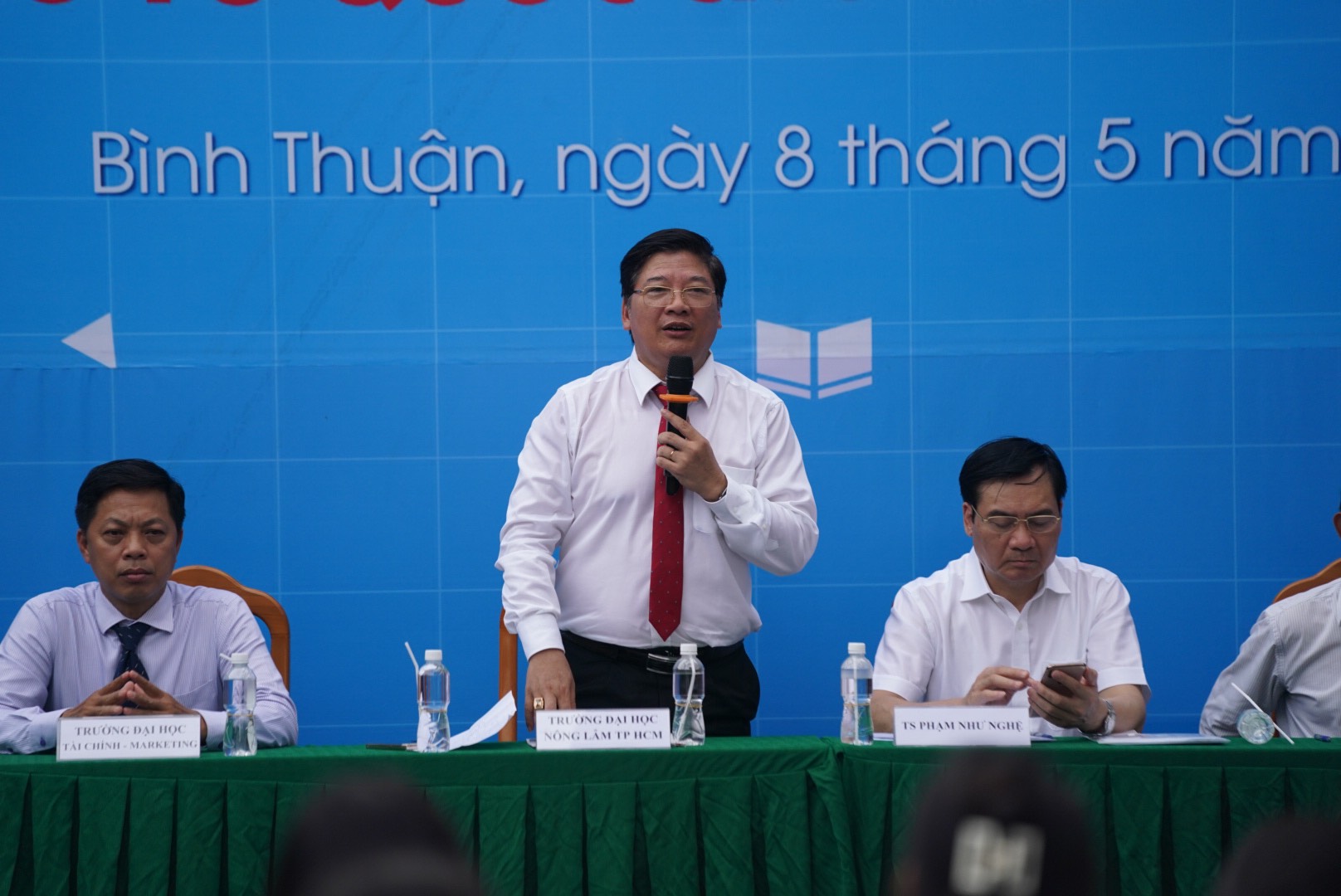 Dr. Tran Dinh Ly (standing) in the program Bringing schools to candidates 2022 organized by Labor Newspaper in Binh Thuan on May 8. Photo: Quang Liem
Dr. Tran Dinh Ly, Vice President of Ho Chi Minh City University of Agriculture and Forestry, said that although the regulations and admission policies have changed or innovated, the issue of career orientation is always the core, unchanged. 3 tips for candidates preparing to apply for admission to universities and colleges to choose a career and choose the right major.
First, determine the importance of choosing a profession or profession. If they choose the wrong profession, if you don't quit your job, if you don't follow the profession, the profession will leave you at any time! Candidates must find out the profession first, then see which industry to study to do that profession, which school trains that industry. Next is to consider the job demand of this industry and other influencing factors.
Second, you must know your own strength. Candidates should not choose real… sublime jobs that are hard to reach with their abilities. After choosing the right career, candidates should work hard to choose which school to enter or even which level is suitable. Criteria for reference: Benchmark of the last few years, recruitment criteria, social needs, employment after graduation, geographical location conditions…). Careers today are very diverse, but human capacity is limited, while young people have too many dreams and desires. Career choice is of course free and voluntary. However, there are also many cases where students… are dependent on the decisions of others. Remember that while useful and important advice is, it is only for reference. Candidates themselves have to decide about their own future, do not enter the fields they do not like, choose unsuitable education levels.
Third, take 18 – 20 minutes to take the test to discover your own capabilities and orient your whole life. More than ever, it's important to prioritize your interests and forte. Need to see the difference between like and fit. There are many candidates who think that they are suitable for that profession or industry, but in fact, they are misunderstood and do not have enough information to know who they are? Choosing a school according to your interests, your own forte is sustainable! Do not be too conservative or extreme, but listen to the advice of those who have gone before because sometimes you do not have enough information. They should test their interests and aspirations to know if they are "misunderstood" when choosing a career or not.
Holland's theory to discover self-efficacy in career orientation is also a very good reference source for testing.
You are reading the article
3 tips for choosing a career, choosing an industry

at
Blogtuan.info
– Source:
Afamily.vn
– Read the original article
here