If you own an air fryer or oven, you should definitely try making sweet potato chips once according to our suggestions in this article. The finished product is guaranteed to be healthier than many ready-made snacks.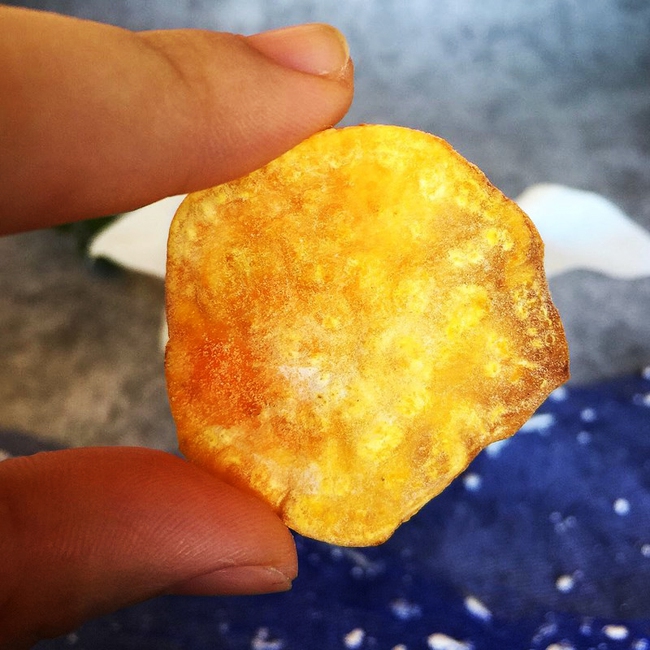 Ingredients to prepare to make sweet potato chips
1. Yellow sweet potato: 200-300gr
2. Cheese powder: 5-10gr
3. Refined salt: 1 little
How to make sweet potato chips
– Step 1: Prepare sweet potatoes
You wash 200-300 grams of sweet potatoes with water to remove all the sand and dirt on the potato skins. Then peel and slice the potatoes into thin slices. The thinner the slice, the better.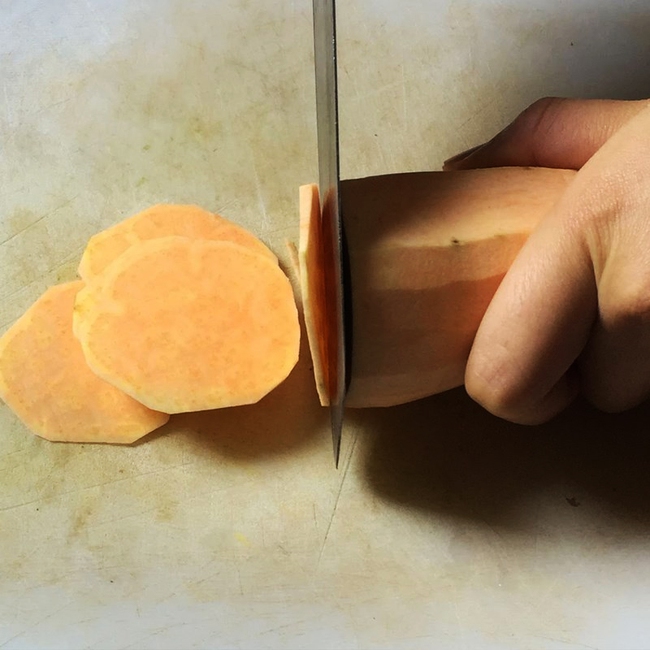 Next, you wash the sliced ​​potatoes with 3-4 turns of water to release the plastic and then soak the potatoes in a dilute salt water mixture for about 5-7 minutes. After soaking, you rinse the potatoes with water again and let the potatoes drain completely.
– Step 2: Drying sweet potatoes
You preheat the air fryer or the oven to 200 degrees for 3-5 minutes. Then, you put the potatoes in the fryer / oven, dry 2-3 times at 200 degrees for 30 minutes. Note: You should divide the sliced ​​​​potatoes into small pieces, avoid stacking the slices on top of each other.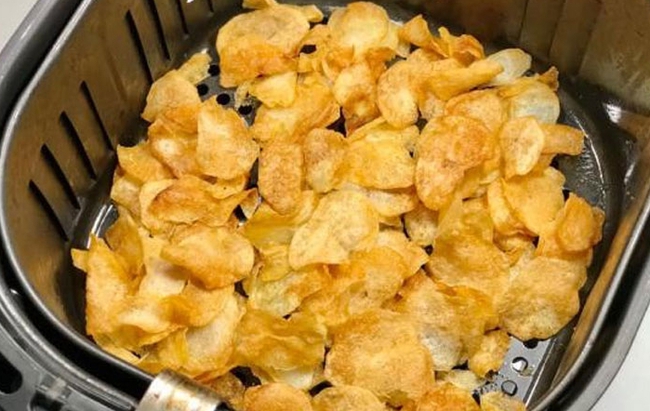 Now, you just need to sprinkle cheese powder on the dried sweet potatoes, stir or shake gently so that the cheese evenly covers the potatoes. Absolutely do not mix or shake vigorously, so the potatoes will be easily crumbled, because the potatoes are very crispy after drying.
You wait for the potatoes to cool completely, then put in a zip bag or jar with a tight lid, store in a cool place and gradually use in 3-4 days. Do not leave it for too long as the potatoes will rot.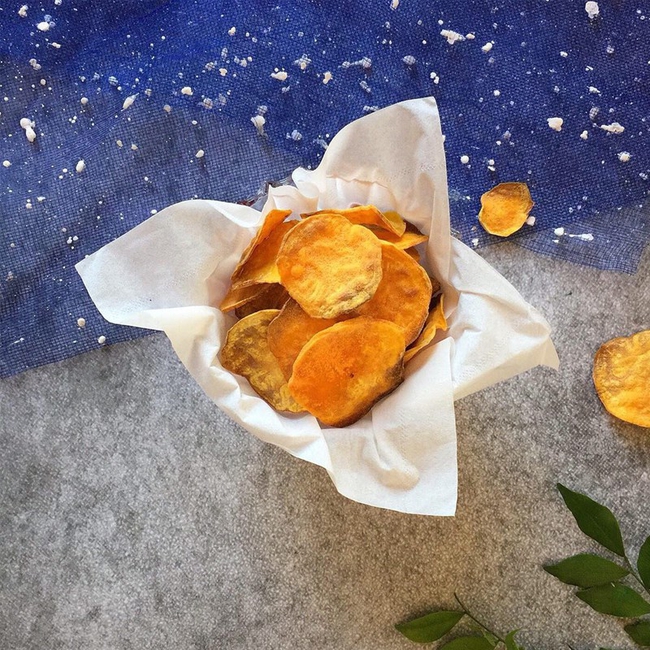 You see, this sweet potato chip snack is simple to make with no ingredients that can cause weight gain. The amount of cheese powder compared to the amount of potatoes is just like salt, so you can rest assured to enjoy. Of course, you can increase the amount of cheese powder if you like, but this snack will be "loaded" with calories.
What is the difference between purple sweet potato and yellow sweet potato?
1. Purple sweet potato contains more protein than yellow sweet potato
Studies show that: 100g of purple sweet potato contains 1.59g of protein, while 100g of yellow sweet potato contains only 1.26g of protein. Therefore, purple sweet potato is a suitable food for those who need to add a lot of protein.
2. Different mineral content
100g purple sweet potato contains 45.2mg calcium (1.28 times more than yellow sweet potato), 1.7g iron (1.42 times more than yellow sweet potato) and 23.8mg magnesium (1.63 times more yellow sweet potato).
However, yellow sweet potatoes have higher vitamin C content than purple sweet potatoes. Specifically, in 100g of yellow sweet potato contains up to 10.96mg of vitamin C. Meanwhile, purple sweet potato contains only 5.96mg of vitamin C.
With these information and suggestions, hopefully you will have one more snacks both delicious and healthy to enjoy.
I wish you success with this sweet potato sandwich recipe!
https://afamily.vn/mon-an-vat-nay-lam-cuc-de-ma-lai-rai-ca-ngay-chang-lo-tang-can-chi-em-khong-thu-thi- tiec-lam-ha-20220523182809322.chn
You are reading the article
How to make very simple sweet potato chips for sisters on a diet

at
Blogtuan.info
– Source:
Afamily.vn
– Read the original article
here