Giải trí
The truth is that bean sprouts, celery, kale, and cauliflower are delicious and cheap but should not be fried with pork liver
Many housewives stir-fry pork liver with bean sprouts and rest assured that it is a delicious and nutritious dish. Some types of celery, coriander, kale, and cauliflower are also made into delicious dishes… until rumors spread that pork liver should not be stir-fried with that vegetable.
From the rumor of not eating fried pork liver with bean sprouts
In the past, housewives prepared stir-fried pork (animal) liver by combining pork liver with a variety of vegetables… (like stir-fried pork liver with bean sprouts) to make a savory dish in a tray of rice. Restaurants also process this dish because it is cheap and delicious, so it is well received by many diners.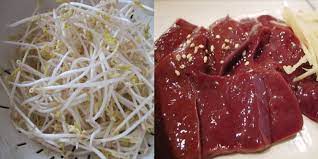 Recently there has been a rumor that it is not advisable to stir-fry pork liver with bean sprouts, celery, kale and coriander. Illustration.
But recently there is information that should not stir-fry pork liver with bean sprouts, celery, kale and coriander – because vegetables are rich in vitamin C and minerals and nutrients, but they are easily oxidized by iron content in the liver. pigs will lose the effect of these vegetables.
Not only that, animal liver in general is also not cooked with celery, coriander, kale, cauliflower – because the content of metal elements such as copper, iron … will make vitamin C in the ingredients. vegetables are oxidized and lose their effectiveness. Cellulose and oxalic acid in these vegetables combine with animal liver to disrupt the body's iron absorption process.
That is, the nutrients Cellulose and Oxalic acid (in bean sprouts, celery, coriander, kale, cauliflower), if combined with pork liver, makes the dish delicious, but it will lose nutrition and cause too much disorder. the body's absorption of iron.
It is also said that eating animal liver is not good – because the liver is the body's place of detoxification, many toxic substances remain. And stir-frying pork liver with bean sprouts, celery, kale, coriander… is a fatal mistake, harmful to health – it needs to be removed immediately.
If you stir-fry, or eat pork liver with bean sprouts, kale, celery, cauliflower) at the same time, or eat it at a close time, it can also cause vitamin C to be oxidized, lose nutrients, make the dish lose its flavor. nutrients and efficacy.
Go to the scientist's explanation
According to Assoc. Prof. Dr. Nguyen Duy Thinh (former lecturer at Institute of Biotechnology – Food Technology – Hanoi University of Science and Technology), animal liver in general and pig liver in particular are rich in vitamin A and iron, creating blood pigment, has a very good effect on the treatment and prevention of anemia. There are many other nutrients such as protein, iron, B vitamins, digestive enzymes, detoxifying enzymes, etc., so people often use pig liver to prepare daily dishes.
In 100g of pig liver, there are 25mg of iron – a raw material that creates hemoglobin, which has a very good treatment and prevention effect.
Bean sprouts, celery, kale contain many vitamins C, E, B vitamins and minerals.
Both pork liver and the above vegetables are rich in vitamins, minerals and nutrients that are essential for the body.
Information that should not be fried and cooked with pork liver with vegetables rich in vitamin C such as bean sprouts, celery, coriander, kale, cauliflower… are just taboos and rumors in folklore, but not yet. There are no scientific publications on this issue, nor have there been any recorded cases of serious illness because of eating fried pork liver with bean sprouts, celery, coriander, kale, cauliflower… properly.
Stir-fried pork liver with celery. Illustration.
Pork liver also prepares a number of delicious dishes such as sweet and sour fried liver, fried liver with five flavors… But when preparing dishes with pig liver, pay special attention:
– Must choose fresh liver with dark red color, no nodules on the surface, press the piece of liver to see that it has good elasticity.
– Do not eat too much pig liver because the cholesterol content in pig liver is very high, which can cause diseases such as atherosclerosis and worsen heart disease, especially people with hypertension or coronary artery disease should limit eat pork liver.
– Experts recommend that when eating liver, it should be carefully processed and cooked.
– According to scientists, pig liver concentrates many substances, including substances harmful to health, parasites also often reside in the liver. Pigs with liver disease will contain many viruses and toxins that cause disease.
So before preparing pork liver / or other animal livers, soak the liver in salt water for about 10-30 minutes. It is necessary to wash it thoroughly, squeeze out the stagnant blood, boil it thoroughly to destroy the bacteria and parasitic eggs in it (to eliminate toxins in the liver, remove the fishy smell) before preparing the dish.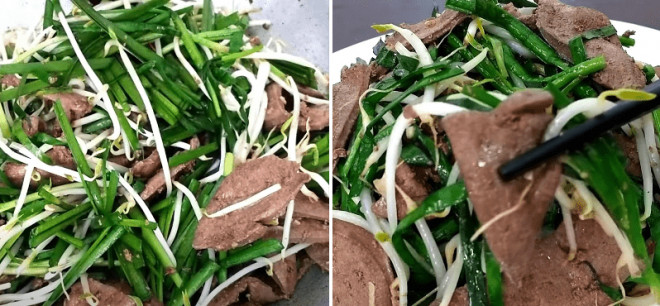 Pork liver and bean sprouts are both good foods. Illustration.
And how to make delicious fried pork liver with bean sprouts
Stir-fried pork liver with bean sprouts is a delicious, cheap, easy-to-cook dish, with easy-to-find ingredients and many people still make it for the whole family to eat as follows:
Material
Fresh pork liver 300g.
Garlic 1 small, purple onion 3-4 bulbs, fresh ginger 1 small branch, horn pepper 1 fruit, scallions 50g, coriander 50g, chives 30g.
Fish sauce 1 teaspoon, oyster sauce 3 teaspoons, seasoning seeds 1 teaspoon, iodized salt 1/3 teaspoon, soup powder 1/2 teaspoon, MSG 1 teaspoon, cooking oil 6 tablespoonful, ground pepper.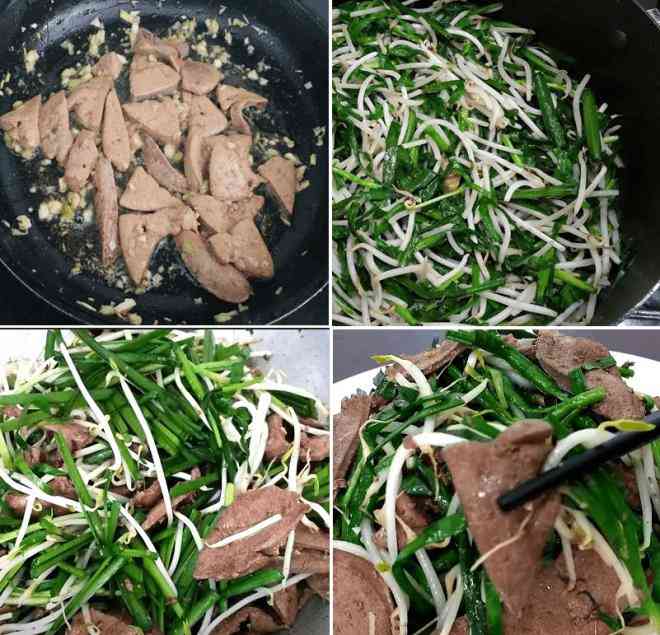 Pork liver is stir-fried with bean sprouts, celery… Illustration.
Making
Prepare the ingredients to clean, put in the basket to drain.
Remove all the tendons and fat from the pork liver. Remove the fishy taste by pouring unsweetened fresh milk into the bowl and using cling film to cover the entire mouth of the bowl, then put it in the refrigerator for about 1.5 – 4 hours.
Slice the liver into thin slices, season with salt, seasoning, ground pepper, white sugar, a little cornstarch, white wine, minced onion, mix well and marinate for 15 minutes for the liver to infuse the spices.
Green onions and cilantro are picked, washed and then cut into pieces. Minced peeled purple onion. Chop chives to about the size of a thumb.
Heat a pan, add 4 tablespoons of cooking oil, pour in the marinated liver and stir-fry until cooked, then pour in the bean sprouts and stir-fry.
The bean sprouts cook very quickly, so quickly season with seasoning, oyster sauce, salt, soup powder, ground pepper, white diameter to taste, then pour in the chives, turn them over and then take them down.
Scoop the bean sprouts and pork liver onto a plate. Sprinkle some cilantro and ground pepper on top for fragrance. It's great to eat while hot and with steamed rice.
Housewives also combine pork liver with a variety of vegetables and tubers… In popular restaurants, this dish is also prepared by many restaurant owners for diners.
You are reading the article
The truth is that bean sprouts, celery, kale, and cauliflower are delicious and cheap but should not be fried with pork liver

at
Blogtuan.info
– Source:
24h.com.vn
– Read the original article
here