Giải trí
Victory was suddenly kicked out of Mac Van Khoa's wedding, what should he say to be praised?
Last May 18, Mac Van Khoa's wedding took place in Hai Duong. The comedian's big day featured many Vietnamese stars such as: People's Artist Tu Long, Lam Vy Da and his wife – Hua Minh Dat, Huy Khanh, Comedian Chien ThangTrung Ruoi, 2 national players Nguyen Van Toan and Vu Van Thanh… All because of their love for Mac Van Khoa and his wife, but not afraid of the long distance, to Hai Duong to attend the wedding.
But today, social networks suddenly spread a behind-the-scenes clip of Mac Van Khoa's epic wedding. Many forums shock headlines: "Victory when being kicked out of Mac Van Khoa's wedding" make many people curious. In the clip, when comedian Chien Thang was preparing to send blessings to the couple Mac Van Khoa, an elderly guest below suddenly shouted: "Go back. Talk about it."
WATCH VIDEO: Victory responds to the rude guest at Mac Van Khoa's wedding.
At the strange request of the strange guest, comedian Chien Thang was surprised, but then calmly replied:Uncle, today is Khoa's happy day. I came here for love, not for anything. I know you're old, I saw you standing there saying a startling sentence. It's true, bro.
This is not a lie, this is art, the art of comedy, not lying. And the people who often say 'lie', sometimes those people also lie, right? Isn't that right, guys. I'm not lying."
Victory's answer was applauded by many guests, saying that the actor had a too civilized manner despite facing a "difficult" situation. When this clip was shared on social networks, the male comedian continued to receive praise for his polite, high-handed answer. Netizens also criticized the elderly guest's impoliteness.
The civilized answer of comedian Chien Thang received many compliments from netizens.
The fact that comedian Chien Thang was "fired" from Mac Van Khoa's wedding is reminiscent of many similar situations in the entertainment industry.
In 2017, while performing and giving discs to the audience at a bar, Duy Manh was suddenly hit by a young man on stage and punched him in the face. After assaulting Duy Manh, this young man ran down to the audience area but was immediately controlled by the bar's security forces. Before the unexpected incident, Duy Manh was still very calm. He continued to perform as if nothing had happened.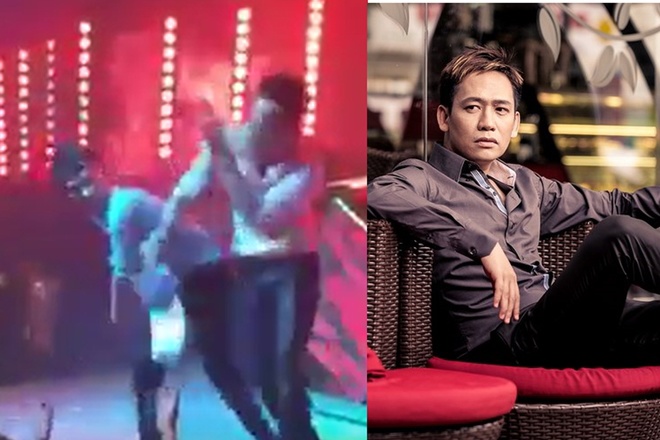 An audience member once rushed onto the stage and punched Duy Manh in the face.
Also in 2017, Truong Giang got into a lot of noise when the audience threw things on the stage. Specifically, when the comedian and Phi Nhung were juggling to make the audience laugh, they discovered that someone had thrown a bottle. At this time, Truong Giang clearly expressed his displeasure, leaving behind the scenes while saying:Who threw the bottle? Where's the guard? Come on in, no more acting, go in."
Seeing that Truong Giang asked to leave, many viewers asked him to come back, and Truong Giang asked in disappointment:I really want to act, but what's the point of acting like this?" At this time, Phi Nhung was also very awkward before the unexpected situation.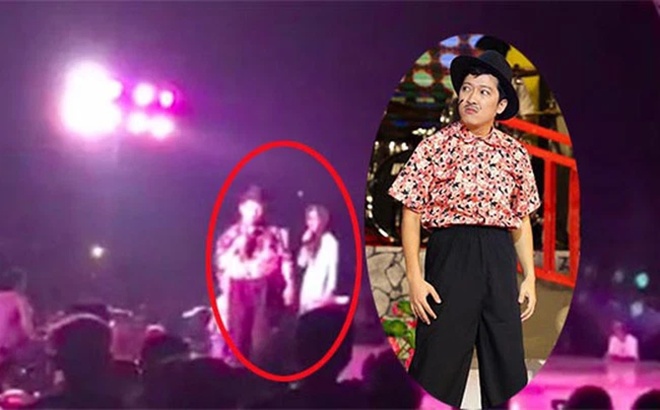 At that time, Truong Giang's reaction received mixed comments from netizens.
In December 2015, Tuan Hung had an incident at a bar in Nha Trang. Because the audience flocked to the stage, the male singer had to temporarily stop performing. I said: "You all piled up on the stage I couldn't sing. Please, please, brothers and sisters, step back, don't go up again."
When the male singer finished speaking, an audience member threw a glass onto the stage. Tuan Hung angrily called someone to throw a glass to talk, but this person did not come up. At this time, the male singer was about to go down, but the security group stopped him and brought him back in the wings.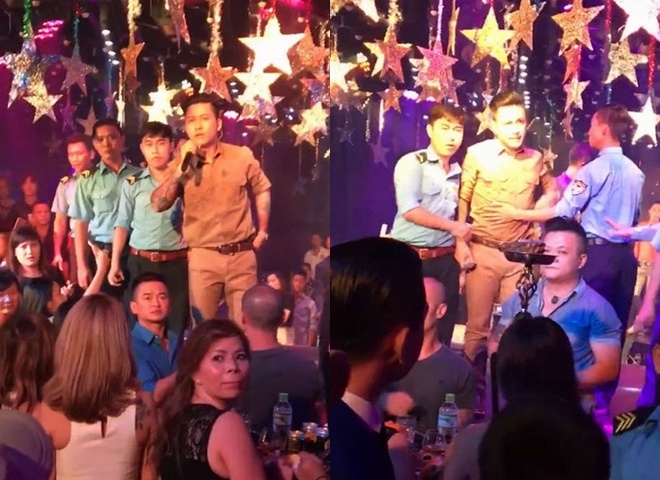 Tuan Hung was angry when the audience threw glasses on the stage.
In 2010, while performing in the US, "Vietnamese music king" Dam Vinh Hung also encountered a problem. When he was singing a duet with My Tam, a male audience member disguised himself as a woman holding a flower branch and approached the stage. When the male singer reached out his hand to receive the flower, this person suddenly held a pepper spray (a mixture of pepper spray consisting of perfume and fish sauce) and sprayed it directly on Dam Vinh Hung's face 3 times, making his face dark.
My Tam was afraid to hug Dam Vinh Hung and also had tears in her eyes and cough. Many people in the hall who witnessed that scene were very angry and indignant. After the incident, Dam Vinh Hung was taken into the backstage by security. Resting for about 10 minutes, he returned to the stage and sang 15 songs continuously.
Dam Vinh Hung met an enthusiastic audience, sprayed pepper spray in the face of the singer, making people angry.
You are reading the article
Victory was suddenly kicked out of Mac Van Khoa's wedding, what should he say to be praised?

at
Blogtuan.info
– Source:
Eva.vn
– Read the original article
here