Giải trí
Habits are "killer" for the digestive system, need to be eliminated immediately if you do not want to lose your life-Health
In Vietnam, up to 10% of the population suffers from diseases related to the digestive tract and it is more worrying when the cases of these diseases are increasing at an alarming rate.
Assoc. Prof. Dr. Nguyen Thi Van Hong, former Deputy Head of Gastroenterology Department, Bach Mai Hospital, said that the digestive system plays a very important role in each person's health. A healthy digestive system not only ensures delicious food, good absorption of nutrients, but also helps the body stay healthy, strengthen resistance, and keep disease away. The role of the digestive system is to turn food into absorbable nutrients to build the body, remove waste components in food.
In fact, up to 70% of the epithelial immune system is located in the digestive system, specifically the intestinal tract. A healthy digestive system is involved in the production of immune factors such as IgA and IgG, which play an important role in protecting the body from disease. In case a virus or bacteria invades, the body has a good resistance, helping us not to get sick or have a milder illness.
Illustrations
On the contrary, a weak digestive system will lead to an imbalanced intestinal microflora, many diseases that can easily occur such as abdominal pain, nausea, constipation, diarrhea… Along with that, a poor immune system increases possibility of infection with many diseases, costly medical examination and treatment.
In Vietnam, up to 10% of the population suffers from diseases related to the digestive tract and it is more worrying when the cases of these diseases are increasing at an alarming rate. This is the reality, however, according to Assoc. Prof. Dr. Van Hong, there are still many people who are indifferent to their own health.
On the other hand, although people's awareness of the importance of gastrointestinal health has changed in the direction of better, but this number is not much.
For example, to prevent diseases related to the gastrointestinal tract, doctors often recommend that people after the age of 40 have a gastrointestinal endoscopy to rule out gastrointestinal problems.
However, the number of people performing gastrointestinal endoscopy accounts for only a small percentage. Therefore, many cases of cancer are detected late, losing the opportunity for treatment, while if the above recommendations are followed, the disease may be detected at an earlier stage.
Or there are cases where the disease has been detected but not treated at a medical facility but prescribed by others to treat it, or even treated by folk methods, making the disease worse.
Take care of the digestive system properly
According to Assoc. Prof. Dr. Nguyen Thi Lam, former Deputy Director of the National Institute of Nutrition, health care in general and the digestive system in particular should be proactive and maintained regularly every day. Avoid the situation when you are sick and rush to supplement nutrients.
It is important to keep the digestive system in the best state through a healthy, balanced diet, full of 4 groups of substances: carbohydrates, proteins, fats, vitamins – minerals.
In addition, eliminate eating habits that are harmful to the digestive system such as:
Eat too fast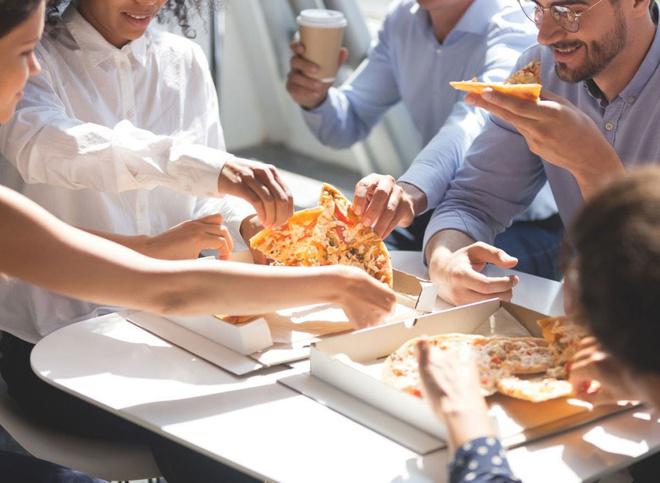 Illustration
The habit of eating too quickly makes it difficult for us to chew properly, making it difficult for food to be crushed enough. When moving to the stomach, it takes longer to digest, increasing the burden on the intestines, causing pain, stomach ulcers. At this time, important nutrients will be difficult to absorb and increase the feeling of bloating immediately after eating.
Eat too salty
Over-seasoning and eating foods that are too salty are not only harmful to the digestive system, but also increase the risk of stomach cancer. When the body absorbs more than 5g of salt per day, it will cause the mucus on the stomach lining to dissolve, thereby promoting disease-causing factors because the digestive system has lost its protective barrier.
Nocturnal
Eating late at bedtime causes overload for the digestive system, because physiologically, the night is when the body needs to rest. On the other hand, consuming food close to bedtime also causes restlessness and difficulty sleeping because the body has to focus on processing food.
If you do not give up this habit, it will disrupt the biological clock, increase cortisol levels, lead to weight gain and obesity, and a series of other consequences such as heart disease, acid reflux, diabetes …
For a healthy digestive system, experts recommend a balanced diet with enough sugar, protein, fat, vitamins, minerals and fiber, and a healthy and appropriate lifestyle. According to age, avoid consuming foods at risk of bacterial and viral infections.
The next important thing is to drink enough water, increase physical exercise, and keep your mind at ease. "Listen" to the body if there is an abnormality, it should be examined soon.
You are reading the article
Habits are "killer" for the digestive system, need to be eliminated immediately if you do not want to lose your life-Health

at
Blogtuan.info
– Source:
24h.com.vn
– Read the original article
here