Business
It is expected that 800 million workers will lose their jobs, what are the occupations that will soon be replaced by machines?
Robot race between world powers
Singapore is a country that relies heavily on foreign workers. However, according to Singapore's Ministry of Manpower, the number of foreign workers here decreased by about 235,700 between December 2019 and September 2021 as the COVID-19 pandemic spurred technology adoption, according to Singapore's Ministry of Manpower. and automation of companies.
At a construction site in Singapore, a four-legged robot called "Spot" (built by the American company Boston Dynamics) is responsible for scanning the mud and gravel sections to check the progress of the work, the data will be collected. supply back to the control room of the construction company Gammon. Gammon's General Manager said that the use of Spot will save manpower by more than half compared to before.
According to the 2021 report of the International Federation of Robotics, in Singapore, there are 605 robots for every 10,000 positions in the manufacturing industry, the second highest rate of robot adoption globally, after South Korea.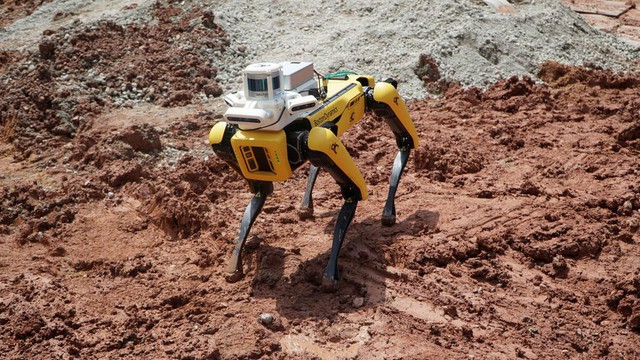 Boston Dynamics' robotic dog
In addition to the manufacturing industry, robots are also considered to be helping to solve a major problem in the food and beverage service industry. For example, the robotic arm that makes coffee, after being installed in more than 30 metro stations, has brought about desirable results.
In China, the country has also announced a series of ambitious goals to increase automation in manufacturing, as it strives to lead the world in robotics in factories by 2020. 2025 according to a five-year plan, the South China Morning Post reported.
Key technologies such as 5G and artificial intelligence have been widely used by China in new-generation robots. To date, industrial robots have been used in 52 industries, including automotive and electronics, while service robots have been widely used in areas such as logistics, education and entertainment.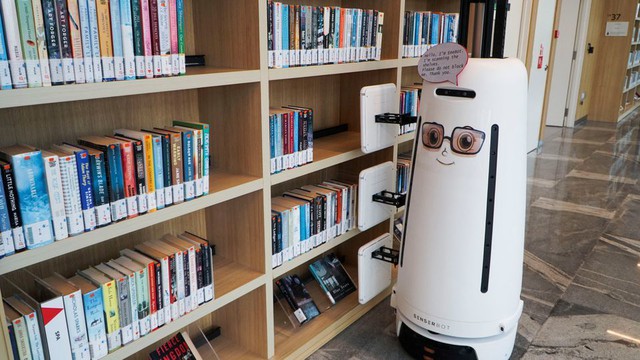 Robots in the National Library of Singapore
According to a report from the International Federation of Robots in January 2022, China ranked 9th in the world for robot density last year, a result measured by the number of robot units per 10,000 employees, up from the ranking 25 of 5 years ago. However, with a robot density of 246 per 10,000 employees, China still lags behind South Korea, which has a current density of 932 and has ranked first in the world since 2010. Still, China's robot density The country as a whole is above the global average of 126 and close to the US at 255.
In South Korea, the country that is at the forefront of the number of robots, has decided to allow them to move on public streets from 2023, according to Nikkei.
Woowa Brothers, the operator of South Korea's largest food delivery app, will start using robots on a trial basis in 2020. The Korean government also plans to develop such robots for export in the future. . Currently, the government is working to come up with a legal definition for robots by the end of the year, allowing them to work on the road.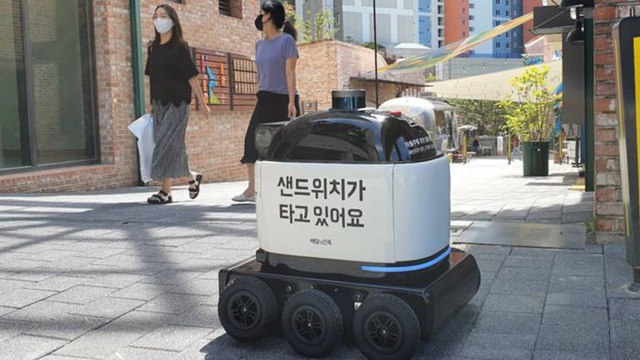 Woona's robot is called "Dilly Drive", about 70 cm tall. In one delivery test, a staff member of a coffee shop placed Dilly with iced coffee and sandwiches. Once the lid is closed, Dilly starts delivering the goods at speeds between 5 and 6 km/h. Armed with three cameras, Dilly recognized a red light at an intersection and stopped. It can also avoid pedestrians. When Dilly arrives at the destination, the customer receives a text message on his phone and comes out to pick up the goods. Then Dilly went back to her waiting place. It is known that Dilly is also equipped with sensors and a navigation system.
People facing the risk of losing their jobs
According to the latest report of the McKinsey Global Institute (MGI), in the next 10 years, the world will have about 800 million people losing their jobs to robots. MGI conducted a study on the replacement of robots in 46 countries, with 800 occupations, thereby determining that 1/5 of the employees are workers in simple occupations, programming molds will be affected. by process automation.
Specifically, those operating in the chain of electronic equipment assembly, garment, packaging, agricultural and aquatic product processing and furniture will face the risk of being eliminated by robots. Even with the development of artificial intelligence, professions such as accounting and simple banking may no longer require a lot of labor, which tends to be more difficult to find a job.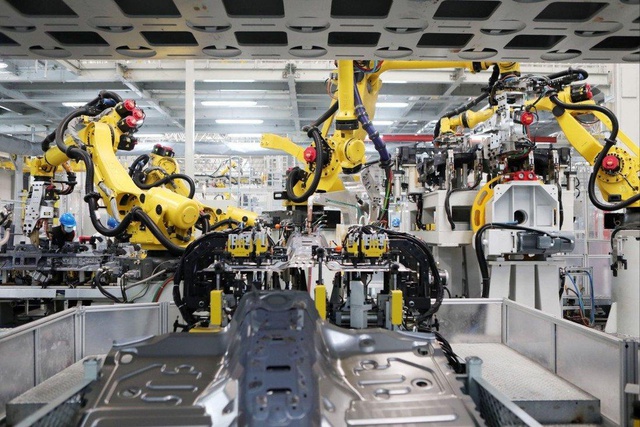 Robotic arm on the production line of Great Wall Motors factory in Chongqing, China
In contrast, professions that require creativity, jobs that require high interaction, and create a high-value-added environment such as doctors, lawyers, teachers, programming engineers, elderly care services , young children, gardening work,…will not or less be affected.
According to a report by the International Labor Organization (ILO), more than two-thirds of the 9.2 million garment and footwear workers in Southeast Asia are threatened by the explosion of industrial science. technology in this industry.
In particular, the workers of Vietnam, Cambodia and Indonesia in the garment and footwear industries will be heavily influenced by the automation trend.
The International Labor Organization (ILO) also warned: 86% of Vietnamese workers in the textile, garment and footwear industry may face a high risk of job loss due to automation, while 3 Four-quarters of salaried workers in the electrical and electronic products industry will likely be replaced by robots within the next 10 years, when the 4.0 technology revolution is being applied by many countries.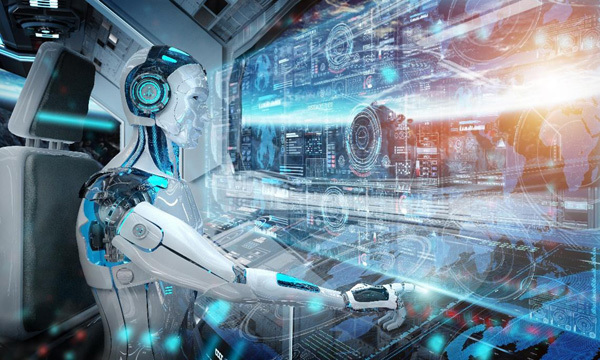 Humans face unemployment when robots take over
According to the ILO, the occupations at risk of being replaced by robots are factory workers (44%); cashiers (40%), taxi drivers (20%). customer service staff (18%), pilots (16%). The "top" 5 occupations that are not replaced by robots are: lawyer, journalist, farmer, doctor, researcher.
Sharing on Dan Tri, Dr. Nguyen Dinh Cung, former director of the Central Institute for Economic Management and a member of the Prime Minister's Advisory Group, said: Developed countries will take the lead in applying robots and AI to products. production for productivity and economies of scale and job losses in rich countries more than in poor, developing countries.
However, this trend will soon affect countries with the advantage of cheap labor, using a lot of labor in production and supply chains like Vietnam. The imperative solution is to train the workforce to proactively adapt to the new situation.
https://cafebiz.vn/robot-chuan-bi-co-tu-cach-phap-ly-de-tu-do-di-lai-tren-duong-du-kien-800-trieu-lao-dong- mat-viec-dau-la-nhung-nganh-nguyen-som-bi-may-moc-thay-the-20220602113223067.chn
You are reading the article
It is expected that 800 million workers will lose their jobs, what are the occupations that will soon be replaced by machines?

at
Blogtuan.info
– Source:
cafebiz.vn
– Read the original article
here