Business
On the other hand, when land lots continue to increase sharply, the potential real estate segment is still "sleeping" waiting for the right time.
At the beginning of 2022, the Covid-19 outbreak was basically under control, many regions officially transitioned to the new normal phase. Commercial and tourism activities began to develop, international flight routes were restored. This has helped the resort real estate market thrive after 2 years of "freezing" due to the Covid-19 epidemic.
According to the Savills Vietnam report, in December 2021, domestic airlines made 8,383 flights, an increase of 538% compared to September's 1,311 flights. Tourist visits have started to increase.
However, the momentum of the tourism industry's recovery becomes most evident as we enter the early days of 2022. According to the Vietnam National Tourism Administration, the 9 Chinese New Year holidays of 2022 have welcomed and served 6.1 million people, domestic and foreign tourists. earned an estimated revenue of over 25 trillion VND.
The high number of tourists has revived the resort real estate market. Prior to that, when the Covid-19 outbreak broke out, resort real estate was considered the most "sluggish" segment in the market. The main reason is that many projects are in legal trouble or do not pay interest as promised to investors, making this segment even more unattractive.
Dr Can Van Luc, member of the National Monetary and Financial Policy Advisory Board, said resort real estate had two driving forces for recovery. This means that supply and demand are at a reasonable level, because in the last 2 years, very few new projects have been implemented.
Next is the recovery of the tourism industry, attracting more tourists back to Vietnam. Followed by the number of large-scale tourism and resort complexes, as well as the number of large urban areas, will attract investors to return to this segment to seek profits in the future.
Nguyen Van Dinh – Chairman of the Vietnam Real Estate Brokers Association said that many regions after a period of stagnation due to the Covid-19 epidemic are eager to open their doors and serve tourists. With a boost from the economic stimulus package, the resort real estate segment will surely be like a compressed spring, bouncing strongly after years of "hibernation".
The chairman of the Vietnam Association of Real Estate Brokers said that compared to prices, resort real estate in the project has not increased too much compared to parks and suburban land in the past 2 years. That's the reason this segment attracts investors back.
According to Savills, Japanese and Korean professionals are the main tenants of Grade A serviced apartments, with a market share of 79% in the first half of 2021 and increasing to 84% in the remaining two quarters.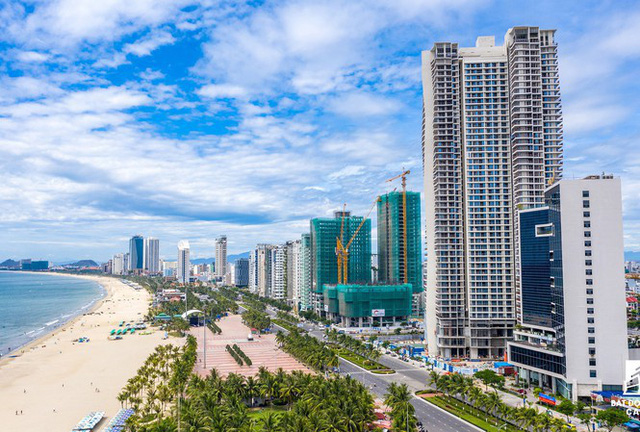 Neil MacGregor – Managing Director of Savills Vietnam commented: "The strong inflow of foreign direct investment into Vietnam has confirmed a large number of international experts are currently and will be working in the country. When international flights resume, they will come to our country for long-term work , contributing to bringing the serviced apartment segment back to its former growth momentum."
Real estate experts predict that in the near future, the resort real estate market will explode again. Currently, many large investors are still quietly implementing the project, just waiting for the right time to announce it.
According to Mr Nguyen Tho Tuyen – Chairman of BHS Group, a good investment channel in 2022 would be suburban resort real estate, long term owned resorts or resort properties that are owned for a term but have been approved. Investors who adapt, make sound investment proposals and change the way they are managed and operated will be very attractive to investors in 2022.
"Real estate in big cities like Hanoi and Ho Chi Minh City will also continue to grow strongly in price due to supply shortages. At the same time, Da Nang will also become a bright star after two years of the epidemic. A series of big investors like Sun Group is starting to return. to Da Nang and Quang Nam. At the same time, Phu Quoc will also be the location to attract large investment cash flows by 2022 when all the "eagles" "were already there," stressed Mr. .
According to the chairman of the BHS Group, the Central and Southwest Highlands Province is also a highly developed real estate market thanks to the Government's strong investment in infrastructure systems and undervalued real estate prices in Vietnam. Several other provinces and cities have developed transportation infrastructure, roads, airports, high population density, developed economy, and people who have accumulated high incomes such as Quang Ninh, Hai Phong, and Thanh Hoa, are also highly liquid markets. .
At the same time, tourism real estate in the South Central region, areas such as Quy Nhon, Binh Dinh, Binh Thuan, investors buying resort real estate at this time is very reasonable to anticipate. 2 years, when the project is submitted and executed," said Tuyen.
https://cafef.vn/trai-nguoc-khi-dat-nen-lien-tuc-tang-manh-mot-phan-khuc-bat-dong-san-nhieu-tiem-nang-nhung-van-nam- im-choi-20220314155202002.chn
You are reading the article
On the other hand, when land lots continue to increase sharply, the potential real estate segment is still "sleeping" waiting for the right time.
at Blogtuan.info – Source: cafebiz.vn – Read the original article here