Giải trí
"Blushed" with the passionate kiss of the main couple "Dating in the office"
"Dating in the office" episode 7 continuously "treats" the audience with sweet "blushing" moments.
"A Business Proposal" (Vietnamese title: "Dating at the office") episode 7 aired on the evening of March 21, made the audience panic with extremely sweet and romantic moments.
After "rescuing" Shin Ha Ri (Kim Se Jeong) from bad friends, Kang Tae Moo (Ahn Hyo Seop) is still very delicate, caring, loving Ha Ri like a real lover, making her flutter.
The chemistry of Kim Se Jeong and Ahn Hyo Seop creates a positive effect for the movie
At the end of 2 fake dates to fool his friends, Kang Tae Moo brought Ha Ri home and confessed to her, and gave Ha Ri time to think.
After a week but still seeing her not responding, Kang Tae Moo is extremely impatient. He deliberately arranged to meet Ha Ri. Here, when it comes to confession, Ha Ri refused because she was afraid she was not worthy and afraid of this relationship.
However, surprisingly, the CEO was not desperate or angry, but he insisted that he would continue to confess and pursue until she agreed. Realizing Tae Moo's sincere heart, at the same time, Ha Ri was really moved, so she "turned the car" to agree and took the initiative to kiss him.
In another development, after remembering that he confessed and then had sex with the secretary, Jin Young Seo (Seol In Ah) was extremely shy.
She also declared Cha Sung Hoon (Kim Min Gue) to forget it and treat it as if nothing had happened to both of them. When the secretary heard that, he was extremely disappointed and disappointed because his feelings were denied.
The next day, when he met Young Seo again, Sung Hoon told the truth about his feelings. Realizing the other's feelings, Young Seo was not afraid to express her feelings to the secretary.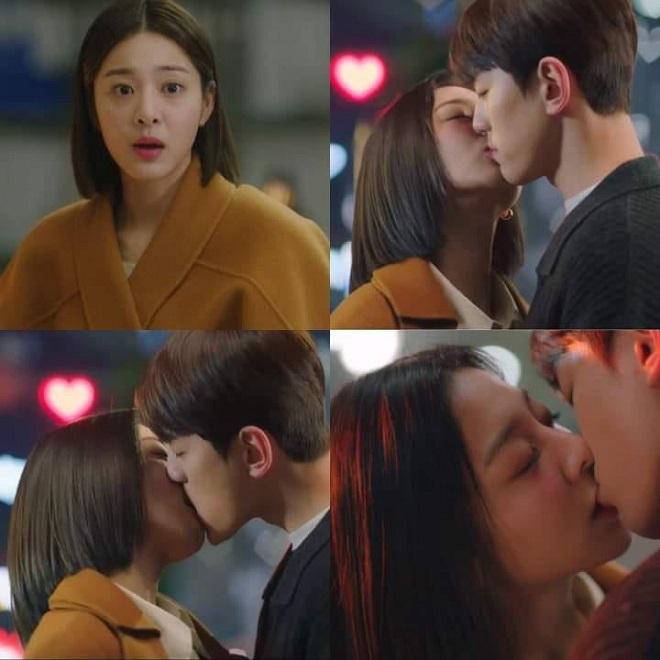 The supporting couple also constantly "entertains" the audience with sweet moments
Currently, the rating "Dating in the office" episode 7 has not been officially announced by the producer. However, the "blushing" sweet moments of the main characters promise an episode with peak ratings.
Previously, episode 6 of "Dating in the Office" achieved the national average rating of 10.1%. In particular, the rating of the Seoul area alone has reached 10.5%. This is also the best achievement of the film since the first day of release.
Dating at the office revolves around the lovely and humorous love story between office worker Shin Ha Ri (Kim Se Jeong) and rich CEO Kang Tae Moo (Ahn Hyo Seop).
After going to the eye exam on behalf of her best friend, Shin Ha Ri was caught up in a fake dating contract with the audience – Kang Tae Moo. Experiencing many funny situations, the initial meeting turned out to be the fate of life, when both Ha Ri and Tae Moo gradually fell in love with each other.
You are reading the article
"Blushed" with the passionate kiss of the main couple "Dating in the office"

at
Blogtuan.info
– Source:
24h.com.vn
– Read the original article
here