Giải trí
2 immoral love affairs, shocking martial arts in the martial arts film Kim Dung
The love at the Buddha's door between the monks and nuns has become one of the unforgettable episodes for fans of Kim Dung's swordplay novels.
In the world of martial arts Kim Dung, in addition to the beautiful love stories of the main character, there are many love affairs that take away many tears from the audience.
Diep Nhi Nuong and Master Huyen Tu
Diep Nhi Nuong has a secret love affair with Master Huyen Tu – the staff of Shaolin Temple in the movie "Thien Long Bat Bo". Diep Nhi Nuong was originally an honest girl, possessing a gentle, dignified and virginal beauty, but because of revenge, she became the most cruel woman in the world. Before that, her father was seriously ill. High monk Huyen Tu came to her heart to save and give her father's life back to Diep Nhi Nuong. It was also from this event that the two developed their predestined relationship, and Diep Nhi Nuong's affection for Huyen Tu grew larger and larger.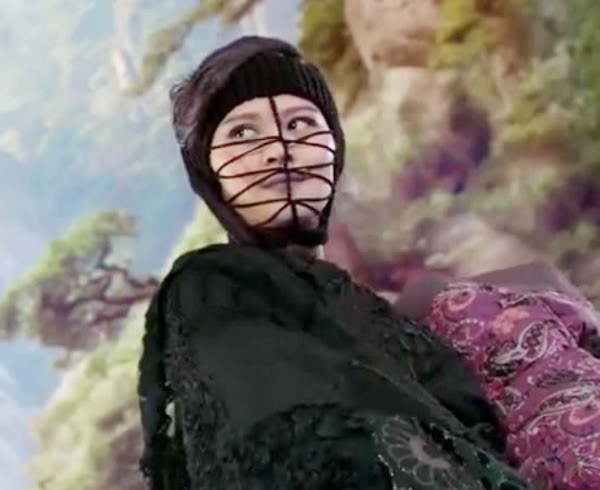 Huyen Tu brought Diep Nhi Nuong (Manh Ha) a handsome and chubby son that he did not know.
As a result of this predestined relationship, she gave birth to a plump son that Huyen Tu did not know. Happiness was not long, Tieu Vien Son kidnapped a drop of her blood and hid it behind the garden of Shaolin temple. At the same time, he drew three sword strokes on both sides of Diep Nhi Nuong's cheeks, forming 3 large scars that were attached to her for life.
Since the loss of her child, Diep Nhi Nuong gave birth to grief and resentment. That's why she became cruel, every day kidnapping a newborn baby and treating her like her own, then brutally killing her. Therefore, her name is ranked "Second villain" on Gypsy, just after Doan Dien Khanh. In the latest version of "Thien Long Bat Bo", she abandoned the child at a stranger's house after playing with them.
Many years later, at the battle in the Shaolin temple, Diep Nhi Nuong found his son, Huu Truc. 20 years later, Hu Truc has made great achievements, protecting and avoiding great disaster for the Shaolin Temple. However, at the same time, the love story between her and Huyen Tu was revealed. In the end, Master Huyen Tu stood up to admit everything and received a penalty of 200 zhang. He then cut his own meridians and died. Diep Nhi Nuong also committed suicide with her lover.
Diep Nhi Nuong (Thach Lan) and Master Huyen Tu (Duong Niem Sinh) in battle at Shaolin Temple.
The work "Thien Long Bat Bo" by writer Kim Dung has been adapted to the small screen many times. In particular, the 2003 version was evaluated to satisfy the audience in terms of visuals and effects at the time of its release. Actress Thach Lan played one of the "Four Great Villains" Diep Nhi Nuong. She successfully portrayed a character that is both pitiful and reprehensible. During the battle in Shaolin, Diep Nhi Nuong recognized Xu Truc (Cao Hu) as his son after seeing the lipstick mark on his back and reunited with him. The scene where the mother and daughter met made the audience extremely emotional.
Video: The touching meeting between Diep Nhi Nuong and Hu Truc in the movie "Thien Long Bat Bo" 2003.
Most Venerable Monk and nuns
In his work "The Arrogant Gypsy", the monk Bu Gioi fell in love with a nun and wanted to marry her. At first, this nun firmly refused to give birth because she was a monastic, so she was afraid that she would be punished by the Bodhisatta if she became a monk. Therefore, Real Estate also cut down his hair and became a monk. He thinks that if he does so, he will bear all the guilt for his wife.
The Venerable Realm is played by actor Tang Kim Sinh.
After that, the two had a daughter together named Nghi Lam. However, Real's nun wife is a special jealous person. When she saw her husband talking to Ning Trung Tac, the wife of Yue Buqun, she immediately left her husband and daughter to go missing, but in fact disguised herself as a grandmother residing on the top of Hang Son. Real Estate sent his daughter to Hang Son, wandering everywhere looking for a wife but in vain. Later, thanks to Linghu Chong's help, he and his wife were reunited.
Video: The scene where the monk Bu Gioi (Tang Kim Sinh) expressed his wish to marry Nghi Lam's daughter to Ling Ho Chong (Ly A Bang) in the work "Tieu arrogant Gypsy" version 2001.
2001's "Tirty Gypsy" is considered a classic Chinese work adapted from the novel Kim Dung. In it, the love between Real Estate monk and nun is also fully exploited. Actor Tang Kim Sinh has portrayed a loving monk, always looking for ways to be with his lover. Before that, Tang Kim Sinh was once named the most classic Lu Zhishen on the screen since participating in the movie "Water Margin" in 1998.
You are reading the article
2 immoral love affairs, shocking martial arts in the martial arts film Kim Dung

at
Blogtuan.info
– Source:
24h.com.vn
– Read the original article
here