Life Style
Yêu
From a detail on the body, the girl exposes her lying boyfriend
Online Dating It is becoming more and more popular in an era where people and families all use technology like today. With billions of people using the dating app Around the world, online dating is seen by many as playing a game of cards. Fortunately, we will meet nice people, on the contrary, we will encounter bad people, dishonest, even cheat money, cheat love.
Jocelyn currently lives and works in Ontario, Canada. She is also one of the women who aspire to find true love through social networks and online applications. So, she came to the famous dating app Bumble with millions of users around the world. With such a large community of users, Jocelyn hopes to find the true Romeo of her life. However, she was not so lucky.
Jocelyn brought her love story to share on her personal TikTok page called @jjustjocelyn. She wanted everyone to know about how she avoided an unkind man. Jocelyn hopes that no one will fall into the trap of scammers on dating apps.
In Jocelyn's impression, that man was someone with a very impressive appearance. He has an extremely good-looking face and is easy to sympathize with others, especially women. In the photos posted on his profile, he also has a very liberal fashion sense. He often wears sporty, strong clothes and brown or black tones that look very attractive and attractive.
It was clear that Jocelyn was strongly impressed by the other man from the very first seconds. The two of them texted back and forth to get to know each other better. Jocelyn shared: "I've been through several dating apps before. A few times ago, I felt that texting to find out was very time consuming. Then, when they meet again, it is not suitable, so the time is wasted. Therefore, during this date, I decided to only text for a few days and then meet face to face. When we meet in real life, we can understand each other's true selves better.".
Saying it was, Jocelyn asked the man out for dinner. She sends him her cell phone number and tells him to text her when he finds a suitable time and place to meet.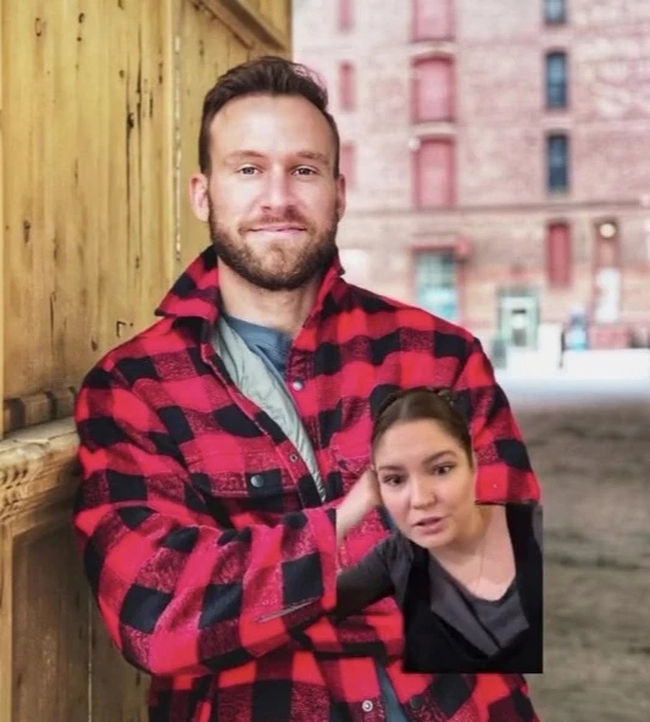 A short time later, Jocelyn received a response from the man about their upcoming date. But Jocelyn quickly discovered a few suspicious points from this person. His incoming messages are green as shown in the screenshot Jocelyn posted in the video.
That means he doesn't have an iPhone because the text messages sent from the iPhone must be blue. But this contradicts the photo he once posted. In the photo, this person is wearing an Apple Watch. But how can Apple Watch be used without an iPhone? This raised doubts for Jocelyn about the reliability of the photos this man posted.
Jocelyn suddenly remembered that Google has an image search function. So she quickly used the image that the other man claimed to be hers and looked it up on Google.
The results that appear show that these are online photos of a male model currently living in New York. Yet this person said he lives in Ontario. Surely he is "borrowing" internet photos to "fake" his information. Finding out about this, Jocelyn immediately canceled her upcoming date with him.
Jocelyn's video has been shared rapidly and attracted more than 1.2 million views after only a short time of posting. In sharing her story, Jocelyn hopes that her experience will become a useful lesson for many others. People responded very well to her video and praised Jocelyn's reasoning skills.
Source: TikTok, The Sun
https://afamily.vn/tu-mot-chi-tiet-tren-co-the-co-gai-boc-me-duoc-man-doi-tra-cua-ban-trai-qua-mang-tranh- tron-20220325224420731.chn
You are reading the article
From a detail on the body, the girl exposes her lying boyfriend

at
Blogtuan.info
– Source:
Afamily.vn
– Read the original article
here