Học Đường
Life Style
Spending up to 100 million/month by his mother, attending the most expensive international school in Ho Chi Minh City
Recently, Doan Di Bang is a name that has received a lot of attention from the online community. With shocking expenses, she overwhelmed many people and couldn't help but focus on her. On her personal page, in addition to showing off her beautiful and smooth photos, the young mother also became the image of a hot mom in Saigon when she let 3 little princesses enjoy a rich kid standard life from a young age.
The family of Doan Di Bang and her husband Quoc Vu
Di Bang's statement that spends more than 100 million on raising children every month recently also received mixed opinions. And to ask what that 100 million falls in, surely it is indispensable for the children's tuition, meals, activities, clothes, toys.
With the "huge" fortune that the Di Bang couple owns now, in the future these beautiful princesses will be the heirs. Therefore, it is no exaggeration to say that Di Bang's children were born at the finish line, not having to worry about economic problems when they grow up.
Born with a "golden spoon", Doan Di Bang's daughters are always invested by their parents to develop in the best environment. It is known that all three daughters Hana, Yuki and Bing Bing are studying at international schools in Ho Chi Minh City.
Since childhood, all three have been exposed to English, so they are very fluent in this language. The fact that a child aged 2 – 5 years old is exposed to foreign languages ​​from an early age will help them to naturally acquire, listen and speak properly, develop better language skills and brain thinking. This is also scientifically proven to bring many benefits to children's skills and thinking, helping children to focus better while learning than children who only know their mother tongue.
Doan Di Bang has always focused on learning English for her three little princesses from a young age
At the same time, when at home, all three princesses of Doan Di Bang communicate in English with the nanny. This is considered a mandatory condition in the family, when it is the "nanny" who takes care of her daughters, in terms of education, they must all know and be good at English to be able to teach and talk to their children. me.
Besides being good at foreign languages ​​and school subjects, Doan Di Bang's daughter is also taught by her mother to learn piano, violin, dance, and play many sports to develop comprehensively both physically and intellectually.
The famous businesswoman focuses on raising and educating her children from a young age. In order for their children to have a bright future, Doan Di Bang and his wife spend a large amount of money on their children's education. All three of her daughters have attended international schools since kindergarten, with expensive tuition fees, about several hundred million dong a year.
Doan Di Bang once confided in the program The Next Gentleman – The Perfect Gentleman that the female at the time just graduated from high school, she herself was completely able to pass the entrance exam to a top university. However, instead of studying, Doan Di Bang implicitly made the decision to stop studying, the reason was that her family was too poor that day.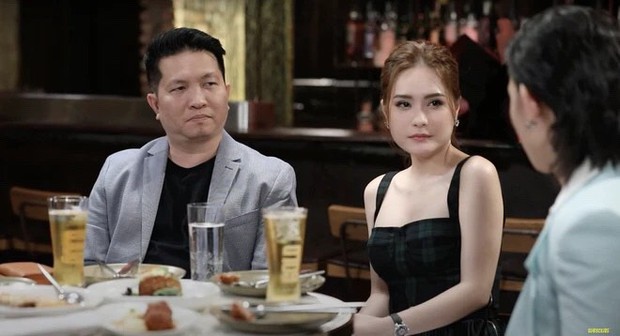 Doan Di Bang once shared about his difficult childhood
"I live in a family that doesn't always have my parents by my side to have enough love because the family is too poor so my parents have to go out to work.
I was able to pass the university because the exam was too simple for her, but why did she give up. I made a few symbolic sentences and submitted them and went home. She knows that she upsets her mother when she says: 'I can't get into university', but only then can I earn money.
Every parent is like that, always expect their children to study well, expect their children to study well, not expect them to earn money for their parents. But I know it's my duty to bring money home, because the thing my parents need most right now is money. Only money can make my parents happy, can raise my whole family, it can make my parents raise their heads because they have had to bow their heads for too long."the female giant confided.
With a poor family, growing up in a landfill and only studying until 12th grade, when the family conditions are adequate and affluent as they are now, the couple always try to cultivate and help the children through the difficult time. the most beautiful childhood of my life without any regrets.
Doan Di Bang and her husband raise their children in an open style, so both Hana, Yuki and Bing Bing consider their mother as a friend. "I teach my children to help people, to give more every day. Thanks to that, all three children feel happier when giving love to others is greater than receiving it"- Doan Di Bang shared.
https://kenh14.vn/con-gai-dai-gia-quan-7-doan-di-bang-dung-chuan-rich-kid-duoc-me-chi-den-100-trieu-thang-hoc- truong-quoc-te-dat-bac-nhat-tphcm-20220326121454129.chn
You are reading the article
Spending up to 100 million/month by his mother, attending the most expensive international school in Ho Chi Minh City

at
Blogtuan.info
– Source:
Kenh14.Vn
– Read the original article
here