Giải trí
Tran Thanh expressed anger when he was reported to have died from Covid-19
(Dan Tri) – MC Tran Thanh officially spoke after the Department of Information and Communications of Ca Mau province carried out verification and clarification of the account that posted false information about him.
Like a newspaper Dan Tri Posted, the Department of Information and Communications of Ca Mau province is clarifying the account that posted fabricated information "Tran Thanh died of Covid-19".
Before that, at about 20:00 on March 23, an account named MC posted on the fanpage of Ca Mau people with the content: "Shocked news on the afternoon of March 22: Hong Van, Viet Huong sadly announced Tran Thanh's passing. forever at the age of 35 because Covid-19 shocked both showbiz and the online community. Farewell. I hope you get out."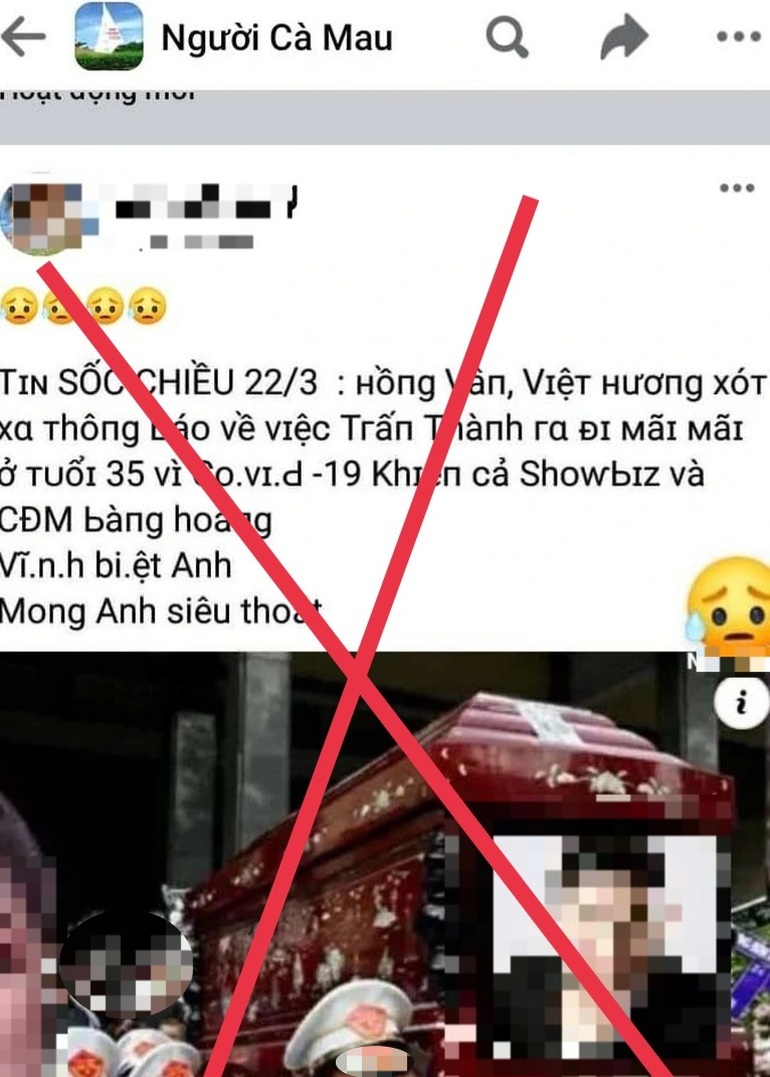 This account also blatantly fabricated, posted a picture of a coffin and had a portrait of artist Tran Thanh. The above content has been removed.
Tran Thanh team confirmed with PV Dan Triright after the Department of Information and Communications of Ca Mau province promptly prevented and handled those who posted fake news, MC Tran Thanh officially thanked.
Besides, Tran Thanh said: "I don't understand when they post such heavily fabricated information about someone, what do they get? Money, attention or just entertainment. Are they really relaxed? with what I do?
I think the time has come for us to have very specific and strict laws governing how people use social media. Currently, real and fake information is mixed. Anyone can post anything they want. No need to verify, no matter right or wrong. I don't even think about the consequences that I will cause others after what I post."
I hope everyone will be smart and civilized readers and users of social networks.
Before Tran Thanh, many artists were also upset when suddenly they were rumored to have passed away. The most recent is "Traffic Apple" Chi Trung. Share with PV Dan Tri Before malicious rumors on social networks, Meritorious Artist Chi Trung humorously said: "There is nothing too heavy or pressing. Working in the field of art, I am also used to rumors and false information. the truth.
Anyway, for me… thank you to those who always remember the artist with such paradoxical information. Thanks to them, I was… mentioned again, had the opportunity to livestream "like sentences" on facebook".
"Miss Dau" Justice also "had a headache" when on social networks suddenly appeared articles with content such as: "Performing an organ donation operation according to the last wish of actor Cong Ly because of the dangerous situation. drama cannot be cured" or "All his life he devoted himself to art, bringing laughter and joy to everyone. When he died, he only "selfishly" asked to keep his own eyes to see. the growth and success of his wife and children. This is his last wish…".
Ngoc Ha – the wife of People's Artist Cong Ly expressed her frustration at these "junk" news. Ngoc Ha said that since being hospitalized, People's Artist Cong Ly had been subjected to many malicious rumors about her health condition.
Until now, when the male artist has been discharged from the hospital for a while, rumors still appear that affect the male artist's life.
"The Comedy King of the North" Xuan Hinh also fell into the situation of "bad crying, bad laughing". He told PV Dan Tri: "I've been cropped with this and that image many times, many fake pages of my personal page comment around, but this is the first time I've been rumored… passed away from a stroke. Rest in peace. curse me to death…"
You are reading the article
Tran Thanh expressed anger when he was reported to have died from Covid-19

at
Blogtuan.info
– Source:
dantri.com.vn
– Read the original article
here