Business
The US is jailed for 20 years and up to 25 million USD, Hong Kong is jailed for 10 years and more than 1 million USD
In the US, common violations such as delayed financial reporting or more serious "insider transactions" are handled very seriously. "Inside trading" is the buying or selling of a security by a person with access to confidential, unpublished information about that security.
According to the regulations of the US Securities and Exchange Commission (SEC), "insider trading" is defined as the buying and selling of shares by legal entities related to the inside information of listed enterprises. such as the board of directors, the board of directors, insiders, relatives or friends of the above individuals. All transactions based on information about the operations of that business, which have not been made public, will be considered a violation of "inside transactions".
In the US, individuals and organizations engaged in "insider transactions" can face up to 20 years in prison and a $25 million fine. Specifically, individuals will be fined 5 million USD while organizations face a maximum fine of 25 million USD. According to experts, large fines and prison sentences of up to decades will make investors hesitate when they want to do insider trading.
In addition, securities companies and finance companies may have their operating licenses revoked or, more seriously, be banned from operating in the financial / securities industry for life.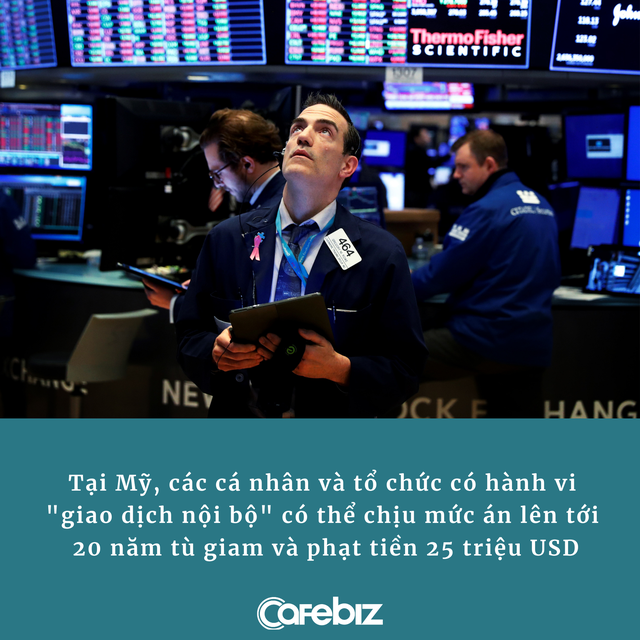 Meanwhile, in Hong Kong, prohibited acts in the stock market include insider trading, price fraud, and disclosing false or misleading information. Fines for violating individuals and organizations are 10 million Hong Kong dollars (more than 1 million USD), imprisonment for up to 10 years.
Meanwhile, in Korea, selling stocks or manipulating market values ​​through the use of undisclosed information on the stock market is a serious violation.
Specifically, violators who profit from this act under 100 million won will be sentenced to between 6 months and 1 year in prison. If the number is between 100 and under 500 million won, the penalty will be 1-4 years in prison. If over 500 million won and less than 5 billion won, the penalty is 3-6 years in prison. Over 5 billion won will be fined from 5-9 years or more.
In China, the country's Securities Law stipulates that anyone is prohibited from manipulating the market in one of the following ways: Taking advantage of stock holdings, taking advantage of information to buy and sell, or manipulating prices , trading volume of securities; colluding with others to trade securities with each other at the agreed time, price and method; conduct securities transactions between accounts that they actually control, affecting the price or trading volume…
Individuals/organizations that violate one of the above will be sentenced to imprisonment for not more than 5 years, fines equal to 1-5 times illegal income due to violations.
In the UK, some of the most common sanctions for market manipulation are fines (with no specific limit), public disclosure of the behavior and its subject, suspension and restrictions on with violators/organizations, separate warnings.
Source: Compilation
https://cafebiz.vn/ban-chui-thao-tung-gia-chung-khoan-my-phat-tu-20-nam-va-toi-da-25-trieu-usd-hong-kong-bo- tu-10-nam-va-hon-1-trieu-usd-20220329203850217.chn
You are reading the article
The US is jailed for 20 years and up to 25 million USD, Hong Kong is jailed for 10 years and more than 1 million USD

at
Blogtuan.info
– Source:
cafebiz.vn
– Read the original article
here