Giáo dục
Parents are impatient, when will Hanoi let elementary students go to school directly?
Students from grades 7-12 in Hanoi have returned to school in the context of a reduction in the epidemic. Recently, many parents have wondered when elementary and preschool children still have to study online at home.
Having 2 sons who are in 2nd and 5th grade, Ms. To Thu Hoai (Cau Giay) has a headache because she cannot pull her children out of the "online game addiction" during the period of online learning. "Since I don't have to go to class, I spend all day holding the computer or staring at comic books without communicating with anyone.
At first, I also closely followed my child's learning, even regularly checking his homework. But in recent days, when I heard from my homeroom teacher that my child wouldn't do homework for a whole week, I was furious. As it turned out, all day I was in the room holding the computer to play games, sometimes until 2 am."
Meanwhile, the son in 2nd grade also started to develop bad habits such as being afraid to exercise, preferring to sit at the computer, but when studying in front of the screen, he loses focus. Therefore, Hoai is impatient when her child still has to continue studying online without knowing the date of returning to class.
"Your second classmate didn't go to school, but more than half of the class contracted Covid-19 due to infection from parents. Therefore, I think that the children at home cannot avoid infection. Now, all have reopened normally, from production, business, entertainment, etc. It is a paradox that schools are still closed."
What this mother wants most at the moment is for her children to go to school, communicate and exercise.
"Even if it's just a half-day study, even if it's only for a few weeks, I hope my children can come to relieve some of the bondage. Only by going to school directly, getting out of the computer, can children get rid of game addiction," this mother said.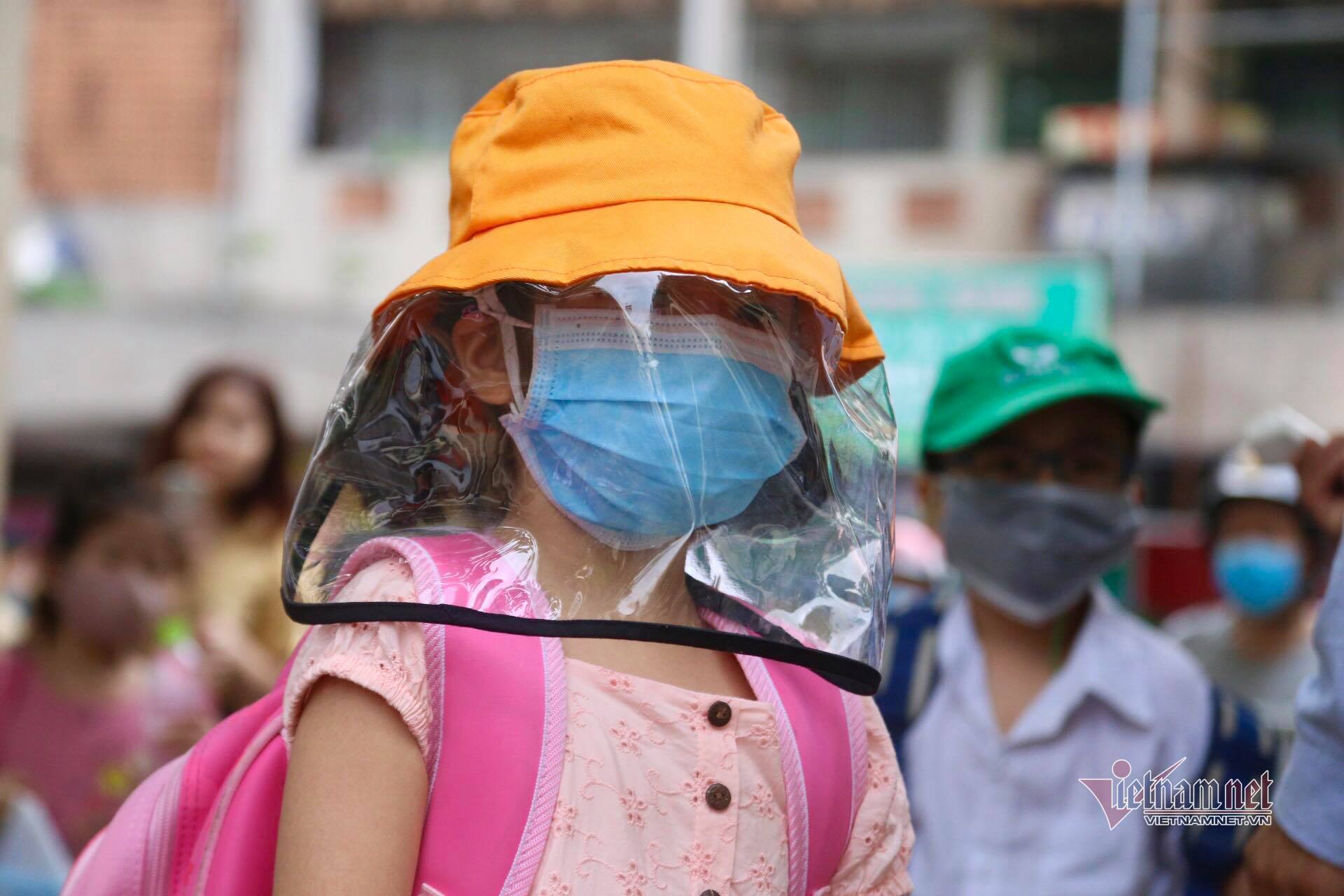 Students of Khuong Thuong Primary School (Dong Da) on the day back to school. (Illustration)
Knowing that her daughter's school is expected to welcome students back in early April, Ms. Vu Mai Oanh (Bac Tu Liem) breathed a sigh of relief.
"Currently, the school is still consulting with parents, then parents will make an application to send their children to school in early April. Direct attendance is according to the wishes of each family, but most parents in class are looking forward to every day children go to school; Therefore, up to 80% of parents register their children to study directly," said Ms. Oanh.
Although she has never had Covid-19, but when she saw her child eagerly counting down the days to go to school, Oanh still decided to register her child to go to school.
"The children are depressed because they stay at home for too long, and the parents are also "depressed" because they have to manage 2-3 children at a time. Before that, my oldest friend could take care of me. But now, the middle school students have also returned to school, and the elementary school friends are left alone at home with no one to look after.
Sending children to school is also a way to relieve their own psychology. So, even if you go to school for a month and then take a break, it's like "rainfall meets rain", because the children also want to go to school and want to interact with friends".
Not only parents and students, teachers also look forward to opening the school day by day to welcome primary students back. Ms. Nguyen Thi Thanh Ha, Principal of Khuong Thuong Primary School (Dong Da) said that teachers are looking forward to welcoming children back to school. But the decision to send primary school children to school at this time still depends on the general direction of the city.
"In the past time, about 300 students in the school have also contracted Covid-19. For teachers, also 70-80% have been and are F0, but teachers still try very hard, not stopping teaching even for a period. Now, although teaching online is also very professional, teachers still look forward to welcoming children to school so that they can best complete the curriculum by May 10. Anyway, going to school is better than staying at home."
However, before welcoming the students back, Ms. Ha said that it is necessary to vaccinate the children to reduce the risk as well as the level if there are students infected.
Ms. Nguyen Thanh Hoa, a teacher at an elementary school in Cau Giay, also said that in the past few days, parents have been impatient, constantly texting in class groups to ask when elementary students can return to school. According to Ms. Hoa, this is understandable because children need to go to school to communicate, play and be physically active.
"Not going to school is a huge disadvantage for students, especially for primary school children. Teachers also look forward to welcoming them to school. However, I think that the time to welcome the children back should still be carefully considered and must be done very carefully to ensure the safety of each student."
Recently, on March 28, at a meeting of the Standing Committee of the Hanoi Party Committee on the prevention and control of the Covid-19 epidemic, Secretary of the Party Committee Dinh Tien Dung said that in the past week, the number of Covid-19 cases has decreased sharply, billion mortality is very low. He suggested that the health sector ensure that the plan is ready, organize vaccination drills for children under 12 years old, so that when the drug is available, the regimen is to deploy injections as quickly and effectively as the injection for children aged 12-17. age in 2021.
"Must be vaccinated to safely send children to school, if there is infection with SARS-CoV-2, it will be mild and reduce risks," Dung said.
Regarding the return of students in grades 1 to 6, sources from VietNamNet Currently, the Hanoi Department of Education and Training has also planned the time for children to return, however, "There is currently no fixed time frame, because vaccination depends on the health sector." .
Thuy Nga
You are reading the article
Parents are impatient, when will Hanoi let elementary students go to school directly?

at
Blogtuan.info
– Source:
vietnamnet.vn
– Read the original article
here