Khỏe - Đẹp
Young people suffering from herniated disc, how to distinguish it from normal back pain
Low back pain, disc herniation is a fairly common condition today, not only in the elderly, but many very young people have suffered from this disease.
Ms. Nguyen Thuy Ha (Hoang Mai, Hanoi) lamented that she had a herniated disc for 3 years, then she was only 29 years old. Since herniated disc, her life has been turned upside down because of prolonged low back pain. At times, back pain drags down to numb the whole leg, making work and living difficult.
Who told me what medicine, Ha went to buy that medicine, from Eastern and Western medicine, at one point, people advertised to cure herniated disc with traditional medicine. Ms. Ha also tried to buy herself 1 or 2 courses. equal to. The money she earns is just enough to pay for her back pain treatment.
Because of herniated disc, so far, Ms. Ha has only 1 child in 3rd grade and has not dared to give birth to another child for fear of further effects. Many times, she planned to have surgery, but the surgery was also risky, so she had to live together.
Or the case of Mr. Cao Duc Vinh (41 years old, from Ha Tinh province) working as a labor exporter in Japan. Because of herniated disc and back pain, Vinh couldn't afford to go to Japan for treatment, so she endured. Prolonged bouts of numbness in the legs produce muscle atrophy. When he returned to Vietnam for treatment, the disease was much worse. The doctor must prescribe surgery.
Many people confuse herniated disc pain with normal back pain, leading to longer-lasting pain.
According to BS. Nguyen Phoi Hien – Ho Chi Minh City University of Medicine and Pharmacy Hospital – Campus 3 – Back pain is a common problem in adults.
Dr. Hien said that the majority of patients come to the clinic with symptoms described as pain in the area from the lower ribs to the glutes. Low back pain may or may not be associated with sciatica.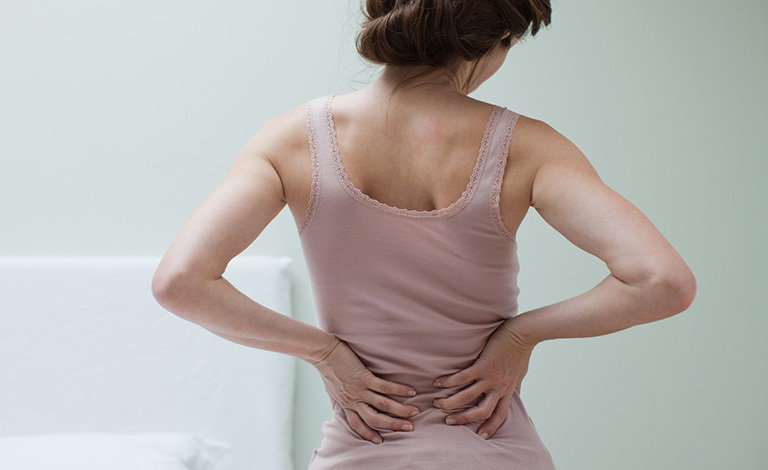 Illustrated photo.
Differences in back pain pathologies, if mechanical low back pain is caused by anatomical or functional abnormalities of the spine, not by inflammatory or malignancies. Pain is usually worse with movement and standing or sitting, and relieved with rest and lying down (95%).
The cases of back pain caused by inflammation are patients with inflammatory diseases of the spine, usually in men under 40 years old. Pain with spinal stiffness upon waking, lasting for more than 30 minutes, improving with exercise but not at rest. Pain usually worsens in the middle of the night and into the morning.
Disc herniation, depending on the location of the injury, there are symptoms of pain, different directions, pain in the L5 root lesion spreading to the instep of the foot to the big toe, pain S1 root lesion spreading to the sole of the foot to the toe little foot.
Back pain leaves many consequences affecting the patient's life. Doctor Phoi Hien said that depending on the cause, there can be different consequences. Patients have limited spinal mobility, loss, reduced ability to work, prolonged pain.
The cauda equina syndrome, progressive weakness of the legs, especially as a result of muscle atrophy.
The treatment of back pain, Dr. Hien said in modern medicine: symptomatic treatment: Anti-inflammatory, pain reliever, muscle relaxant, surgery (In the case of ponytail syndrome, progressive weakness of the legs). , muscle atrophy, unresponsive to medical treatment after 6-8 weeks).
For patients treated according to traditional medicine, the doctor will depend on the cause of the disease and the clinical manifestations. Depending on the disease syndrome on each specific individual, traditional medicine will have an appropriate treatment method.
Patients can use drugs, for example, using drugs to prevent leprosy, to disperse cold, to except for low levels, to activate blood and to improve kidney function, such as the post of Poisonous activity and parasites, the body of the axis of the ladder, the mind of the ladder. suitable for the Second Magician…
In case of non-drug treatment: Acupuncture with Hao acupuncture, Electro acupuncture, Ear acupuncture, Thread implantation, Laser acupuncture, Thuy acupuncture .., acupressure massage, nourishing practice…
Doctor Hien recommends that patients need to see a doctor if their pain symptoms persist and do not decrease after resting to avoid self-medication and incorrect treatment methods that cause many unwanted complications.
Khanh Chi
You are reading the article
Young people suffering from herniated disc, how to distinguish it from normal back pain

at
Blogtuan.info
– Source:
infonet.vietnamnet.vn
– Read the original article
here