Business
HOT: More than 1,000 Ukrainian marines surrender in Mariupol
More than 1,000 Ukrainian marines surrender to Russian troops in Mariupol
Last night in local time (this morning in Vietnam time), Mr. Ramzan Kadyrov wrote on his Telegram channel saying:
"More than 1,000 marines of the Ukrainian Army surrendered in Mariupol. Among them hundreds were wounded. It was the right choice."
A few minutes ago, the Russian Defense Ministry also announced that a total of 1,026 Ukrainian marines, including 162 officers, had surrendered to Russian forces in the city of Mariupol.
According to Kadyrov, the combat formations fell apart, piece by piece when they did not know what to do to heal the wounded or they did not understand where they were going or what to do next.
The Chechen leader added that only a few groups of small-armed fighters were still fighting "for the sake of fear of raising a white flag to the Russian army".
Mr. Kadyrov urged Ukrainian soldiers "not to be afraid". He called them "think about your loved ones, about your injuries, about your own and others' lives."
Currently, there are approximately 200 injured people hiding in the tunnels in the area of ​​the Azovstal metallurgical plant, unable to receive medical help, he stressed.
Mr. Kadyrov insisted that it is best for Ukrainian soldiers to stop fighting and return home. He wrote:
"I appeal to those still entrenched in the basements and tunnels of the factory: You know we treat prisoners of war with humanity. Go away. Think of your own families and those of you. other, as more than 1,000 Marines do today."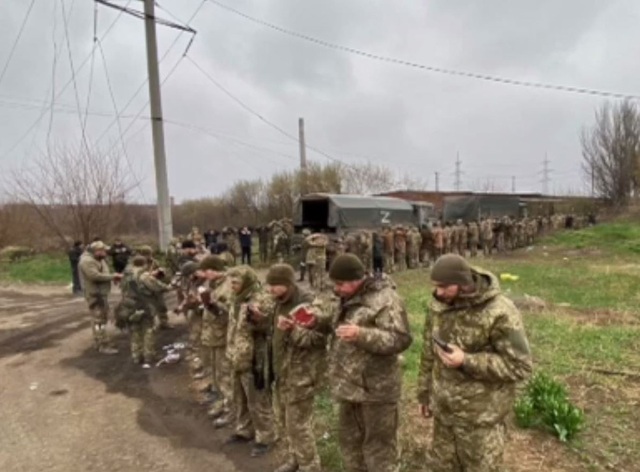 Image of Ukrainian marines surrendering to Russian troops in Mariupol.
The first images of Ukrainian soldiers surrendering in Mariupol
Earlier, there were reports of a series of Ukrainian marines surrendering to Russia and the self-proclaimed Donetsk People's Republic (DPR) armed forces posted online.
Russian war correspondent Alexander Sladkov, in a series of photos posted on Telegram, shared images of what is believed to be Ukrainian marines surrendering.
According to him, among those who put down their guns and raised white flags, about 300 people were injured, including 90 who were unable to walk on their own. According to this reporter's estimate, the number of Ukrainian soldiers surrendered is more than 800 people.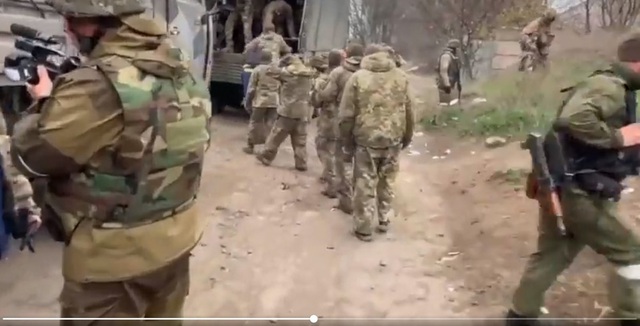 Ukrainian marines surrender to Russian troops in Mariupol. Image cut from video.
Also last night, Russia's Investigative Committee released a video recording the interrogation of the surrenderer, Rostislav Lomtev, a deputy commander of the 36th Marine Brigade of the Ukrainian Army.
In this video, the commander said that since December 2021, as a member of the brigade, he has been on duty in the Donbass area, the brigade then moved to the metallurgical plant. Azov, which is now besieged.
The officer explained that under the circumstances, Brigade Command had decided "lay down our weapons, in order to avoid unnecessary bloodshed, and we all surrendered."
Currently, the Ukrainian side has not commented on the information given by the Russian Defense Ministry and Mr. Ramzan Kadyrov. We will continue to monitor and notify readers as soon as possible.
Before that, since the beginning of March until now, the strategic port city of Mariupol in southern Ukraine has been surrounded by the Russian army and the armed forces of the self-proclaimed Donetsk People's Republic (DPR).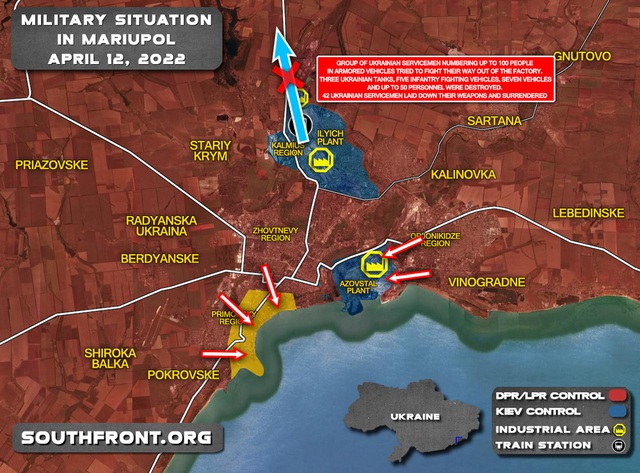 Map of updated combat in Mariupol as of yesterday, April 12, 2022.
Many groups of Ukrainian gunmen in Mariupol tried to get out of this city, even using the method of disguised as women, but most of them were intercepted by Russian forces.
Yesterday, a group of Ukrainian marines, believed to be part of the 503rd battalion, surrendered to the Russian army in the strategic southern port city of Ukraine.
Currently, the port of Mariupol has been controlled by the Russian army, so one of the two difficult defensive positions has fallen, now only the area of ​​the metallurgical plant is still fighting fiercely, based on underground tunnel system is said to be up to 24km long, 35m underground, Ukrainian gunmen resolutely entrenched.
https://soha.vn/nong-hon-1000-linh-thuy-danh-bo-ukraine-ra-dau-hang-o-mariupol-chua-tung-co-20220413140239796.htm
You are reading the article
HOT: More than 1,000 Ukrainian marines surrender in Mariupol

at
Blogtuan.info
– Source:
cafebiz.vn
– Read the original article
here