Thị trường
Perfume Pagoda's golden apricots are very popular at the beginning of the season, Hanoi people "line up" to buy them
April 15, 2022 07:42 GMT+7
Sold at an affordable price, only ranging from 20,000-35,000 VND/kg, the specialty of Perfume Pagoda is being sought after. Even many Hanoians have to "line up" to buy soup for a long time.
Perfume Pagoda apricot is famous for its delicious taste for a long time. This fruit is known as a specialty that many Ha Thanh people like. Apricots have a beautiful golden color, small seeds, thick pulp, mild aroma, sour taste, smooth outer shell with a layer of fluff like snow.
Moreover, because the price is not too expensive and the season ends quickly, so when the fruit is ripe, the family will order even though the fruit is small and green.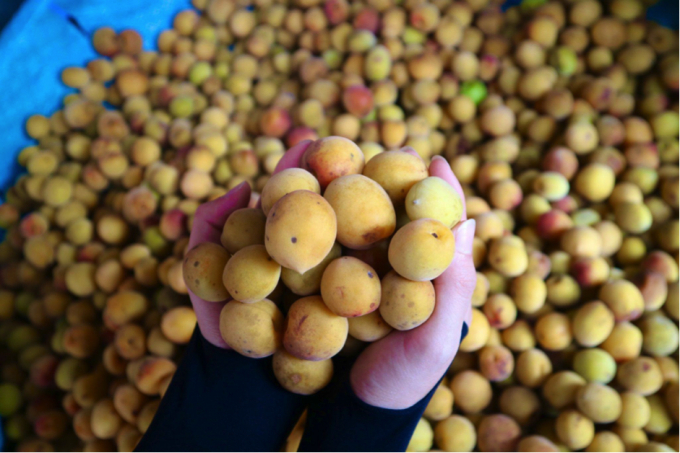 After several days of continuously importing goods to pay customers' orders, Ms. Nguyen Bich Ngoc – a small fruit trader in Cau Giay, Hanoi said that because of the early season, yellow apricots sold better than other fruits.
"Since the beginning of April, many people have told me to keep the goods. Before the ripe apricot season, the number of orders from customers reached the weight of thousands. Some people even ordered a month ago when the fruit was still small and green "- Ms. Ngoc shared.
Many small business traders said that this type of apricot often ripens after varieties of apricots in other regions. However, the yellow apricots at Huong Pagoda are especially delicious because of their thick pulp, small seeds, sour taste and very own mild fragrance.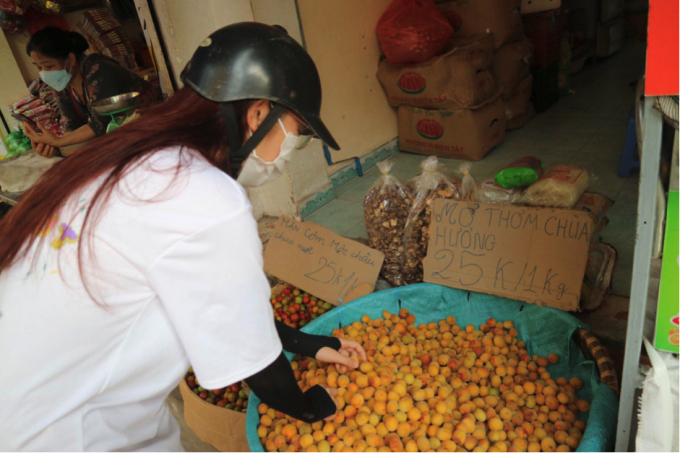 As noted by PV, Perfume Pagoda apricots are currently for sale at different prices, depending on the type of fruit. The price of green apricots ranges from 15,000 – 20,000 VND/kg. As for ripe yellow apricots, the price will be from 20,000-35,000 VND/kg.
Importing golden apricots directly from acquaintances in My Duc district, Hanoi, Mr. Do Van Nghiep, a small business trader at Nam Dong market (Dong Da, Hanoi) said that each season of apricots in Huong Pagoda, he usually imports once. a few quintals to pay customers gradually.
"Every April and May, I will import more golden apricots from Huong Pagoda to sell. Because the family has acquaintances, they dream of coming back to sell, but many people want to sell but have no goods. Because this is a specialty, you should return to Hanoi as much as you want," Nghiep said.
According to Mr. Nghiep, this fruit is selling well on this occasion because summer is coming soon, many people choose to buy apricots to soak with sugar to make apricot juice to drink to cool down, or to soak in alcohol.
It is known that the dream of Huong Pagoda has been in the harvest for nearly half a month now. However, when apricots are ripe and golden, the fruit is still hard, not mushy, suitable for soaking in sugar or soaking in alcohol. This is also the time when gourmets often hunt to buy apricots of Huong Pagoda.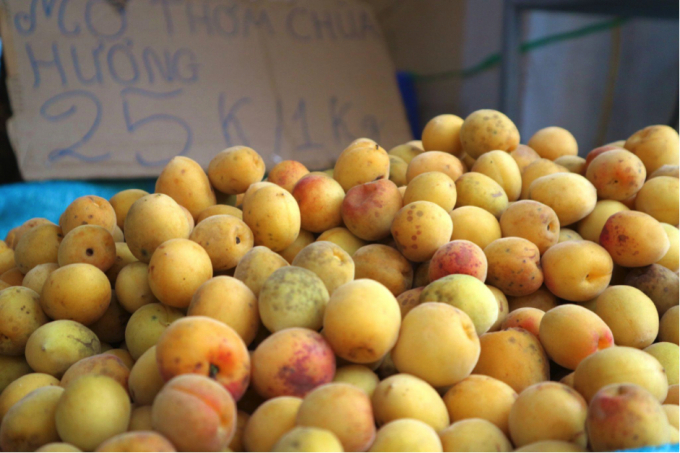 Having a habit of making sugar-soaked apricots and making apricot wine, Ms. Hien (35 years old, Dong Da, Hanoi) has just ordered nearly 10kg of yellow apricots, said that she had to pre-order with the seller for a few weeks now, until now she has received it. row.
"Every year, at the beginning of April, my family will buy apricots to soak in sugar in the summer. I have also tried soaking other varieties of apricots, but only the specialty apricots of Huong Pagoda bring the sweet taste and special scent "- Ms. Hien added.
According to CLO
You are reading the article
Perfume Pagoda's golden apricots are very popular at the beginning of the season, Hanoi people "line up" to buy them

at
Blogtuan.info
– Source:
infonet.vietnamnet.vn
– Read the original article
here