Tin
When does myocarditis reaction appear in children vaccinated with Covid-19?
Myocarditis is a very rare serious reaction in children after vaccination with Pfizer and Moderna.
2 types Vaccine was decided by the Ministry of Health to vaccinate children aged 5-11, Pfizer and Moderna. MSc Nguyen Hien Minh – Deputy Head of Immunization Unit, Ho Chi Minh City University of Medicine and Pharmacy Hospital, said that with Pfizer vaccine, very common reactions after vaccination in children 5-11 years old include: fatigue, headache, redness and swelling at the injection site, muscle pain and chills, fever.
With Moderna vaccine, very common post-vaccination reactions in children 6-11 years of age include pain at the injection site, fatigue, headache, muscle aches, chills, nausea/vomiting, swelling/pain axillary, fever, injection site erythema, injection site swelling, and joint pain.
Also according to Ths.BS Hien Minh, very rare serious reactions after vaccination with 2 vaccines Pfizer and Moderna for children include: myocarditis, pericarditis, anaphylactic reactions.
Complications of acute myocarditis and pericarditis can occur when children receive the mRNA vaccine against Covid-19 (Pfizer-BioNTech or Moderna), especially in adolescent boys and young men.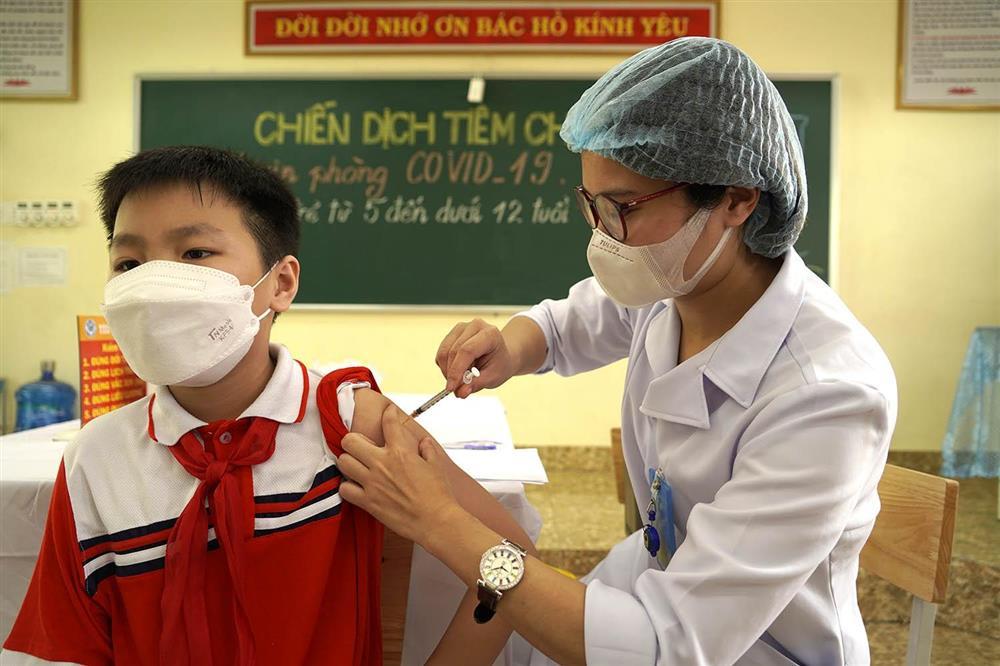 This complication is more common after the second dose and usually occurs 2-4 days after vaccination Covid-19although it can be as early as (12 hours after injection) or later within a week of injection, even later up to 42 days.
Children have acute chest pain, shortness of breath, shortness of breath, feeling of rapid, irregular heartbeat or palpitations, fainting, sweating, nervous state of excitement, eating less than usual, vomiting a lot. The child may or may not have a fever.
The doctor when examining and listening to the heart will hear pericardial rubbing, the child has a paradoxical pulse; Elevated CK-MB, Troponin T or I, ECG changes, echocardiography with wall dysfunction/movement or pericardial effusion.
"So all children after vaccination Covid-19 have one of the suspicious signs (chest pain, dyspnea, arrhythmia) should be examined to rule out myocarditis, acute pericarditis.
Parents need to notify the hotline listed in the post-injection monitoring instruction sheet or go to the nearest hospital for a timely examination, "Ths.BS Hien Minh recommended.
Currently, in some groups, mothers share the knowledge of drinking perilla leaves and tonics before injection to prevent serious reactions after vaccination for children aged 5-11 years old.
In this regard, Ths.BS Hien Minh said, not only with the Covid-19 vaccine, with all other children's vaccines, the post-injection reaction of each child is also very different.
Therefore, it is not possible to predict with certainty in advance whether or not your child will experience serious complications after the injection. Drinking perilla leaves or tonics is only a psychological solution for parents' peace of mind, but it is not possible for adults to ignore and pay attention to children when they go home.
"The simplest thing is that parents should let their children drink a lot of water, get enough sleep, eat according to the child's needs, wear loose and airy clothes, avoid letting the child catch a cold, limit excessive running and jumping within 3 days. first day after vaccination.
Do not apply leaves or other drugs to the injection site. If the child has a lot of pain or fever, parents will give the child a common antipyretic pain reliever such as Paracetamol at a dose of 10-15 mg/kg of the child's weight x 3-4 times/day. Ths.BS Nguyen Hien Minh said.
The female doctor also gives advice to parents before taking their children for injections:
– Eat a light meal before the injection, do not starve, but also do not force the child to eat too much.
– Do not drink stimulants such as soft drinks, milk tea, coffee, energy drinks… on the day of vaccination. Giving children enough water to drink, especially in the current hot weather, makes them easy to sweat and get tired while waiting for their turn to be vaccinated.
– You can take effervescent tablets or syrup containing vitamins that children are usually using on the morning of the day of vaccination.
– Do not arbitrarily stop taking oral medications for chronic diseases that children are taking according to a doctor's prescription.
At the same time, the Deputy Head of the Immunization Unit, University of Medicine and Pharmacy Hospital, Ho Chi Minh City, also emphasized that parents, adults in the home and school should pay attention to remind children if there are any signs of discomfort, they must report it immediately. .
Children are monitored 30 minutes after injection at the vaccination site. At least the first 3 days after the injection, it is also necessary to have an adult closely follow and promptly see abnormal symptoms.
Caregivers need to record the child's temperature every 4-6 hours, do not let the child sleep alone, watch out for the child when he spends too long in the toilet or private room.
Children should eat and drink at home to prevent food poisoning from outside, do not exercise or do heavy physical activity. Children need to get enough sleep and drink enough water.
Children do not need to abstain from bathing or eating anything, except for foods that have made them allergic before, limit the intake of stimulants such as coffee, soft drinks, milk tea, energy drinks…
Symptoms that require immediate medical attention for children:
– Children are excited, struggling, lethargic, skipping meals, crying persistently.
– Chest pain, palpitations, fatigue, sweating.
– Shortness of breath: during normal activities, when lying down.
– High fever that is difficult to lower the temperature, or lasts for more than 24 hours.
– Purple veins appear on the skin.
The rash develops rapidly within a few hours.
According to Vietnamnet
You are reading the article
When does myocarditis reaction appear in children vaccinated with Covid-19?

at
Blogtuan.info
– Source:
2sao.vn
– Read the original article
here