Thị trường
Where can I buy plum branches while playing and eating, how much is 1 set?
April 21, 2022 09:09 GMT+7
Different from flower arrangement in the house, plug a jar of fruit branches with all colors from green to ripe, then pick whatever fruit you like to enjoy… a very strange feeling! Plum branches costing 100,000 – 170,000 VND/set are urging you to order.
The plum branches are both plugged in and can be picked by hand with salt and pepper to enjoy all the flavors that make women in the South and in the North love it.
Looking at the plum branches laden with fruit is very pleasing to the eye, mixed with young green leaves, putting it in a corner of the house feels very close to nature…. Therefore, plum branches are very "hot" in the market when many women from the South to the North race to order and plug in the house.
Priced from 100,000 to 170,000 VND/set, depending on the set of 5 branches or 10 branches and long or short branches, plum branches are being sold by many small businesses on this occasion.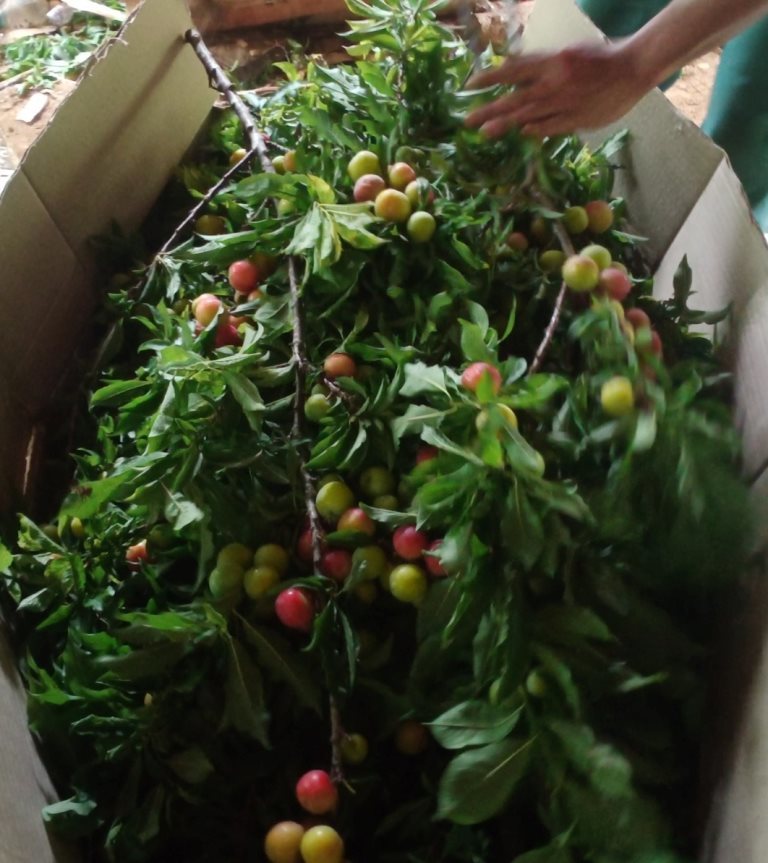 Plum branches were cut from Son La garden and moved to Hanoi.
Share with PV Infonet, Ms. Dao Thi Vinh, who specializes in selling exotic fruit branches in Ich Vinh, Vinh Quynh (Thanh Tri, Hanoi) said: In every season, she is very charming with all kinds of fruit branches, so when she posted the branches for sale. The first plum in Hanoi immediately attracted many wholesale and retail orders.
Accordingly, the plum branch Vinh is selling is an anchovy branch, cut from a garden in Son La.
She said, the length of plum branches will be cut by the gardener according to the order requirements, from 50cm long; The branches she is selling are 80cm to 1m long. Selling in a set of 10 branches for 160,000 – 170,000 VND/bundle.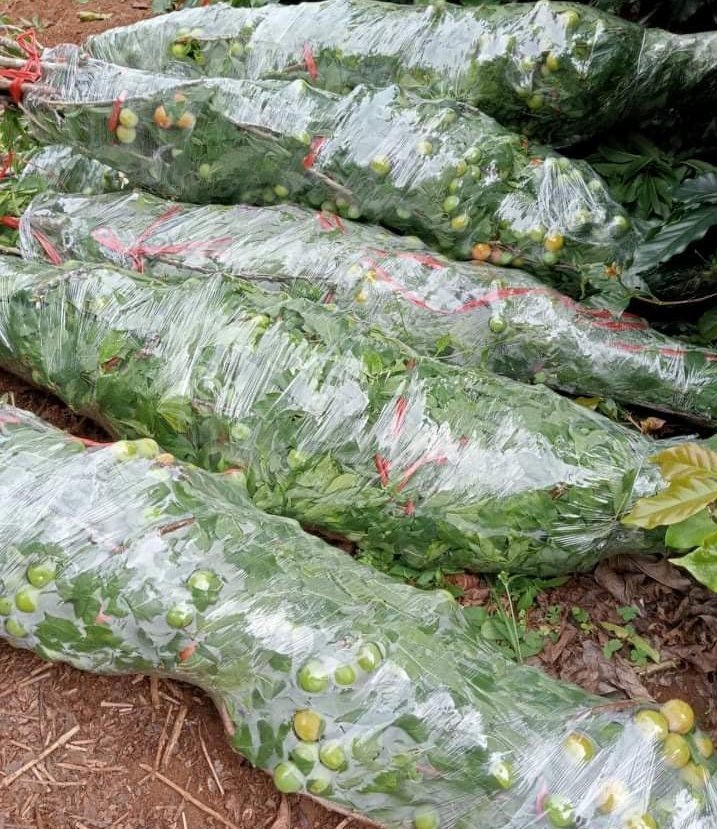 Because of the easy fall of fruit, plum branches are also tightly packed by gardeners to ensure when transporting…
"Plum branches can be played for half a month. The joy of planting this fruit tree is that it is both plugged in and can be picked directly to enjoy when there are both green, nursery and ripe fruit on the branch.
I've been selling for a dozen days now, every day about 70-100 bundles, at most 140 bundles are enough to pay for all orders. Roughly, it has sold thousands of bundles. However, plum branches are also very susceptible to falling fruit, so transporting these branches from Son La garden to Hanoi, and then delivering them to each customer, is a problem, having to 'lift like an egg'. Vinh said.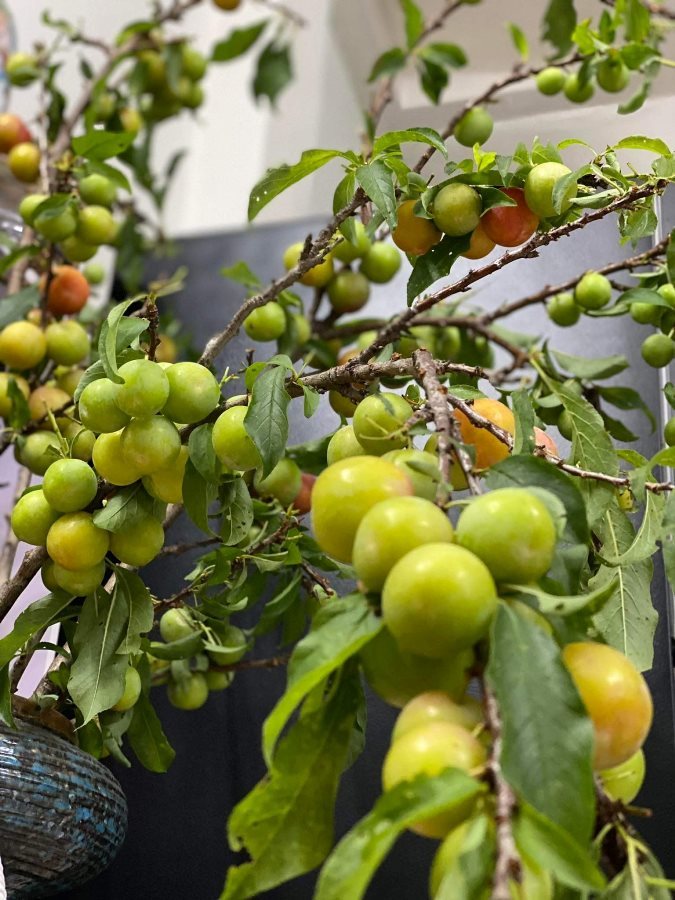 The plum branch is at its most beautiful stage when the branch has green fruit, yellow fruit and ripe red fruit.
Not only selling to customers in Hanoi, Ms. Vinh said, many customers in Saigon also ordered, she has shipped nearly a hundred bundles to customers by air, the transportation cost is borne by the customer.
According to Ms. Vinh, the plums have started to ripen, so it's only about half a month before the opportunity to play this fruit system will expire, so if you want to enjoy this elegant pleasure, now is the best time when On the branches there are all colors of green and ripe fruit.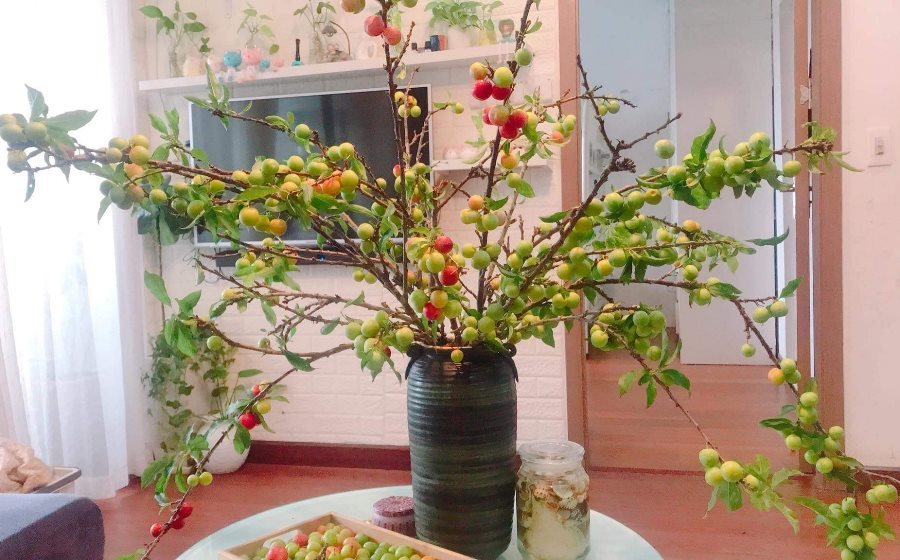 Plum branches are being sold on the market with prices ranging from 100,000 – 170,000 VND/set of 10 branches or 5 branches.
Also selling plum branches for 100,000 VND/bundle of 5 branches, Ms. Thu Phuong from Ha Dong (Hanoi) said that she can both buy and play to decorate her house, so she can eat the fruit and remove the branches. This one sells well. Gathering customer orders for about 2-3 days, she will close the quantity so that the gardener in Son La will cut it and move it back to Hanoi to ensure that the plum branches are fresh and can be played for a long time.
According to Phuong, the price of plum branches this year is similar to last year. Gardeners often prune small branches, but not all branches are cut because they are kept for the tree to flower and bear fruit in the next crop.
When planting plum branches to ensure long-term freshness, Phuong said, you need to prune most of the leaves to play the consequences because if you leave a lot of leaves, the leaves will wilt in a few days, and at the same time change the water in the vase for 1-2 days. time.
Plugging plum branches is quite economical, when you are bored, you can pick up green fruits and dip them in salt and pepper to enjoy the sour taste of rice plums, while nursery and ripe fruits can be soaked with sugar to make plum jam or soaked in water for drinking. Summer is also very good.
Laureate
You are reading the article
Where can I buy plum branches while playing and eating, how much is 1 set?

at
Blogtuan.info
– Source:
infonet.vietnamnet.vn
– Read the original article
here