Squid is a very nutritious food. People can process squid in many ways, of which grilled squid is the most popular. This type of processing not only makes the squid more delicious but also ensures the right calorie content, adds many nutrients, eats as much as you want without getting fat.
How many calories in grilled squid?
According to nutritionists, squid contains many essential vitamins and minerals for the body.
The nutritional composition of squid includes substances such as: Protein (16.3g), calcium (14mg), potassium (273mg), iron (600mcg), vitamin PP (1000mg).
In addition, people also find in squid a large amount of phosphorus, vitamin B2, ash, fat, … and many other nutrients.
Depending on the method of preparation, the calorie content of the dish will vary. For grilled squid, every 100g will have about 75 calories. This is quite a low number compared to other baked goods. For example, grilled fish is 205.8 calories (calories may vary depending on the type of fish), grilled oysters 110 calories, grilled shrimp about 99 calories.
Thus, with the calorie content not too high, you can completely eat grilled squid without fear of gaining weight.
If you love delicacies From squid, quickly learn 3 ways to make grilled squid below to be as delicious as a restaurant chef.
first
How to make grilled squid in an oil-free fryer
For those of you who want to make grilled squid but don't have time to prepare charcoal, you can use an oil-free fryer instead.
1.1. What do you need to prepare to make grilled squid with an oil-free fryer?
With the amount of 3-4 people eating grilled squid, you need the following ingredients:
Fresh squid: 3 (700 – 800g)

Lemongrass: 2-3 plants

Fresh chili: 3

Salt, seasoning powder, sesame oil, sugar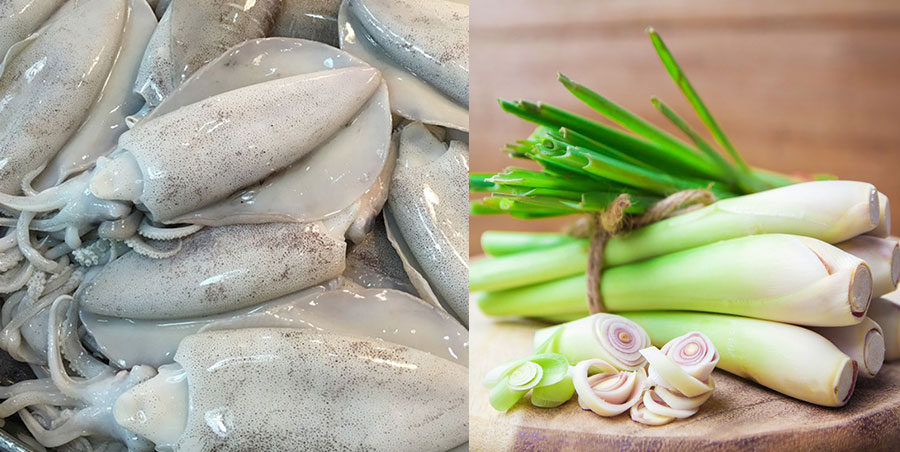 1.2. How to make grilled squid with the fastest oil-free fryer
Step 1: Prepare ingredients
Fresh squid bought, washed, and then used a knife to cut square pieces so that when the squid is ripe, it looks more beautiful and eye-catching.

Wash the chili peppers and chop them finely.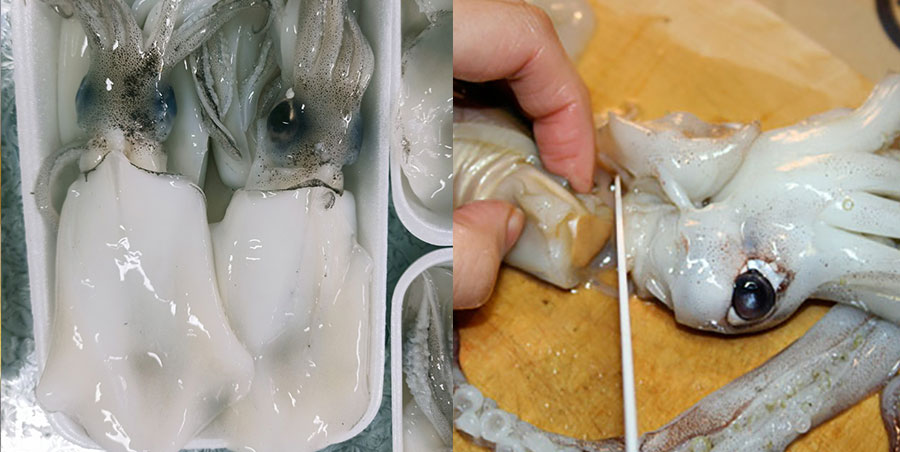 Good tip: Squid is quite fishy seafood, so to make sure good foodround you should:
Wash squid with salt vinegar mixture: Put 1 teaspoon of vinegar, ½ teaspoon of salt in a bowl of water, stir well, then put the squid in and wash it thoroughly.

In addition, if there is kitchen ash in the house, you can also squeeze the squid with the ash and then wash it with clean water. In this way, the ink will no longer have an unpleasant fishy smell.
Step 2: Marinate the squid
In seafood dishes, it can be said that grilled squid is quite simple, does not require many manipulations and sophisticated spices.
Squid marinade includes: 1 teaspoon salt, 1 teaspoon seasoning powder, ½ teaspoon sugar, 1 teaspoon sesame oil and chopped lemongrass and chili.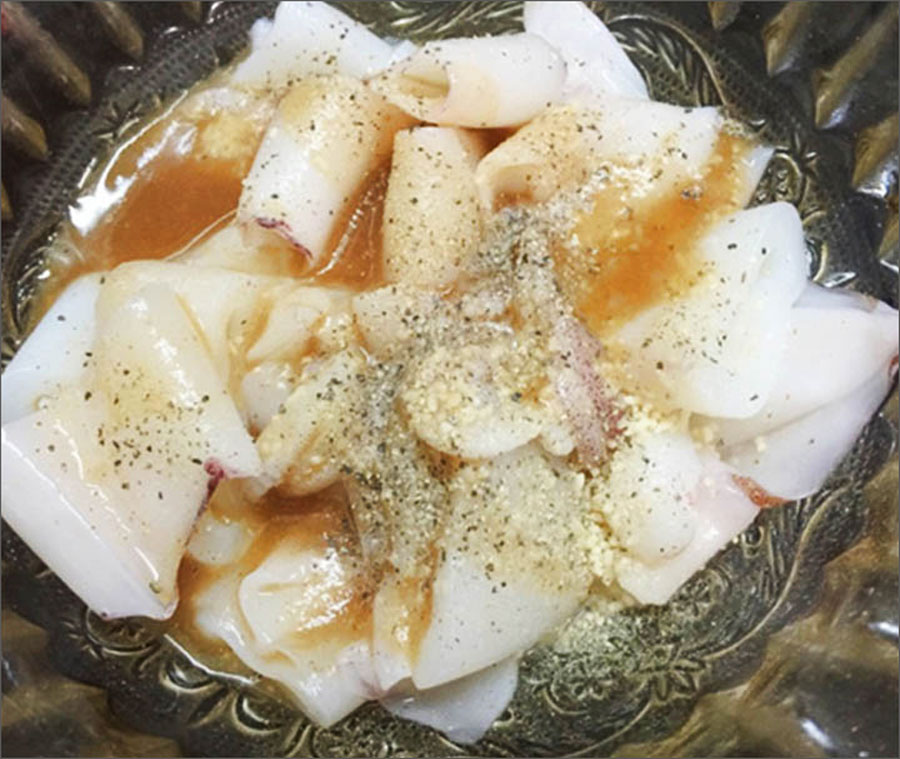 Pour the sauce mixture into the cleaned squid bowl, let it sit for about 20 minutes for the squid to infuse. If possible, marinate for a longer time so that when grilled, the squid meat is delicious and rich.
Step 3: How to make grilled squid with an oil-free fryer
Turn on the air fryer at 180 degrees and let it warm up for about 5 minutes.

Put the squid on the griddle and then put it in an oil-free fryer, set the temperature to 180 degrees for 10 minutes.

When the time is up, take out the squid, flip the squid, spread the marinade, then continue to put it in the oven for 10 minutes at a temperature of 180 degrees.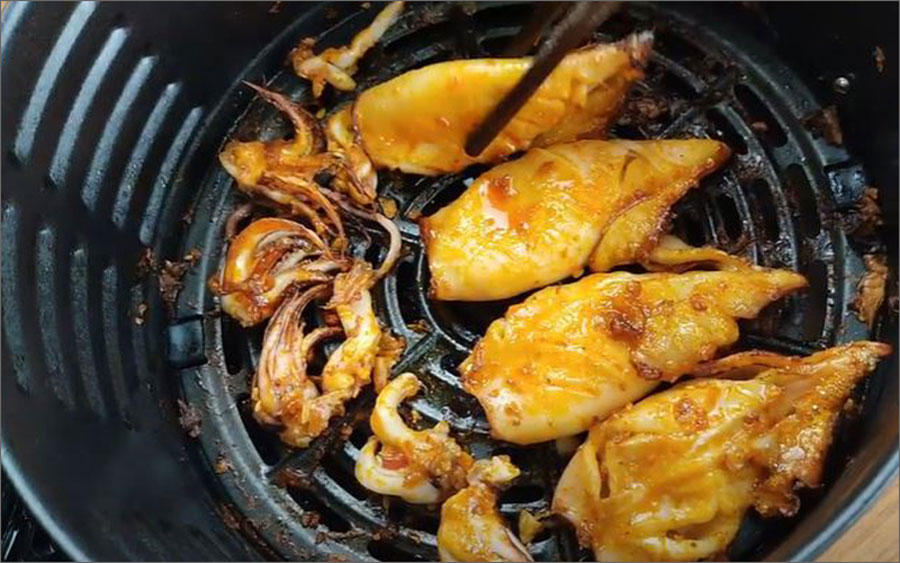 Step 4: Finish the grilled squid
Take the grilled squid to a plate, cut the squid into bite-sized pieces and enjoy. This way of making grilled squid is simple but still ensures the deliciousness.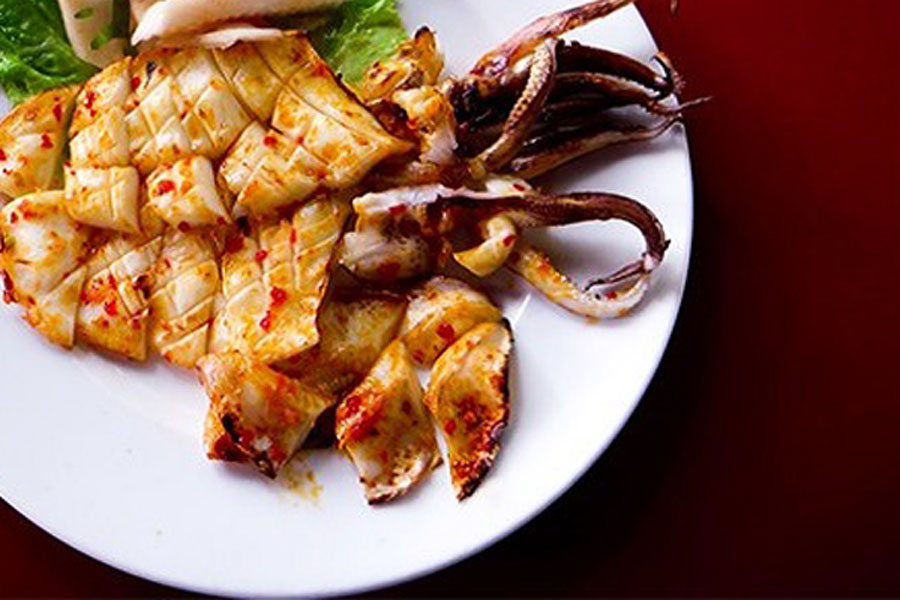 The ripe squid is sweet and fragrant, full of flavor and never bored. The party will be more attractive if you have this hot and spicy grilled squid plate.
2
How to make grilled squid satay
Delicious grilled satay squid is a great choice to make a weekend drink.
2.1. Ingredients for grilled squid ink satay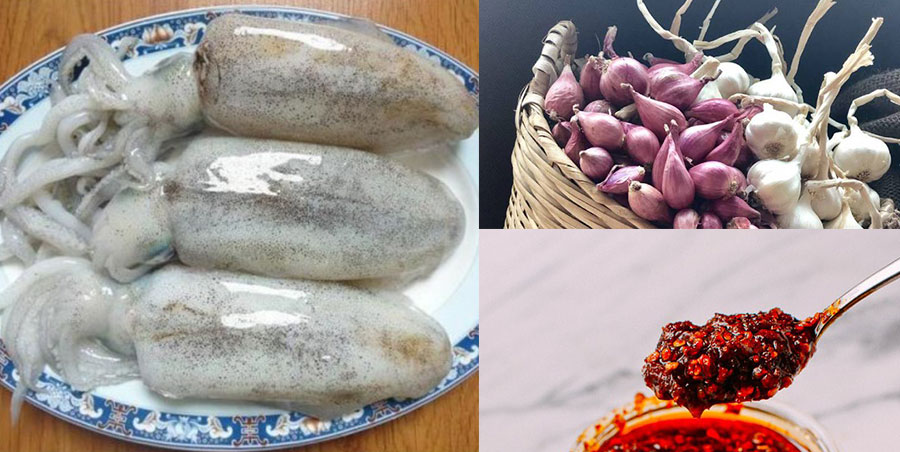 Fresh squid: 500g

Satay: 2 tablespoons

Ginger: 1 piece

Lemongrass: 2 pieces

Garlic: 1 bulb

Purple onion: 1 piece

White wine: 100ml

Squid skewers: 5-10 sticks

Charcoal: 1kg
2.2. Details of how to make delicious grilled squid satay
Step 1: Prepare the ingredients
Fresh squid, you remove the shell, eyes and ink bag, then put it in a small pot and add ginger and white wine to remove the fishy smell. Rinse the squid with clean water to remove the alcohol smell and then drain.

Minced onion, garlic, lemongrass.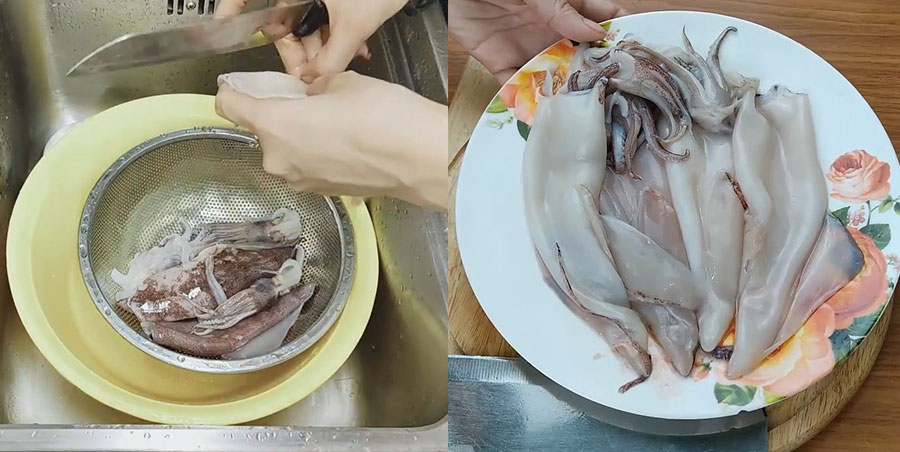 Step 2: Make squid marinade
The soul of grilled squid satay is the marinade. To marinate squid, you mix the sauce according to the following recipe:
2 spoons of satay + 2 spoons of oyster sauce + 1 spoon of seasoning seeds + 1 spoon of filtered water + 2 spoons of sugar and chopped onion, garlic, and lemongrass.

Use chopsticks to mix the ingredients together.
Step 3: Marinate the squid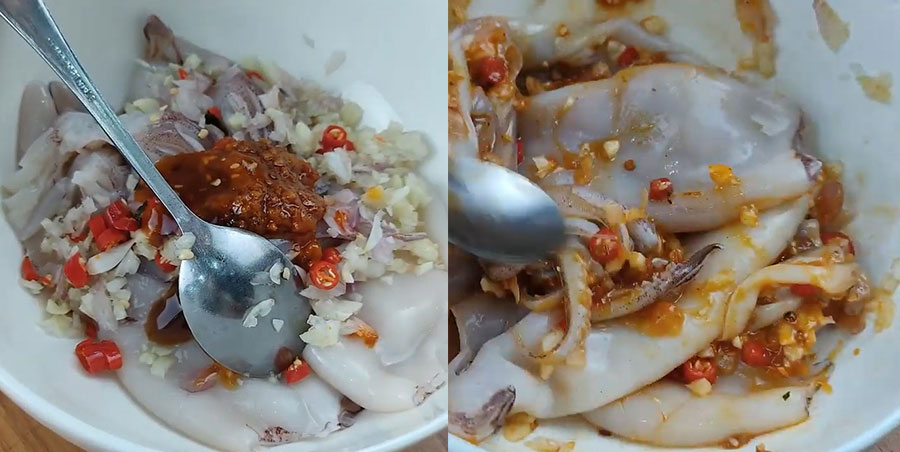 Take the cleaned squid and put it in a bowl.

Pour the sauce mixture in step 2 into the bowl and then use chopsticks to stir well so that the squid infuses the spices.

Cover the marinated squid with food wrap and place it in the refrigerator for about 30 minutes.
Step 4: Bake squid
If you want to have a standard grilled squid dish, it is definitely indispensable for charcoal. While waiting for the squid to absorb the spices, set up the charcoal stove and prepare the grill.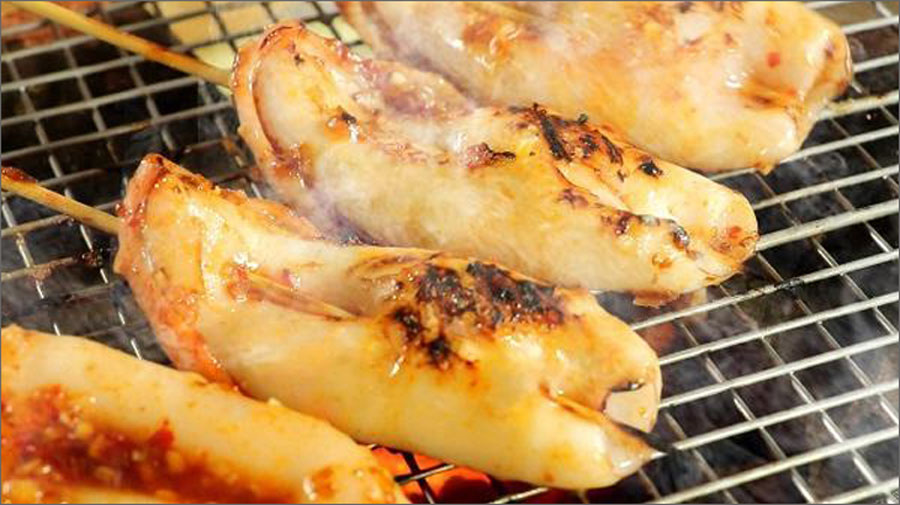 Use the prepared skewers to skew the squid to prepare to bake.
Place the grill on the charcoal stove and arrange the squid on top.

After about 5 minutes, flip the squid and brush the sauce on top to prevent the ink from burning.

Do the operation continuously until the ink is golden brown on all sides.
Step 5: Finish grilled squid satay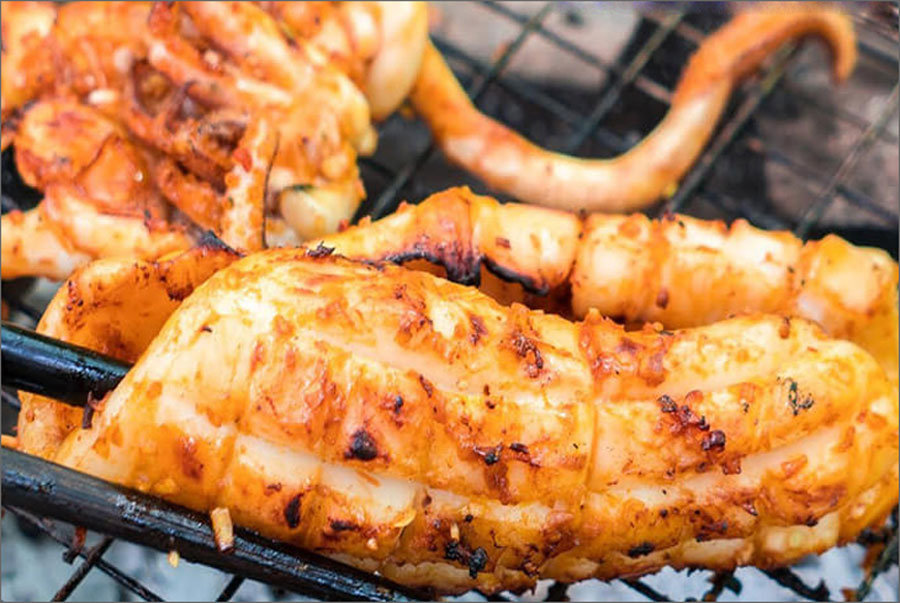 When the squid is cooked, use scissors to cut the squid into bite-sized pieces. The pieces of cooked squid are golden on both sides, the unique aroma of the squid, the richness of spices, the pungent taste of satay make people who eat once remember forever.
Don't forget to prepare some beer and drinks to make the dish more round.
3
Grilled squid with salt and pepper
In addition to grilled squid with satay, grilled squid with salt and pepper is also a way to make delicious grilled squid that you cannot ignore.
3.1. Ingredients for grilled squid with salt and pepper
Squid: 500g (about 2 fish)

White wine: 200ml

Grain salt: 2 tablespoons

Fresh chili: 5

Ginger: 1 piece

Lettuce, cucumber served (depending on preference)
3.2. Steps to make grilled squid with salt and chili super delicious
Step 1: Prepare ink and ingredients
Squid bought to clean, remove the apricot, ink bag and then squeeze it with white wine, ginger to get rid of the fishy smell.

If the squid meat is too thick for the squid to cook quickly, you need to use a knife to cut it out.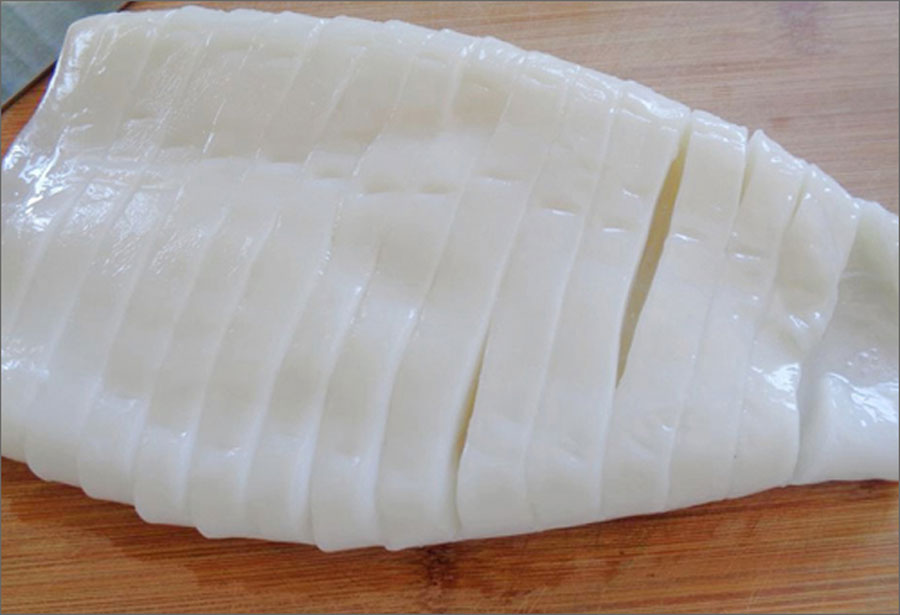 Lettuce and cucumbers are washed and dried. Peeled cucumber cut into bite-sized pieces.
Step 2: Make salt and pepper to marinate squid
Unlike grilled squid with satay, this recipe for marinating squid is quite simple.
Put the granulated salt and fresh chili in the mortar and then pound. You should not add too much salt lest it be salty. As for chili, it depends on each person's ability to eat spicy.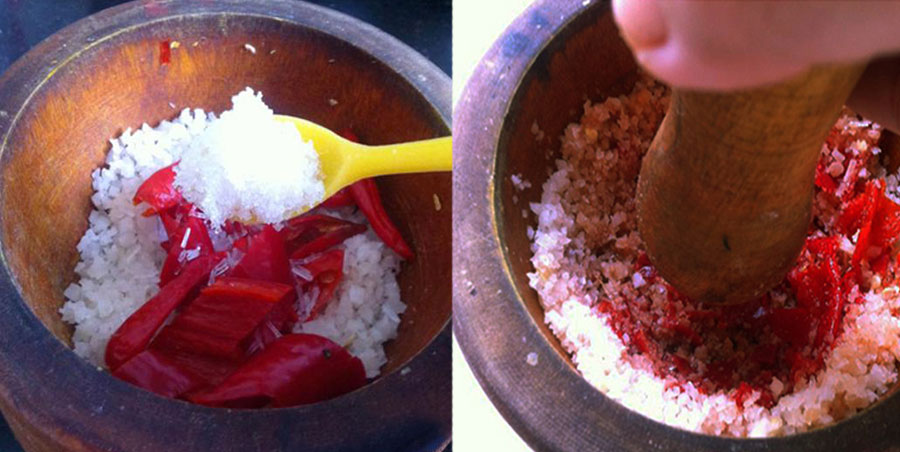 Step 3: Marinate the squid
Put the prepared squid in step 1 into the bowl. Pour in the salt mixture. Use chopsticks to mix well to infuse the spices.

Soak the ink for about 20 – 30 minutes for the ink to absorb.
Step 4: Bake squid
If you have conditions, you should grill squid with charcoal, the dish will be more fragrant and delicious. However, for families in cities or apartments, it is difficult to have a grill space, so Eva Kitchen suggests using an oven or air fryer instead.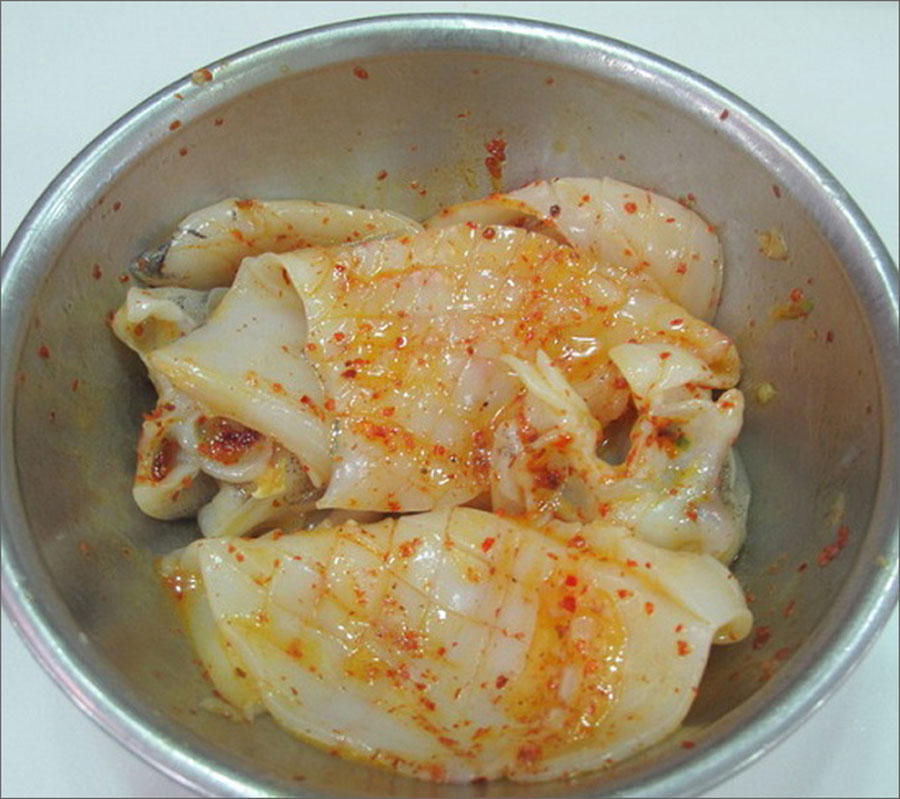 Place the marinated squid on the griddle and then put it in the oven.

Adjust the temperature at 180 degrees Celsius for 8-10 minutes depending on the amount of squid baked.

Don't forget to flip the squid so it's golden brown evenly.
Step 5: Finish grilled squid satay
Arrange lettuce and cucumber on a plate and then put squid on top. The pieces of ripe yellow squid stand out between the green colors of vegetables and extremely attractive cucumbers.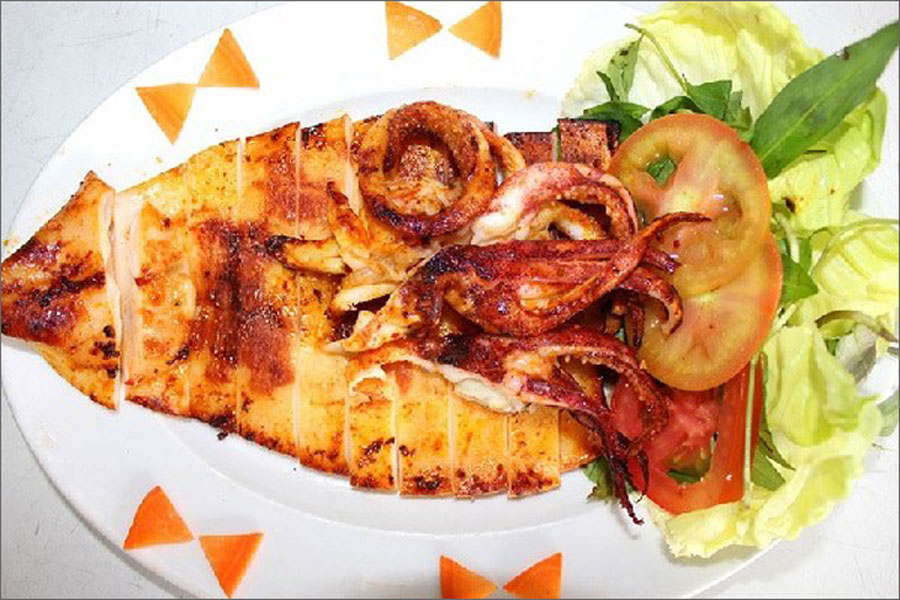 When eating, the squid meat is cooked, so it is very sweet and fragrant. The rich, spicy taste of chili salt makes the dish more delicious and rounder.
Grilled squid with salt and pepper is suitable for parties, parties with friends or as a drink, which is also extremely suitable.
How to choose ingredients to make fresh grilled squid
Squid has many types such as squid, egg squid, leaf squid, cuttlefish. However, with grilled squid, you should choose leaf squid because this type of squid is thick and the meat is very sweet.
To choose fresh squid leaves, you need to pay attention to a few issues:
1. Color
Priority is given to squid with dark brown leaves, the white part of the squid body will be milky, not pale.
2. The elasticity of squid meat
Fresh squids have extremely firm flesh. You can use your finger to press on the squid body, when you release your hand, if the ink returns to its original state, the surface does not sink, it is good ink.
In case the squid meat does not return as it was at the beginning, it is the squid that is rotten and should not be bought.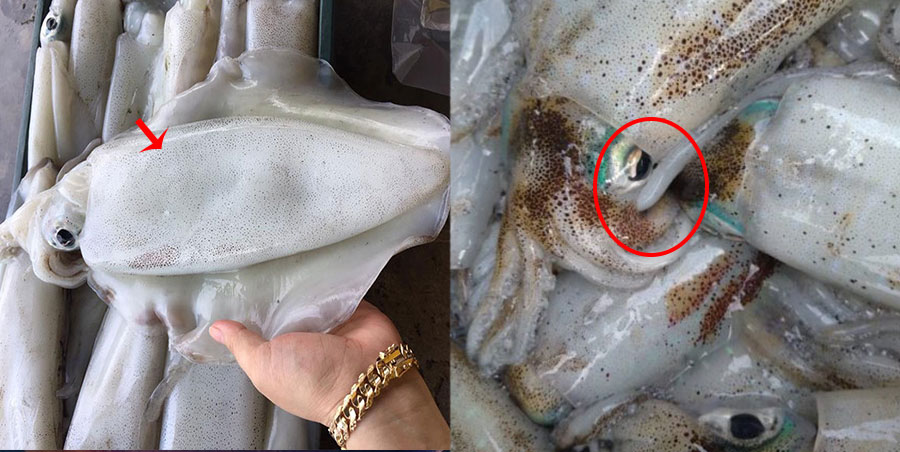 3. Beards and squid eyes
A small tip to know if the squid is fresh or not is to check the squid's antennae and eyes.
If you flip the squid beard up, if you see below there are round tentacles sticking to the beard, it's fresh squid and vice versa, the ink is very soft and the tentacles are viscous.
Usually fresh squid eyes will be very bright and clear. Observe if you can see the pupil on the inside of the squid's eye, then choose it right away. In case the squid's eyes are cloudy, it is the ink that is rotten, left for a long time.
4. Choose a place to buy delicious squid ink
In addition to the above factors, you also need to choose a place that sells delicious and reputable squid leaves. Should buy at establishments selling quality seafood. If in the sea can go directly to the ship's area, such fishing boats will choose delicious, fresh and quality squid.
Just now are 3 recipes to make delicious grilled squid that you cannot ignore. Quickly save these recipes to your computer to have the opportunity to show off your talents to entertain friends and family. Good luck!
You are reading the article
How to make grilled squid with satay, delicious chili salt and pepper, everyone who eats is "addicted"

at
Blogtuan.info
– Source:
Eva.vn
– Read the original article
here