Thị trường
Land prices in Cu Chi and Hoc Mon massively increased
The news that Cu Chi went to the city, Hoc Mon district to the district, along with the fact that Ho Chi Minh City had invited to invest in 55 projects in Hoc Mon and Cu Chi districts, made real estate prices here increase sharply, but there were many risks.
Any land will increase
These days, in Cu Chi and Hoc Mon districts of Ho Chi Minh City are very busy with the transfer of land use rights. From residential land, residential land mixed with agricultural land to land for perennial crops, rice land … are all offered and sold enthusiastically before the information of these two localities to the district, city and recently organized. investment promotion conference.
According to Ms. Linh San (freelance real estate broker in Binh My commune, Cu Chi district), for about 2 weeks now, real estate transactions in Cu Chi have been quite active. The most interested and increased segments are garden land, residential land, average area of ​​500 m2 and land located along the Saigon River. Ms. San said that the price of garden land that has not been converted into residential areas has increased to 5 million VND/m2, an increase of 2-3 million VND compared to before. Garden land to be residential or including residential land, the average price is 10 million VND/m2, double that of the end of 2021. Land on the main road has an average price of about 15 million VND/m2. Residential land with a small area under 100 m2 with an average price of 20 million VND/m2. The project land is priced at 16-18 million VND/m2.
A broker named Binh in Cu Chi Northwest Industrial Park, this person led us zigzag through small dirt roads, through acacia forest, then pointed at the plot of land with stakes and said: "Cu Chi land price It's "fever", if you buy it now, you can still surf, but it will be difficult to buy it in a while." The land introduced by the broker is the land for growing annual crops, with an area of ​​500 m2 but the price is 1.7 billion dong, bordering Tay Ninh province. Seeing us hesitate, Binh continued: "The price of land in Cu Chi is still lower than in neighboring areas such as Long An, Binh Duong, Binh Phuoc, Dong Nai, Lam Dong… What to do now where? The land still costs 3-4 million VND/m2. You should take advantage of closing early, or tomorrow the price will increase again."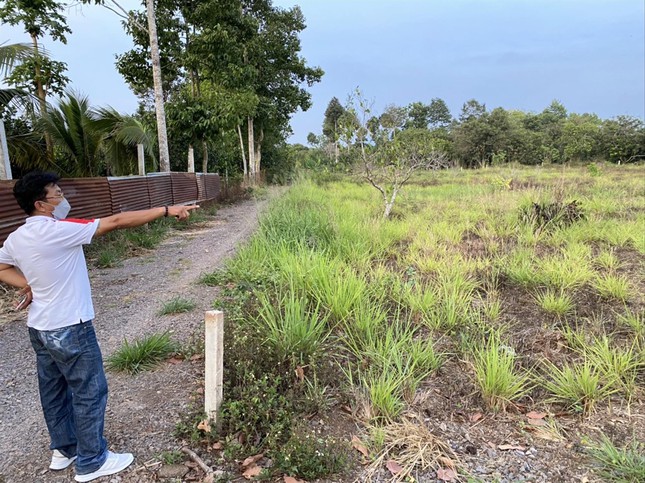 Land prices in Cu Chi have "danced" wildly in the last 2 weeks. Photo: Duy Quang
At a restaurant on Provincial Road 15, Tan Thanh Dong commune, the owner said that in recent weeks, too many people have come to Cu Chi to buy land. Now, from garden land, to field land, to annual or perennial crops, the price is calculated by square meter, not by horizontal meter as before. "But that's all they say, no one sells it, don't go looking for it. They have removed all the signs for sale of the land, waiting for the new price," said the owner of the restaurant.
Meanwhile, Ms. Thuy Trang (living in Go Vap district) said that she bought a plot of land in Cu Chi from the end of 2020 for 950 million VND. At the beginning of the year, she sold 1.3 billion dong. Now this land lot has been pushed up to 1.5 billion dong and there is no sign of stopping because the surrounding lots have sold 1.6-1.8 billion dong. Recently, Ms. Trang found and bought a plot of land of 500m2 in An Nhon Tay commune, Cu Chi for 1.7 billion VND. She made a deposit of 200 million dong, but then the landowner sold it to someone else for 2.5 billion dong.
Not only in Cu Chi, but also land fever in Hoc Mon. Walking around many communes in Hoc Mon district, met many brokers to ask the question of buying a piece of land from 50-80 m2 for about 2.5 billion VND but we all received the answer that it was impossible to buy a piece of land. any land in Hoc Mon at this time for that price. The reason is, the land areas with newly opened asphalt roads have doubled compared to the previous year.
According to a representative of the branch offices of land registration offices in Cu Chi and Hoc Mon districts, although the land price information market in Cu Chi and Hoc Mon increased sharply, many transactions were made, but in reality, successful transactions were quite small. This is similar to the story of "land fever" in Thu Thiem after the auction of 4 lots of "golden land". In fact, Thu Thiem real estate market recorded dozens of price increases in the past 2 years. In which, there were 2 strongest increases, one was when Thu Duc City was established, the other was after the auction of 4 land lots in Thu Thiem New Urban Area. However, the fact is that even though the price is anchored at a high level, trading is very limited.
Beware of inflated prices
The recent land transactions in Cu Chi, Hoc Mon are similar to the land fever 5 years ago when information about mega projects of urban and riverside roads were proposed for investment here. At that time, land prices were also blown "upright" after the news that Tuan Chau Group invested billions of dollars in projects in Cu Chi. After that, these projects were not approved and house prices here returned to the same after the "trigger" of the land withdrew.
Talking to PV Tien Phong, Mr. Hoang Kim Hoai, General Director of Phuc Dien Land, said that the information of Cu Chi to the city, Hoc Mon district to the district, along with the fact that Ho Chi Minh City had invited investment in 55 projects in Hoc Mon district. and Cu Chi with a total expected capital of more than 12 billion USD, making the real estate market here vibrant. However, the projects in Hoc Mon and Cu Chi districts are just calling for investment, no investor has officially participated, nor has a specific plan, so no one knows which area will be. The "epicenter" can increase prices and increase sales. Thus, land buyers at this time may be at risk, especially speculators and surfers.
Mr. Le Hoang Chau, Chairman of Ho Chi Minh City Real Estate Association (HoREA), said that many people have taken advantage of information from meetings to profit, especially traders, "storks" of land or dishonest businesses have done it. for land prices in Cu Chi and Hoc Mon districts to go up. "Buyers need to consider, because not all areas are suitable for planning. If you choose the right residential development area, you will benefit, but if you encounter a planned area of ​​green parks or roads, surely the buyer will receive enough, while the stork or the dealer will benefit. We have warned, but many people still take risks, close their eyes to buy land at high prices and then cannot sell it. Those who intend to buy land at this time in Cu Chi, Hoc Mon must be alert, have to learn carefully, do not lose money, "Mr. Chau said.
According to TPO
You are reading the article
Land prices in Cu Chi and Hoc Mon massively increased

at
Blogtuan.info
– Source:
infonet.vietnamnet.vn
– Read the original article
here