Giải trí
Xem ăn chơi
5 delicious specialties in Vinh Hy Bay, all familiar dishes but very different flavors
Vinh Hy Bay (Vinh Hy Lagoon) is a small bay located in Vinh Hai commune, Ninh Hai district, Ninh Thuan. The bay is located in the North and about 40km from Phan Rang city. Located close to Nui Chua National Park with three directions surrounded by immense mountains and the sea, Vinh Hy Bay in recent years has become a favorite destination of many tourists because of its peaceful and unspoiled beauty.
Because tourism has not been developed as strongly as other places, Vinh Hy still has a rustic, liberal and unique character that is not mixed with any other domestic and foreign locations.
Vinh Hy is also an ideal destination for backpackers with a beautiful winding road on the coast, white clouds floating in the distance, fresh air and a strong smell of the sea.
In addition to the beautiful and unspoiled nature, Vinh Hy also captivates visitors with wild and fresh cuisine. To make the trip more enjoyable and complete, don't forget to enjoy the unique and typical dishes here.
Seafood of all kinds
Although not as diverse as other sea areas, seafood in Vinh Hy is still a specialty that tourists cannot ignore. Seafood is caught from the sea and processed right after coming ashore, so it still retains the fresh taste that you can hardly find when traveling in coastal cities.
To buy the freshest seafood just from the sea, you can walk around the coast to buy seafood directly from the fishermen or you can rent a boat to the seafood rafts. The typical seafood in Vinh Hy Bay that visitors cannot miss are grilled sea urchin and snails such as snails of the breast, oysters, mulberry snails, jumping snails, snails, snails, abalones, etc.
Pancakes
Although banh xeo is present in many places, visitors to Vinh Hy should not forget to enjoy the typical banh xeo dish in this land. Different from banh xeo in other central provinces, banh xeo in Ninh Thuan has a variety of fillings depending on "every season". In addition to pork and shrimp, banh xeo in Vinh Hy also has other fillings such as anchovies, quail eggs, squid, crispy pork skin, etc.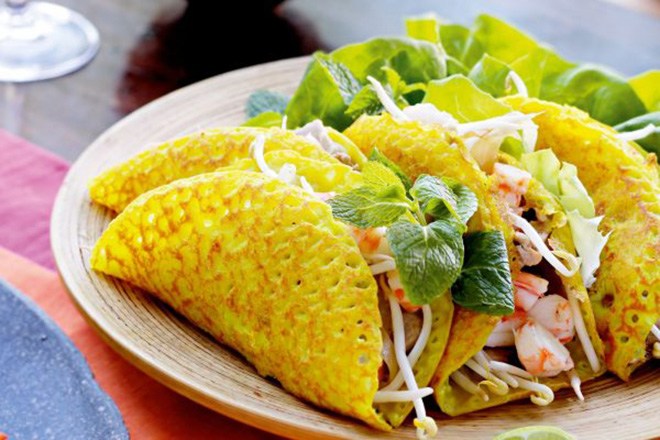 The point that makes the special feature of the banh xeo dish here is that there are a total of 4 types of dipping sauces (tomato chili fish sauce, dried fish sauce, female fish sauce and peanut fish sauce). Enjoying hot, crispy pancakes in the cool breeze is a memorable experience when coming to Vinh Hy. The price of pancakes here is also quite soft and you can eat and drink without fear of "pain" like other tourist areas.
Vinh Hy seabass porridge hot pot
Seabass porridge hot pot is a delicious dish that is quite popular in the South Central Coast. Seabass is a large, fierce fish that lives in salt and brackish water environments, often in waters with deep water and strong currents. The coastal areas of Ninh Hai, Ninh Chu and Vinh Hy are home to many seabass. Fishermen catch seabass with rake nets, seabed and big hooks. Seabass weighs about 10kg. Seabass is purchased by fisherman's friends, brought back and cut into slices for retail, because few people can buy a large fish. Buy seabass, wash, thinly slice about two fingers, marinate pepper, garlic, sugar, monosodium glutamate, mix with finely chopped scallions and place in a bowl and fork to absorb. North water cooks porridge with washed old rice, about half a can of rice for four people to eat. Gotu kola, bitter vegetables, raw bean sprouts, cilantro leaves on the tray separately.
Porridge cooked with finely chopped scallions with a little pepper pierced, fish roe, walk in hot pot, when cooked, eat there. Vegetable dip is ignorant or sloppy, aim and eat, as you like. Seabass porridge hot pot is delicious, nutritious and affordable.
Apricot fish salad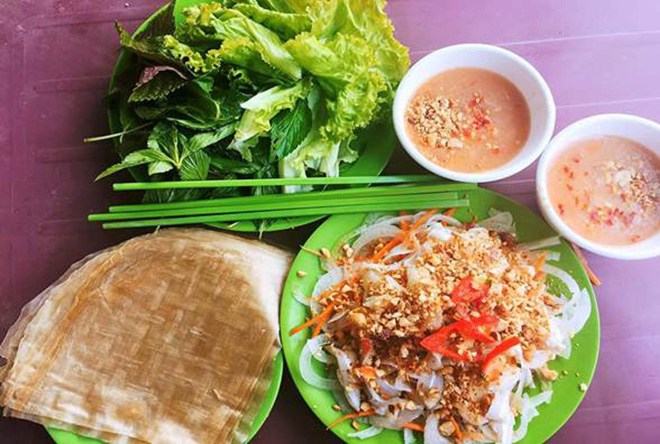 Mai fish is a type of fish a bit similar to anchovies but less fishy, ​​transparent, crispy and sweet meat. This fish lives and is concentrated in the sea of ​​Ninh Thuan, Binh Thuan and some waters in the South Central region. Mai fish salad includes wet salad and dry salad. The taste of fresh fish blends with the typical dipping sauce, herbs and peanuts to create a delicious, harmonious and unique taste.
Fish cake soup
After experiencing new dishes, you can enjoy fish cake soup in Vinh Hy Bay. Unlike Banh Canh in Saigon, Banh Canh in the land is made of filtered flour, small cakes with a broth that has a natural sweetness from fish. The fish cakes used in this dish also have different characteristics from the fish cakes in the southern provinces.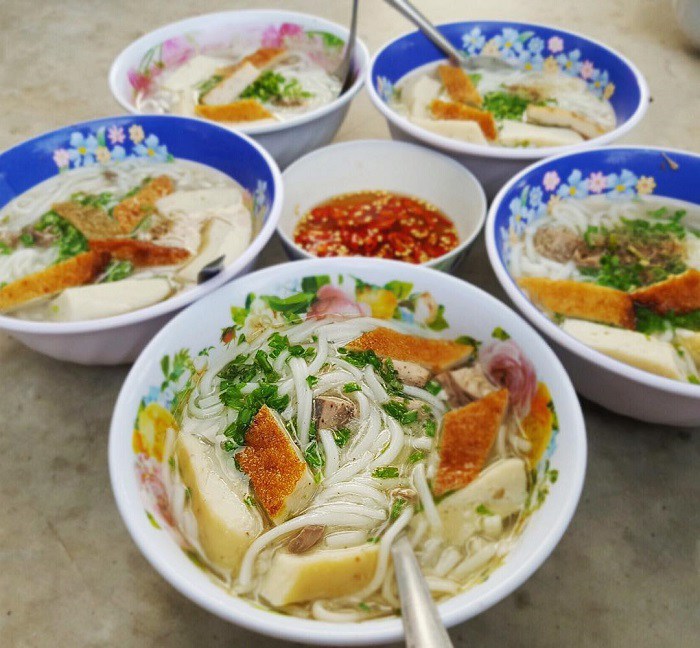 Although it is not a new dish, the fish cake soup in Vinh Hy really has a very specific and unique taste. Perhaps because the fish cake is made from fresh, delicious fish, the fish cake soup here is more attractive?
You are reading the article
5 delicious specialties in Vinh Hy Bay, all familiar dishes but very different flavors

at
Blogtuan.info
– Source:
Eva.vn
– Read the original article
here