Life Style
Sport
"With errors like this, U23 Vietnam may have to pay the price before U23 Thailand"
U23 Vietnam 1-0 U23 Myanmar | SEA Games men's football 31
A HUGE worry about tons of goods
On May 8, U23 Vietnam played completely over the Philippines, but the attack failed to score any goals, and had to accept the 0-0 draw. Today, the same thing almost happened. We thought we would have received a 0-0 draw against Myanmar, if Hung Dung had not scored near the end of the match.
Commenting on the performance of Vietnam's U23 attack, expert Vu Manh Hai is worried:
"Two difficult matches in a row shows that U23 Vietnam is having problems in terms of personnel. This U23 class has not caught up with the general progress of Vietnamese football over the past time. On the attack of U23 Vietnam, We lack the factors that make a difference.
Opponents against Vietnam U23 often play defensively, very aggressively in the penalty area. To drill and break the opponent's "concrete blocks", in addition to the gameplay, we also need people. But U23 Vietnam this time, the gameplay we have, but the people are limited.
For example, we lack players who can break through, create free kicks or penalties, to destroy the opponent's defence. We also lack players who can create mutations with a long shot.
The ability to launch decisive passes of U23 Vietnam is also very rare. Most of the above must be expected from older players. So we have a lot of difficulties in the matches against the Philippines and Myanmar.".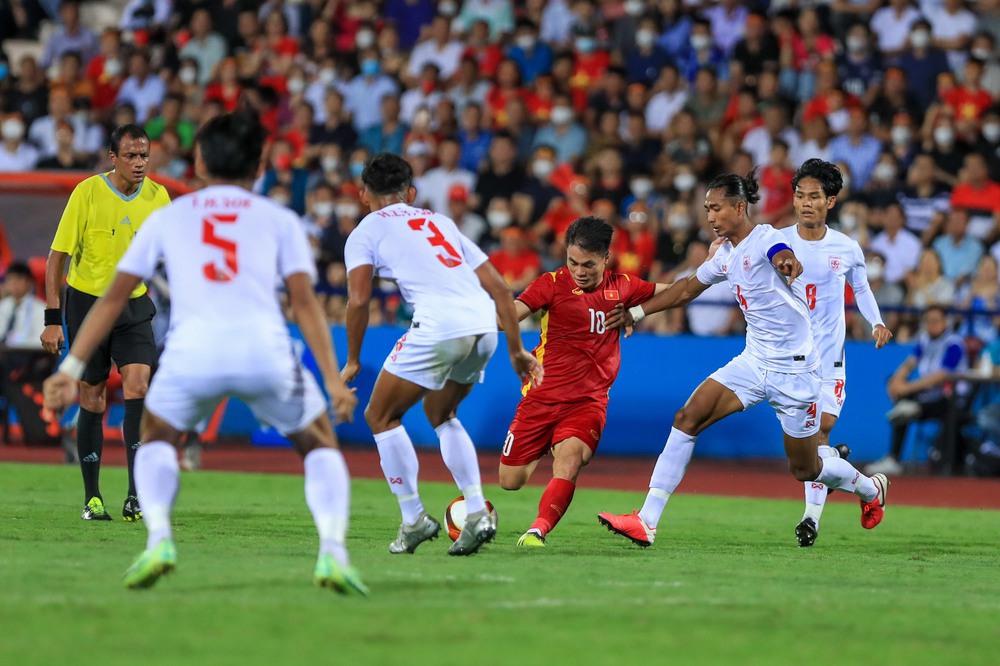 U23 Vietnam's public goods faced many difficulties before U23 Philippines and today U23 Myanmar (Photo: Nhu Dat).
Previously, former SLNA coach Nguyen Thanh Vinh was worried that if Vietnam's U23 attack continued to be dull, Park's students would gradually lose confidence. Mr. Vu Manh Hai also agrees with this point of view, but fortunately today, Hung Dung's goal saved the spirit of the home team.
"One more game, we have to work very hard. But don't worry about us losing confidence. Because anyway, we still consider the task done, there are 2 wins and 1 draw. We have a good atmosphere. to get into the final match against Timor Leste We will almost certainly beat Timor Leste to top the group, get to the Semifinals.
When we have a smooth way to enter the Semi-finals, then consider completing part of the task, the players will be more relieved. At that time, the effort and spirit of the whole team will be higher.
Especially in the last match, if we beat Timor Leste boldly, then confidence will return. And if we don't win Myanmar today, it will be hard, like coach Nguyen Thanh Vinh said, and will lose confidence.
A game like this, we have a lot to learn from but still win, then we will play better here.".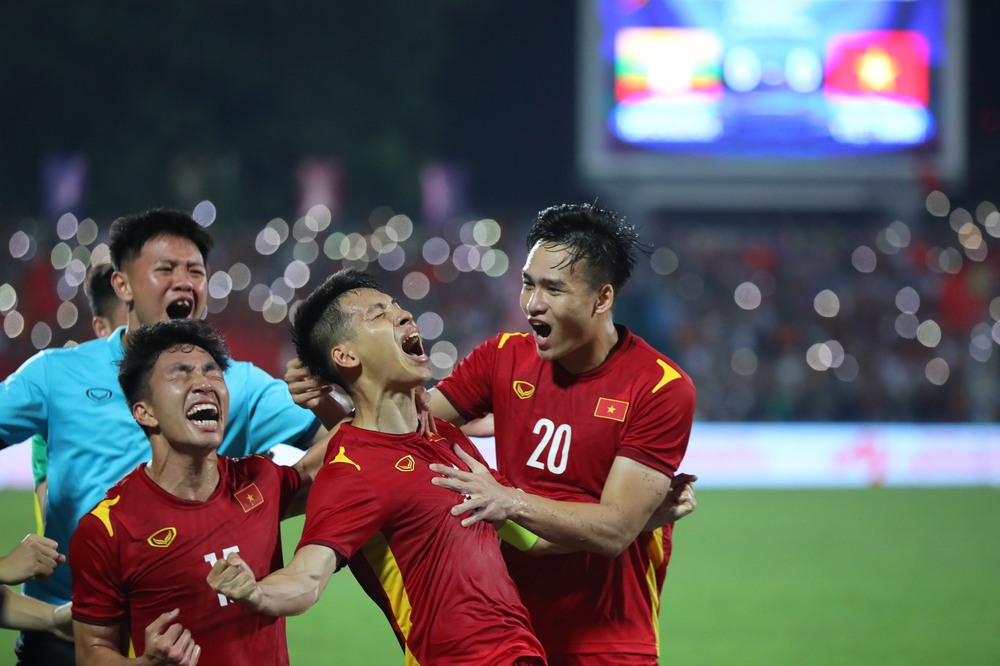 Hung Dung's goal helps U23 Vietnam "breathe" much better (Photo: Nhu Dat)
Commenting on the trio of older players, expert Vu Manh Hai was especially worried about Tien Linh, while praising Hoang Duc – Hung Dung.
"In all three matches, Hung Dung, Hoang Duc all played well. Maybe at some moment they were not good, but among the three older players, Hung Dung – Hoang Duc always stood out, the focal point connecting the players. Young players, creating the common strength of the whole team.
But for Tien Linh, I think the game is not up to the mark. He also tried very hard but did not regain his form. Tien Linh so far has caused many disappointments. Obviously the offensive front is where we are weakest. In the more intense and drastic matches after the group stage, Coach Park will need to think to solve the problem of attack and Tien Linh.".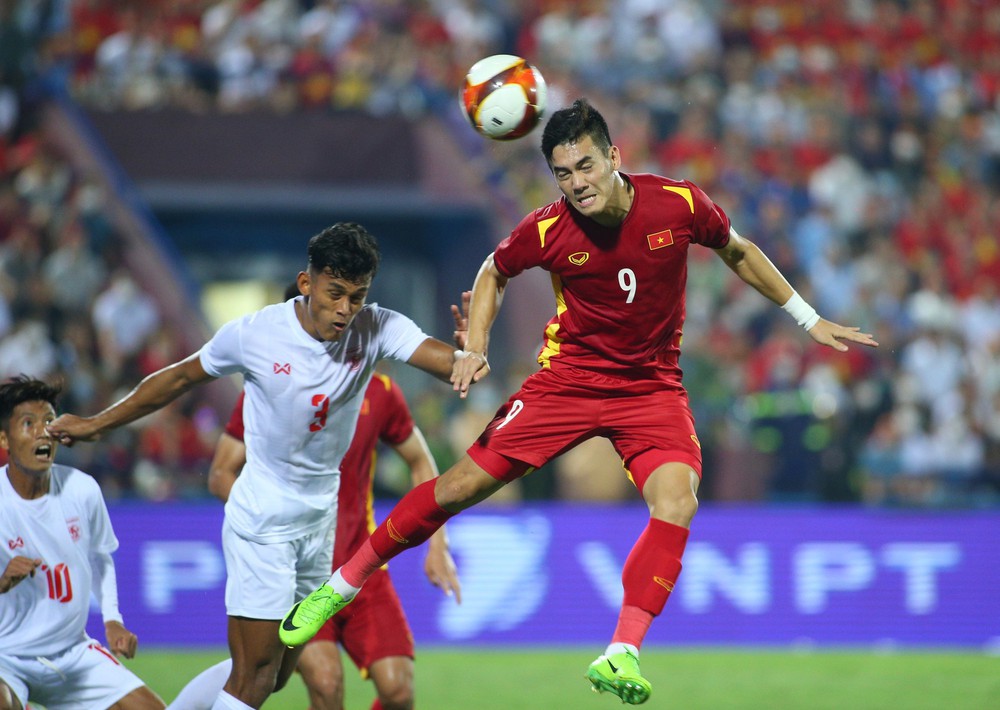 Tien Linh is disappointing (Photo: Tu Anh)
DEFENSE CAN MAKE U23 VIETNAM PAY BEFORE U23 THAILAND?
The attack created a lot of worries, but today, the U23 defense of Vietnam also made the NHM "heartbroken". These are the situations of catching the ball of Van Toan, or the breaking of the ball by the defender, with Thanh Binh being the name that needs to learn deeply.
"Today, our defense did not play as well as usual. Many players had problems, such as goalkeeper Van Toan or Thanh Binh. Obviously, those individual mistakes caused teammates to lose confidence. .
With the individual mistakes of the defense, if we meet strong teams like Thailand, it is also worrying. It is difficult to say in advance, we just hope that the children learn from their experience. Fighting with Thailand is not simple at all. If Vietnam's U23 defense continues to play with the same performance as today, there are many personal mistakes, it is easy to pay the price.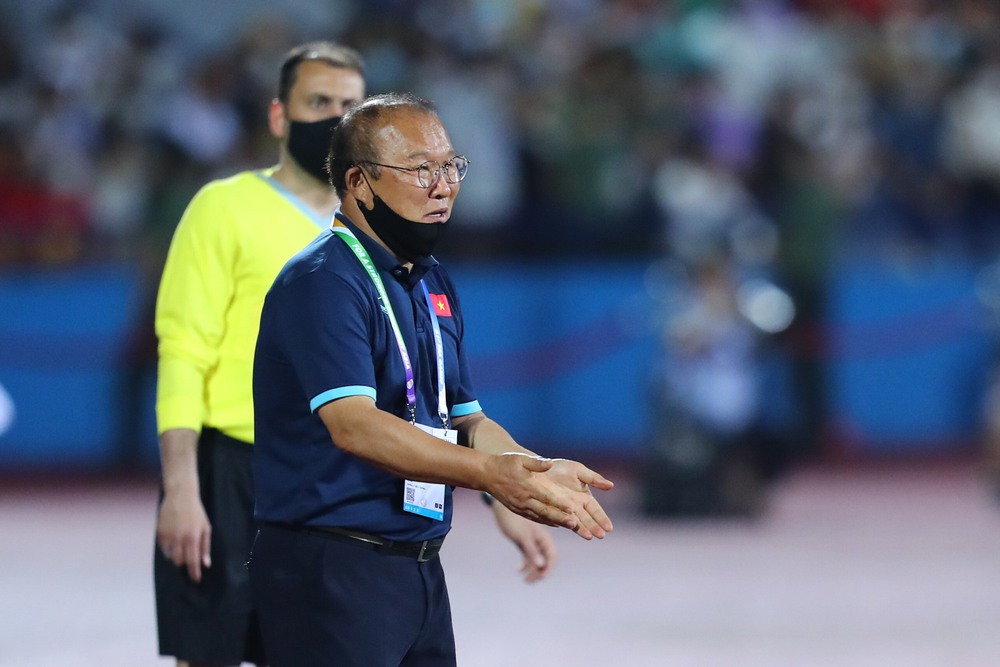 In addition to the attack, Coach Park Hang-seo also has to worry about the personal mistakes of the defense (Photo: Nhu Dat).
Coach Park tries to create a stable defense, the staff is not bad. But when there are personal mistakes like this, they need to be corrected immediately to create safety. This is also an issue we need to pay attention to in the future.
A few points to compensate is that Tuan Tai played well, Van Do was also good after. Van Xuan is also quite good, but needs to adjust the transition more accurately. Many players in the defense play well. Regarding the system, our defense is also quite stable.
The most worrying thing is still the attack, we are clearly having problems, pressing the field forever, attacking almost the whole match against the Philippines and Myanmar but not creating many opportunities to score.".
U23 Indonesia can overtake Myanmar U23 to enter the Semi-Finals
Currently U23 Indonesia has the same 6 points with U23 Myanmar and the two sides will clash in the last round of Group A. Indonesia only needs to draw to continue due to the difference (+4 vs +2). According to Mr. Vu Manh Hai, Indonesia is the bright side to pass the group stage.
"I think Indonesia has the upper hand. Technically, apart from the first match they had a bad mentality and lost heavily to us, then they got better after that. The possibility for them to enter the Semi-finals is higher than Myanmar. But if Indonesia meets Malaysia in the semi-finals, then I think maybe Malaysia will win."
Thai women are losing strength, Vietnamese women are still the most champion!
Tonight, Thai women have a 1-1 draw with Myanmar women. Commenting on the strength of Thai women at the 31st SEA Games, Mr. Vu Manh Hai said:
"For the past few years, Thai women's football has been going downhill. They are rebuilding their youth, so it is right to draw with Myanmar. And Vietnamese women's football is still doing very well. We have a good successor, and a good class. She is still playing with high performance like Tuyet Dung, Huynh Nhu…
So even though there are some difficulties, the opportunity for Vietnamese women's football to successfully defend the SEA Games gold medal is still the greatest."
Predict the series of men's – women's football matches on May 14 at the 31st SEA Games
At 16:00 tomorrow, May 14, Singapore U23 will face Malaysia U23. At 19:00, U23 Cambodia has to meet U23 Thailand. At women's football, at 19:00, Vietnam will face Cambodia. Predicting these matches, Mr. Vu Manh Hai said:
"Thailand will easily beat Cambodia with at least 2 goals difference. Malaysia is likely to beat Singapore too. Malaysia is more even than Singapore, has more battle experience and depth of the squad. Singapore is still young. Yes, of course the difference can be as little as 1 table.
With women's football, Vietnam is likely to beat Cambodia to enter the semifinals, 3-0 for example!"
https://soha.vn/cu-sai-sot-nhu-the-nay-u23-viet-nam-co-the-phai-tra-gia-truoc-u23-thai-lan-20220513223748186.htm
You are reading the article
"With errors like this, U23 Vietnam may have to pay the price before U23 Thailand"

at
Blogtuan.info
– Source:
Kenh14.Vn
– Read the original article
here