New generation Ford Ranger and Everest
Although the launch date has not been announced, but the new generation Ranger and Everest have been deposited by Ford dealers across the country with the promise of handing over in the third quarter. The company also does not hesitate to publicize the information that it will launch two models. new car on the official website, and at the same time carry out a test run in Hai Duong.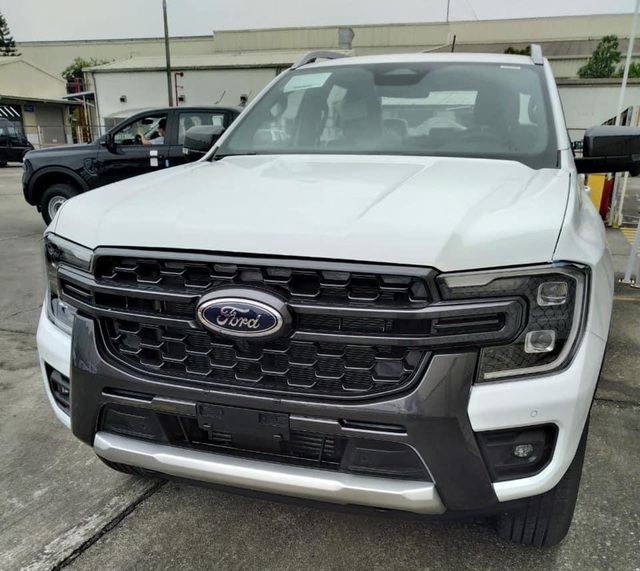 The second generation Ranger is located on the campus of the Ford factory in Hai Duong.
Ford Ranger and Everest 2022 share many things in common, from chassis, exterior and interior design. C-shaped LED headlights are connected to the grille by a large horizontal bar. The notable interior has a 12.4-inch electronic instrument cluster, 10.1-inch or 12-inch vertical center entertainment screen, integrated SYNC 4.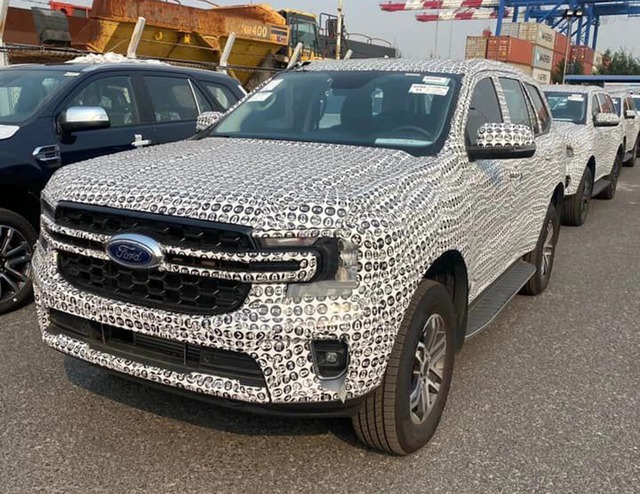 In Thailand, both models have 2 engine options, including a single turbocharged 2.0-liter EcoBlue diesel engine and a twin-turbocharged 2.0-liter EcoBlue diesel engine, with the option of a 6-speed manual transmission or automatic transmission. 6-speed automatic and 10-speed automatic transmission.
All-new Ford Territory
Ford sales consultants in Vietnam are simultaneously offering Territory 2023 deposits with an expected selling price of VND 799 million and handing over the car starting in the third quarter of this year. This information is surprising, because sales consultants have continuously offered to deposit the old version, while the latest version has just been released in the Cambodian market.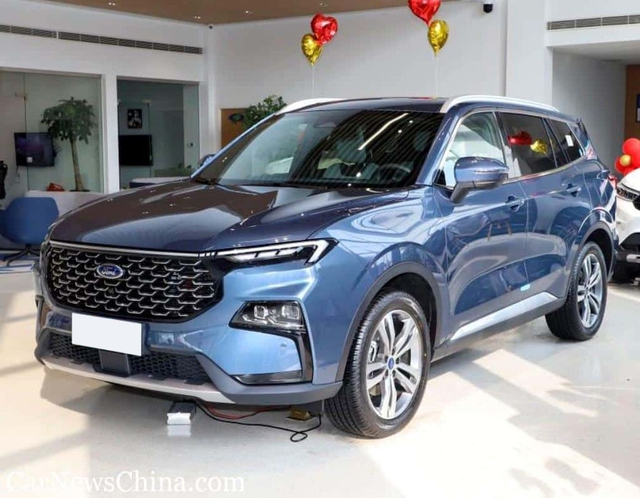 This is essentially the Equator Sport, opened for sale in March 2022 in the Chinese market, but exported to Cambodia and Vietnam under the name Territory 2023. In the Ford China product range, the Equator Sport is the withdrawn version. compact with 5 seats of "elder" Equator. Vehicles assembled by the joint venture Jiangling-Ford.
Dimensions of the car are 4,630 mm, width 1,935 mm, height 1,706 mm and wheelbase 2,726 mm. Vehicle equipment includes LED front / rear lights, a pair of 12.3-inch screens connected on the dashboard, electronic gearshift lever, panoramic sunroof, Ford Co-Pilot 360 safety technology package with many modern features, such as lane departure warning, lane keeping assist, blind spot warning, …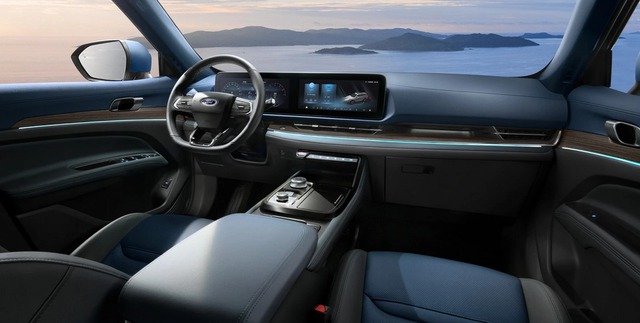 The engine is a 1.5L turbocharged EcoBoost, with a capacity of 168 horsepower and 260 Nm of torque, combined with a 7-speed dual-clutch automatic transmission and front-wheel drive system.
New generation Honda HR-V
A source from the dealer said that the Honda HR-V 2022 will be launched in Vietnam in June and will begin to deliver to customers from July. Dealers have received advance deposits from customers even though the car has not yet had a price. official sale. Some dealers offer a provisional price of VND 871 million for the HR-V RS version.
Honda HR-V 2022 sold in Vietnam is expected to use the same engine with the Indonesian market: 1.5L naturally aspirated and 1.5L turbocharged. Specifically, the 1.5L naturally aspirated engine produces 119 horsepower and 145 Nm of torque. The 1.5L turbocharged engine produces 175 horsepower and 240 Nm of torque. CVT automatic transmission and front-wheel drive.
The vehicle length reaches 4,330 mm with the regular version and 4,385 mm with the RS version, 1,790 mm wide, 1,590 mm high and 2,610 mm wheelbase. Compared to the old model, the HR-V 2022 is shorter (standard version), wider, lower, while the wheelbase remains the same. The interior of the car has an 8-inch entertainment screen with Apple Carplay and Android Auto, electronic handbrake, large sunroof, wireless charging, 7-inch digital instrument cluster, rear seat air vents, …
All-new Nissan Kicks
Nissan Kicks 2022 has received a deposit from sales consultant since February with an expected price of VND 650 million. Car imported from Thailand and opened for sale in May, delivered to customers 1 month later. Nissan Kicks is expected to be distributed with 7 color options, including: Blue, Yellow, Orange, Black, White, Gray and Red.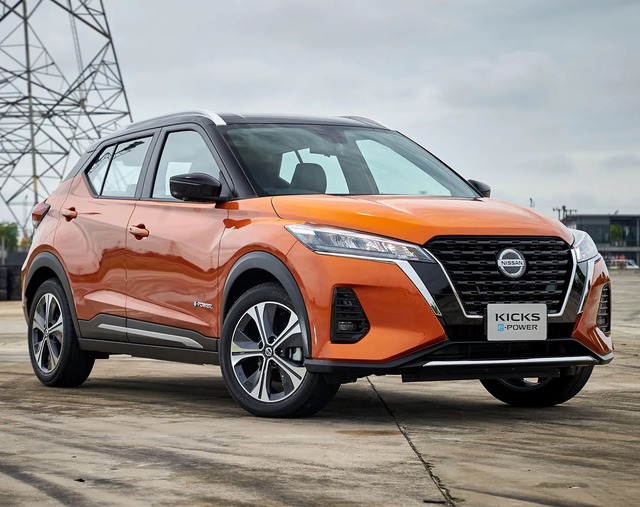 Youthful Kicks appearance with special V-motion grillecharacteristic of Nissan for many years now. The most advanced version is equipped with a full LED system and 17-inch wheels. Interior identical to "brother" Almera is open for sale. Analog watch combined with 7-inch digital screen, 8-inch central touch screen that supports Apple CarPlay connection, 6-speaker audio, button detonation, automatic air conditioning…
Vehicles sold in Vietnam are equipped with standard e-Power hybrid engine, using a combination of 1.2L 3-cylinder gasoline engine (79 horsepower capacity and 103Nm torque) and EM57 electric motor (power output). capacity of 129 hp and torque of 260 Nm). The 1.57 kWh battery is located under the front seats. CVT automatic transmission.
Upgraded Mitsubishi Xpander
The popular MPV model in Vietnam was caught during a test run on Thang Long Boulevard (Hanoi) not long ago, showing that the launch time is not far away. There are two versions revealed, most likely automatic and manual.
Because it is an upgrade, the appearance has not changed too much. This model is more spacious and has a higher ground clearance than the old version. The new, more angular LED front lights combine with LED daytime running lights. The taillights now have a more eye-catching LED interface. The 5-spoke rims are still the same size as before, but with a stronger design.
If similar to the international market, the interior compartment of Mitsubishi Xpander 2022 is more advanced than the old version, with expensive details, such as a 9-inch central touch screen that supports Apple CarPlay, 3-spoke steering wheel style. new look more luxurious with electronic handbrake.
Upgraded Nissan Terra
As revealed by the sales consultant, Nissan Terra will launch in Vietnam in August this year. Currently, information about the version, equipment and price is still kept private. Terra 2022 is a mid-life upgrade (facelift) and the first upgrade of Terra since this model was launched in 2018. The new version retains the square shape of the old model and changes the design. front and rear design.
New style lighting cluster with 4 LEDs (Quad-LED), more angular taillights, with 2 parallel LED strips instead of one strip as before. Interior Terra 2021 has many changes, almost like switching to a new generation, not a facelift. New instrument cluster combines analog and large screen. 9-inch central screen, supports Apple CarPlay / Android Auto. New 3-spoke steering wheel like on Navara 2021.
In the Thai market, the car has 3 versions: E 2WD, VL 2WD and VL 4WD. Nissan Terra 2022 uses a turbocharged 2.3L diesel engine, for a capacity of 190 horsepower and 450 Nm of torque. 7-speed automatic transmission.
Toyota Corolla Cross and Fortuner GR Sport
Two sports versions of Toyota Corolla Cross and Fortuner are expected to be launched this year. Previously, the Corolla Cross GR Sport was revealed while being transported in Hanoi in an uncovered state.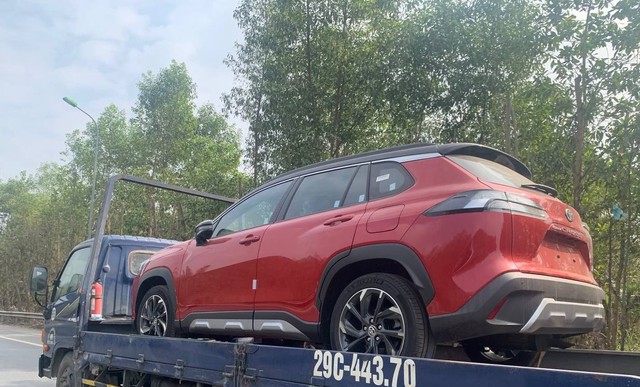 The front of the Toyota Corolla Cross GR Sport has been changed with a black painted grille, front bumper, improved fog vents different from the rest of the versions. Set of 18-inch milled 2-tone wheels, black painted rearview mirror. Other comfortable equipment on the car is expected to be the same as on the high-end 1.8HEV version.
Along with that, the sales consultant also revealed that the Fotuner GR Sport version will be launched in Vietnam in July 2022. The change of the 7-seat SUV is similar to the Corolla Cross, with the bodykit in the exterior and interior with the GR Sport logo to increase sportiness.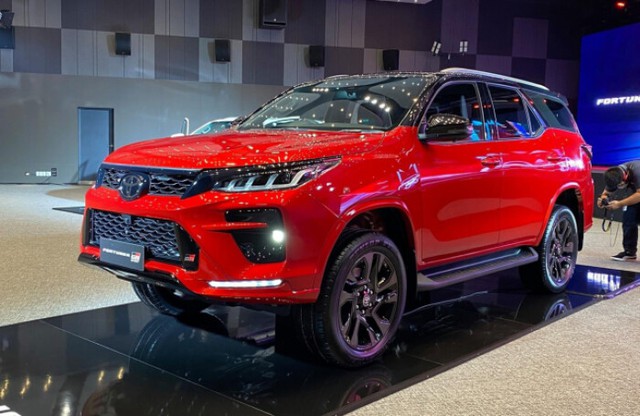 This is not the first time the GR Sport product line has been distributed in the country. Specifically, the Toyota Vios GR Sport model, priced at VND 630 million, was declared dead.
Upgraded Audi A8 L
This year, Audi will launch the A8 L sedan in the Vietnamese market. The Audi A8 L is a version of the A8 series with a length of 5,320 mm, a width of 2,130 mm, a height of 1,486 mm and a wheelbase of 3,128 mm. Compared to the standard version, the L version has a 130 mm longer wheelbase to increase space for the rear seats.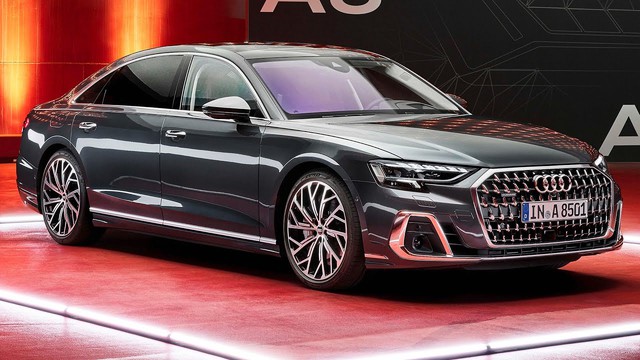 Audi A8 L 2022 will launch in Vietnam this year.
The design and functionality of the Audi A8 L are almost the same as the standard version, only the rear seats are relaxed seats with electrically adjustable headrests, back massage with 18 pneumatic cushions. The passenger seat backs also come with heating and massage functions.
In the German market, the car has 2 petrol engine options, corresponding to 2 versions: 55 TFSI and 60 TFSI. The engine comes with Quattro all-wheel drive and an eight-speed Tiptronic automatic transmission. The selling price in Vietnam has not been disclosed.

https://autopro.com.vn/loat-o-to-dang-mua-chuan-bi-ra-mat-thi-truong-viet-du-moi-phan-khuc-nhieu-lua-chon-hoan- toan-moi-20220510012417092.chn
You are reading the article
All segments, many completely new options

at
Blogtuan.info
– Source:
autopro.com.vn
– Read the original article
here