Business
The moment Hoang Quynh hugged her child and ran on the grass made everyone emotional
On the evening of May 18, the Vietnamese women's team defeated Myanmar 1-0 in the semi-finals and won the right to the final of the 31st SEA Games women's football. The opponent in the final match of the Vietnamese women's team was Thailand. Previously, on May 11, the Vietnamese women's football team played in Quang Ninh, also the hometown of midfielder Pham Hoang Quynh. In the first match in the group stage, her family took their daughter Quynh to Cam Pha field to cheer the mothers to compete.
Perhaps thanks to the support of his daughter, family and everyone, Hoang Quynh played very well. She and her friends in the team brought victory for the Vietnamese team in the opening match above.
At the end of the match, the moment Hoang Quynh hugged and kissed her daughter and ran on the field made many people very emotional. The profession of a football player is extremely hard, difficult, even more challenging for married women. But because of her love for her job, Hoang Quynh overcame everything and what she and the Vietnamese women's soccer team received today is completely deserved.
Having a mother who is a player is often so much fun. Source: Tiktok.
Sitting in her mother's arms, Bo is already very mature. She also called Quynh's mother "mother" rather than "sister" as before.
Those who love the Vietnamese women's soccer team must know the name Hoang Quynh – from Dong Trieu, Quang Ninh. According to coach Mai Duc Chung, Hoang Quynh has a technical, smart and personality style, so he is often present in the main team of Vietnam. In addition to talent, she also has a lovely face, white skin, and is known as the hot girl of the team.
Few people know, to have the success like today, the young mother had to sacrifice a lot. After getting married and having her first daughter, Hoang Quynh's heart has never stopped thinking about returning to the field, fighting hard with teammates who have stood by for many years and won the home team.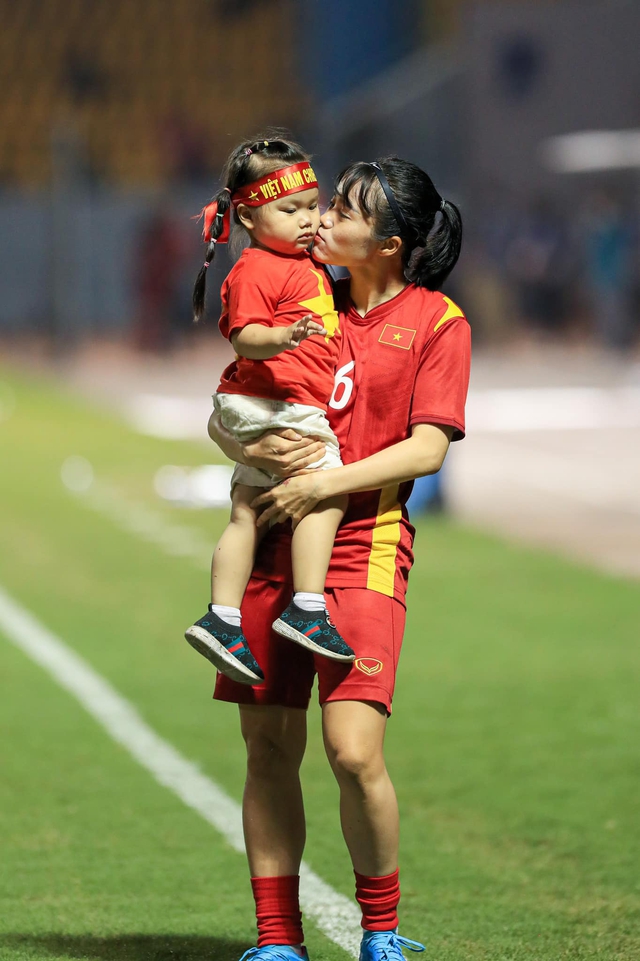 Hoang Quynh and her daughter. Photo: Facebook Pham Hoang Quynh.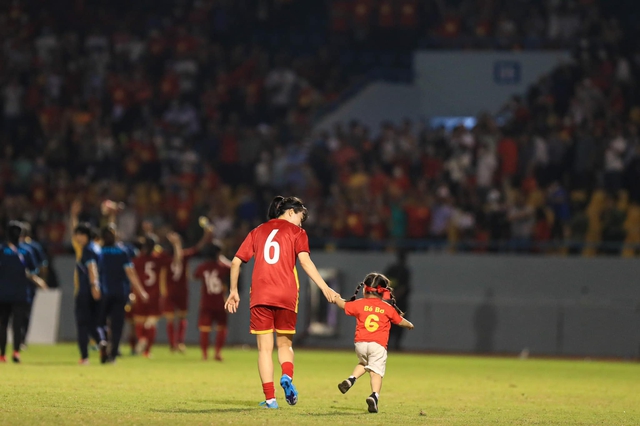 Moments that make everyone emotional. Photo: Facebook Pham Hoang Quynh.
However, when he expressed this desire to her husband, striker Ho Ngoc Thang (who used to wear SHB Da Nang), he disagreed because he loved his wife, loved his children, did not want his wife to work hard, and the children had to be separated from his mother. But then gradually saw his wife's determination, so Mr. Thang also turned to support his wife.
Sharing with Traffic Newspaper, Thuy Quynh confided: "When I took a break from football to get married and have children, I thought about finding another job to do, both ensuring an income and being near to take care of my children. However, football is like a part of my body, I can't give up. Every decision in life is not perfect but I confidently say that I do not regret the choices I have made. Take a break from football to take care of life, then come back, emotions can be. different but I am still me.
The first day I joined the team, I gave my daughter to her, but I did not dare to look back for fear of not being able to stop. Then in the days that followed, my memory was torn apart. Except for the practice time, I always feel something empty, want to hold my baby in my arms, breathe in the scent of her cheeks. But most remember is in the evening, before going to bed, at home, mother and daughter are busy, in the team, they are alone. At this point, tears kept flowing. Every time like that, I turn on my phone to look at my baby's photos and videos or call home to see him to calm down."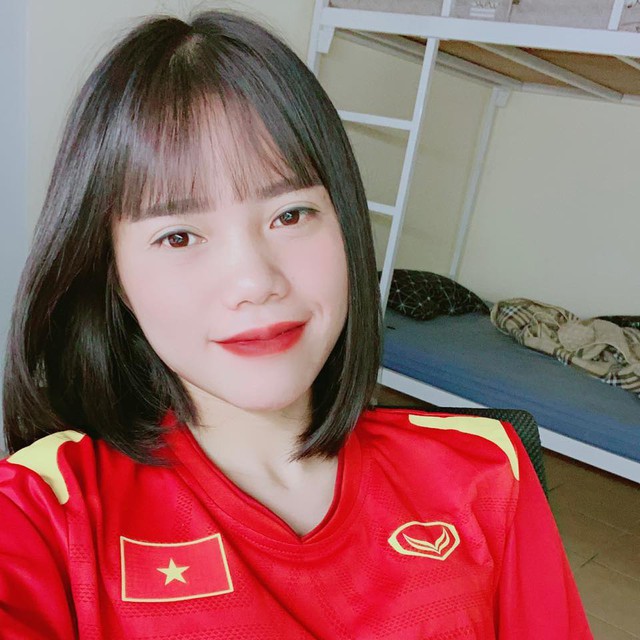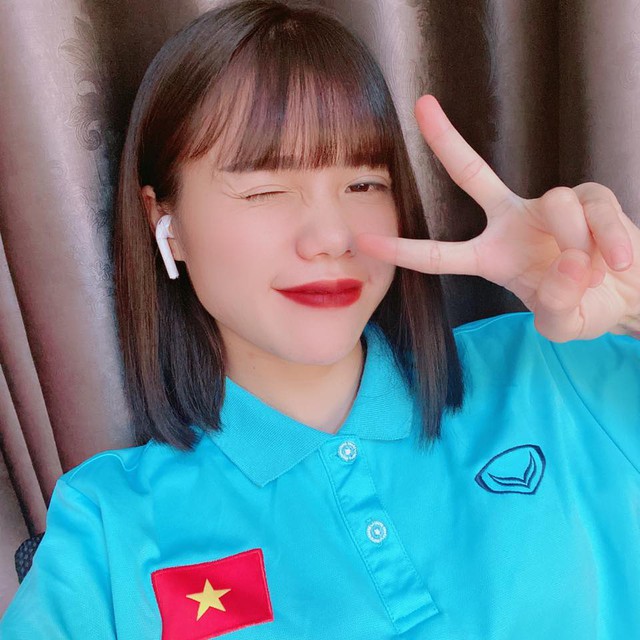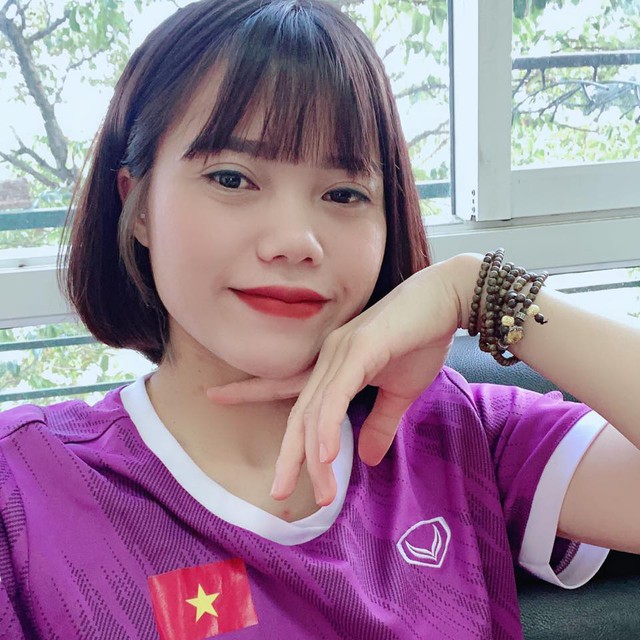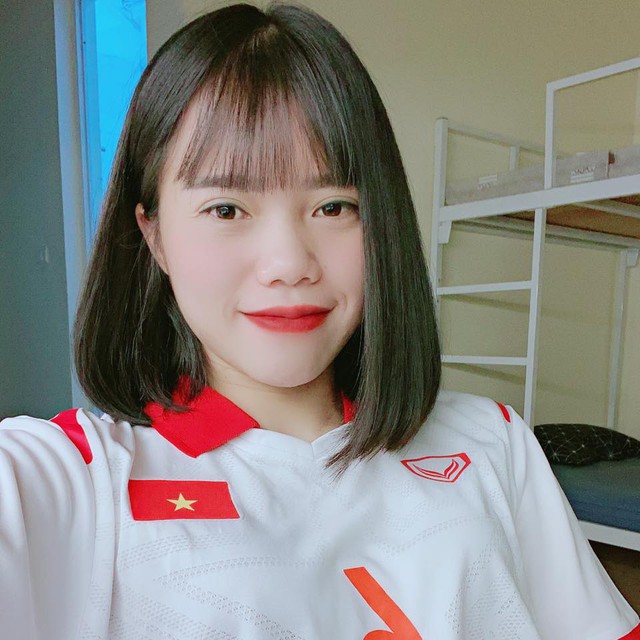 Hoang Quynh is beautiful and extremely enthusiastic about her job.
As one of the 22 players who created success when winning a ticket to attend the 2023 World Cup, Pham Hoang Quynh made many fans feel admiration and admiration when he had a successful career and received recognition. Great support from family. For a young mother, her husband and young daughter are extremely solid fulcrums on the journey to building her career.
Pham Hoang Quynh was born in 1992 in Quang Ninh. In 8th grade, she was accepted into the Vietnam Coal and Mineral Club and soon became the mainstay of this team. In 2012, Hoang Quynh was called up to the Vietnamese women's team. During her career, she and the Vietnamese women's team won the 2012 AFF Cup, a silver medal at the 2013 SEA Games, entered the semi-finals of the 2014 Asiad, a bronze medal at the 2018 AFF Cup…
At the end of 2018, Hoang Quynh retired and got married with former Vietnam U23 midfielder – Ho Ngoc Thang. After giving birth to a daughter for 14 months, she returned to play in January 2021 in the color of Phong Phu Ha Nam club. In July 2021, she was summoned by coach Mai Duc Chung to return to the Vietnamese team to attend the 2022 Asian Cup qualifiers.
https://afamily.vn/co-me-la-tuyen-thu-bong-da-nu-la-cam-giac-the-nao-khoanh-khac-hoang-quynh-om-con-chay-tren- free
You are reading the article
The moment Hoang Quynh hugged her child and ran on the grass made everyone emotional

at
Blogtuan.info
– Source:
cafebiz.vn
– Read the original article
here